Are you looking for the perfect polymer clay project? Have a go at making one of these handcrafted Polymer Clay Pots with the help of these fantastic tutorials.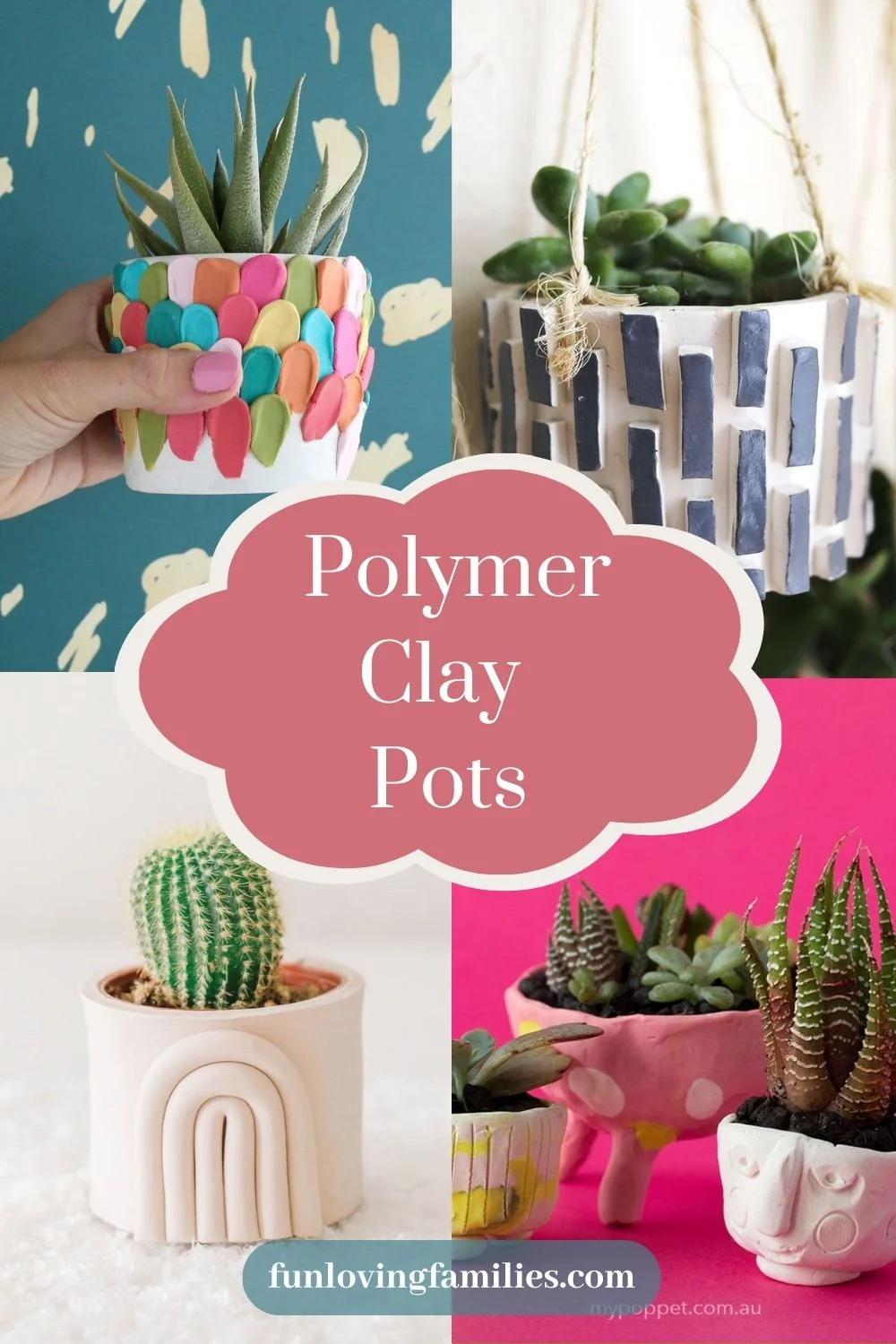 Making your own pot is one of the most satisfying things to do, and using oven-baked polymer clay makes it so easy. You can experiment with different techniques, colors and textures to create the most spectacular unique handmade creations. Polymer clay is also a great option for making small miniature pots for your succulents.
In this Polymer Clay Pots Tutorials round-up, you will find some incredible projects and step-by-step tutorials that will make it easy and fun for the whole family. Use them to decorate your home, for your house plants or as homemade gifts for your loved ones. Happy crafting!
1. DIY Polymer Clay Pot
Grab some fun colorful polymer clay and make this easy DIY Polymer Clay Pot with the help of Let's Craft Instead. This tutorial will show you how to create beautiful tie-dye marbled pattern.
2. Oven Bake Clay Pots
These cute Oven Bake Clay Pots by Alisa Burke are made from rolled-out polymer clay featuring a pretty pattern created with rubber stamps and hand painted with blue acrylic paint.
3. DIY Polymer Clay Rainbow Planter
Get creative and make this trendy DIY Polymer Clay Rainbow Planter. In this tutorial by Mikyla Creates you will learn how to make this sweet design plus two more polymer clay gifts.
4. Miniature Pots for Plants
These Miniature Pots for Plants are so stylish they will look amazing in your home. Learn how to craft them with this step-by-step miniature pots for plants YouTube tutorial.
5. Polymer Clay Mini Planters
These adorable Polymer Clay Mini Planters are loosely inspired by mid-century ceramics. Follow this tutorial by My Poppet Makes to see how to craft your own.
6. DIY Polymer Clay Pot
Learn how to make small realistic-looking sunflowers using polymer clay and silicone mould to create this sweet DIY Polymer Clay Pot in this video tutorial.
7. DIY Tiny Polymer Clay Plant Pots
Love all things miniature? These DIY Tiny Polymer Clay Plant Pots by DIY in PDX will warm your heart. Plus they are just way cuter than full-size ones.
8. DIY Polymer Clay Basket
This spectacular DIY Polymer Clay Basket makes the perfect pot for your house plants. Learn how to make it with the tutorial by Pretty Prudent.
9. DIY Polymer Clay Planters
Your succulents will look amazing in these cute DIY Polymer Clay Planters by Urbaki. Follow through and get crafting.
10. Polymer Clay Handmade Pots
Make your own mini pots with colorful polymer clay with this easy-to-follow YouTube tutorial. This is a fun project for the whole family.
11. Polymer Clay Miniature Terracotta Pots
These Polymer Clay Miniature Terracotta Pots would make a wonderful addition to a miniature garden or doll house. Learn how to make them in this simple tutorial by Hobbies & Crafts.
12. Miniature Flower Pots Tutorial
Here's another fun Miniature Flower Pots video tutorial. Grab some colorful polymer clay and get modelling.
13. DIY Rainbow Clay Planter
Find out how to make this stylish rainbow clay planter by Isoscella in 8 simple steps. It will look amazing in your home or make an elegant handmade gift.
14. Polymer Clay Terrazzo Planter
Adore Terrazzo? You will enjoy making this Polymer Clay Terrazzo Planter by Life of Making. Your plants will be glowing in these handmade pots.
15. Polymer Clay Mini Planter
You will love this Polymer Clay Mini Planter project. This tutorial by A Beautiful Mess includes 3 different funky designs.
16. Polymer Clay Lavender Vase
You won't believe that this gorgeous Lavender Vase is made from polymer clay. Learn how to craft your own with this amazing and detailed lavender vase YouTube tutorial.
17. Tiny Polymer Clay Pots for Succulents
Sculpt the cutest Tiny Polymer Clay Pots for Succulents with your kids. This fun video tutorial will show you exactly how.
18. Clay Petal Planter
This gorgeous Clay Petal Planter is inspired by a cake with a rainbow of icing colors. Learn how to use polymer clay to create one with this tutorial by A Beautiful Mess.
19. Polymer Clay Pots
Be inspired by these artist-created polymer clay pots. In beautiful shapes, colors and patterns you can see just how much creative fun you can have with polymer clay.
Similar Posts: