Learn all the techniques to craft the most adorable owls with these fantastic Polymer Clay Owls Tutorials and Ideas.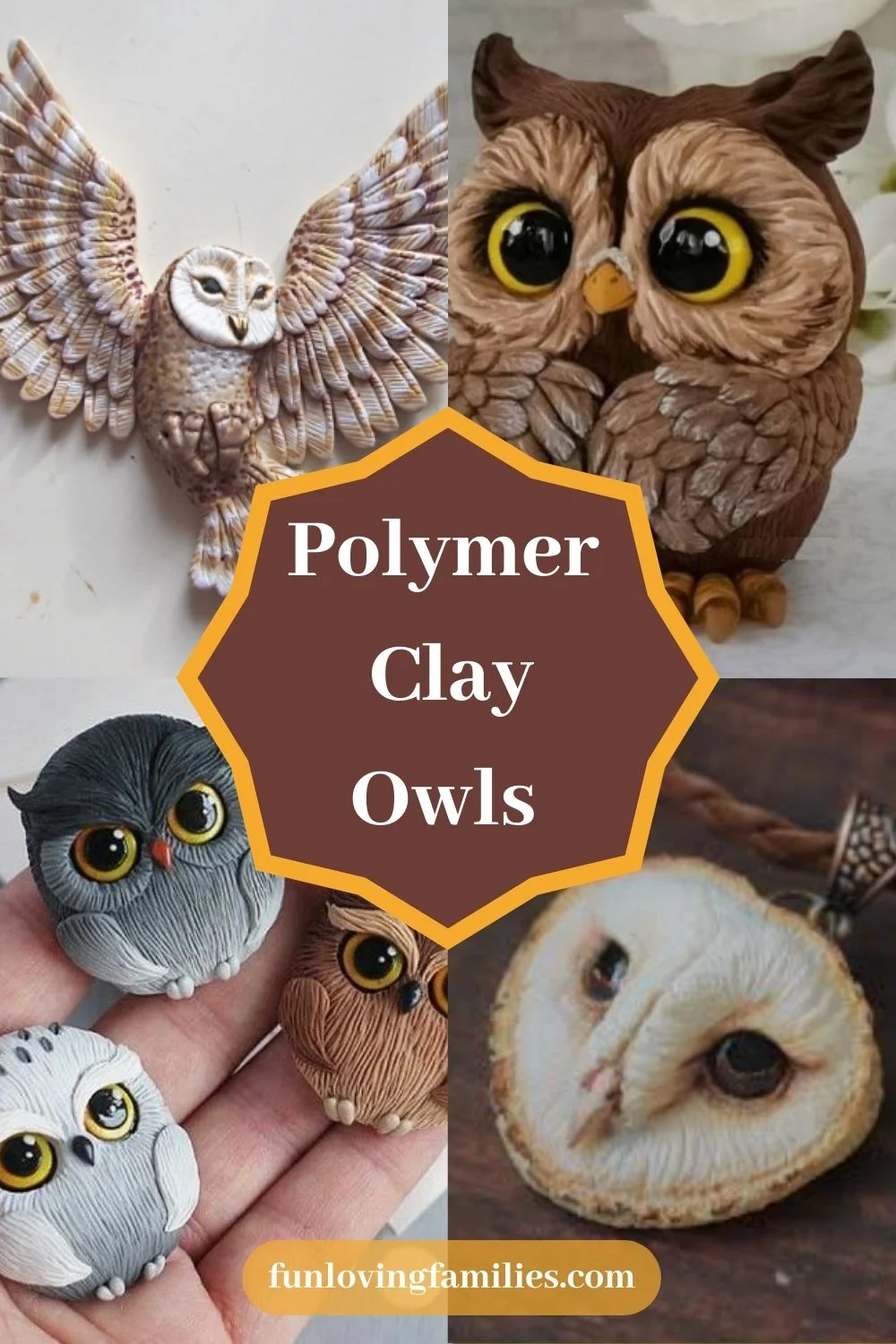 Are you in love with owls and looking for fun craft ideas? Why not craft your own using some polymer clay? These magical creatures with large eyes, beaks and beautiful feathers make the perfect polymer clay project. Don't know where to start, don't worry I've got you covered with these Polymer Clay Owls Tutorials and Ideas.
Master the techniques to sculpt stunning owls with polymer clay and learn how to craft owls' body, face, eyes, beaks and feathers. And when you have your final creations, keep them on your desk as little good luck charms or make them into necklaces, pendants and ornaments. Happy crafting.
1. Polymer Clay Owl Tutorial
This step-by-step Polymer Clay Owl Tutorial by Fimo DIY will show you the exact steps to create this stunningly beautiful owl with polymer clay.
2. Polymer Clay Barn Owl Head Tutorial
Learn how to sculpt this gorgeous owl with this detailed Polymer Clay Barn Owl Head Tutorial. For this project, you will need white and black polymer clay, acrylic paints and varnish gloss.
3. DIY Snowy Owl
Grab some polymer clay and make this adorable snowy owl with the help of this DIY Snowy Owl YouTube tutorial. It's perfect to decorate your Christmas tree.
4. Polymer Clay Owl Sculpture
Get excited to craft this Polymer Clay Owl Sculpture with glow-in-the-dark eyes out of polymer clay. This tutorial is great for any skill level.
5. Baby Owl Tutorial
Master sculpting techniques with this amazing Baby Owl Tutorial and craft a cute baby owl figurine with polymer clay.
6. Polymer Clay Owl Tutorial
This 20-minute Polymer Clay Owl Video Tutorial will teach you how to create a polymer clay owl Christmas ornament in a step-by-step process.
7. Polymer Clay Owl Tutorial
Get modelling with this inspiring Polymer Clay Owl Tutorial. This polymer clay owl can be made into a beautiful pendant.
8. Steampunk Owl Tutorial
Learn the fundamentals of polymer clay and basic acrylic painting techniques with this professional Steampunk Owl Tutorial. In this video, you will be shown how to create a simple armature, layer your clay and create clothing textures and effects.
9. Polymer Clay Owl Ornament
Looking for a fun polymer clay tutorial with a great result? This amazing Polymer Clay Owl Ornament by Bored Panda will show you how to make an owl in biomechanics style.
10. Three Polymer Clay Owls
In this Three Polymer Clay Owls Tutorial, you will be shown how to sculpt and shape an owl face, craft three different styles of feathers and make three different beaks.
11. DIY Polymer Clay Owl
Follow through to this DIY Polymer Clay Owl Tutorial and have a go at making this cutest owl sitting on a stone.
12. Miniature 'Hedwig' Tutorial
Are you a huge fan of Harry Potter? Learn how to craft Harry's owl with this Miniature 'Hedwig' Video Tutorial.
13. DIY Baby Owl Charm
Get your kids involved in making this colorful DIY Baby Owl Charm. You can customize the colors and make a set of these for handcrafted gifts.
14. Polymer Clay Owl Charm Tutorial
In this paid PDF Polymer Clay Owl Tutorial you will learn how to craft owls and make them into charms for bracelets, earrings, necklaces and key chains.
15. Polymer Clay Owl Pendant
This cute Polymer Clay Owl Pendant by Crafts for All Seasons is easy enough to craft with your kids. Set aside an afternoon and make it into a fun craft project.
16. Polymer Clay Owl Sculptures
Bring life and character to polymer clay with these adorable handcrafted Polymer Clay Owl Sculptures.
17. Polymer Clay Owl Jewellery
This stunning Polymer Clay Owl Jewellery is a piece of art and shows you how incredibly beautiful and stylish creations you can craft with polymer clay.
18. Polymer Clay Owl Faces
Be inspired by these skillfully modeled polymer clay owl faces. Can you name all these owl species?
19. Polymer Clay Baby Owls
These adorable Polymer Clay Baby Owls would make the sweetest handcrafted gifts for nature lovers. Or why not make them into magnets?
20. Polymer Clay Owl
With all of the techniques you've learned in this round-up, you should now master crafting this owl on your own.
Similar Posts: