Craft these fun and colorful polymer clay magnets with the help of these amazing Polymer Clay Magnets Tutorials.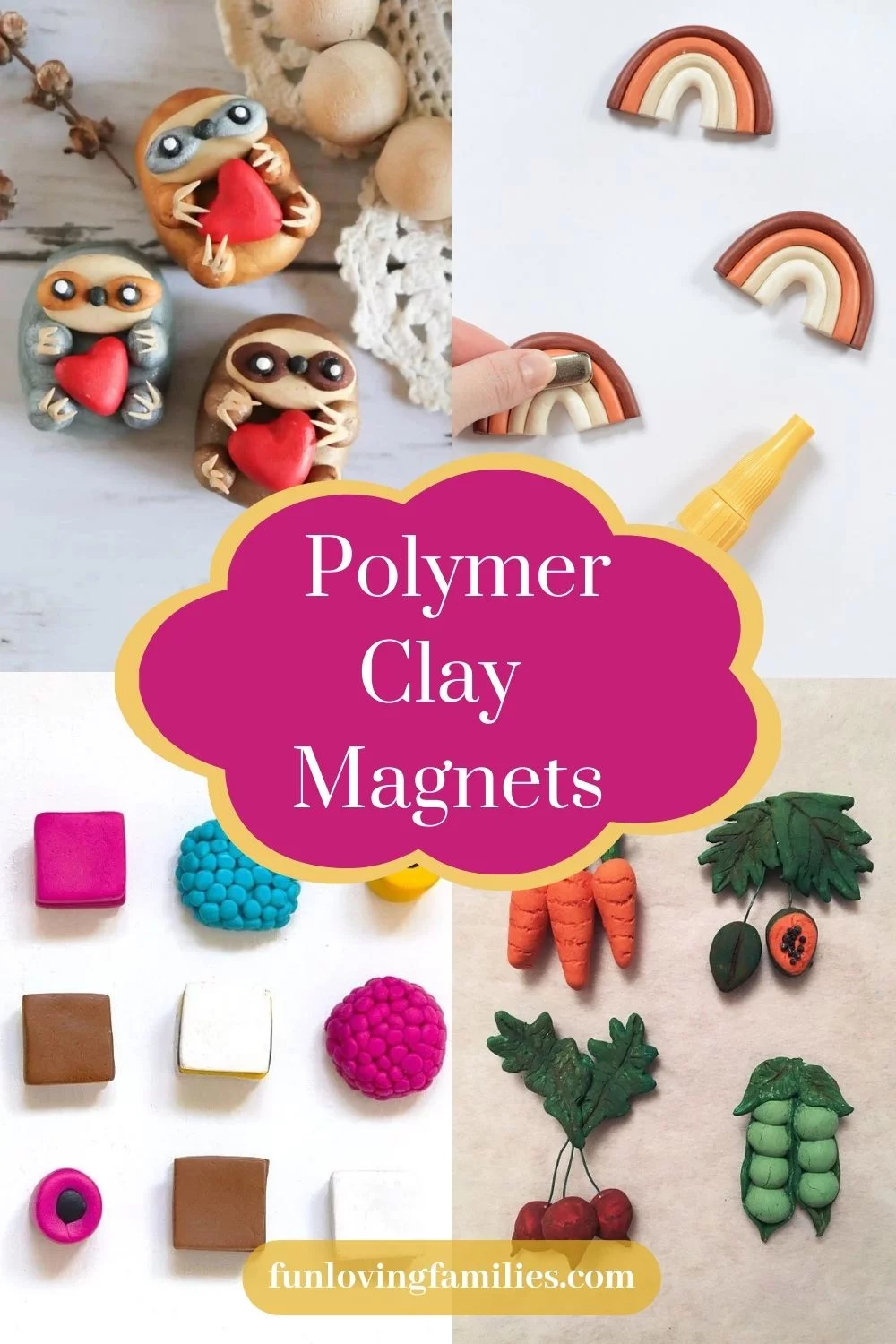 Found yourself with some polymer clay and want to put it to good use? Polymer clay magnets are a fantastic idea. They will add a character to your fridge or noticeboard and help you keep all those shopping lists, notes and photos in place. Plus, they make fabulous quirky little gifts.
The basics you need for these projects are polymer clay, craft magnets, a craft knife or modeling tools, and pastels or acrylic paints to decorate them.
In this Polymer Clay Magnets Tutorials round-up, you will find projects for different levels and abilities, from simple to more advanced, that you can enjoy on your own or with your family. Excited? Get started now!
1. DIY Rainbow Magnets
Are you a fan of rainbows? These stylish DIY Rainbow Magnets from Burkatron made with polymer clay will add a touch of childhood whimsy to your fridge or noticeboard.
2. DIY Fridge Magnets
Follow this simple YouTube tutorial on how to craft these adorable DIY Fridge Magnets. This tutorial will show you a step-by-step process on how to make a pod with peas and fried egg magnets out of polymer clay.
3. DIY Liquorice Allsorts Magnets
Stay organized with these cute DIY Liquorice Allsorts Magnets by The Little House on the Corner. All you need to craft your own is an assortment of colorful polymer clay, magnets, a craft knife and a rolling pin.
4. DIY Donut Magnets
Craft these funky polymer clay DIY Donut Magnets with the help of this simple and fun YouTube tutorial.
5. Polymer Clay Sloth Magnets Tutorial
How cute are these Polymer Clay Sloth Magnets? Create your own with the help of Homemade Heather and they will radiate heartfelt joy into your home.
6. Polymer Clay Sunflower Magnet Tutorial
These gorgeous Polymer Clay Sunflower Magnets will bring sunshine everywhere they go. Learn how to make them by following this simple tutorial by Polymer Clay Workshop.
7. DIY Polymer Clay Fridge Magnet
Sculpt this adorable DIY Polymer Clay Fridge Magnet. With the help of this video tutorial you will be able to make this prettiest girly fridge magnet at home.
8. DIY Polymer Clay Magnets
These flowers and rainbow DIY Polymer Clay Magnets are just adorable. For this fun project by All Things Karissa you will need some wire, as well as magnets, polymer clay and paints.
9. DIY Terrazzo Magnets
This fantastic DIY project inspired by Terrazzo will keep you entertained for hours. Follow to Apartment Therapy for a step by step tutorial.
10. Embroidery Fridge Magnets Tutorial
Are you looking for little more challenge? Learn the skills to make these gorgeous polymer clay Embroidery Fridge Magnets with this YouTube tutorial.
11. Polymer Clay Valentine's Magnets Tutorial
Surprise your loved one with these pretty handcrafted Polymer Clay Valentine's Magnets by following this simple tutorial by Kael Mijoy.
12. Polymer Clay Mandala Magnets Tutorial
This project by Polymer Clay Productions is worth setting some time aside for. Learn how to apply different colors to the same silkscreen to create these stunning Polymer Clay Mandala Magnets.
13. Owl Fridge Magnet Tutorial
Get creative and make these fantastic Owl Fridge Magnets. In this thorough video tutorial you will be shown exactly how to craft these. They will make a wonderful gift for anyone.
14. Mushroom Magnets Tutorial
These Mushroom Magnets by Sprouting Wild Ones are adorable and would look fabulous on your refrigerator. All you need to craft these is red and white polymer clay, craft magnets, parchment paper and hot glue gun.
15. Cherry Teapot DIY Magnet
Make your own handcrafted Cherry Teapot DIY Magnet with polymer clay with this simple to follow YouTube video tutorial.
16. Polymer Clay Veggie and Fruit Magnets Tutorial
Grab some fun colorful polymer clay and make these cute Polymer Clay Veggie and Fruit Magnets by Hometalk. This stunning selection of fruits and vegetables will add a fresh touch to your refrigerator.
17. Polymer Clay Letter Cookies Magnets Tutorial
This Letter Cookies Magnets Video Tutorial will teach you how to make the cutest polymer clay magnets. Perfect to keep your shopping list on the fridge nicely visible.
18. Flower Basket Fridge Magnet Tutorial
Get modelling with this Flower Basket Fridge Magnet YouTube Tutorial. This craft project will teach you how to model polymer clay flowers and set them into a pretty magnet.
19. Tetris Magnets Tutorial
Here's a fun tutorial for all Tetris fans. Won't you just love having these polymer clay Tetris Magnets on your fridge?
20. DIY Clay Fridge Magnets
Polymer clay is perfect to craft these DIY Clay Fridge Magnets. This easy DIY craft tutorial by The Crafty Blog Stalker will be fun for the whole family.
21. Polymer Clay Fun Fridge Magnets Tutorial
This polymer clay Fun Fridge Magnets Tutorial will show you how easy it is to use moulds and little letter stamps to make the most enticing magnets.
Similar Posts: