Do you love crafting? Get inspired and excited about making some amazing crafts with these super cute Polymer Clay Gnomes Tutorials and Ideas.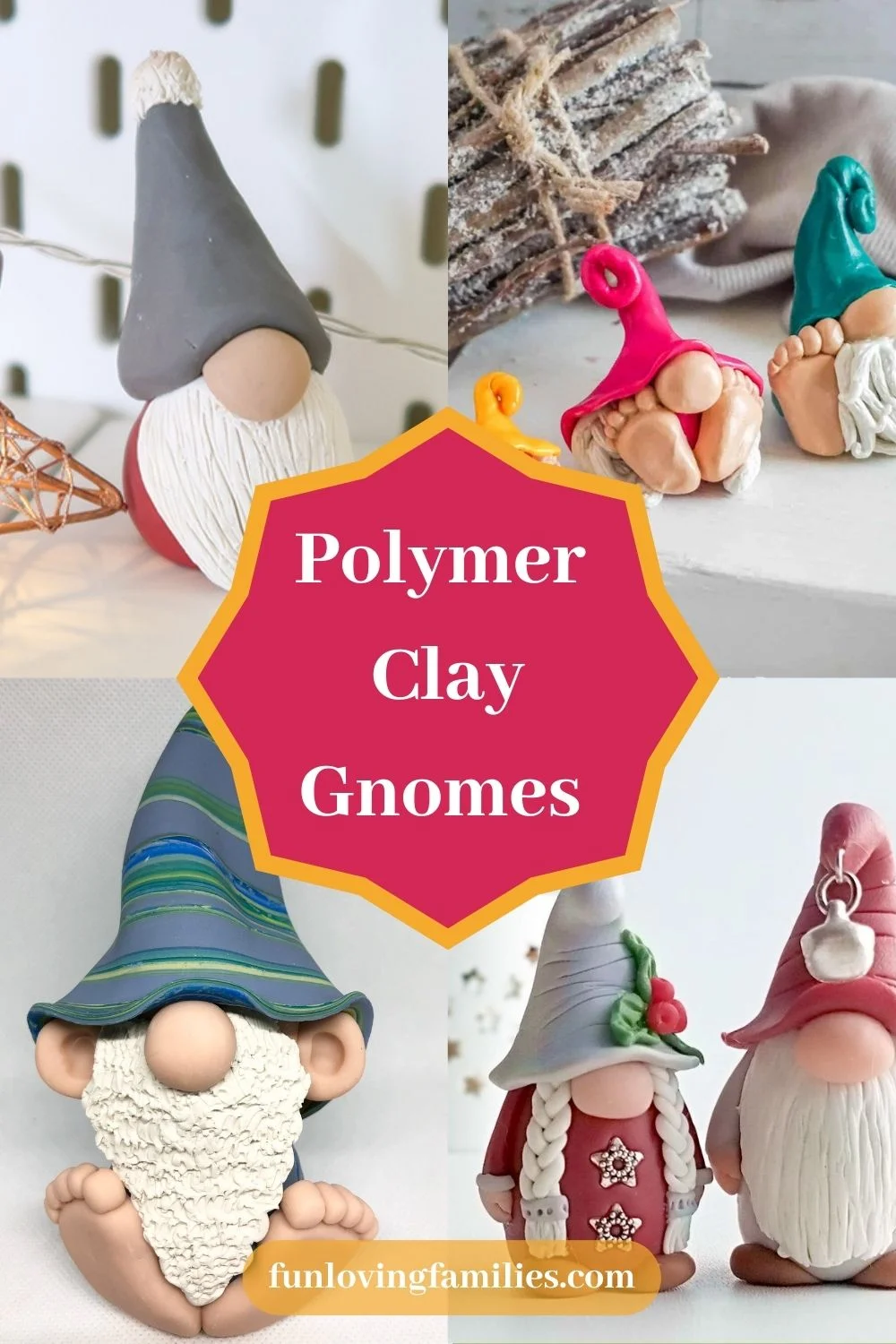 Spend some time crafting today and let your stress melt away. Not only making polymer clay gnomes is so much fun it's also very relaxing. And let's face it, gnomes are just adorable, and they will bring cheer to your home.
Polymer clay is an amazing versatile crafting medium, and if you haven't tried it, it's time to get started. It's very easy to work with and even beginners will achieve amazing creations. For best results, use ceramic tile to work on, texturing tools like a needle or toothpick and a colorful selection of polymer clay. You will also need a baking sheet to bake your creations.
Explore the cutest Polymer Clay Gnomes Tutorials and Ideas below and get sculpting!
1. Polymer Clay Gnomes Tutorial
Craft these fun and colorful polymer clay gnomes by Ruffles & Rain Boots. All you need to make these super cute simple gnomes are some polymer clay, simple cutting tools, mod podge, a baking sheet and parchment paper.
2. Polymer Clay Christmas Gnome Tutorial
Learn how to make your own polymer clay Christmas gnome with this amazing tutorial by Woojr. This simple craft will be a magical addition to your Christmas decorations.
3. Cute Gnomes with Feet Tutorial
Grab some fun colorful polymer clay and make these whimsical, easy and funny gnomes with feet. This sweet trio of gnomes by Ruffles & Rain Boots will add cuteness to your home.
4. Garden Gnomes Tutorial
This easy to follow 15 pages downloadable tutorial will show you step-by-step how to make your own garden gnomes from polymer clay. They will bring a pop of cheer everywhere they go.
5. Polymer Clay Gnomes Tutorial
Sculpt these adorable polymer clay gnomes with this simple YouTube tutorial. This tutorial is great for beginners and will teach you how to work with polymer clay, make shapes with it and color combining.
6. Polymer Clay Garden Gnome Tutorial
Follow this fantastic YouTube Garden Gnome video tutorial to create the loveliest mini garden gnome. This garden gnome has so much character, everyone will love him.
7. Polymer Clay Christmas Gnome Tutorial
Ready to make your own polymer clay gnomes for Christmas? This wonderful handmade gnome video tutorial will show you how. This tiny Christmas gnome is glazed for protection and brightness.
8. DIY Polymer Clay Gnome and Mushroom Tutorial
Fancy a simple polymer clay project? Follow this step-by-step tutorial by Lemon Zest and craft this cute yellow hat gnome with his little mushroom.
9. Polymer Clay Mini Gnomes Tutorial
Make your own handcrafted family of teeny polymer clay gnomes with this fun mini gnomes YouTube tutorial. They are the perfect size to hide in your houseplants.
10. Fairy Garden Gnome Couple
Be inspired by this gorgeous tiny fairy garden gnome couple made with polymer clay. They will add spark of fairy magic to your potted plants.
11. Polymer Clay Gnome with a Striped Hat
This adorable polymer clay gnome has the cutest feet, a perfectly textured beard and the funkiest striped hat. Fancy creating your own?
12. Artist Gnome
Get your sculpting tools ready and sculpt this sweet artist gnome complete with his artist brush and palette.
13. Pride Rainbow Gonk Gnome
This handsome pride rainbow gonk gnome is a fine example of how much fun you can have with colorful polymer clay.
14. St. Patrick's Day Polymer Clay Gnome
Is someone missing in your gnome collection? Add this St. Patrick's Day inspired polymer clay gnome and bring on the celebration.
15. Fairy Garden Gnome Couple
This fairy garden gnome couple crafted to perfection from polymer clay will add warmth to your home and will always make you smile.
16. Snowflake Gnomes
Craft yourself a set of these red and green snowflake gnomes. They will bring plenty of Christmas cheer to your home during the holidays.
17. Daisy Gnomes
Bring joy and happiness to your home with these cute daisy gnomes. With yellow daisy hats and green bodies, the girls have braids and the boys have beards.
18. Ladybug Gnomes
Here's another sweet polymer clay gnome design to inspire you. These pretty little ladybug gnomes have glitter red bodies and white hats with little ladybirds.
19. Fairy Garden Gnome
This magical fairy garden gnome is skillfully crafted from polymer clay with a beautiful yellow and green color palette with a touch of glitter.
20. Bumblebee Gonk Gnome
Let the sunshine in your home with this bright and cheerful handmade polymer clay bumblebee gonk gnome holding the sweetest daisy flower.
Similar Posts: