I have a lot of hope for the new year, though I think fresh starts can begin any time. These quotes about fresh starts may be especially useful for anyone who has recently gone through a major life event, such as:
Breakup or divorce
Grief and loss
Move
Illness or trauma
Career change
Moving forward often has a lot to do with your mindset, and I think these quotes help to show that new beginnings are possible. Our life is one of endless possibilities. May these inspirational words help you on your journey to a brighter future.
You may also want to check out 50 Best Slow Living Quotes to Inspire a Simpler Life
Tips are based on personal experience and should not be considered medical advice.
Quotes About Fresh Starts
"Every day is a new opportunity to begin again. Every day is your birthday." —Dalai Lama
"You're off to great places! Today is your day! Your mountain is waiting, So get on your way!" —Dr. Seuss
"Rock bottom is the end of what wasn't true enough. Begin again and build something Truer." —Glennon Doyle
"Step out of the history that is holding you back. Step into the new story you are willing to create." —Oprah Winfrey
"Each of us has that right, that possibility, to invent ourselves daily. If a person does not invent herself, she will be invented. So, to be bodacious enough to invent ourselves is wise." —Maya Angelou
"No matter how hard the past is, you can always begin again." —Buddha
"The smallest seed of faith is better than the largest fruit of happiness."

Henry David Thoreau
"One day or day one. You decide." —Unknown
"The most important thing to remember is this: To be ready at any moment to give up what you are for what you might become." —WEB Du Bois
"I've learned that you shouldn't go through life with a catcher's mitt on both hands; you need to be able to throw something back." —Maya Angelou
"You wanna fly, you got to give up the shit that weighs you down." —Toni Morrison
"The greatest glory in living lies not in never falling, but in rising every time we fall."

Nelson Mandela
"Only in the darkness can you see the stars." —Martin Luther King Jr.
"When the winds of change blow, some people build walls and others build windmills." —Chinese proverb
"Change will not come if we wait for some other person, or if we wait for some other time. We are the ones we've been waiting for. We are the change that we seek." —Barack Obama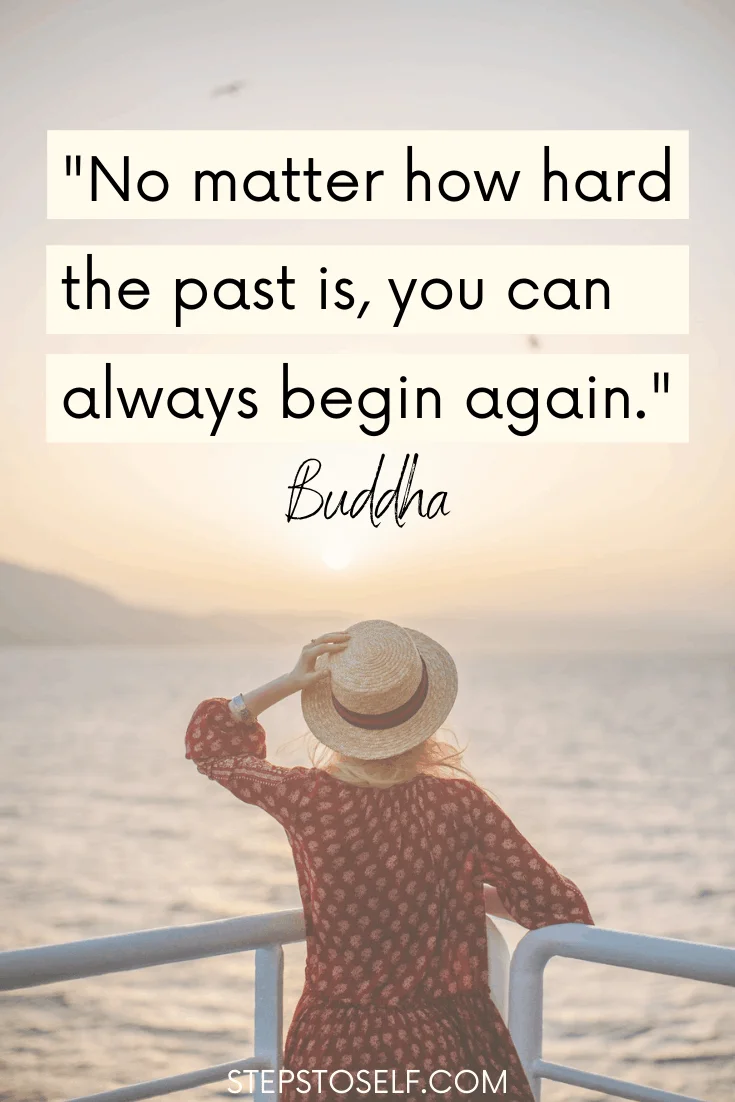 "It is never too late to be what you might have been." —George Eliot
"We must be willing to get rid of the life we've planned, so as to have the life that is waiting for us. The old skin has to be shed before the new one can come." —Joseph Campbell
"It's never too late to become who you want to be. I hope you live a life that you're proud of, and if you find that you're not, I hope you have the strength to start over." —F. Scott Fitzgerald
"New beginnings are often disguised as painful endings." —Lao Tzu
"Although no one can go back and make a brand new start, anyone can start from now and make a brand new ending."

Carl Bard
"Every day the clock resets. Your wins don't matter. Your failures don't matter. Don't stress on what was, fight for what could be." —Sean Higgins
"Failure is the opportunity to begin again more intelligently." —Henry Ford
"Where there is no struggle, there is no strength." —Oprah Winfrey
"Success is not final. Failure is not fatal. It's the courage to continue that counts." —Winston Churchill
"I've learned that no matter what happens, or how bad it seems today, life does go on, and it will be better tomorrow." —Maya Angelou
"The world is indeed full of peril, and in it there are many dark places; but still there is much that is fair, and though in all lands love is now mingled with grief, it grows perhaps the greater." —JRR Tolkien
"Take the first step in faith. You don't have to see the whole staircase, just take the first step."

Martin Luther King Jr.
"I can alter my life by altering my attitude. He who would have nothing to do with thorns must never attempt to gather flowers." —Henry David Thoreau
"Whatever wrong turns you've taken in life you can always start over and find your way back to happiness." ―Marty Rubin
"No one is ever a victim of life; we are all volunteering to grow." ―Shannon L. Alder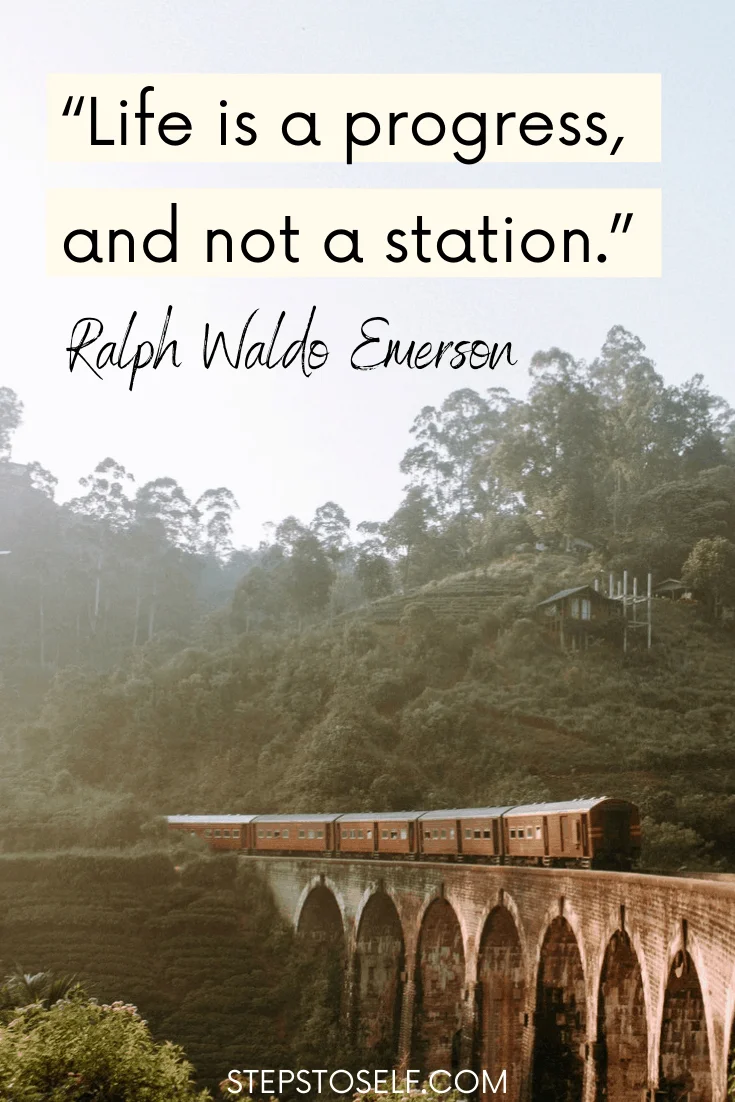 "That last page turned is a perfect excuse to write a whole new book." ―Toni Sorenson
"Owning our story can be hard but not nearly as difficult as spending our lives running from it." —Brene Brown
"Maybe the yes comes before the readiness. Maybe you say yes and then you become equipped to handle whatever is about to happen." —Glennon Doyle
"Someone was hurt before you, wronged before you, hungry before you, frightened before you, beaten before you, humiliated before you, raped before you… yet, someone survived… You can do anything you choose to do." —Maya Angelou
"Life is a progress, and not a station." —Ralph Waldo Emerson
"Don't wait for the right opportunity, create it."

George Bernard Shaw
"The first step towards getting somewhere is to decide you're not going to stay where you are." —JP Morgan
"Nothing is predestined. The obstacles of your past can become the gateways that lead to new beginnings." —Ralph Blum
"The only person you are destined to become is the person you decide to be." —Ralph Waldo Emerson
"Do not wait until the conditions are perfect to begin. Beginning makes the conditions perfect." —Alan Cohen
"We may encounter many defeats, but we must not be defeated. It may even be necessary to encounter the defeat, so that we can know who we are." —Maya Angelou
"Nothing in the universe can stop you from letting go and starting over." —Guy Finley
"Disconnecting from change does not recapture the past. It loses the future." ―Kathleen Norris
"If you can't fly, then run. If you can't run, then walk. If you can't walk, then crawl. But whatever you do, you have to keep moving forward" —Martin Luther King Jr.
"The secret of change is to focus all of your energy not on fighting the old, but on building the new"

Socrates
"You are not supposed to be happy all the time. Life hurts and it's hard. Not because you're doing it wrong, but because it hurts for everybody. Don't avoid the pain. You need it. It's meant for you. Be still with it, let it come, let it go, let it leave you with the fuel you'll burn to get your work done on this earth." —Glennon Doyle
"Darkness must pass / A new day will come / And when the sun shines / It will shine out the clearer." —JRR Tolkien
"All great changes are preceded by chaos." —Deepak Chopra
"Have the courage to follow your heart and intuition. They somehow know what you truly want to become." —Steve Jobs
"Stop being afraid of what could go wrong, and start being excited about what could go right." —Tony Robbins
A Wish for Your Fresh Start
Wherever you are in your life, I hope you found these quotes about fresh starts encouraging. While taking the next step in your journey may not be easy, you have already been through a lot.
Our challenges give us the opportunity to arise stronger and choose a new way forward. The future doesn't always look like what we imagined, but it is a gift nonetheless.
Do you have a favorite of the quotes about fresh starts? Share in the comments!
Similar Posts: