Does your child love unicorns? If yes, you'll love these beautiful unicorn Perler bead projects.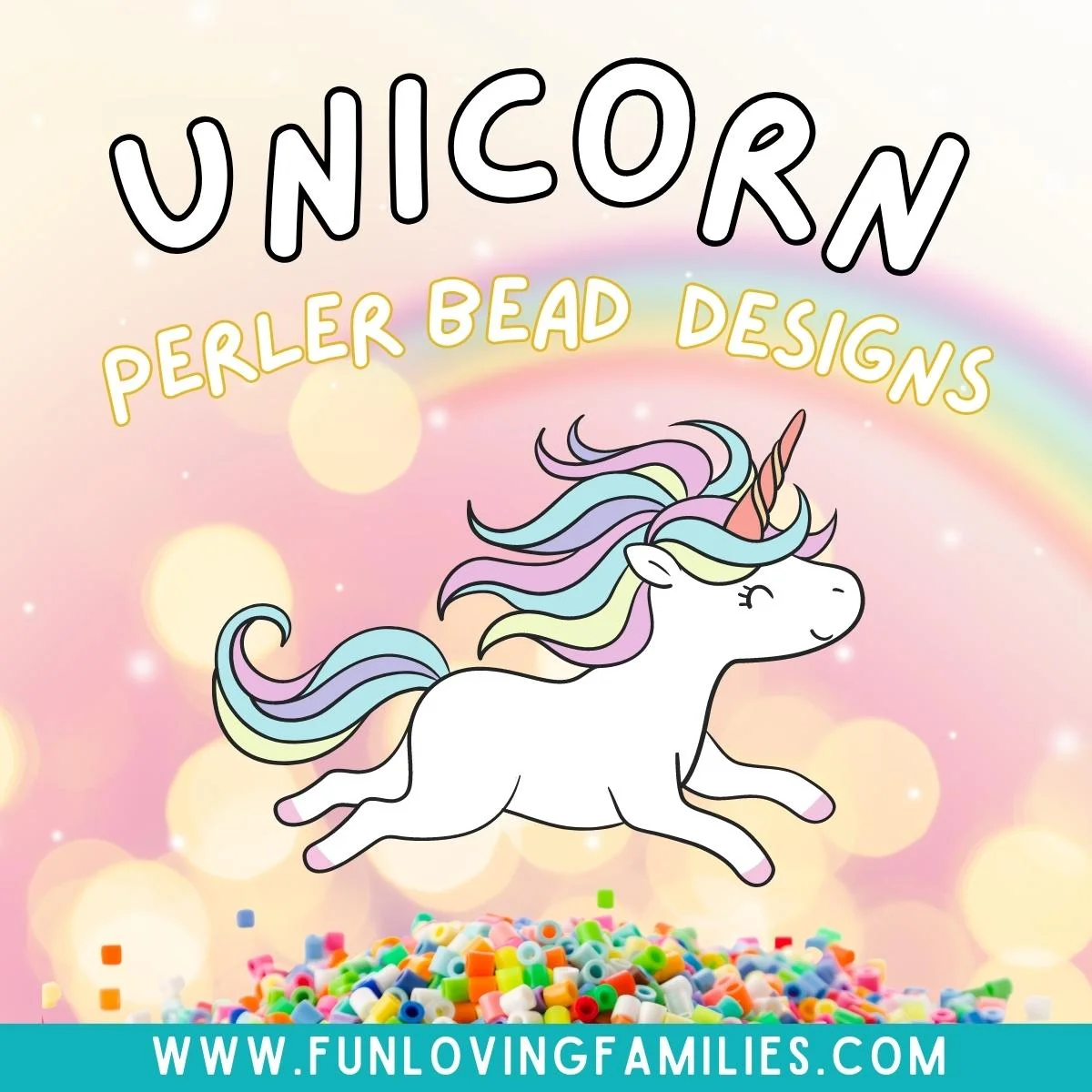 For many, unicorns evoke a sense of nostalgia. It reminds us of the time we were turning the pages of our fairy tale books and coming across these majestic creatures. They were beautiful and delicate and magical. They are a piece of our childhood that will always be shining. And now, if your child loves them because they too have read about unicorns in books or maybe seen them in movies or cartoon shows, then how about making some Perler bead unicorns together?
I've curated the best unicorn designs ranging from very easy to medium difficulty. There's a lot of content here for awkward little fingers. Check them out!
Unicorn Designs and Patterns
Easy Unicorn
It's not easy making a cute lil unicorn with just a few beads, but Crafter Brandi has managed beautifully. The combination of blue-green and red Perler beads works so well, too. Check out her Perler bead pattern at That Kids Craft Site.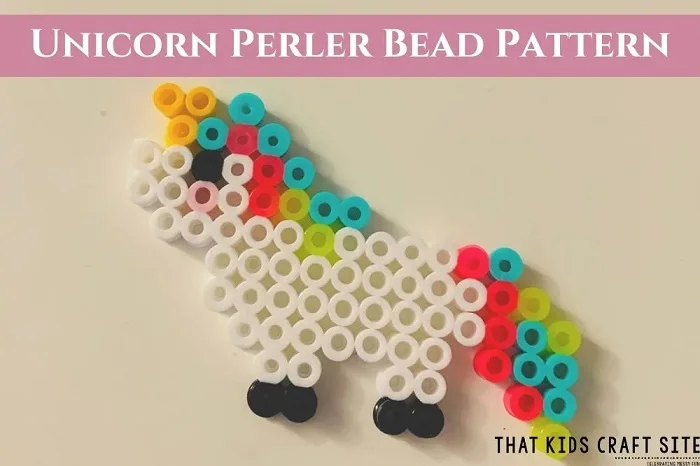 Multi-Colored Unicorns
Granted, they are not the most beautiful Perler bead unicorns out there, but they sure are colorful. If you are teaching your child color names, this is also a fun learning activity.
Easy Rainbow Unicorn
Check out these little unicorns with their rainbow manes. They're sure to add a splash of color to anybody's day.
Unicorn Pair + Rainbow
Cutesy Crafts made this pair of white unicorns with purple and pink manes. The rainbow completes this pretty picture.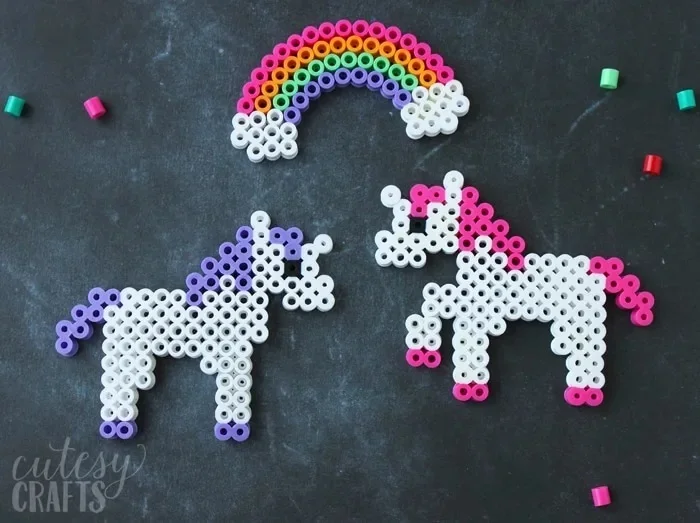 Cute Pastel Pink Unicorn
This pastel baby unicorn is arguably the cutest in this collection. Just look at that adorable face and cute star patterns.
Unicorn Heart
Now here's something a little different — a unicorn heart design. You can make this heart design for a best friend or a beloved family member. Remember that you can tweak the colors. You can change the color palette to pastel hues. You can even change the darker colored mare to a baby blue one.
Doe-eyed Unicorn
This beautiful unicorn is from the official Perler bead website. They did a great job of creating a unicorn design that is especially pretty and graceful. I just love the doe eyes, graceful head shape, and flowing locks. The Perler bead website is a great place to check out because they have very detailed tutorials in pdf format.
Unicorn with Colorful Mane
Here is another pretty unicorn with the most beautiful and colorful locks. Definitely no bed hair for this equine!
Rainbow-Vomiting Unicorn
So, I have to warn you that it gets a bit weird from here. After seeing the usual unicorn designs, let's check out the funny and even strange unicorn ones like this rainbow-vomiting unicorn, for example.
Edgy Unicorn
This unicorn might look cute at first glance, but its body looks like it's something out of an x-ray machine. If you want an edgy design, keep it as is. If not, simply use white beads for the rest of the body to remove the xray pattern.
Dabbing Unicorn
Introducing the dabbing unicorn. Dabbing used to be a thing and this unicorn is caught in 2D jumping on the dabbing craze.
Galloping Unicorn
If you are looking for a challenging unicorn pattern to do, check out this unicorn in motion. It looks so graceful in mid-run.
Happily, there is a pattern available for it.
Purple Unicorn
If you love the color purple or just happen to be purple-blooded, then you'll want to make this dreamy purple unicorn. You'll need a special board for it though.
3D Unicorn Video Tutorial
Making 3D Perler bead projects is not an easy task, so here is an easy-to-follow video for you visual learners. Laceys Crafts shows the patterns onscreen so it's really easy to follow. Just pause the video when you have to.
Unicorn Crafts
Let's look at all the fun things you can make with unicorns as your main theme. Friends, classmates, and colleagues will surely remark how cute your unicorn bookmarks or keychains are the moment they catch sight of them.
Unicorn Bookmark
Check out this pretty bookmark. Now, Perler beads are thicker than paper so just keep that in mind. I would use a Perler bead bookmark on a second hand book, but maybe not a new purchase I want to keep pristine.
Unicorn Earrings
These earrings are so colorful that they'll surely garner attention. It shouldn't be too hard to pair these with your OTD, too.
Beaded Unicorn
I just love it when crafters add other media to their Perler bead projects. In this one, the shiny rounded beads really make this little unicorn special. It would look great as a brooch, dangling earrings, or a tiny magnet.
Unicorn Brooch
Speaking of brooches, Gathering Beauty created this unicorn brooch. I'm not too excited about the rainbow and cloud brooch on a sweater, but I do think they'd look great pinned altogether on a bag or maybe a denim jacket.
Unicorn Headband
Nothing quite says that you're a unicorn enthusiast like a unicorn headband. Take a regular headband, do the ears and horn in Perler beads, and glue the pieces together with some strong adhesive. If you're using a glue gun, make sure you're the one handling it to keep your little ones safe from accidental burns.
Unicorn Keychain
This unicorn keychain is so well-thought of. First off, the pattern itself is very unique. Secondly, the way that it is constructed with the metal rings, it has a lot more swing to it compared to the regular keychains that crafters make. You can get these materials from a craft store near you or online.
Magical Card
Nowadays, people just send memes or greetings online. In my opinion, this just makes handmade cards all the more special. Doesn't this unicorn card look especially precious?
Framed Unicorn
This would look perfect on a nursery wall or your child's bedroom. This baby unicorn looks so adorable and cute. The frame is actually a simple one that you can easily buy from a store, but the pink background paper is a perfect foil for the baby unicorn.
Here is the pattern for your reference.
Unicorn Art
Here is more unicorn art. It's not framed unlike our example above. Instead, it's mounted on a canvass. The crafter prepared a dreamy sky background and then glued on the Perler bead unicorn and sparkles. This would look great on your child's wall or bookcase.
Light Switch Frame
Now here's a novel idea. You can make these unicorn light switch frames. As the name suggests, these are square or rectangular frames around your light switch. If you sometimes end up groping in the dark for the light switch, you can do these switch frames using glow-in-the-dark Perler beads.
Fantasy Frame
Make this fantasy frame with your little ones. Just make some Perler bead art together and then glue the pieces to a frame using strong adhesive. This is the simplest way to make a Perler bead frame.
Here's another pretty frame with a colorful rainbow border all around. Make your work personalized by spelling out your child's name in Perler beads. Your little one will surely love it!
Unicorn Door Sign
Speaking of personalized, how about this nameplate? Make this Perler bead unicorn and then just change the name to your child's name. If you're not sure if it will fit, make a draft first using graphing paper or something similar. If your child's name is long, use a nickname.
Unicorn Nameplate
Here's another cute unicorn nameplate. These nameplates would look great hanging on your child's door, on her bedroom wall, in her bookcase, or on her desk if you can make a stand for it. (Scroll down to the bottom of the list to see how you can make a standee.)
Unicorn Hanging Ornament
This unicorn bubble ornament is the prettiest! It looks professionally done, but if you look closely, you can see that it's relatively simple to do and you can DIY it. Buy the materials you need in a craft store near you or online. Then, make the Perler bead base and a tiny unicorn. Embellish your work with glitter, more beads, flowers, and ribbons.
Glow-In-The-Dark Unicorn Box
This unicorn box would make the perfect night light. It's a box made entirely of Perler beads with a small LED light inside.
Sadly, I don't have the exact tutorial for this one. Instead, I will share a YouTube tutorial on how to make a Perler bead night light. To make it into a unicorn box, simply swap out the heart designs for unicorn patterns and you should be good to go.
Unicorn Standee
Here's the cute baby unicorn again! You can make any of your favorite Perler bead works into standees by creating a base for them. Leave an empty space in the middle so you can slot in the baby unicorn.
Here is an example of the slot method.
Alternatively, you can also just build legs out of Perler beads so that your Perler bead work can stand up. Here is an example of how to do it.
The legs:
And here is how it looks like assembled:
If you enjoyed this post, please share it with your friends and family! You can bookmark it also for future reference.
Similar Posts: