This year, the kids will be begging for a seat at the Thanksgiving kids table. We've collected the best Thanksgiving crafts and activities for you to create a fun and engaging space that we know the kids will love.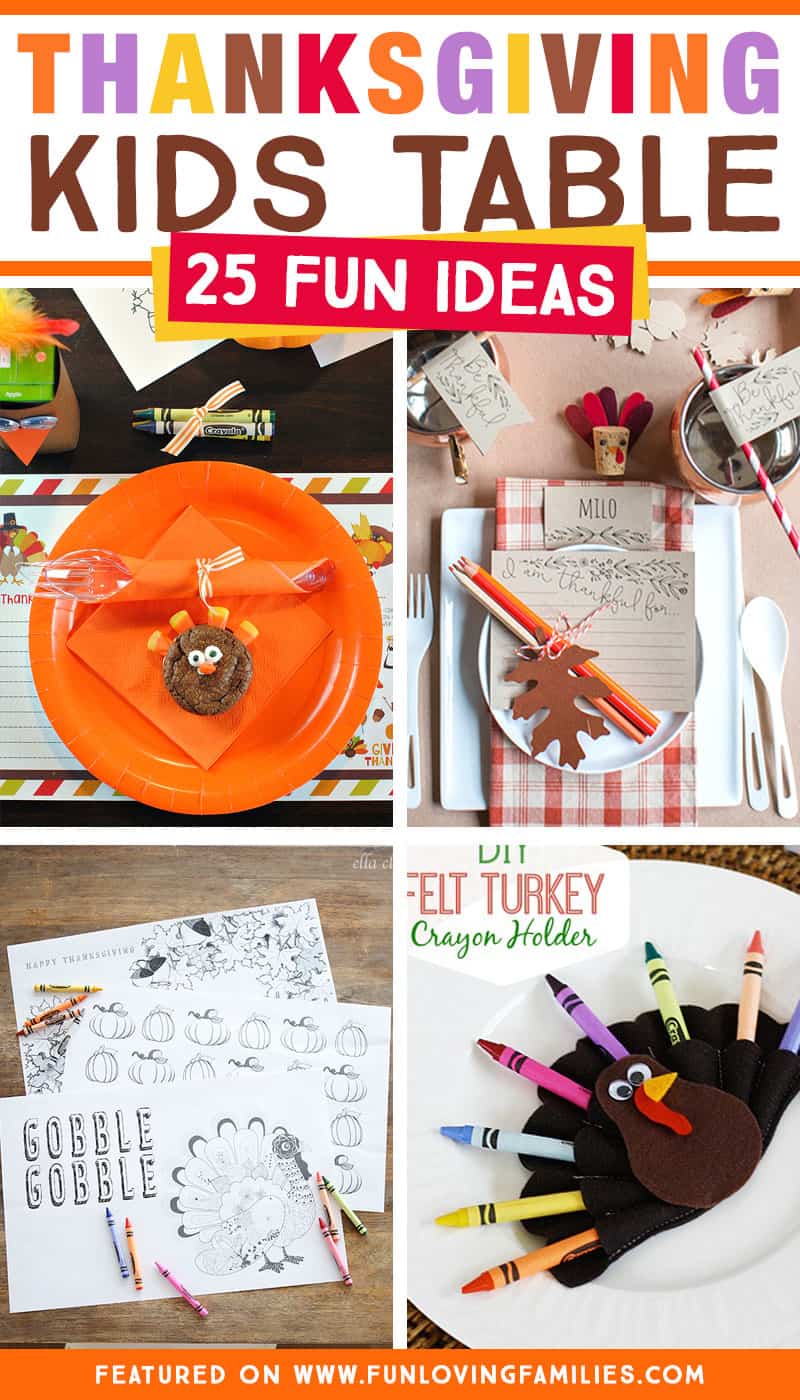 Thanksgiving Kids Table Settings
Some kids may initially scoff at the idea of having to sit at a kids table (raises hand, yes, my kids would absolutely be defensive about the idea). The idea here is to make their special table as appealing as possible so that they know the table is meant for their enjoyment. Check out these ideas for inspiration for your own Thanksgiving kids table.
1. Simple Thanksgiving Kids Table Setting for Two
These adorable balloon turkeys are the real stars of the show in this simple Thanksgiving table setting from Design Improvised.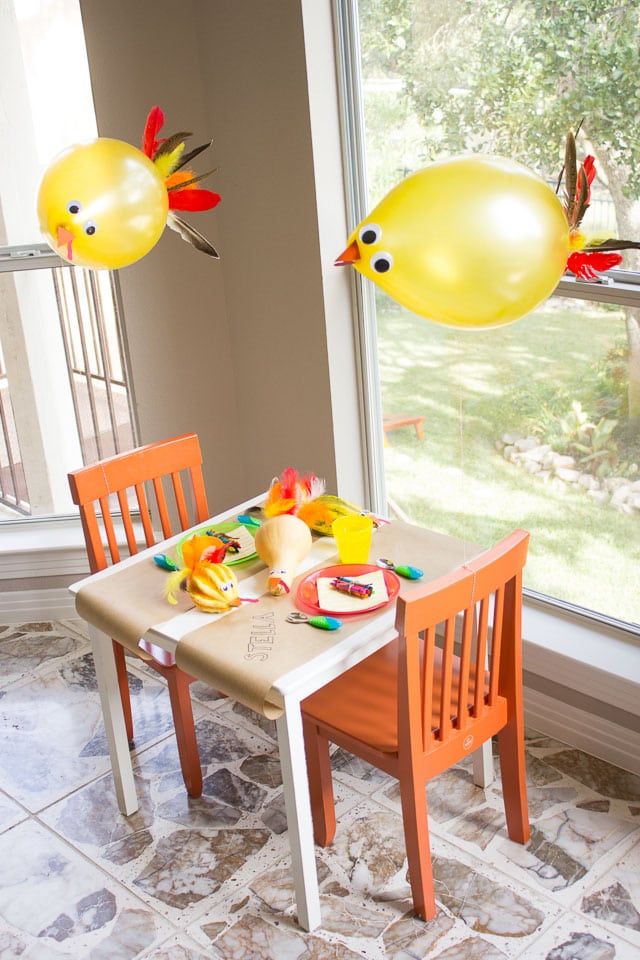 2. DIY Thanksgiving Kids Table Setting
Use kraft paper and toilet paper rolls to recreate this beautiful and simple table setting. View from the Fridge shows how to create the DIY turkey napkin holders that help pull the whole theme together.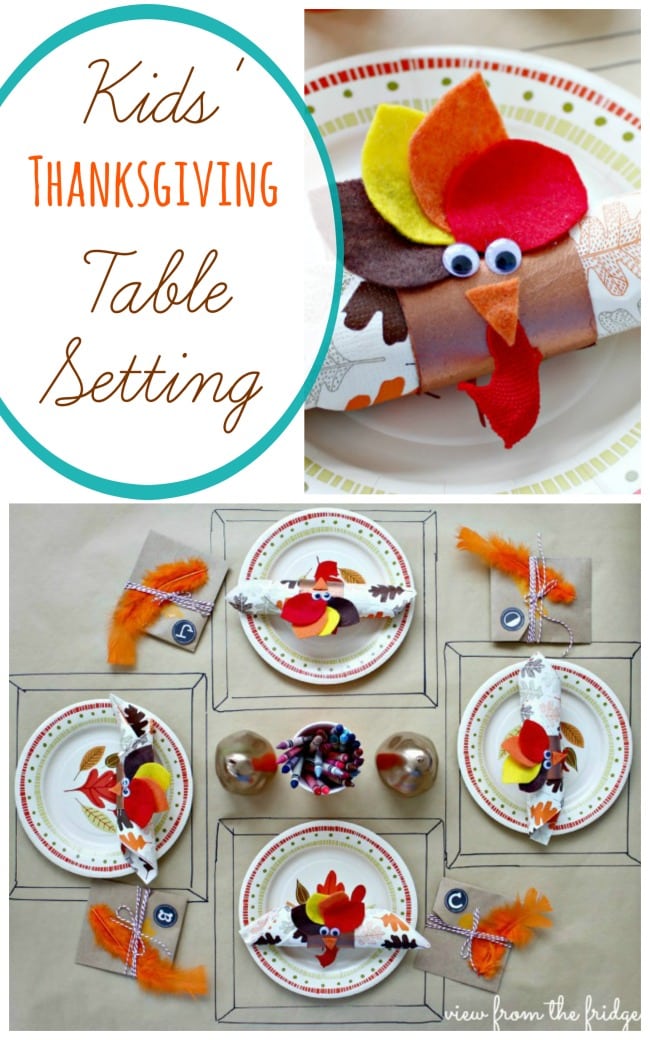 3. Bright and Colorful Thanksgiving Kids Table Setting
Design Dazzle created an eye catching table setting for their kids table with colorful decor. They've got printables for the Thankful sign, goodie bags, and more.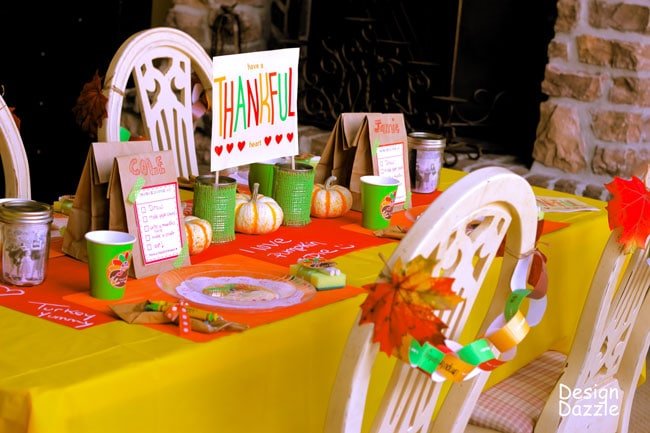 4. DIY Felt Turkey Crayon Holder
This felt turkey crayon holder is super-simple to make. Skip to my Lou has the pattern and it's as easy as cutting it out and putting it together. Don't worry if you don't sew. Try a bead of hot glue instead and you'll still have great results.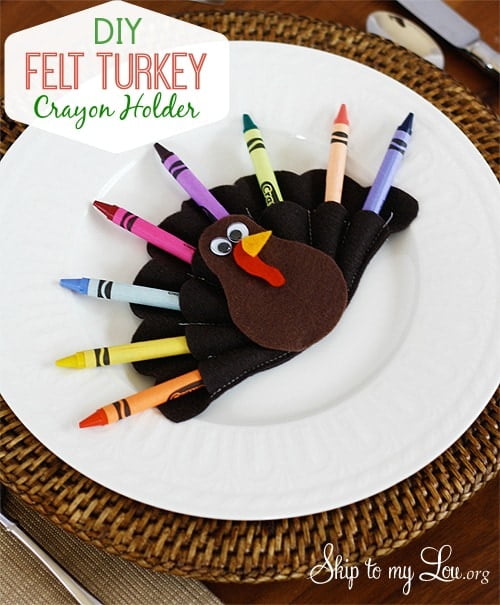 5. Thanksgiving Treat Table Setting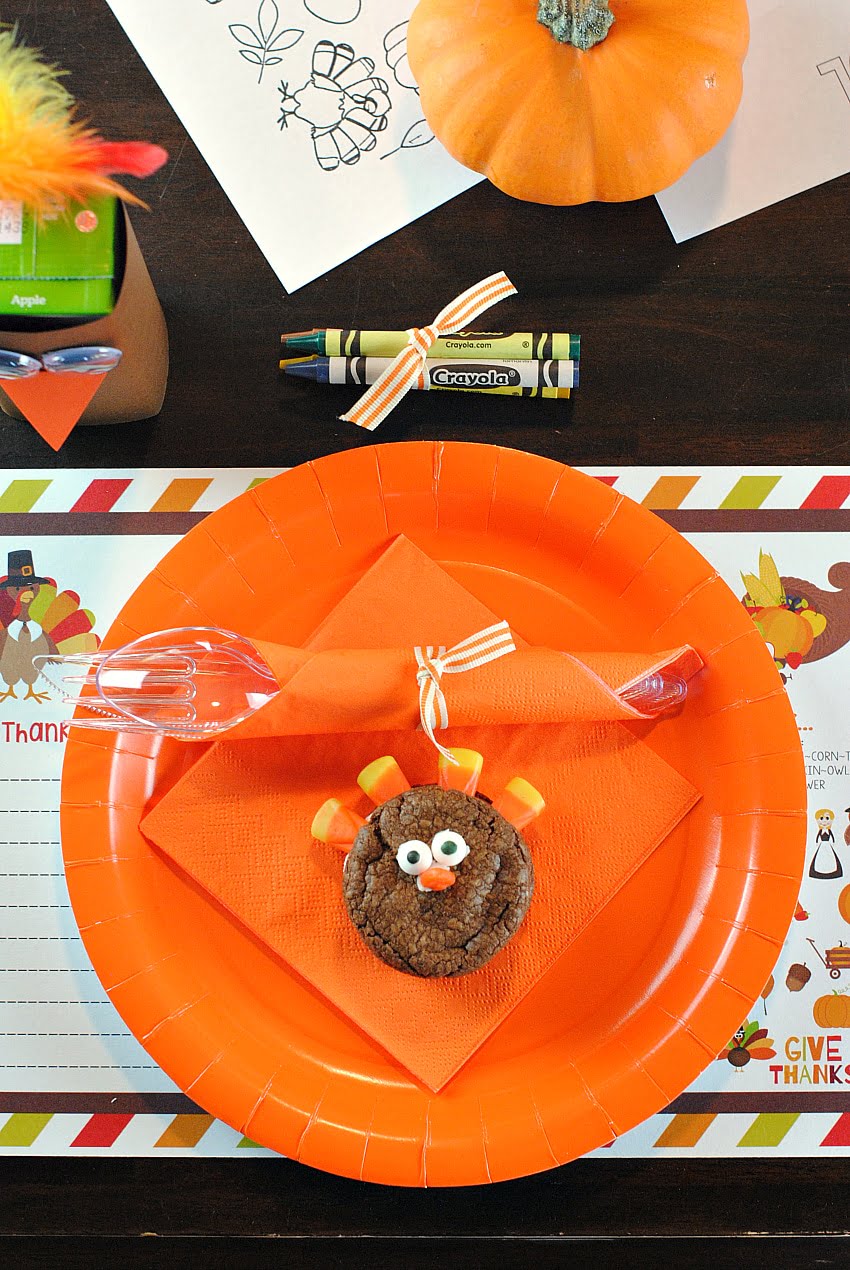 You'll have no trouble getting the kids to the table if you have these adorable turkey whoopie pies greeting them at their seats. See Fun Squared for more fun Thanksgiving kids table ideas.
6. Thanksgiving Kids Table Decor Inspiration
This gorgeous kids table was created by the good folks over at Lia Griffith. You can get lots of ideas for your own kids table from this setting, such as the wine cork turkeys and the copper mugs with straws. There are lots of little details that make this a total stand-out. Plus, the printables are available to download if you become a member.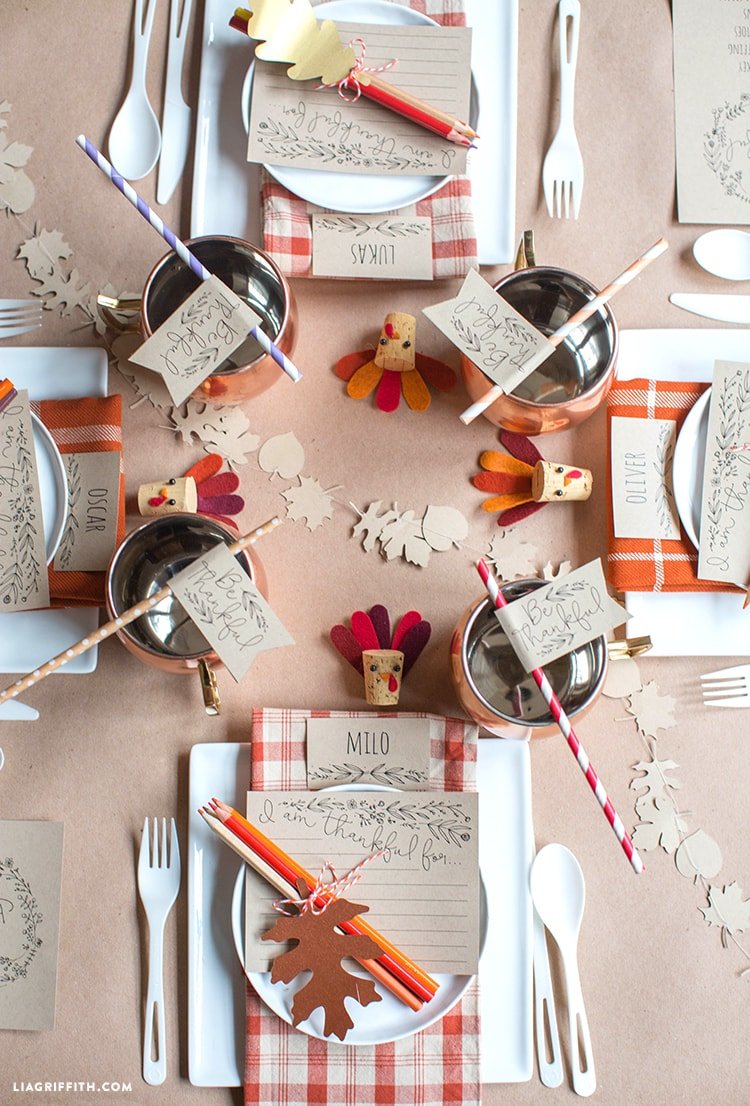 Thanksgiving Kids Table Crafts
These Thanksgiving kids table crafts will keep little hands and minds busy while waiting for the main event. Since the kids will be eating at the same table, I really tried to stick to crafts that are simple with easy clean up.
7. Brown Bag Turkey Hand Puppet Craft
Brown bag puppets are a classic and Richmond Mom really pulls it off with these adorable paper bag turkeys. You can have these ready for your pint sized guests to put together at their own special kids table.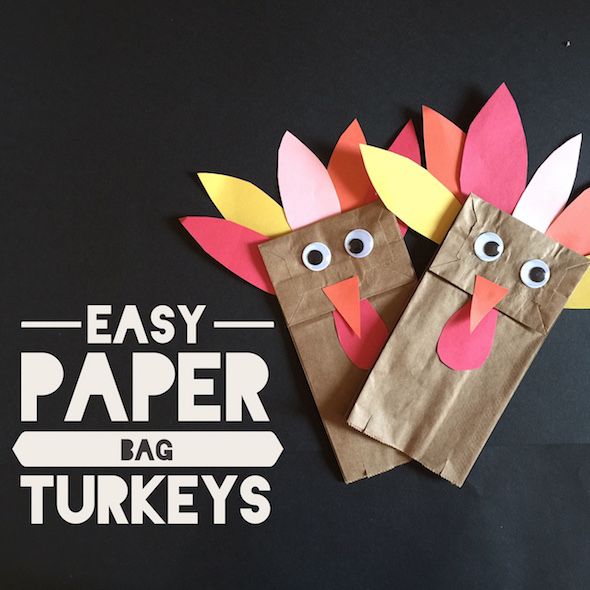 8. Simple Turkey Spoon Craft
Hooked on Pinterest shares this adorable plastic spoon turkey kids craft. Have the materials for this craft handy at your Thanksgiving kids table for kids who need a little something to keep them busy for a just a few minutes while they wait for dinner to be served.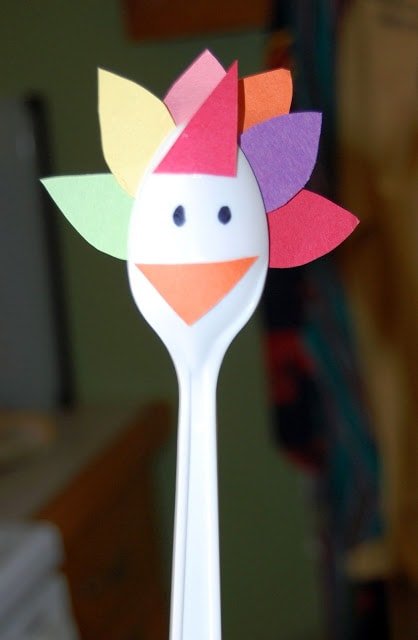 9. Paper Plate Turkey Headband Craft
I am in love with these adorable turkey headbands from Pink Stripey Socks. You can have these ready to go at the kids table and use them in your table settings. I guarantee the kids will be thrilled to see these at their table. Or, you simply provide the materials and instruction and let the kids have fun making their own!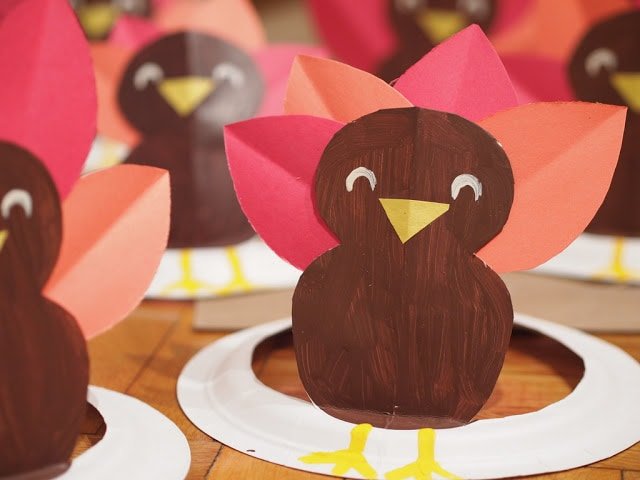 10. Easy Origami Turkeys for Kids
The absolute best part of these turkeys is the colorful fan tail. For smaller kids, it might be best to go ahead and make the body for them and let them color and fold their own fan for the tail. This is another one of those projects that can do double-duty as as festive Thanksgiving kids table decor and a simple activity for kids at your gathering. See Creative Family Moments for the folding instructions.
11. Printable Thanksgiving Playdough Mats
These playdough mats from Tot Schooling will definitely keep preschoolers and other small kids entertained this Thanksgiving. Keep the mats an assortment of Fall-colored playdough at your kids table for a little extra fun.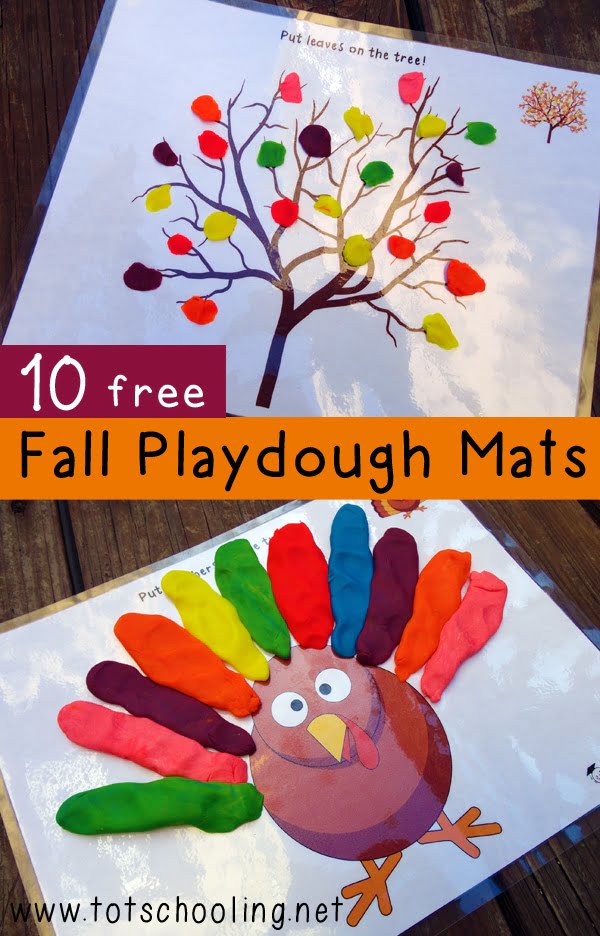 Printable Activity Sheets & Placemats
Placemat activity sheets are lifesavers when there's a little bit of downtime and kids are stuck at their seats. Choose one from below that suits your needs best based on your kids ages, abilities, and interests.
Printable Thanksgiving Activity Bundle:
12. Printable Kids Placemats
Activity sheet Thanksgiving placemats from My Sister's Suitcase.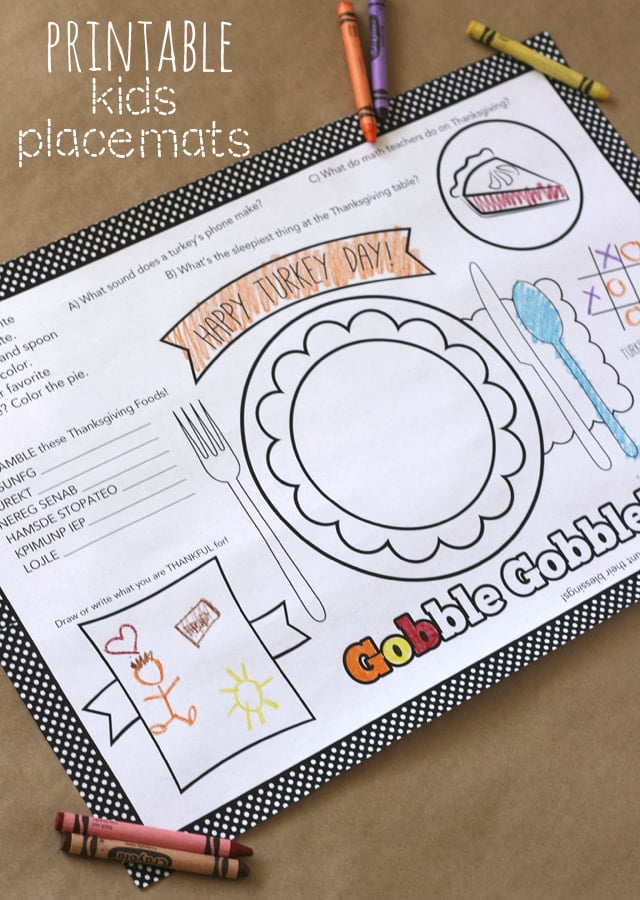 13. Thanksgiving Placemat Coloring sheet and Acitivity Sheet Combo
Download and print this kids Thanksgiving activity sheet placemat from Sweet Rose Studio.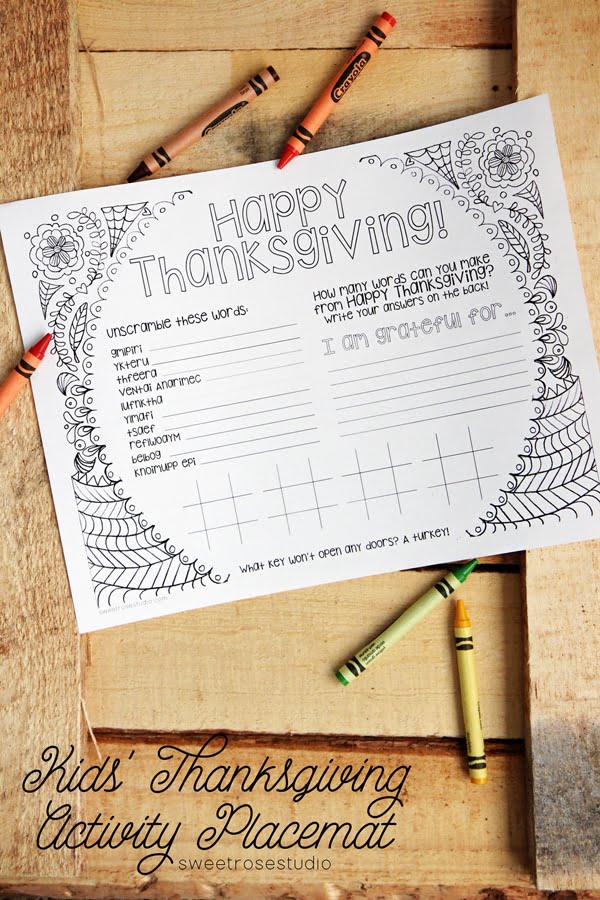 14. Set of 3 Thanksgiving Kids Table Coloring Sheet Placemats
These placemat sized coloring sheets from Ella Claire Inspired are available as a free download for your kids this Thanksgiving.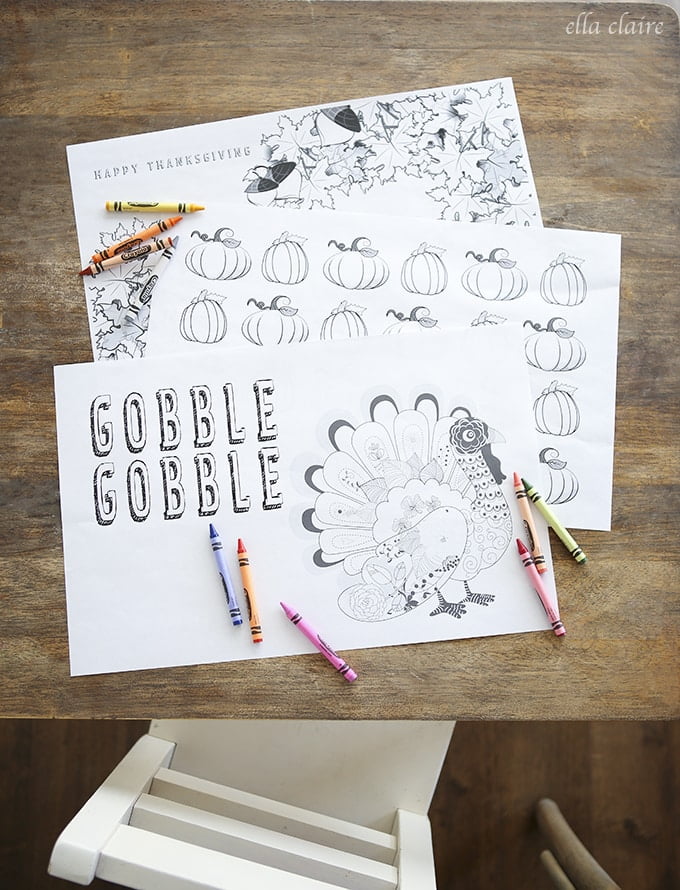 15. Free Activity Placemat Printables
Planes and Balloons shares these boredom busting Thanksgiving placemat activity sheets for you to download and print.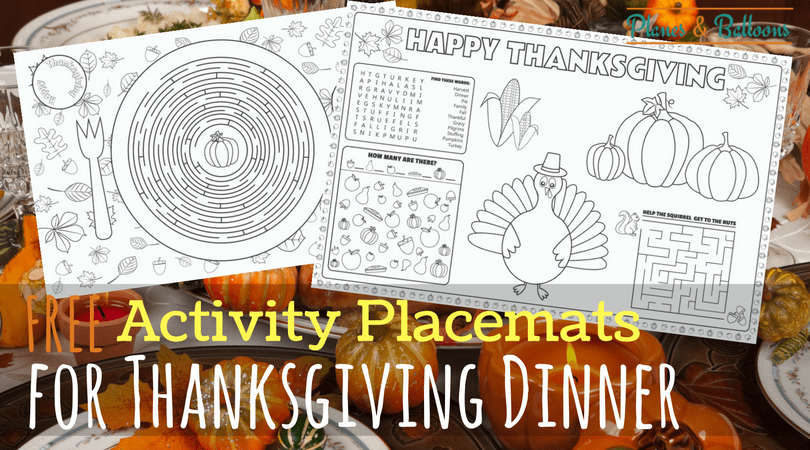 16. Printable Thankful Coloring Sheet
These printable Thanksgiving placemats are fun to color and help kids reflect on what they're thankful for this year. These are available for download at Be Different Act Normal.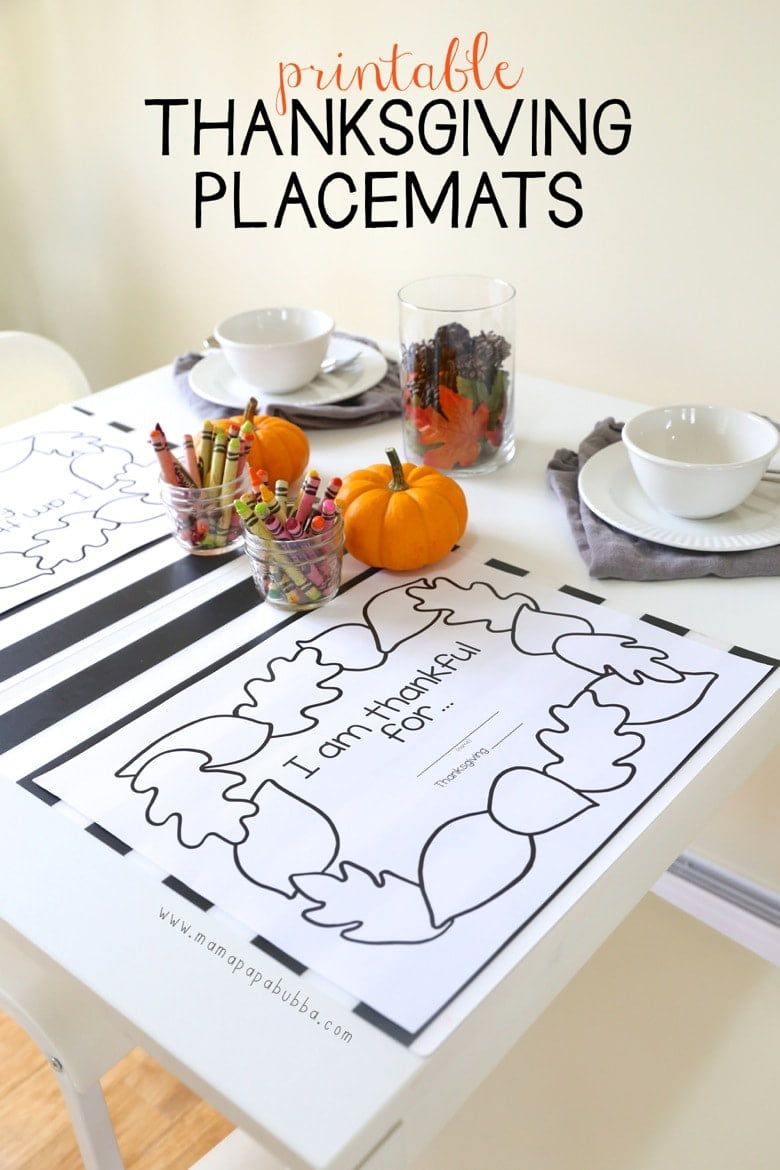 17. Colorful Thanksgiving Printable Placemat
Fun Squared is offering this bright, colorful activity sheet placemat with plenty of fun for your Thanksgiving kids table.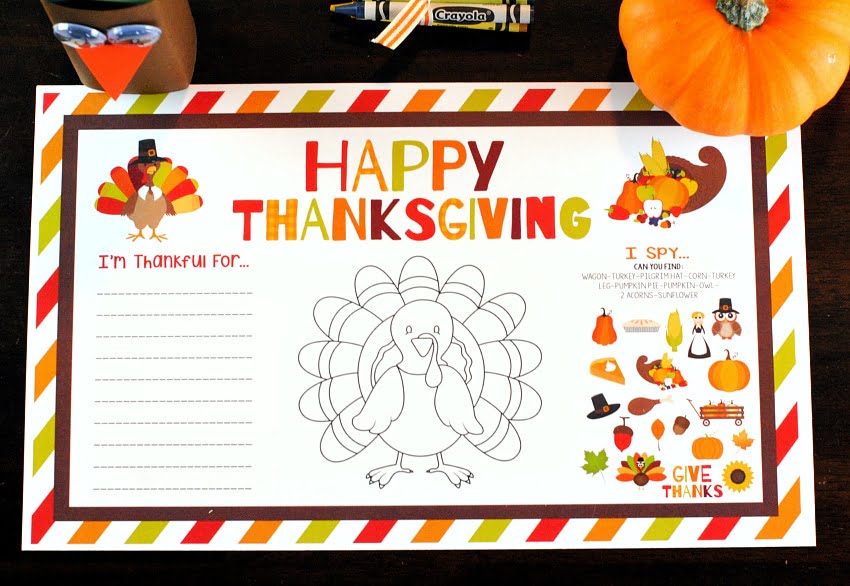 18. Activity Table Covering
This giant, table-sized activity sheet is seriously awesome. You can buy the files for this as part of a larger printable kit at Caravan Shoppe. Then, sit back on Thanksgiving and enjoy watching all your kids, and kid-guests gathered around their kids' table and working together to color and decorate. Don't forget to get some pictures of the effort.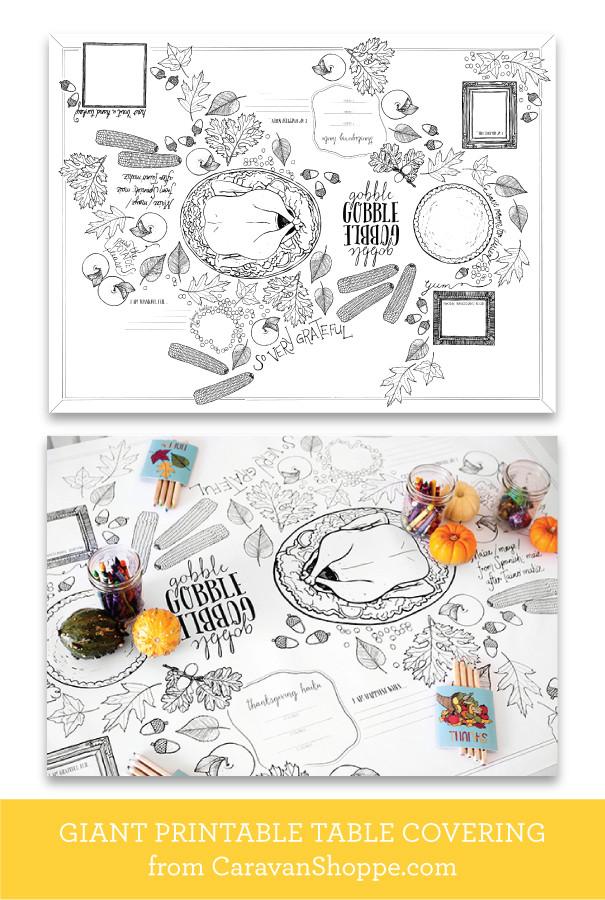 Check out these other Thanksgiving Printables from Fun Loving Families: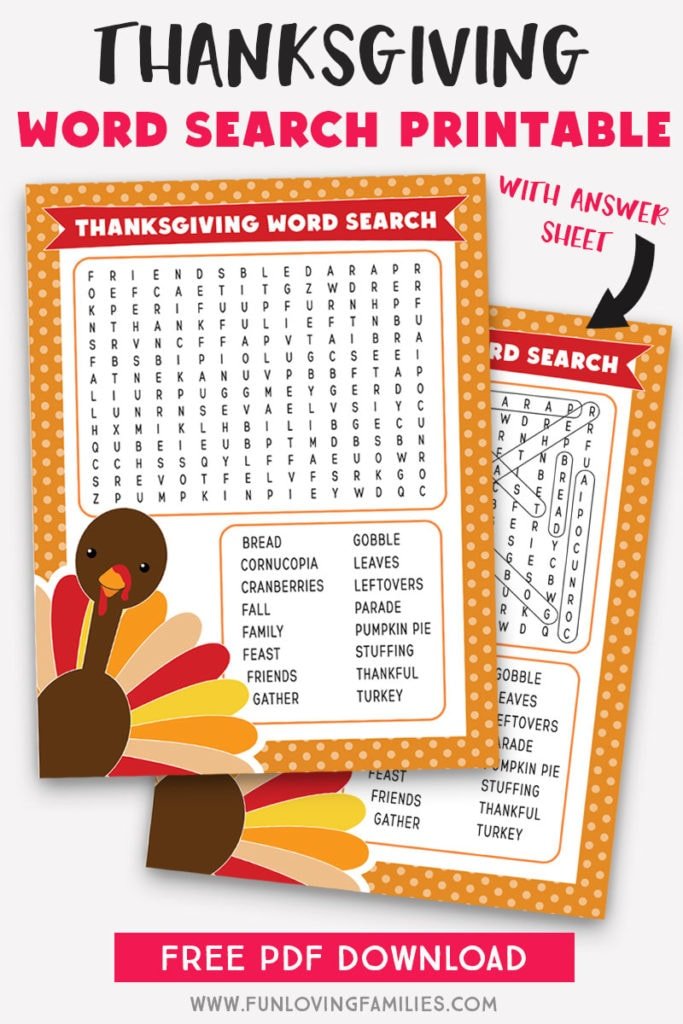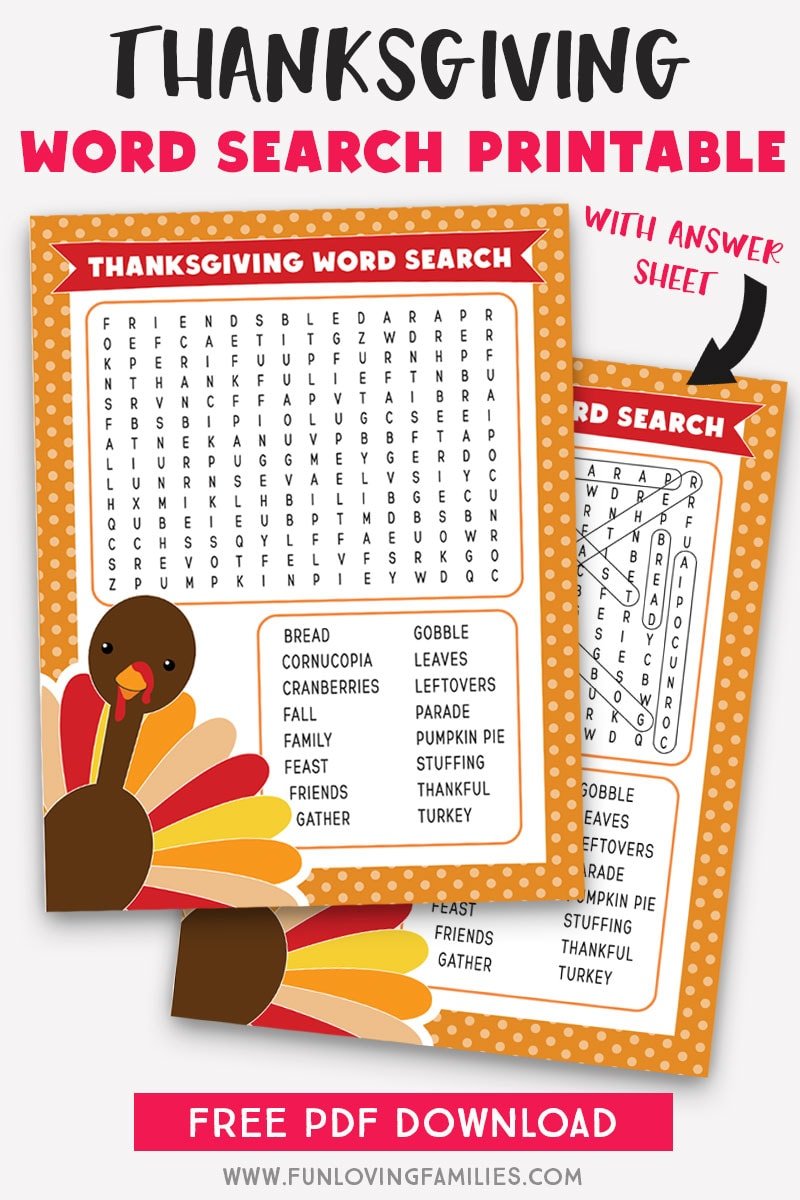 Turkey Coloring Pages for Thanskgiving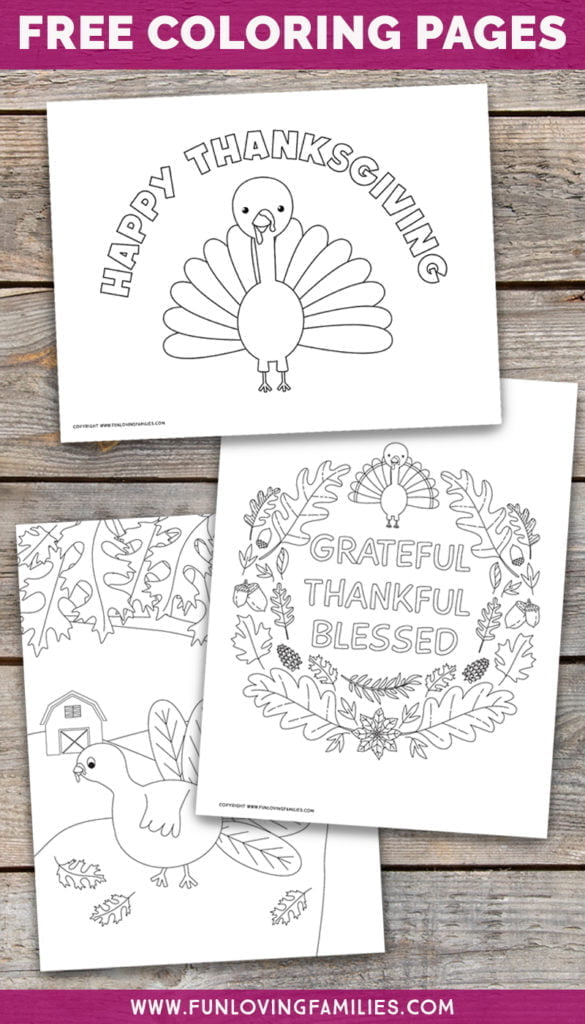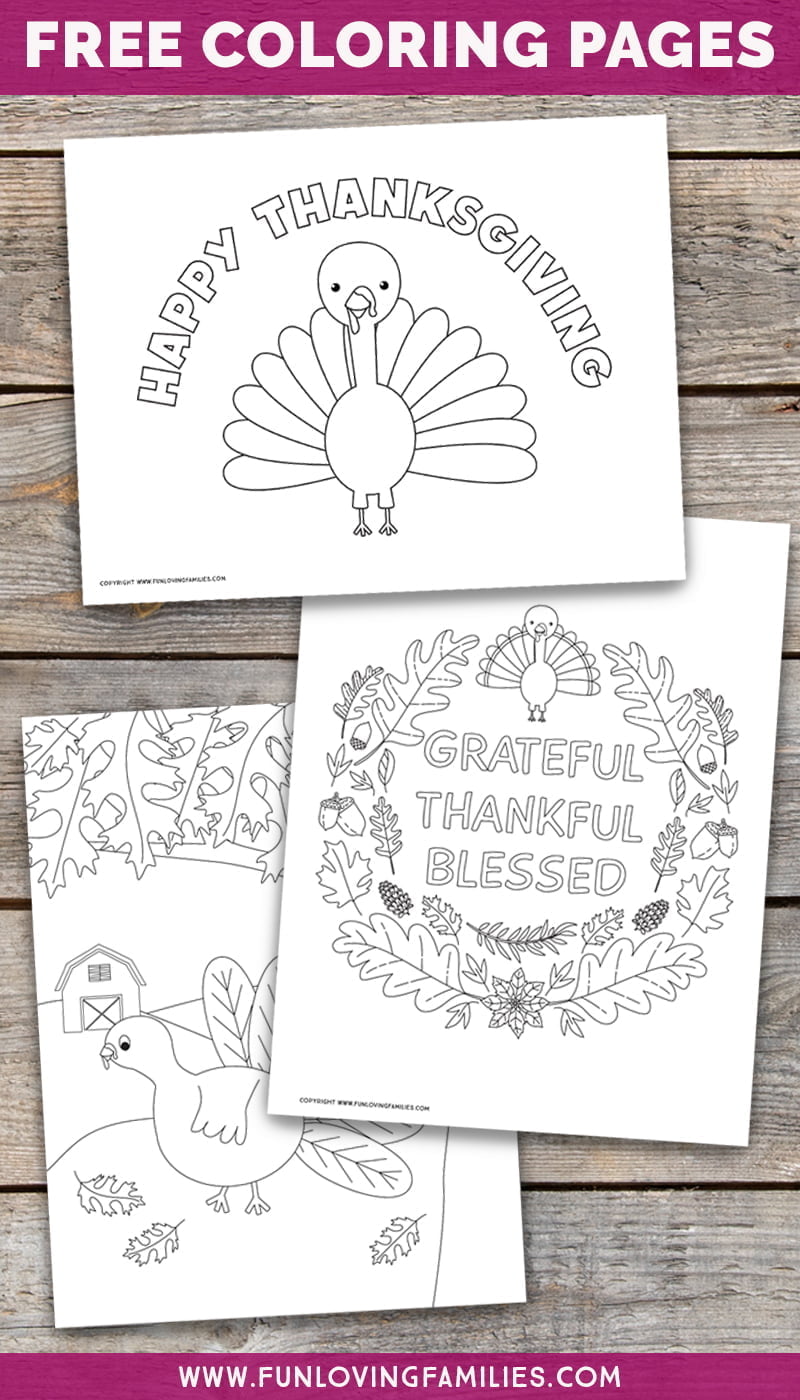 Count Your Blessings from A to Z Printable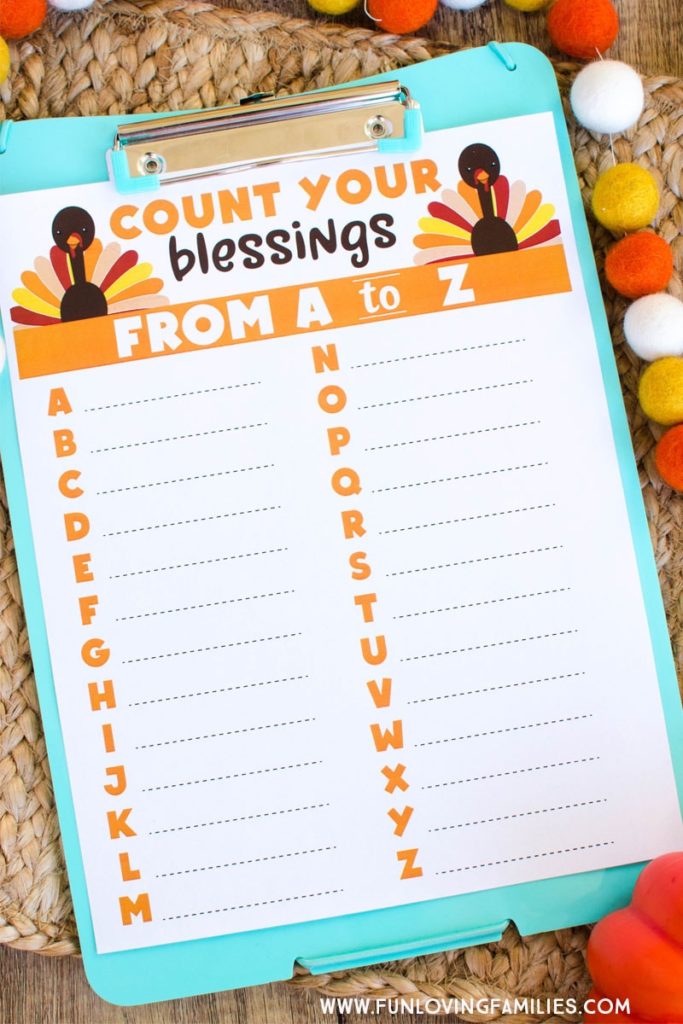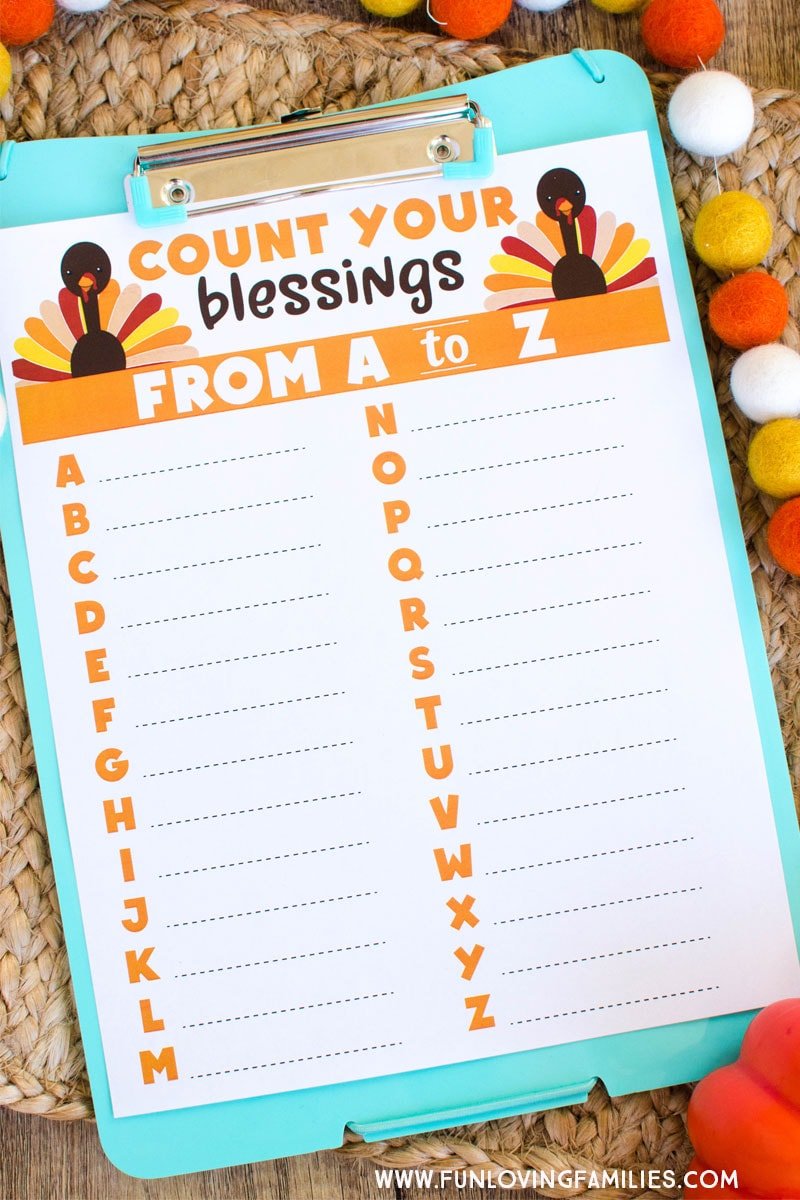 Thanksgiving Kids Table Games
These fun games and activities will make sure your kids have lots of laughs and make memories together at their own table. And, they'll proved some mess-free fun for your gathering.
19. Printable Thanksgiving Jokes
Print these jokes from Southern Mom Loves for the kids to enjoy together. I like the idea of tucking a few jokes into each kid's napkin setting so they can go around and take turns sharing their jokes.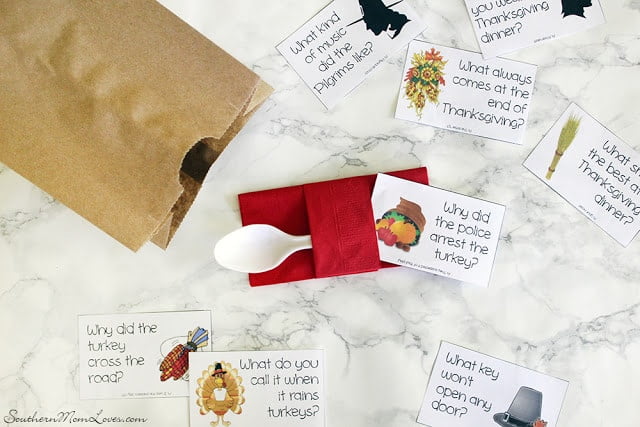 20. Thanksgiving Printable Mad Libs
Who doesn't have a memory or two of cracking up over a silly Mad Libs they did as a kid? Keep the laughs going at the kids' Thanksgiving table this year and head over to My Sister's Suitcase for this free printable that you can download and print at home.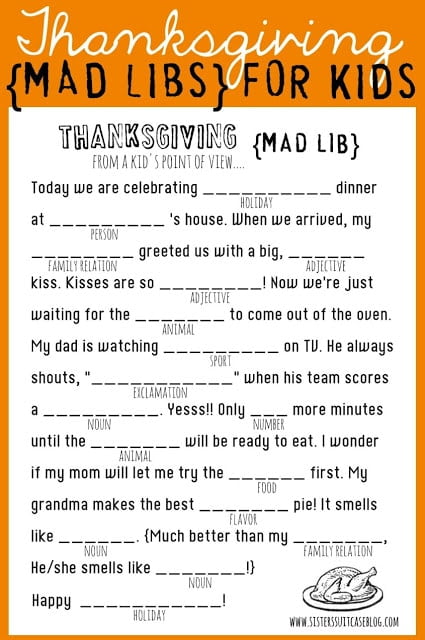 21. Easy Thanksgiving Game for Kids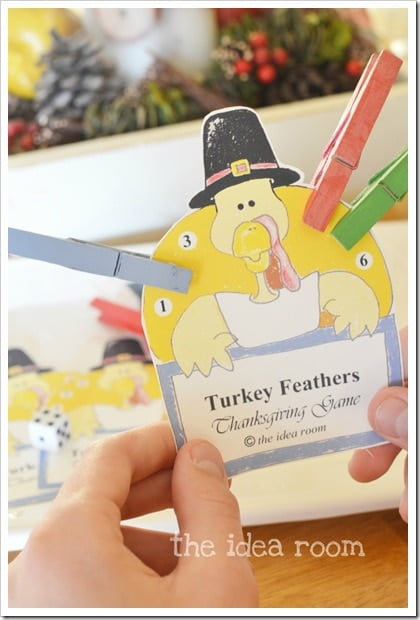 If you need a game that's simple enough for preschoolers but still fun for the bigger kids, then this Turkey Feathers Thanksgiving game from The Idea Room might be just what you need. If your kid knows numbers and colors, he can play this game. Keep this handy at your Thanksgiving kids table to help fill in any time gaps and keep the kids from getting bored.
22. Printable Thanksgiving Bingo Game
If you have enough kids at your Thanksgiving party, you should definitely check out this printable Thanksgiving Bingo from Crazy Little Projects.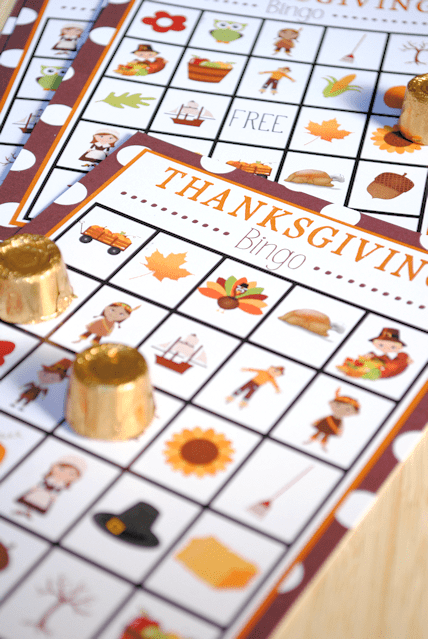 23. Printable Thanksgiving Joke Teller
Fortune teller? Cootie catcher? What do you call this paper-folded game that we've all made at some point? (I'd seriously love to know for my own curiosity!) Anyways, whatever you call it, Bren Did has some Thanksgiving-themed joke tellers for the kids to use and enjoy this Thanksgiving. Be sure to sprinkle a few at your kids table and then listen for the laughs and giggles throughout the day!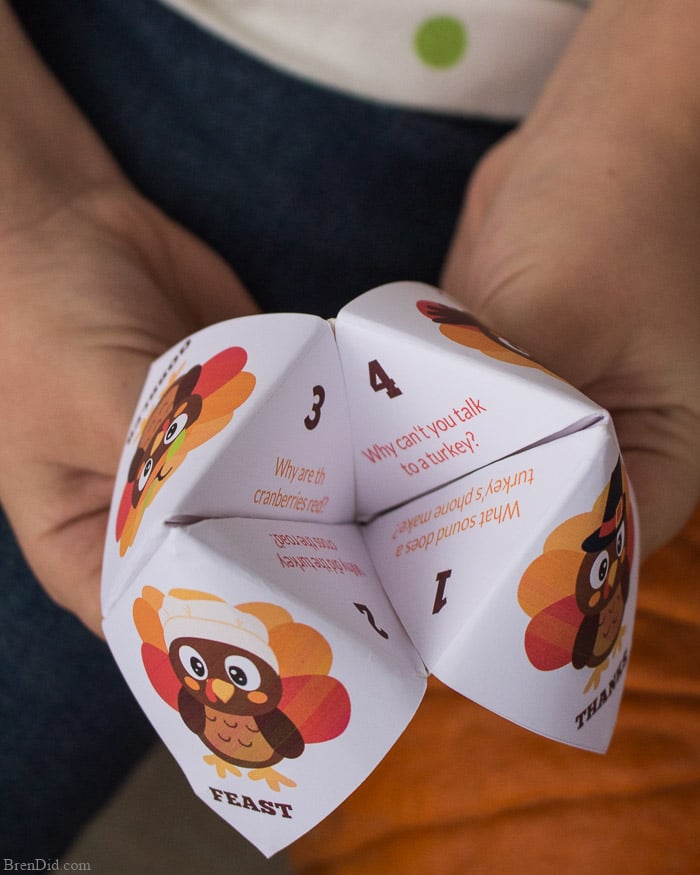 Also be sure to checkout our collection of Fall Handprint Crafts for lots of turkey handprint craft ideas!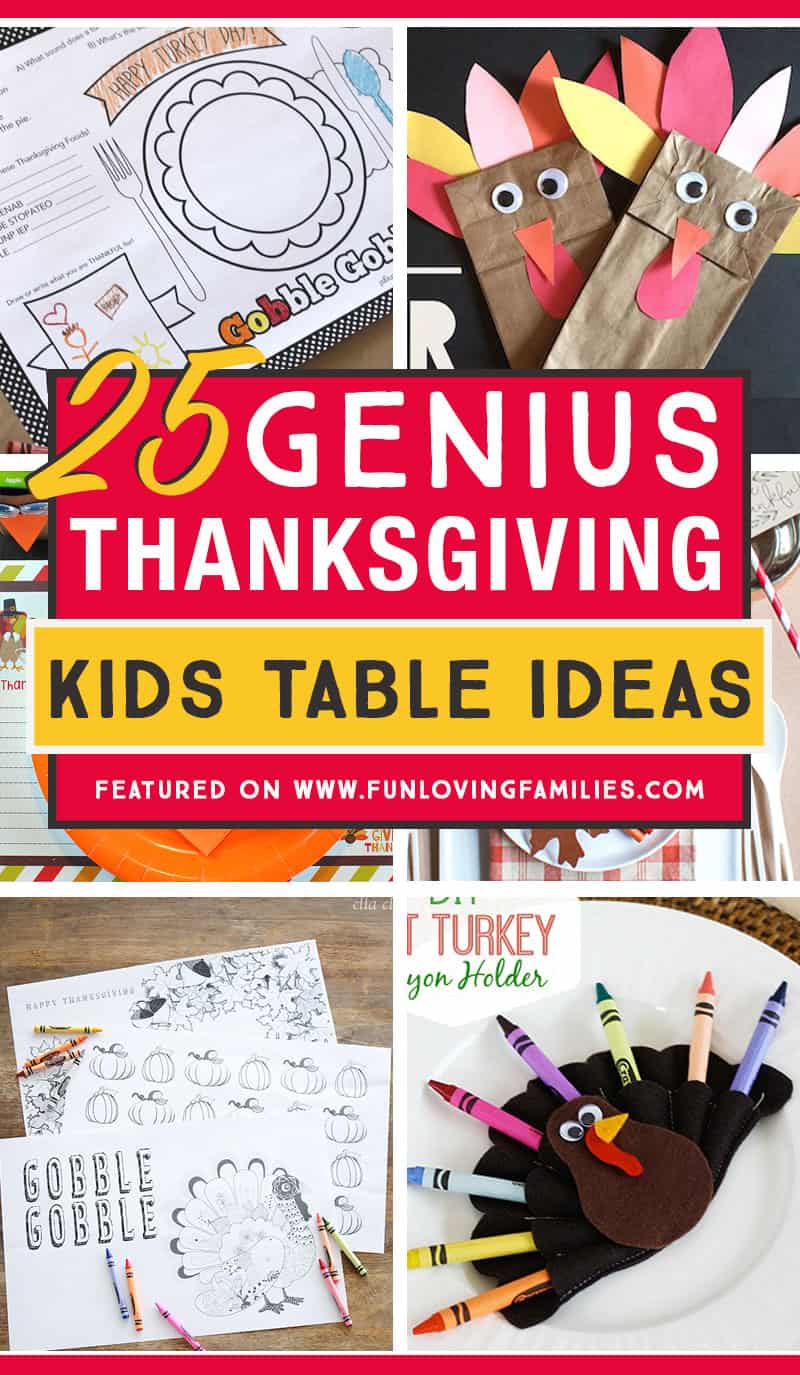 Save
Save
Save
Save
Save
Save
Save
Save
Save
Save
Save