Just like any family around the world, we are huge fans of the Star Wars moves. It started with my generation watching the original 3-part series in the Eighties, then later it was my daughters swooning over the (tragic) love story of Anakin and Padmé. With the advent of the new Skywalker Saga, it seemed like the perfect time to introduce the original Star Wars Trilogy to the girls, and what a walk down memory lane that turned out to be for me.
Watching these classics gave me the idea to put together a comprehensive list of Star Wars Perler bead patterns and ideas.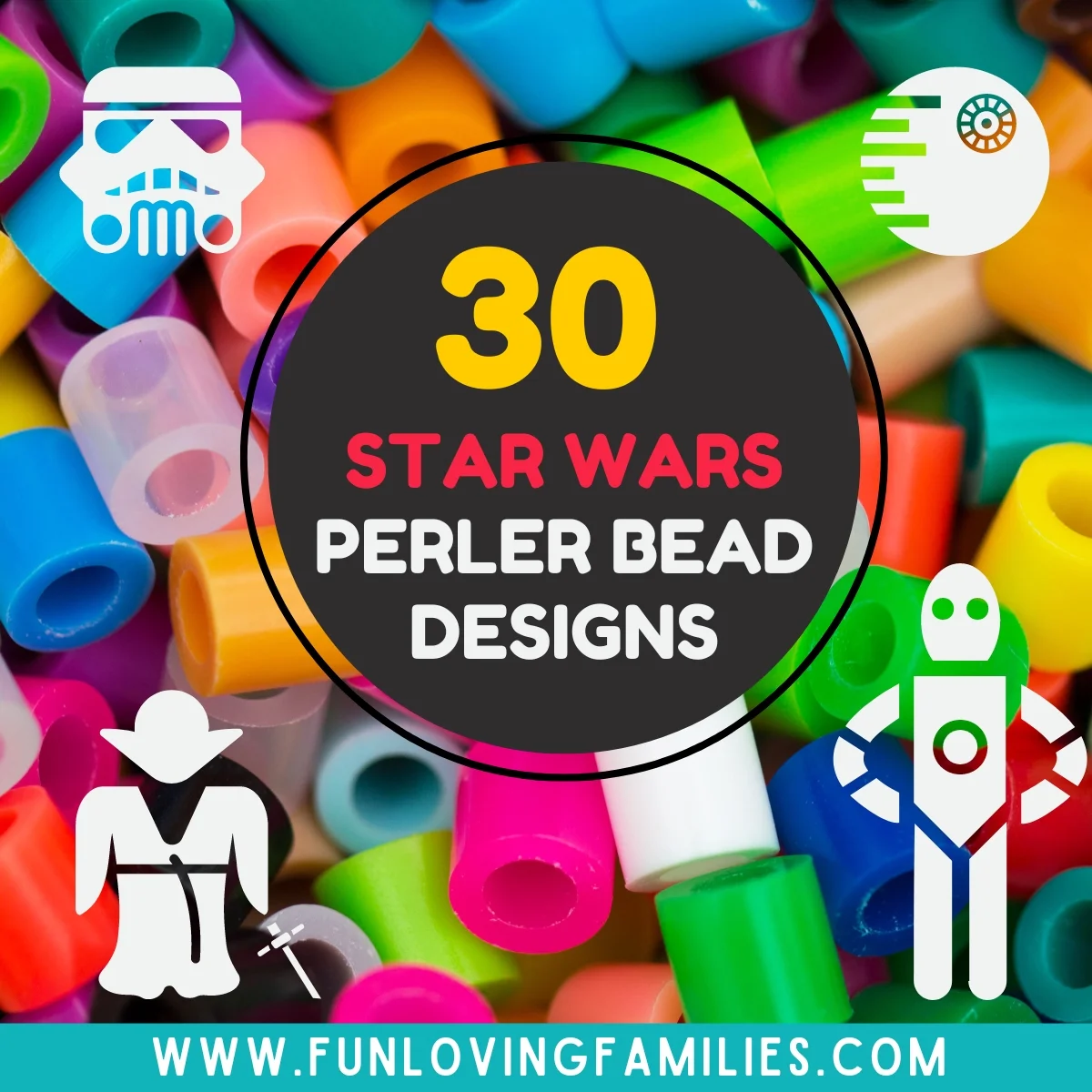 Star Wars Perler Bead Character Designs
I've made a list of characters from the movies most of them being from the original trilogy. However, combing through the many Perler bead designs online, it surprised me how some side characters are so popular compared to others.
Princess Leia
Just a brief glance at this Perler bead design from Krysanthe will instantly tell you who this character is. Check out her distinctive donut hair, flowing white dress, and pretty eyes. It's Princess Leia, the badass princess of the Star Wars universe. Because of how small yet recognizable it is, you only need a few beads to recreate this cute design.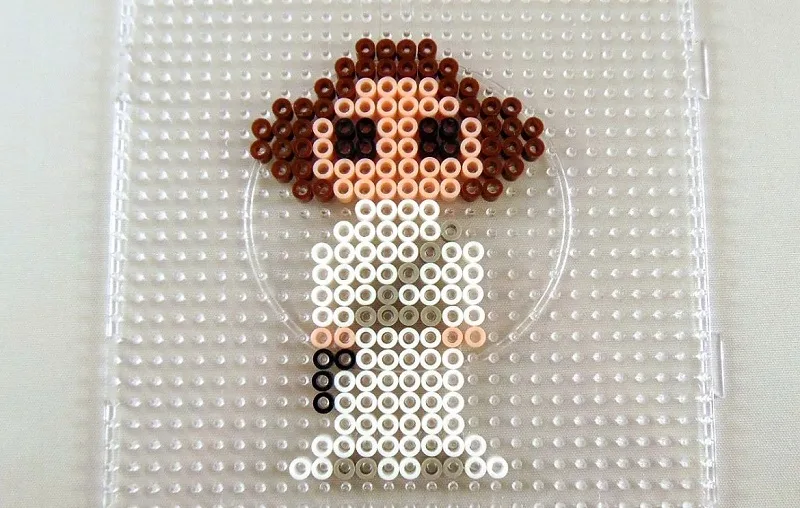 Luke Skywalker
This design captures the look of the young Tatooine farmboy who later rose to become one of the greatest Jedi to ever exist. Doesn't he look good wielding a lightsaber?
Baby Yoda
Grogu, also fondly called Baby Yoda, comes from the Mandallorean series. I may be stretching it a bit but I just had to include him. I mean, who can resist all that adorableness?
Ewok
Speaking of adorable, the Ewoks were a species in the Star Wars Universe that got a lot of fan love. Looking like cuddly fighting teddy bears, it's easy to see why many fans are endeared. Here is a small Perler bead design of an Ewok.
Star Wars Minis
If you are making Perler bead projects with a child who loves all the characters in the movie, introduce these Star Wars minis from Homemade Heather. They are easy, quick to do, and you only need a few beads to finish the entire lot.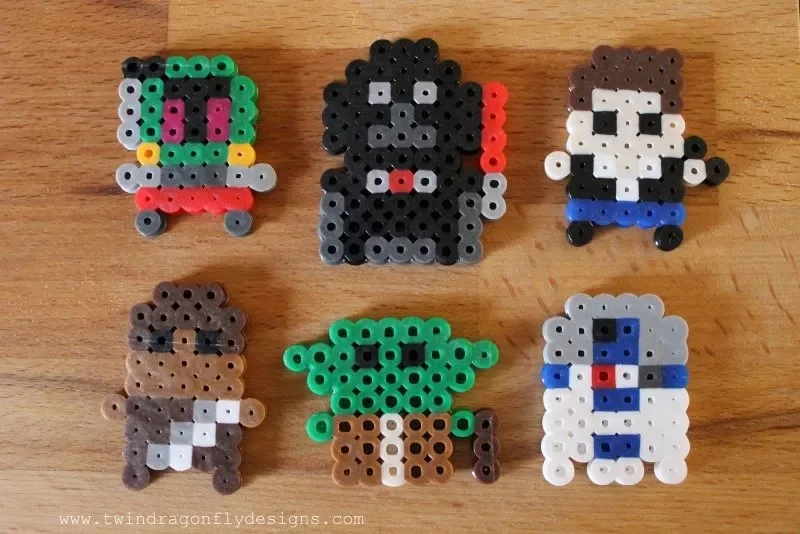 Star Wars Chibis
Here are the chibi versions of the main characters of the movie. I spy Han Solo in his signature vest. This time, Leia is dressed in the outfit that Jabba made her wear when she was captured. I tried to find out what it's called and Google tells me it's the Slave Leia outfit or a metal bikini. Interesting, huh?
The Force Awakens Designs
Frugal Fun for Boys made some designs from The Force Awakens movie. I see R2-D2, Darth Vader, a stormtrooper, a TIE fighter of the Imperial fleet, and a couple more. If your child is the type to really get into the machines in a movie, this is a great page to visit.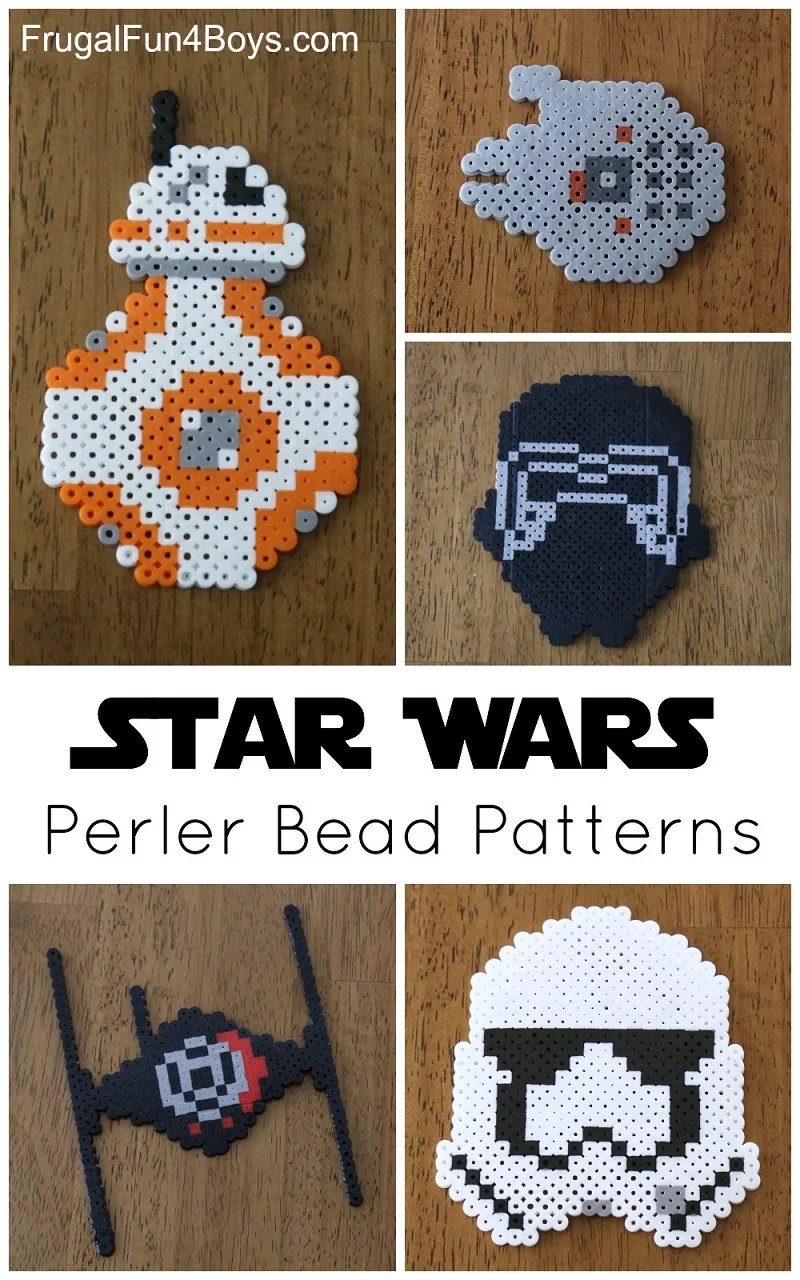 Star Wars Logo
Proud Star Wars fans need a logo somewhere in their room. Check out this clear pattern. It mimics the black and yellow movie logo very well.
Stormtroooper Chibi
More stormtrooper designs! Surprising as it may sound, crafters really loved making these bucketheads. Just look at this tiny stormtrooper chibi.
Dancing Stormtroopers
This may well be my favorite project in the whole list. It's fun and humorous. Who would have thought to make dancing stormtrooopers? Just make sure to stock up on white and black Perler beads.
Hello Kitty Crossover
Let's venture into the realm of crossovers. Whoever created these designs must've loved Hello Kitty and Star Wars a whole bunch. The quality of the designs is top notch. There are so many cringey Hello Kitty copies out there, but these are so well-designed that they practically look official!
Among Us Star Wars Cross Over
I never thought I'd see an Among Us and Star Wars crossover but here we are. This is exactly what's so fun about letting your imagination take off. You can create some of the most fun and unique things out there. Check out this Sith Crew member wielding a lightsaber.
Yoda
Speaking of beautiful patterns, here is the wise Yoda. I love how just a few Perler beads can create this exquisite pattern. Just look at the shading on his head and how his clothes and staff were designed. The colors pop and look alive.
Boba Fett
Surprisingly, a lot of crafters seem to have taken a real interest in Boba Fett. There were so many Boba Fett designs to choose from, but in the end, I chose this one because it's practically a work of art.
Galaxy Stormtrooper
The perfect partner to the Boba Fett work is this breathtaking Galaxy Stormtrooper. Just look at the pink and purple galaxy swirling through the Stormtrooper's head armor.
Death Star
This Perler bead Death Star totally captures the vibe of the one in the movie. It is scary, bleak, and foreboding. If you plan to do this, make sure to have a lot of black, white, and gray beads on hand.
Star Wars Perler Bead Craft Projects
All of the Perler bead designs above can be turned into various everyday things that you can use at school, in the office, or around the house. You can also give them out as gifts for birthdays and holidays. Think keychains, coasters, earrings, room décor, and so on. Check out all the possibilities below.
Darth Vader Keychain
Isn't this Darth Vader chibi keychain cute? It's small and blocky so it won't come apart easily. I love the pairing of the chibi and the lightsaber. You're sure to get compliments if you have one of these.
R2-D2 Cord Keeper
I'm quite impressed by this project from All For The Boys. Perler beads can be quite fragile, but Crafter Allison went ahead and designed a Droid cord keeper. Make sure your beads are fused together well so that they don't come apart easily. You'll have to be quite heavy handed with that iron.
Star Wars Earrings
So long as you have a small enough design, you can make any Perler bead figure into earrings. That's the beauty of crafting. I am sure that if you sport any Star Wars earrings, they'll surely be a conversation piece.
R2-D2 Earrings
Here is a nicer design pattern for the R2-D2 earrings. You can clearly see the individual beads, so it is easy to replicate. I really quite like it when the beads haven't melted onto each other. Personally, what I do is to apply more heat to the back-facing side so that the front is more aesthetic. Try it out and see what works best for you.
Stormtrooper Coasters
I love square coasters and these Stormtrooper coasters are just so colorful and well-designed. If your family loves the Star Wars franchise, this is a good project to do with the kids. You can even assign a color per family member.
Star Wars Coasters
If you have a black and white monochromatic aesthetic going on at home, these coasters will fit your home well. Do you recognize these symbols?
Star Wars Christmas Tree Hangings
These round Christmas balls are already very interesting because they're entirely made from Perler beads. Now make them more interesting by making them Star Wars themed! Your visitors will call you a certified Star Wars aficionado.
R2-D2 Light Switch Cover
Ah, light switch covers. I've been scouring online stores for the best glow-in-the-dark ones and haven't found any that really tickled my fancy. The search might just be over with this droid design. I'd have to buy some glow-in-the-dark Perler beads though.
Star Wars Photo Frame
There were so many Star Wars photo frames to choose from that I was stumped for quite a while. I ended up choosing this design below. The all-Perler bead frames were pretty cool, but I liked the combination of the sturdy wooden base together with the fun Perler bead characters and logo. I like how Darth Vader and Yoda are poised to fight – very action-packed. I also know that this one would last a long time in our rowdy household.
Darth Vader Photo Frame
I chuckled when I saw this photo frame design. If you have a friend or family member who loves Star Wars and their birthday is coming up, have their close-up picture printed so you can slide it into this photo frame. Can you imagine how funny that would look? Just make sure the giftee doesn't mind before showing it off to other people.
Star Wars Standees
If you end up with an awesome piece of work, you can always show it off by propping it up with a standee. As I keep repeating, I love standees because they're a perfect way of displaying your best works. Instead of keeping them in storage or gathering dust, they'll be cool décor in your room.
Framed Storm Trooper Portrait
Framing your works is another way of displaying and keeping them safe. You'll be hitting two birds with one stone. Isn't this framed Stormtrooper helmet so cool?
Framed Dancing Stormtroopers
And we're back to the Dancing Stormtroopers. Framing these characters in their funny dance poses is the perfect idea. If you already have Star Wars memorabilia on your shelves, these Dancing Stormtroopers would be a great addition to your walls.
R2-D2 3D Tutorial
I wanted to end this list with a 3D project so, of course, I went to my favorite 3D Perler bead crafter QDCrafts. Watch her build a 3D R2-D2 with just Perler beads.
If any pattern caught your eye, be sure to bookmark my post for future reference. Please share it also with your fellow crafters!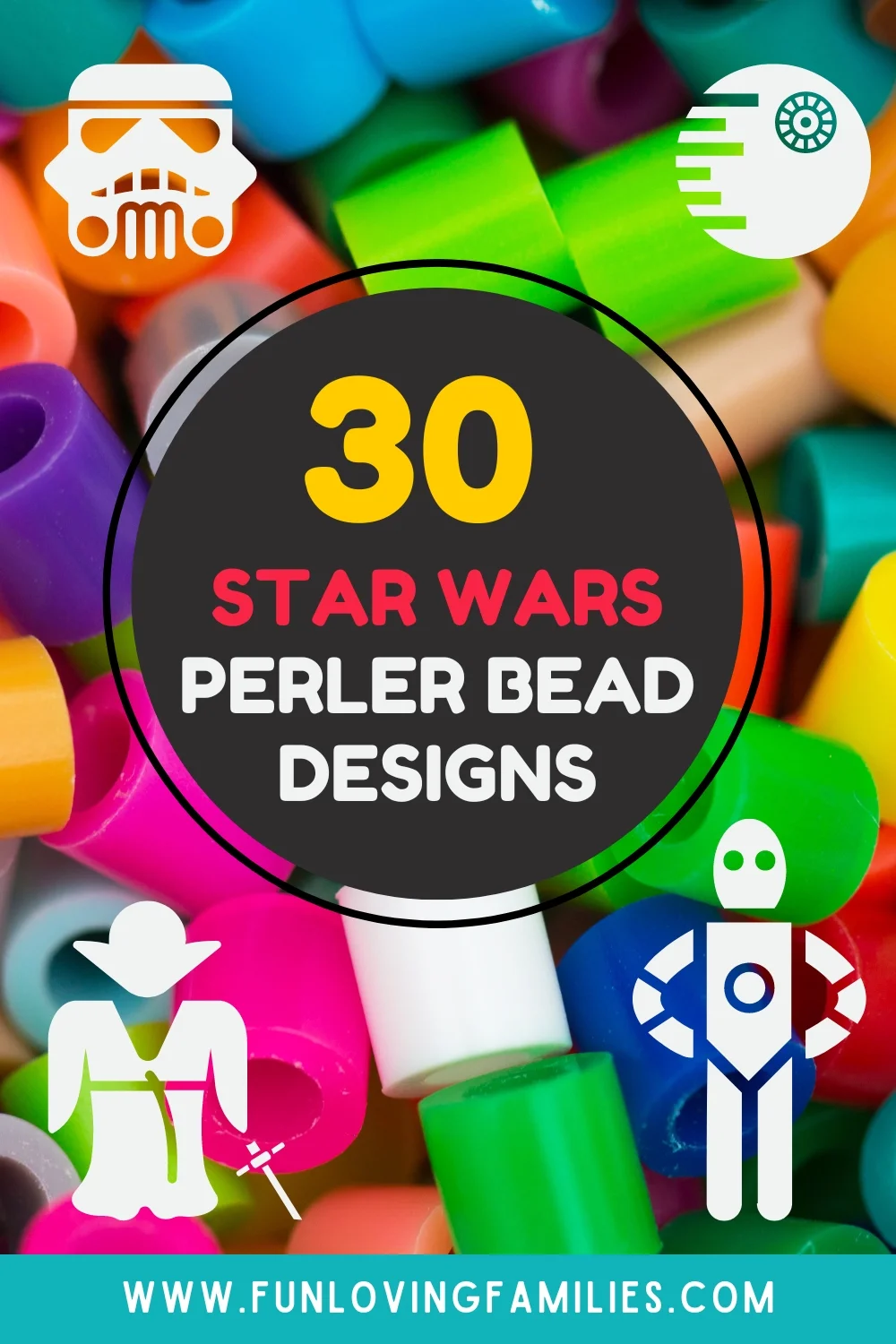 Similar Posts: