Student life is tumultuous. Whether you are cramming for an exam, struggling to find the motivation to get your homework finished, or are overwhelmed with a particular topic, these affirmations will help you shift your mindset so you can overcome your obstacles.
Being a student (at any level) requires a significant amount of self-motivation and accessing that inner drive is easier some times than others. These affirmations are designed to help you muster up that excitement for your studies that will allow you, not only to get the grades but also to enjoy the learning process.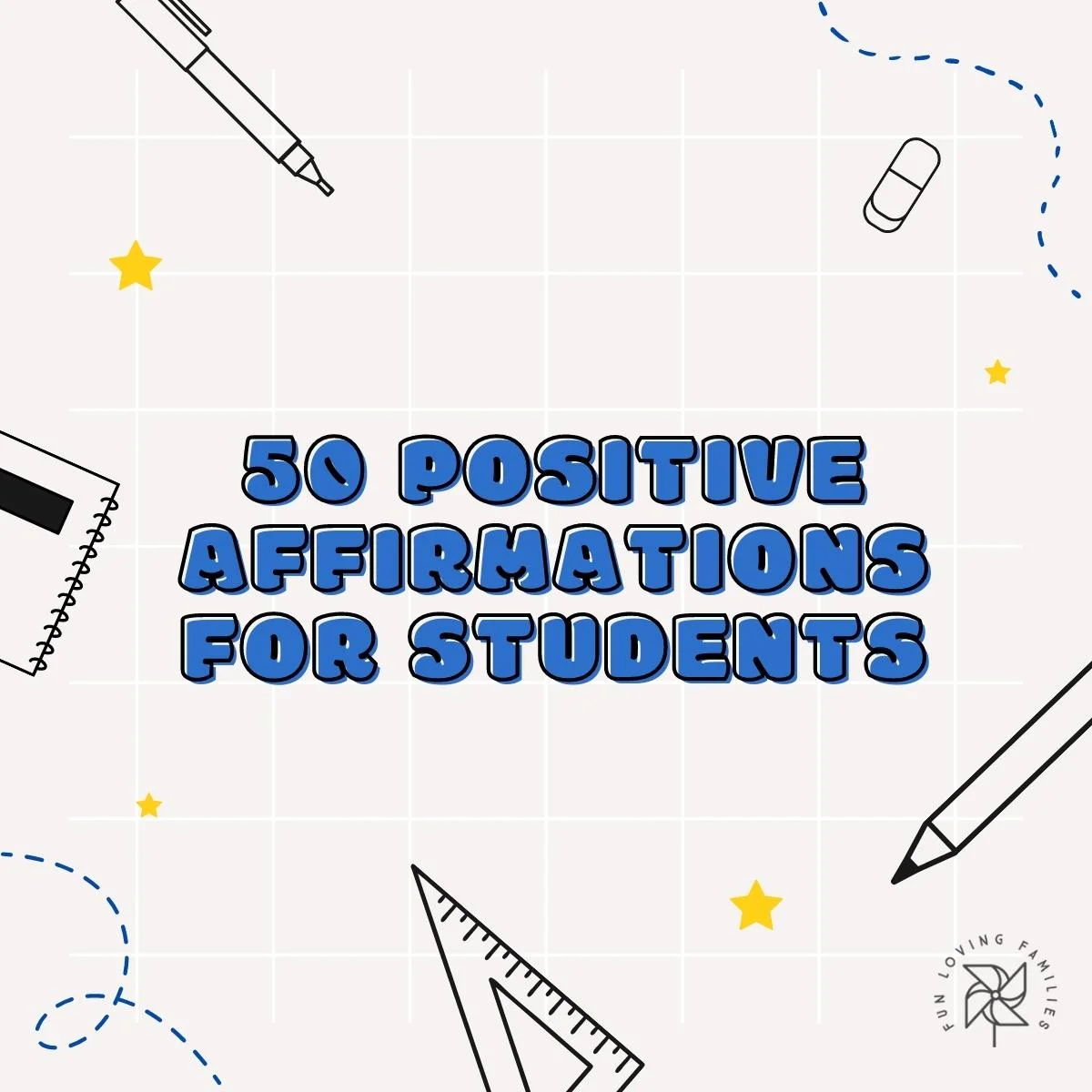 Getting Started
Affirmations use the power of the law of attraction to bring that which you are affirming into your life. Reciting the following statements, whether they are already true or not, will create positive energy around you and them. That positive energy will attract more positive energy and before you know it, things will begin to shift.
So, find a comfortable spot and recite these affirmations. The more you can say each one with energy and trust, the more powerful it becomes.
Finally, we recommend making a habit of these affirmations to maintain consistency and build up the strength of your practice.
Positive Affirmations for Students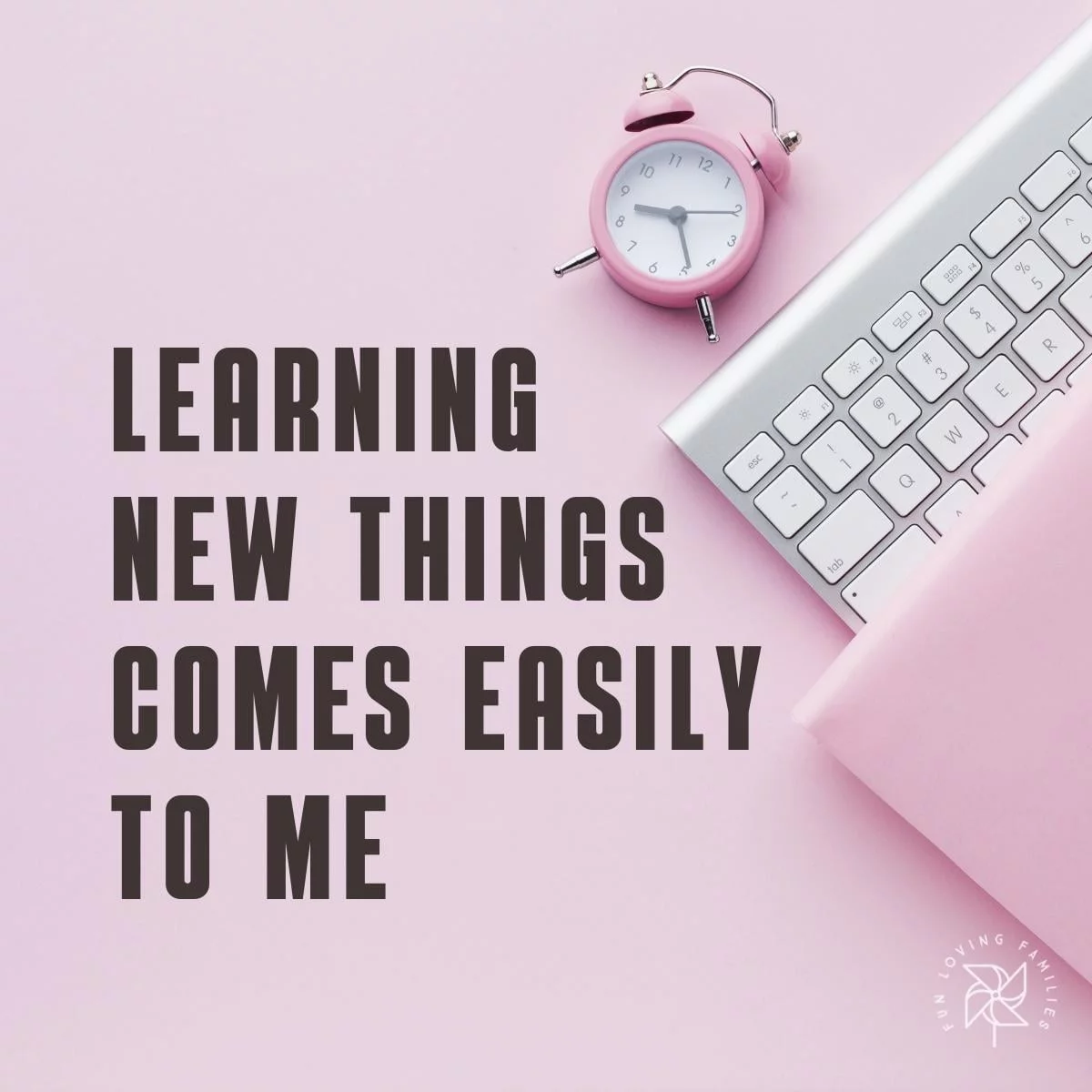 1. Learning new things comes easily to me.
2. I am an excellent student.
3. I am one of the strongest students in my class.
4. Each day that I set my mind to my studies, I develop myself as a student and as a person.
5. I know that I will perform well on this test/exam/paper/chapter/presentation/etc.
6. I enjoy being a student and learning new things all the time.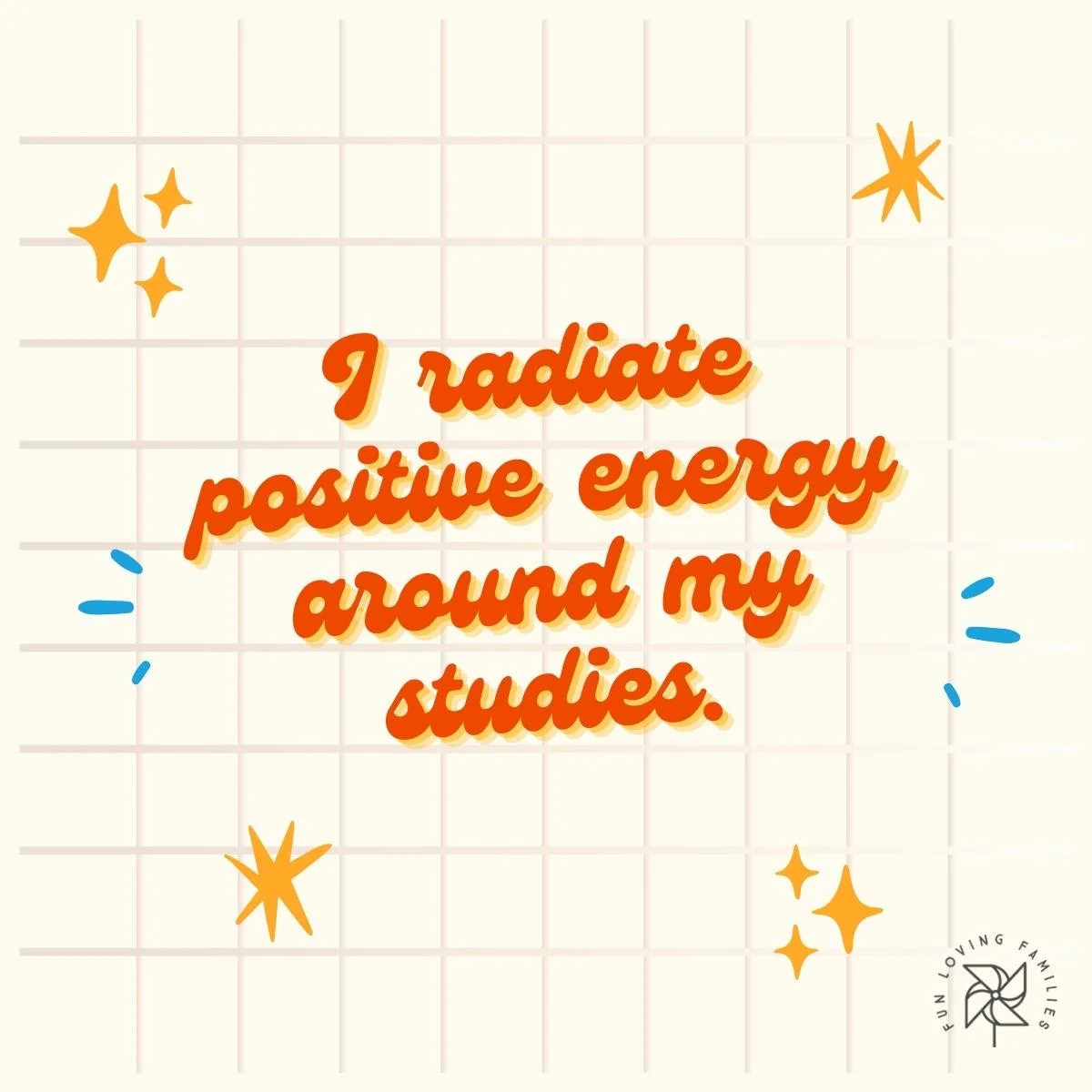 7. I radiate positive energy around my studies.
8. I am so grateful for this opportunity to learn and grow.
9. I am naturally gifted academically.
10. I try my best in all that I do and that is enough.
11. I am a critical thinker and that is key to being a good student.
12. My teachers regard me as a sharp-minded, promising student.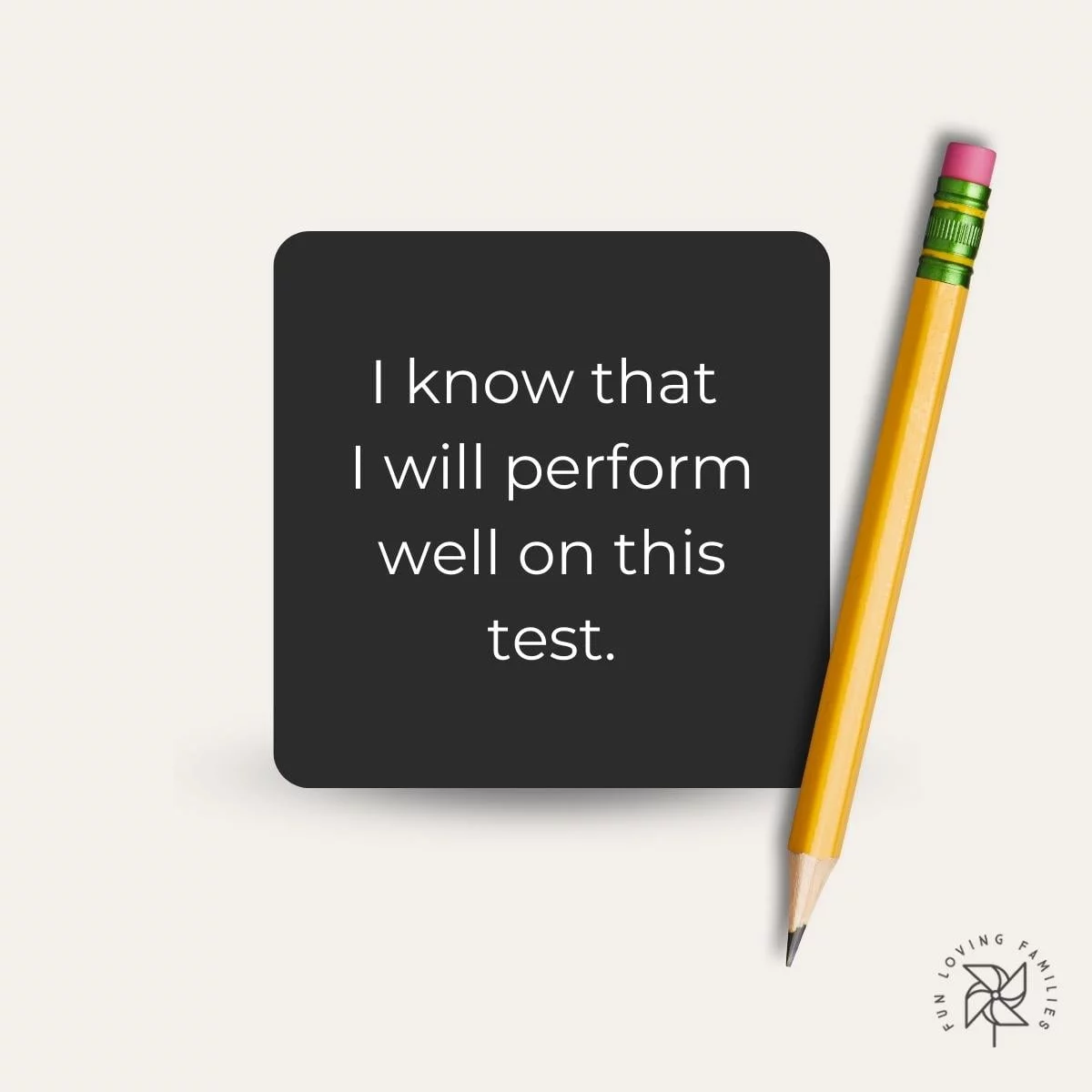 13. I know that I will perform well on this test.
14. My classmates come to me for help because I always know what I am doing.
15. I am in control of my success as a student.
16. Stress is a natural part of being invested in my studies however, I know how to manage it effectively.
17. I do not need to compare myself to other students as it does not serve me.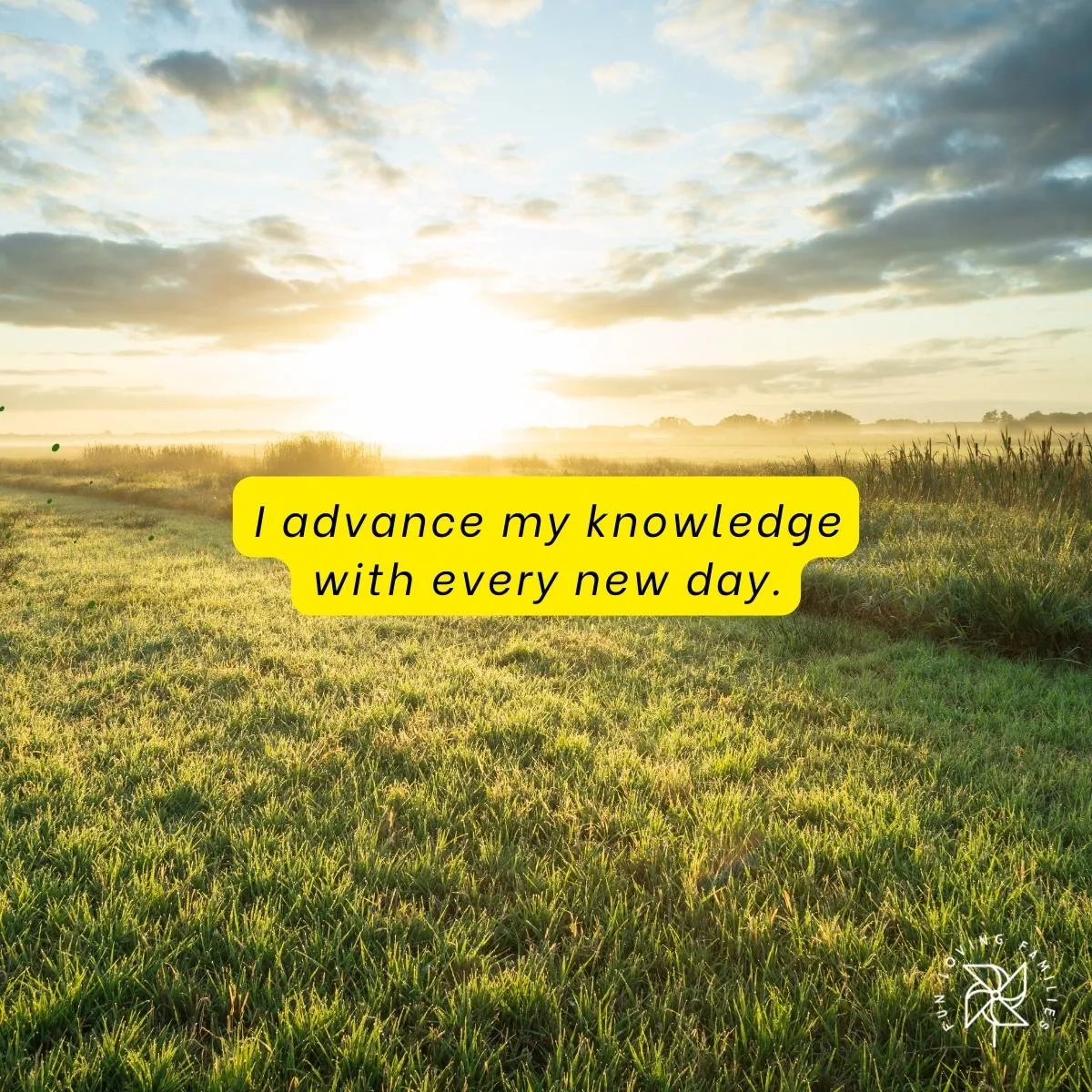 18. I advance my knowledge with every new day.
19. I relinquish any thoughts of past exams/tests/presentations for they do not dictate my performance on this one.
20. I am worthy of excellent grades.
21. I understand that my studies are an essential step to achieving my dreams.
22. Today, I take charge of my education because I know it is key to my success in life.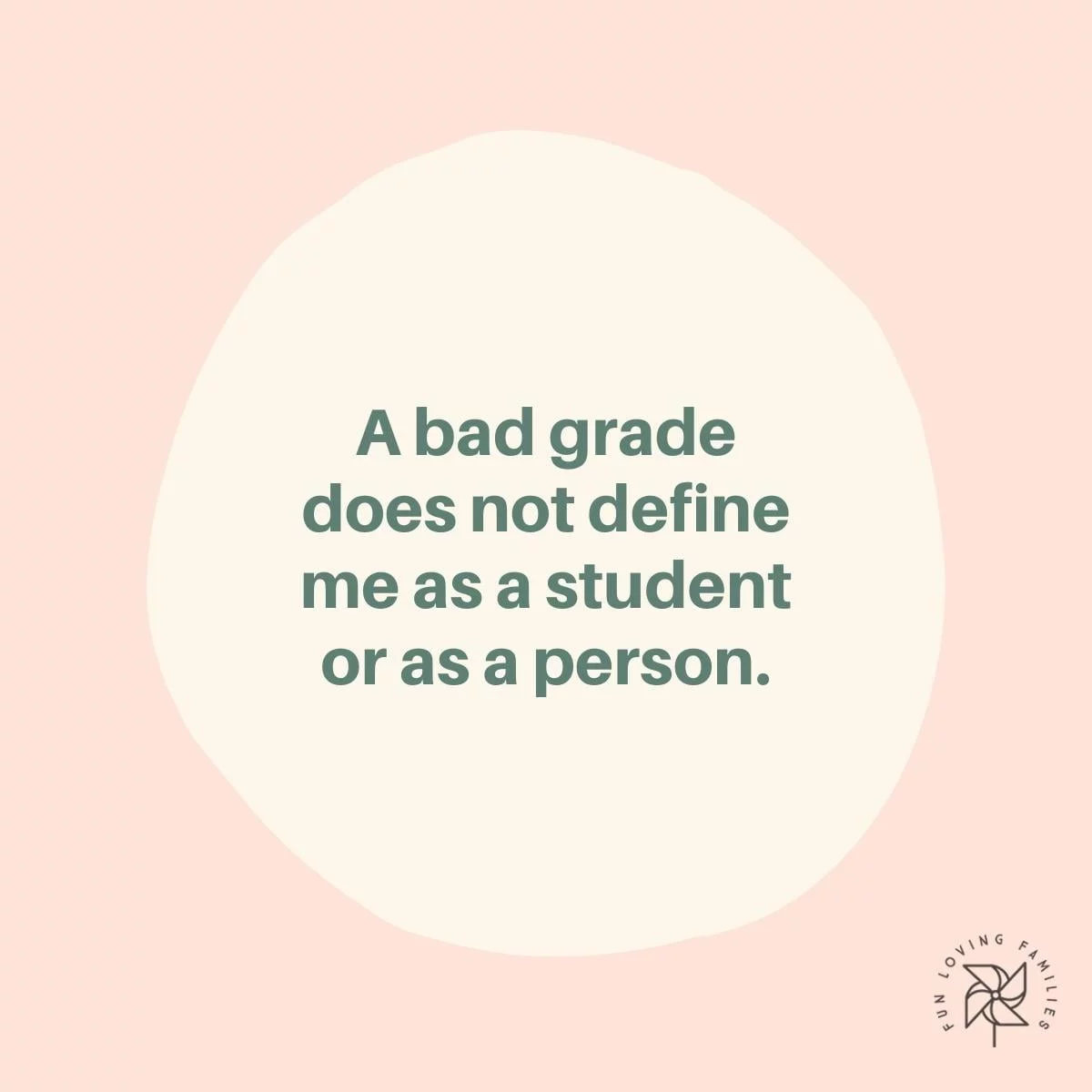 23. A bad grade does not define me as a student or as a person.
24. I am always looking for more effective ways of learning and studying.
25. I am following my dreams.
26. I deserve excellent grades because I work for them.
27. Though I am invested in my education, I know that my self-worth is not defined by a grade, a letter, or a ranking.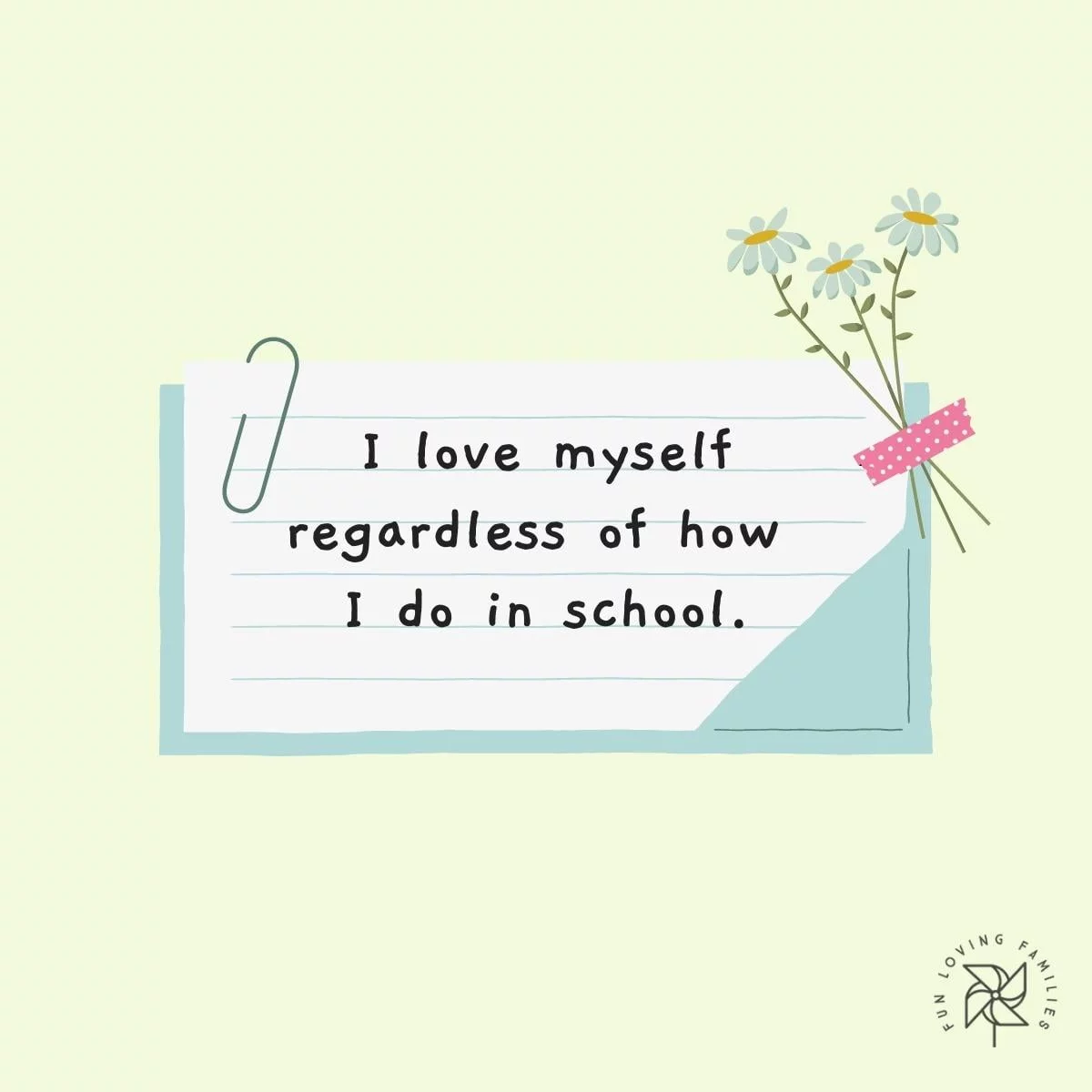 28. I love myself regardless of how I do in school.
29. I am a bright individual.
30. My learning pace is unique, and I need not compare myself to anyone else as it will not serve me.
31. I find my ability to focus is improving all the time.
32. Studying is not a hassle for me, in fact, I enjoy it.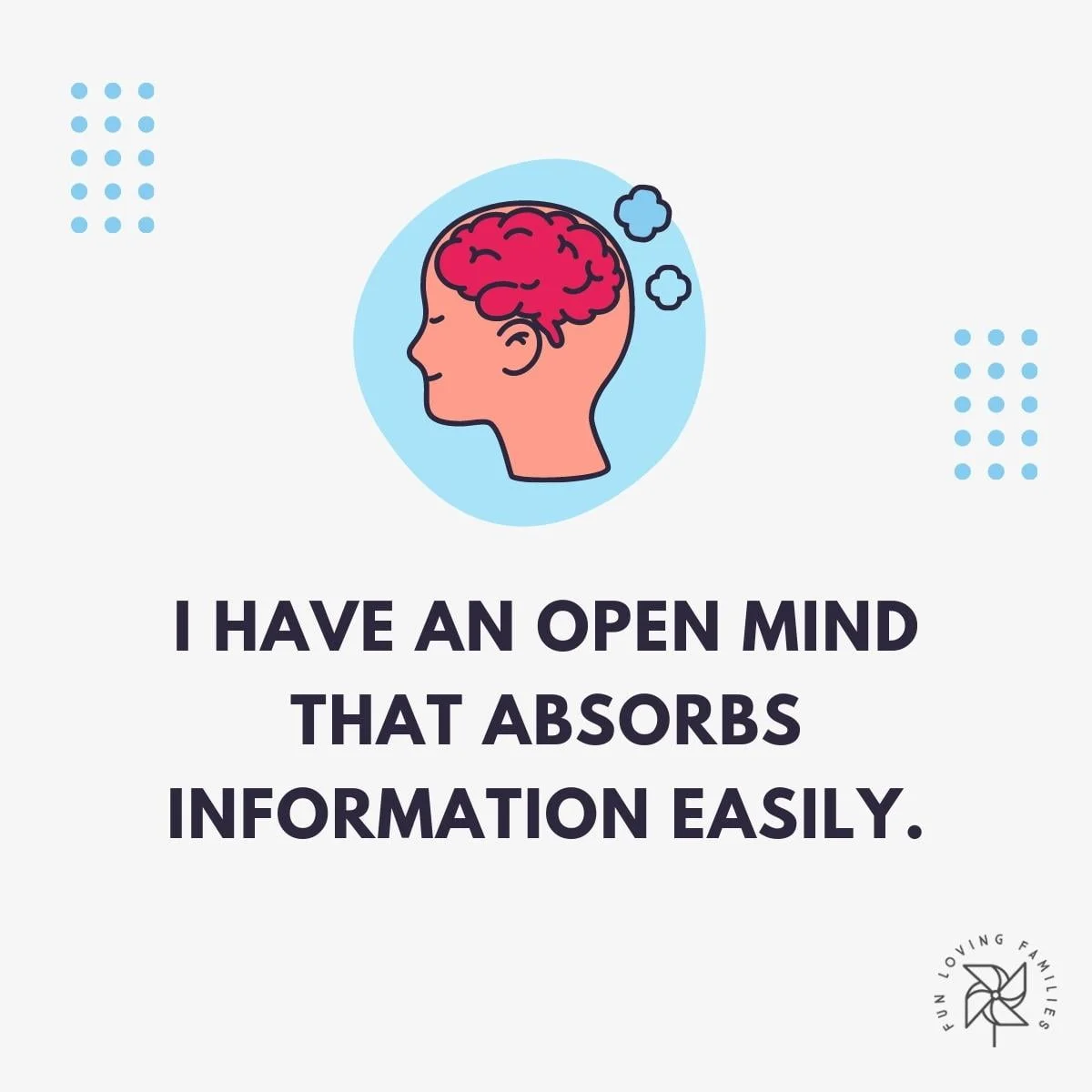 33. I have an open mind that absorbs information easily.
34. I tend to solve problems quickly and effectively.
35. I know that I will go far in life because of my keen attitude.
36. I am an attentive listener and that sets me apart from my peers.
37. I am worthy of an excellent education.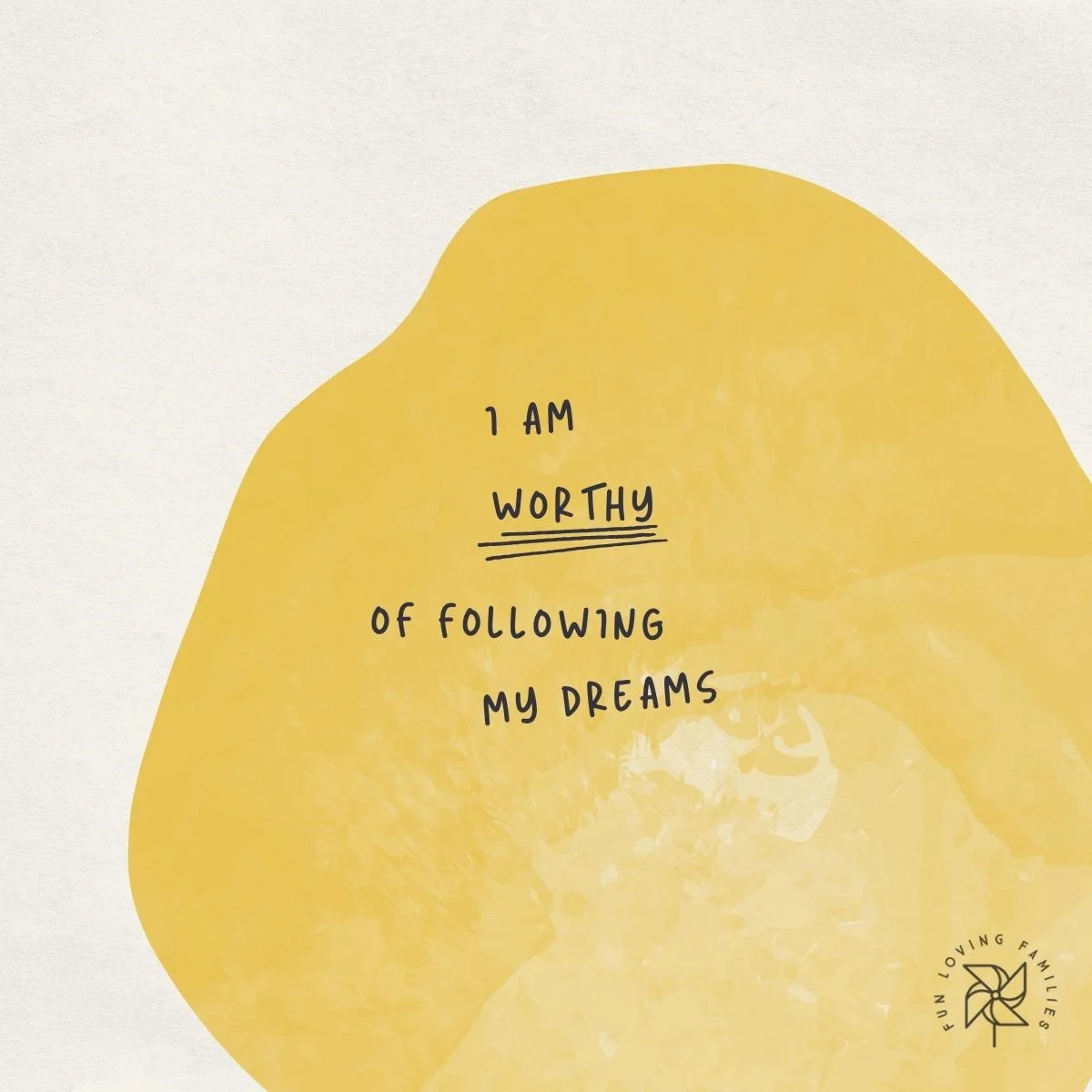 38. I am worthy of following my dreams.
39. I tend to surpass people's expectations of me.
40. I am following my dreams because I deserve an exceptional life.
41. If I believe I can achieve it then I will.
42. I am the only person in charge of my education, and I am choosing to persevere, excel and triumph.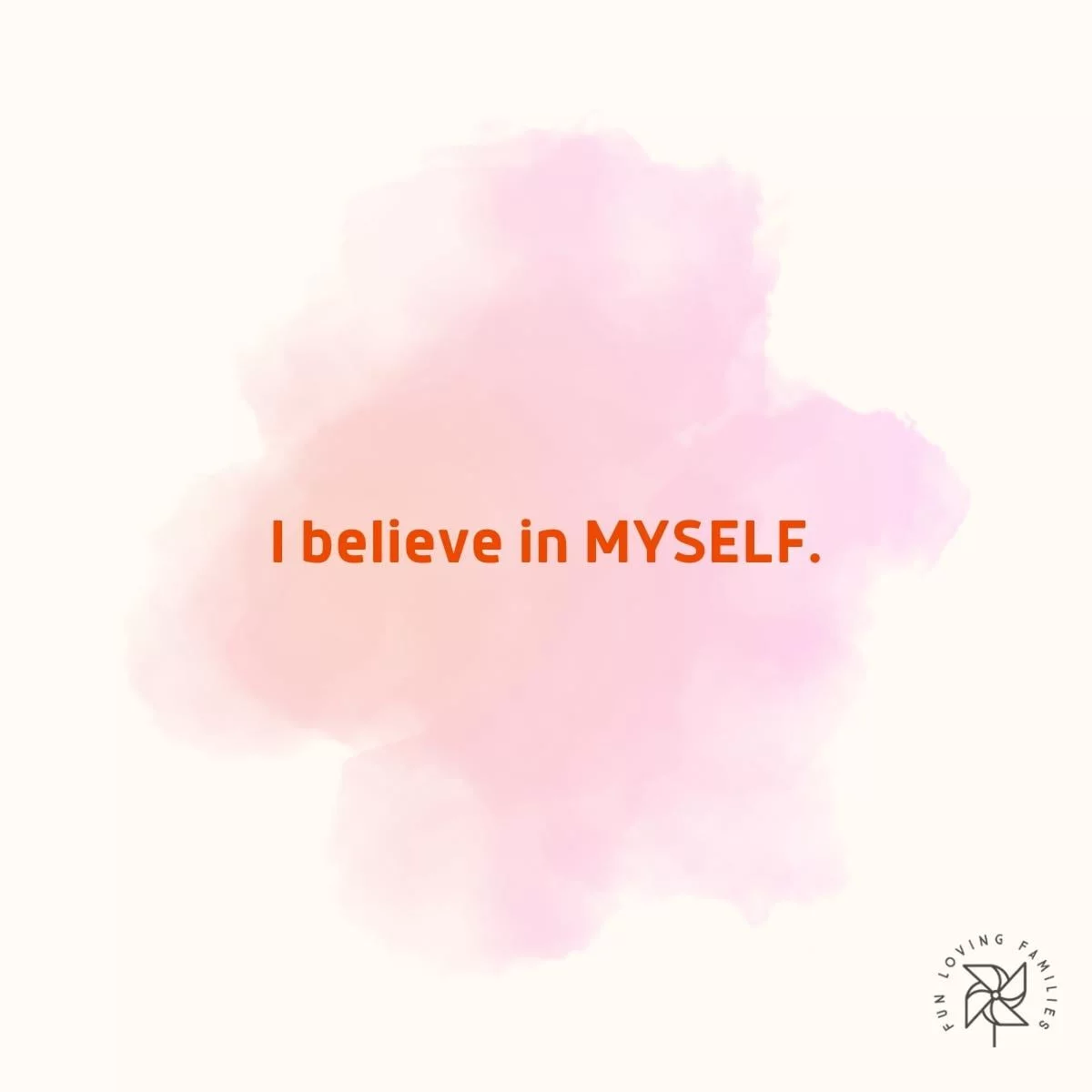 43. I believe in myself.
44. I have an abundant mind that is open to new and exciting information.
45. Studying is fun.
46. Focusing on one task at a time comes naturally to me.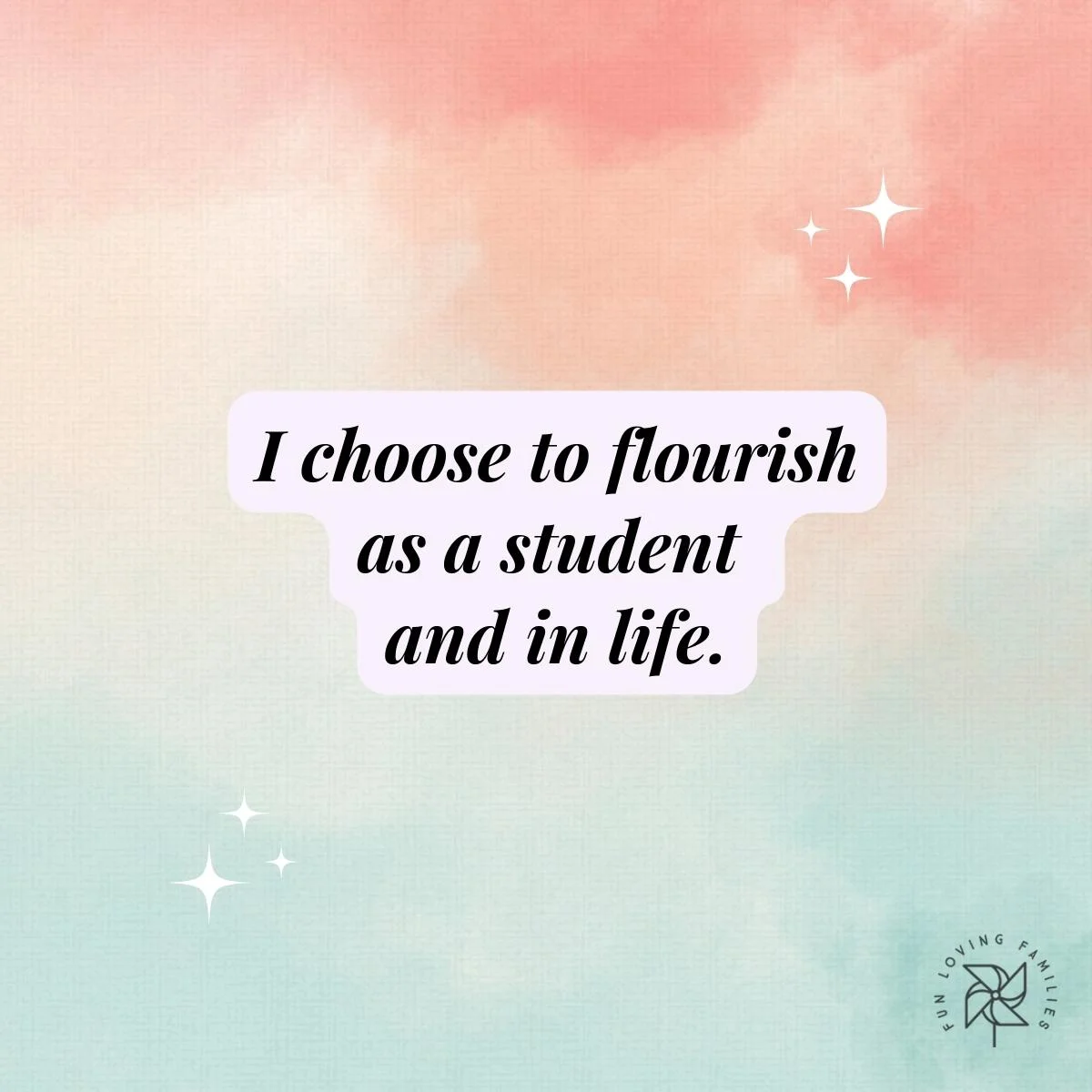 47. I choose to flourish as a student and in life.
48. I feel truly blessed to have the opportunity to be studying what I am studying.
49. I work hard because I owe it to myself to excel.
50. Working hard doesn't feel like work because I enjoy the ride.
Final Thoughts
Remember, it makes no difference if you are in second grade or college, a student's mindset is an essential ingredient in their performance and ultimately, their learning experience.
Similar Posts: