Of all the exhaustive baby registry lists out there, why might the minimalist baby registry essentials checklist be the way to go?
One of the most surprising things I found when having my first child is just how much STUFF comes along with inviting a tiny human into your home. It can be quite overwhelming!
When we had our first child, we had a tiny starter home and a tiny budget for our family. Adding up all of the items I thought I was supposed to have to prepare for our first child made my head spin.
Where were we going to put all of it? How would we afford everything our new baby "needed"?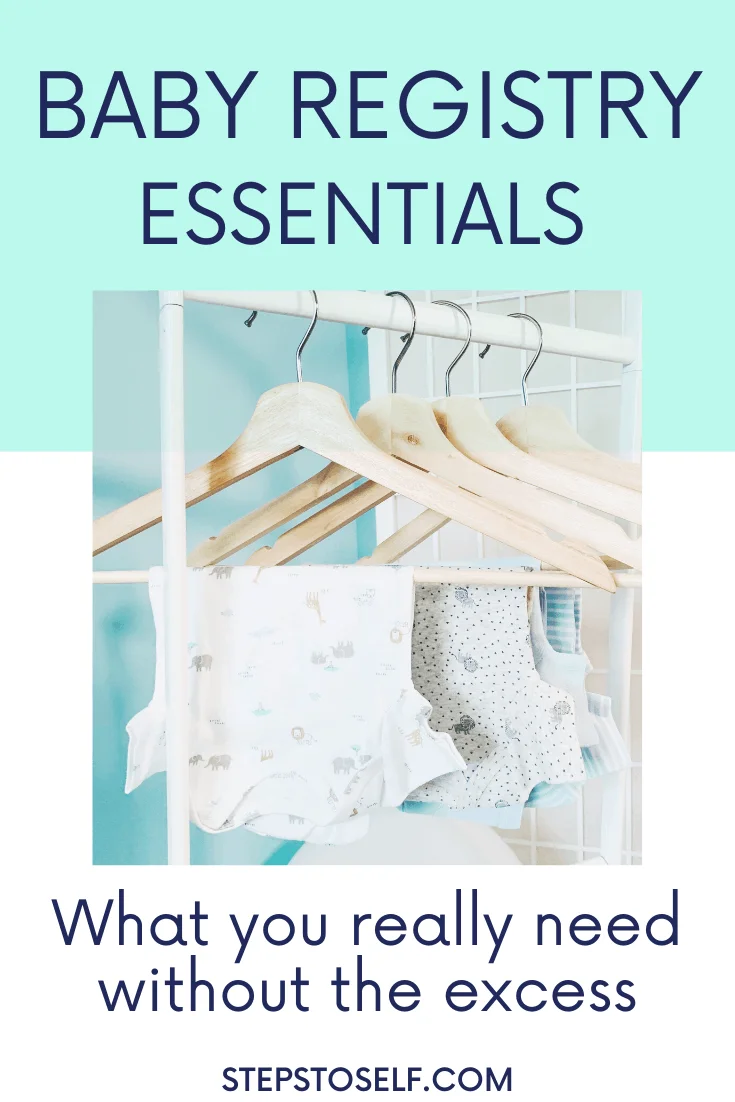 Fast forward to my fourth child over a decade later, and I've learned a ton about what is actually needed to care for a newborn. I've designed the minimalist baby registry checklist to show the new mom what she really needs, without all the excess.
I'm here to make preparing for baby's arrival a lot simpler.
(This post contains affiliate links which means I may earn a small commission if you click a link and make a purchase. As an Amazon Associate I earn from qualifying purchases.)
Why a Minimalist Baby Registry?
Before we get into the meat of the minimalist baby registry essentials checklist, let's review why it will benefit you to be so thoughtful about the items you acquire for your newborn baby's care:
Reduces Stress
Well-meaning gift givers love to shower parents-to-be with all the cute little baby clothes and latest handy gadgets, but so many end up gathering dust in closets or in a donation pile after a few months. The last thing you want when you're a sleepless and overwhelmed mom is having to fumble through a bunch of mess, most of which you don't actually use.
Going minimalist with baby gear will help save you stress by reducing physical clutter. It can hopefully prevent the feeling that you've suddenly been crowded out of your home by the smallest family member–your newborn baby.
More Eco-Friendly
As someone who is trying to live more eco-friendly, I understand the big impact of adding another human to the planet. But I also know I can also make choices to help reduce consumption.
Baby gear is an area ripe for reducing, because there are many (large, plastic) items that get used for only a very short amount of time. We're talking only a few weeks or months.
By only getting what you really need, you'll be helping the earth. This registry list is perfect for the mom who wants to be kinder to our planet.
Saves Money
Going minimalist with baby gear can also potentially save you a lot of cash. Baby gear is expensive!
When adding another family member, who doesn't want to save money? Even if you expect to receive most of your baby items as gifts through your baby registry (lucky you!), don't you want your friends' and family members' money to be well spent on the essentials?
If you get everything you need, you can always point people to donate to your child's college fund instead. The frugal minimalist mom focuses on fewer, higher quality baby items that will last.
Minimalist Baby Registry Essentials Checklist
Start your baby registry on Amazon.
Alright, let's get down to it. I'm going to share what you really need, and why, along with why I've skipped other items. I recommend starting with just the essentials.
It's a lot easier to add something after your new baby arrives than to be drowning in clutter like a frog in boiling water.
I'll include product recommendations in the minimalist baby registry essentials checklist to help save you time. My tips are based on items I have personally used and liked, but please feel free to do your own research.
You can download a handy, printable baby registry checklist below.
Portable crib
The versatile Pack 'n Play: it's a bassinette and travel crib in one. You'll get a lot of mileage out of this item, and it stows away for easy storage. My baby spent her first few months in one right next to my bed. It worked out great, and there was no need to purchase a separate item. I'd just reach right over if I needed to feed or soothe her.
In my opinion, all the extra attachments tend to get in the way and become annoying to store over time, so I recommend a basic version.
Crib
Unless you're going full Montessori, you're going to need a crib. A sturdy model will do just fine. A little warning: my babies have loved to chew their crib railings so keep that in mind before spending a fortune on one (though teething protectors are available).
We chose a simple white crib (4 in 1) that was highly rated and budget friendly. This item will be more up to personal taste according to your nursery decor.
Crib mattress
This is where many experts say you should not skimp, and I agree. It's an item your child will spend a lot of time on, and it's necessary for their comfort and safety. I went over the top with research when choosing a crib mattress, and this Colgate crib mattress repeatedly came out on top.
Of course, feel free to do your own research for peace of mind. Buy the best mattress you can within your budget. It should be very firm for an infant.
Crib mattress protector and sheet
Aside from a mattress protector and fitted sheet, you don't need any other crib bedding. Please don't put anything else in your baby's crib! Keep it simple and safe.
Dresser
A dresser is another great utilitarian item for your baby's room. Choose one at the right height where you can use the top as a diaper-changing surface. This will prevent you from needing a specialty piece of furniture (changing table) that becomes moot once your child is potty trained.
A simple dresser can store your baby's diapers, clothes, and even toys. It will grow with them over the years. We still have my husband's solid wood dresser from when he was a kid. I painted it, and our kids use it now. So, choosing a dresser meant to last is a great investment.
Changing pad
You're going to be changing a lot of diapers. I use a padded vinyl changing pad that is comfortable for baby and easy to wipe. Put it right on top of your baby's dresser, and you're all set.
I've never used a changing pad cover – it's just another thing that needs washing.
You will also need a travel changing pad (changing mat) that folds up for your diaper bag. You can use this around the house too when you don't feel like trekking to the baby's room for another diaper change.
Car seat
If you're going to travel anywhere by car with your baby, you'll need a car seat. There are many factors that go into choosing the right car seat, including safety ratings, features, size for your car, and budget.
Many people choose to get an infant carrier that snaps in and out of an installed base. This prevents you from having to transfer your sleeping baby out of its car seat.
The infant carrier would be followed by a convertible car seat once the baby has outgrown the carrier. You can choose if you want to go this route or just start with a convertible car seat that will last from infancy through your child's early years.
Stroller
The stroller is another item you'll use nearly every day so it's worth making a good investment. It can sometimes be hard to find a single stroller that fits all your needs.
Do you need one that will hold an infant carrier? Do you need a jogging stroller? Do you plan to be on mostly paved surfaces? Consider factors including weight and ease of folding.
Try to find one or two strollers that will fulfill your needs so you don't end up with a huge pile of strollers to rotate through. I find the City Mini stroller to be a reliable all-around stroller that's durable, easy to manage, and works across most terrains.
Diapers
Whether you choose to go with cloth diapers or disposable diapers, you're going to need to fill up your stash. Register for the kind of diapers you like best or try a variety in the beginning until you get a good feel for your preferences.
If you go with cloth diapers, you may need some additional items like diaper covers, diaper closures, or a wet/dry bag.
Wipes
Again, you have cloth or disposable options for wipes. If you use cloth wipes, you'll need a wipe warmer or dispenser. Otherwise, this baby item is definitely optional for disposable wipes.
Sensitive baby wipes are best for those smooth little newborn tushies.
Diaper cream
At one time or another, you're going to need to treat a diaper rash. It's good to have some diaper cream on hand. My two favorite diaper creams are the Quick Stick for rash prevention and maximum strength Desitin for treatment.
Swaddling blankets
A set of 3 swaddle blankets should be plenty so you can have a good laundry rotation. These can be used as nursing covers, car seat covers, loveys, and of course swaddling wraps. I love a good multi-purpose baby item!
The stretchy muslin swaddle blankets are great and only get softer with washing. My little one loves hers.
Baby Bottles
Even if you're breastfeeding, if you ever plan to be away from baby for a little break, it's good to have some bottles on hand. From budget-friendly options to glass bottles and modern designs, the choices can be overwhelming!
Whatever you choose will probably be just fine. None of my four babies have been too particular about the type of bottle. Keep in mind ease of washing (minimal parts).
Bottle brush
Though I'm not a big fan of uni-taskers, a bottle brush is needed for cleaning bottles most effectively.
High chair
I love space-saving baby items, so I recommend a high chair that either attaches to an existing dining chair or one that attaches or pulls up to your existing dining table.
Babies love to be part of the family when eating.
Teething toy
Babies don't need many toys. In the early days, you can get by with a simple teething toy or rattle. They'll want to study your face and everyday objects the most!
People will probably give you small toys that weren't on your baby registry list, so you'll end up with plenty. It can also be fun to pick toys out sparingly as your child ages into different periods of development. You'll want to get out of the house and make a trip to the store every now and then.
"Nice to Have" Baby Items
The items on this list didn't quite make the minimalist baby registry checklist, but they can still be quite useful. I don't consider them frivolous by any means, but if you don't have the space or budget for these baby items, don't worry—you can certainly go without.
White noise machine
White noise can really help babies sleep better, and sleep is so important for mom and baby. I've never regretted buying our white noise machine.
Diaper bag
A diaper bag didn't quite make the essentials list, because you can really use any kind of bag—even one you already own. Our family liked gender-neutral, durable bags the best. Zippered pockets and wipeable materials are helpful.
We used a school-style backpack as a diaper bag for years! You can even repurpose a large purse or tote.
But if you'd like, there are plenty of specifically designed diaper bags to choose from. It's something you'll use often and will make a good investment.
Bathing seat
While you can make do with a folded towel, small washing tub, or extra set of hands for bathing your little newborn baby, a bathing seat can make things a little easier. The only thing is these become unnecessary once your little one can sit up.
For that reason, if you're going to get one, I suggest going with a smaller foldable bath seat or sponge style seat.
Night light
A dimmable night light can make middle-of-the-night feedings less jarring than a full lamp for both mom and baby. I found this touch-activated night light great to have on my nightstand.
Baby carrier
A wearable baby carrier or baby wrap frees up your hands for getting something done or even having a snack. Some babies love them, while others aren't a fan. We didn't end up using ours as much as we thought, though I know some parents who'd say they couldn't live without one.
Be sure to review safety tips before using these items.
Books
You'll likely get some baby books as gifts and don't necessarily have to register for any. You can also check some out from the library, though it is nice for your baby to have their own little home library.
As a mom, baby books are probably my favorite thing to buy. I have to hold myself back sometimes. Indestructible baby books are amazing, because even board books can fall apart (thanks baby slobber).
Baby Monitor
This is another item we just didn't use as much as we expected. Our baby was near us so much during their early months that we could hear them without a baby monitor. Your need for a monitor will probably depend on the layout of your home.
We purchased a budget-friendly video monitor.
Rocking chair or glider
A rocking chair or glider can provide a comfy spot to soothe or nurse your baby. However, if you don't have space or budget for one, you can certainly do without.
You'll master the baby bounce from anywhere in no time.
Nail scissors
Some baby-sized nail scissors make the early nail trimming sessions a lot less scary for mom. They're small and only a few bucks.
I've found you really don't need all the other items in the baby hygiene kit that is commonly sold in stores.
Rocker, bouncer, or swing
Chances are, a bouncer or baby swing will really come in handy at some point. Because of their limited life span (a newborn outgrows them in a flash), I again recommend smaller and compact models.
Pacifiers
Pacifiers are a personal choice but can be helpful for babies who enjoy them. In addition to being soothing for infants, they also help reduce the risk of SIDS.
Three of my four children wouldn't take a pacifier. For my youngest, pacifiers were a must-have for her first 2 years of life. She liked the Tommee Tippee brand, which gets great reviews. Most hospitals I know use Soothies.
The American Academy of Pediatrics recommends against using pacifiers that are attached to objects such as stuffed toys as these could be a suffocation risk.
Tummy time mat
This handy little tummy time mat folds up small and helps dangle some interesting items for your baby to look at. It encourages rolling, reaching, and makes tummy time easy. It's a nice extra baby item.
Burp cloths
If you don't want to get specially made burp cloths, you can use small hand towels you already own. Your need for burp cloths will depend on whether your baby is a big spitter upper or not. You'll find this out soon enough! After your baby is done with the spitting-up stage, you can still use burp cloths as cleaning rags.
Easy swaddler
There are a variety of styles that can swaddle your baby with just a zipper or some Velcro. They can be easier to manage in your sleep-deprived state when the swaddling blanket won't cooperate.
Sleep sack
Also known as a "wearable blanket," these keep your baby cozy after they've outgrown their swaddle and before it's safe to use a regular blanket.
Baby Items Not Listed
You'll notice there are still plenty of baby items that aren't on the minimalist baby registry essentials checklist or even the "nice to haves" list. What gives?
Here's why:
Baby clothes, hats, socks, and bibs
You are going to get plenty of cute baby clothes and bibs as gifts whether you register for them or not. And I'm here to tell you, you really don't need that many of them. Babies only wear a given size for such a short time—please keep this in mind when stocking up.
It can be so hard when those little items are so cute!
Towels, washcloths, and other bathing accessories
This is another area where regular household towels and washcloths can serve you just fine. Plus, I almost guarantee you'll get some as gifts no matter what is on your registry.
Get your baby some sensitive body wash if you don't receive any, and you'll be set. The hospital may also send you home with some travel-size bottles (ours did). A little bit goes a long way, and newborn babies actually don't need baths as often as you might think.
Nasal aspirator
These are for or sucking the gunk out of your baby's nose.
The hospital will give you one or two nasal aspirator bulbs to take home. They worked fine for us. If you find it doesn't work well enough later on, you can always get something different. Honestly, I've never tried a Nose Frida, but some moms swear by them.
Hopefully your baby won't be sick very much!
Thermometer
I've given birth at four different hospitals, and each one has sent us home with a digital thermometer or two that works just fine used either under the armpit or rectally.
Exersaucer, baby seat (Bumbo), jumpers, or other baby holders
Generally these baby holders just aren't needed, and they are big plastic items with a very short life span. Developmental experts including occupational therapists recommend skipping them as they may try to force babies into positions they aren't ready for too early.
Breastfeeding supplies
If you are breastfeeding, you'll also need nursing bras, nursing pads, and some lanolin. Similar to postpartum supplies, I've found it's easiest to pick up breastfeeding items yourself rather than putting them on a registry.
A breast pump is helpful even if you will not be going back to work, but you can get one through insurance for free or little cost (Learn how – it's easy!).
Many hospitals supply nursing moms with a tube of lanolin; you can ask on your hospital tour. You should only need it for the first couple weeks of cracked nipples.
Nursing pillow
I've breastfeed for nearly 4 years combined. After trying various different versions of nursing pillows, including the famous Boppy and more complicated My Brest Friend, I honestly found it easier and more adjustable to just use regular pillows. It's one less thing to have to carry around and get rid of later.
Mobile
I bet you'll find your baby is rarely in their crib anyway, and you end up having to take it down within a few months for safety reasons once baby can move around.
Diaper can
There's no need for a special diaper pail. You can use any regular trash can with a lid. Ours was an $11 trash can from Target with a locking lid to keep little hands out.
No diaper cans are smell-proof anyway. In my opinion, buying a diaper pail that requires special proprietary inserts is just a pain and creates extra plastic waste. Just change the bag on a regular trash can somewhat frequently to keep smells at bay.
But if you're set on a diaper can, the Munchkin Step is the highest rated.
Feeding, babyproofing, and toilet training items
You can figure out what other kind of items you need for feeding your baby solids closer to when that time comes. Same with babyproofing and toilet training items. You don't have to get everything before your new baby comes. Don't stress yourself out more than you need to.
Anything else?
If you don't see it on the minimalist baby registry essentials checklist, it's probably because it's not needed!
Of course every family is different, so feel free to make decisions that are best for you. I'm just trying to help you save some clutter and money.
Hopefully I've also saved you some time based on my experience parenting four kids.
Other Tips
Secondhand Baby Gear
Another way to be earth friendly and budget conscious is to consider using secondhand items for some of your baby gear. Given the short time period they are used for, some can be in like-new condition.
You might receive offers of hand-me-downs from friends or family or be able to find items at consignment stores or sites like Facebook Marketplace or OfferUp. I love buying secondhand.
Never go with secondhand items for the things that are essential to your baby's safety, such as a crib mattress or car seat.
Learn the best place to sell used baby gear.
Baby Shower Planning
If you're worried about being overloaded with things at your baby shower, or if you have close to everything you need, you can consider a different type of shower, such as:
Diaper shower
Stock the baby's library shower (books only)
Kindly suggesting a donation to the baby's college fund instead of gifts
Stating "no gifts" – just celebrate
Minimalist Baby Registry Essentials Summary
Have you started your Amazon baby registry yet?
I hope the minimalist baby registry essentials checklist will help reduce overwhelm as you prepare for your new little one. You can also check out my minimalist baby nursery.
If you start to feel overloaded with baby things, it might be time to pause and take a look at whether you are stuck in over-preparing mode.
This special time should be about the new little human arriving and not all the stuff.
Don't worry, the stores don't go anywhere once you have your baby. It's still pretty easy to pick up any necessities you feel you might have missed. People also love to bring you extra gifts (especially clothes) after the baby is born.
By starting out your parenting journey thoughtfully considering the items you bring into your home, you'll be on a better path to controlling all the clutter that can come along with kids.
I'd love to hear what you think of the minimalist baby registry checklist!
Again, if you need a handy, printable baby registry checklist, use the download button below.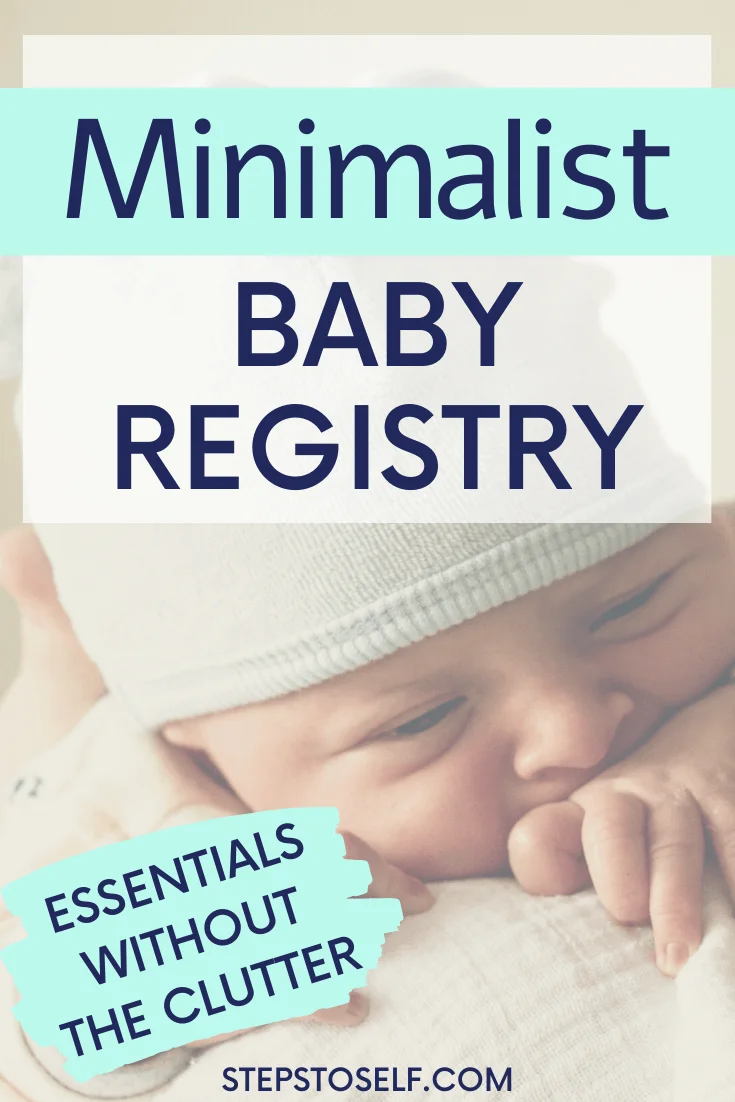 Similar Posts: