Are your kids raving Minecraft fans and you need a few Minecraft gift ideas? Here's our list of the top 19 best Minecraft gifts for kids.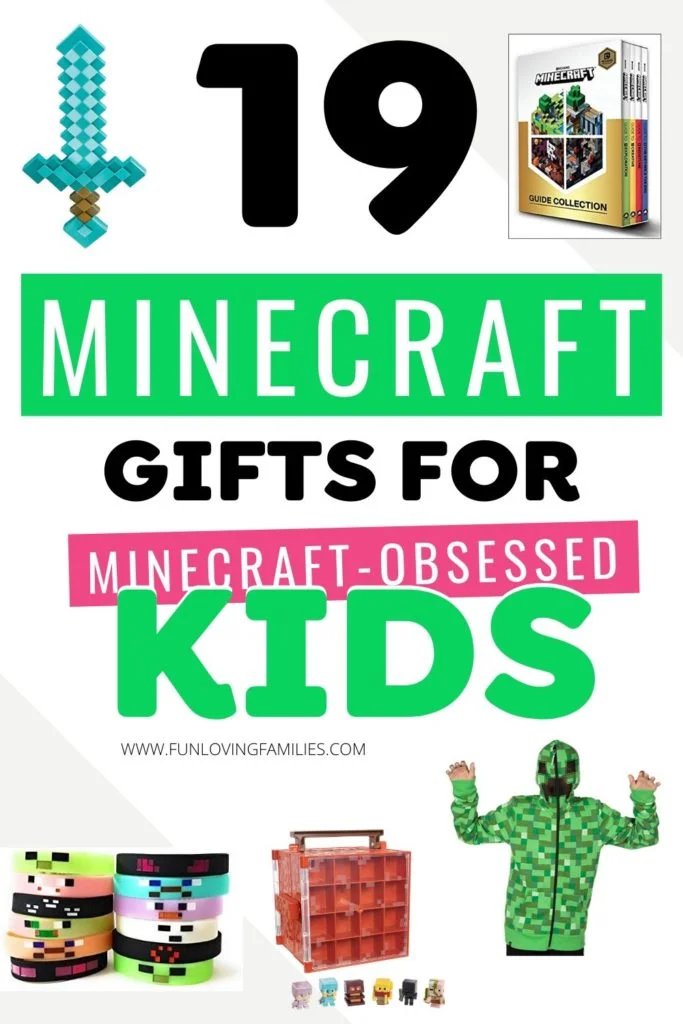 19 Coolest Minecraft Gifts for Kids
Just about every kid I know who's at least 7 years old and up to age 13 is, or was recently, totally obsessed with Minecraft.
It took me a while to get it, but I can now see the appeal, and I love watching my daughter build her worlds. Over the years, she's collected her share of Minecraft fan gear and accessories, so I have some experience with the types of gifts that a Minecraft fan will appreciate.
Both of my daughters have been fans at some point (one has outgrown it) so I've made sure to include Minecraft gift ideas for girls and boys.
Here are 19 gift ideas you can't go wrong with, starting with my favorite: gifts under $20!
(This post contains affiliate links which means I may earn a small commission if you click a link and make a purchase. As an Amazon Associate I earn from qualifying purchases.)
Minecraft Gifts for Small Budgets
Related: Grab our free printable Minecraft word search for a fun and challenging activity for kids.
Diary of a Minecraft Zombie: These books are a must-have addition to your kids library, especially if they're into Minecraft. My daughter loves reading and devoured this series. But, the books are light, easy to ready, and funny making them good for reluctant readers as well. Find it here.
Glow-in-the-Dark Bracelets: If you're looking for a small gift, these are sure to please. There are 12 bracelets in the pack, so it's perfect if you're looking for something fun to hand out to a group of kids. Find them here.
Minifigures: These tiny Minecraft figures are so much fun for kids to collect. They'll be on the lookout for new additions to add, and will enjoy creating their own worlds with their favorite characters .
Minecraft Comic Maker Studio: This creative storytelling kit comes with scenery and a Minecraft minifgure for kids to create their own comics with the free Comic Maker for Minecraft app. Find it here.
Minecraft Plush: If you have a Minecraft addict who loves all things soft and squishy, then they'll love having a Minecraft plushie to cuddle up with at night. Example: Ocelot Plush
Minecraft Sword: Any Minecraft fan will love having their very own pixelated sword. You know, just in case you've got some creepers hanging around. Find it here.
Uno Game (Minecraft Themed): I love Uno because it's simple enough for young kids to play, and kids tend to enjoy playing it as much as adults (which is a huge bonus!). This special Minecraft Uno is played just like the original, but has one little twist. There is a Minecraft Creeper card with it's own special rule! Check it out here.
Plush Creeper Throw Blanket: My kids can never have enough soft blankets. They bring them to the couch for snuggling, and take them on long car trips and sleepovers. This soft Minecraft blanket is an affordable gift that will be well loved by its recipient. Find it here.
Minecraft Necklace: This diamond ore pendant necklace is sure to be a hit with your Minecrafter who likes a little bling. The ultimate diamond necklace for Minecraft fans! Find it here.
Minecraft Gifts for Bigger Budgets
Some of these Minecraft gifts for kids are just slightly over $20, so they didn't make the cut of our small budget list. If you're looking for something a little more substantial for a special occasion, keep scrolling through the list.
Lego Minecraft The Nether Portal: Why not combine two popular building activities into one. This particular Lego set is probably the best one in the Minecraft series. It has 470 pieces and includes 5 minifigures! It's fun to build and play with and your Lego-loving Minecraft fan will love it. Find it here.
Minecraft Lunchbox: Kids favorites have long been showcased on lunchboxes and this Creeper lunchbox is just right for holding all of the lunch things. Find it here.
Minifigure Collector Case: My daughter was so excited to get this case to keep her growing minifigure collection contained. We love this case because it comes with 6 minifigures to get your collection started and has a secret Nether environment on the inside for more play time. Find it here.
Minecraft Guide 4 Book Set: If you child is getting serious about their Minecraft play, grab this set of 4 guide books filled with helpful insights and tips on playing the game. Find it here.
Minecraft Sleepover Set: Kids this age are often going on their first sleepovers at friends homes, which makes this the perfect gift for a Minecraft loving kid. They'll be so excited to sleep in their Minecraft sleeping bag with pillow and eye mask. They'll probably want to sleep in it at home, too! Find it here.
Creeper Hoodie with Mask: This Creeper hoodie zips all the way up to the top of the hood and has a mesh mask covering the face. It's a little creepy. But it's also a big hit with the kids. Find it here.
Ravensburger Minecraft Board Game: I have not played this game yet, but we might add it to our list of family games to get. It's a strategy game that is best for kids that are 10 years old and up. Find it here.
Minecraft Torch: Last, we have the Minecraft torch. My daughter was so excited to get this as Christmas gift a couple of years ago. You can use it as a flashlight, or you can actually hang it on the wall and use as a nightlight. Either way is super fun and makes a great gift. Find it here.
Which Minecraft Gift Ideas Are Right for Your Kids?
Most of these toys are good for *any* person who's really into Minecraft. But definitely keep your kid's personality in mind. If they don't like playing with Lego, chances are they might not play with Minecraft Lego either. If they aren't into card games or board games, go with something a little more active. For example, the sword and the flashlight lend themselves very well to pretend play.
I hope you found the perfect gift for your kid who loves Minecraft!
Read Next:
Similar Posts: