If your toddler is anything like mine, they are full of energy practically every waking moment. Sometimes I feel like a human jungle gym for my toddler to climb on.
Our couch has become a toddler trampoline and launching pad—watch out dog!
During times when you can't get outside or to the playground, indoor climbing toys for toddlers can be lifesavers. The long pandemic lockdown has made me wish my entire house was filled with these.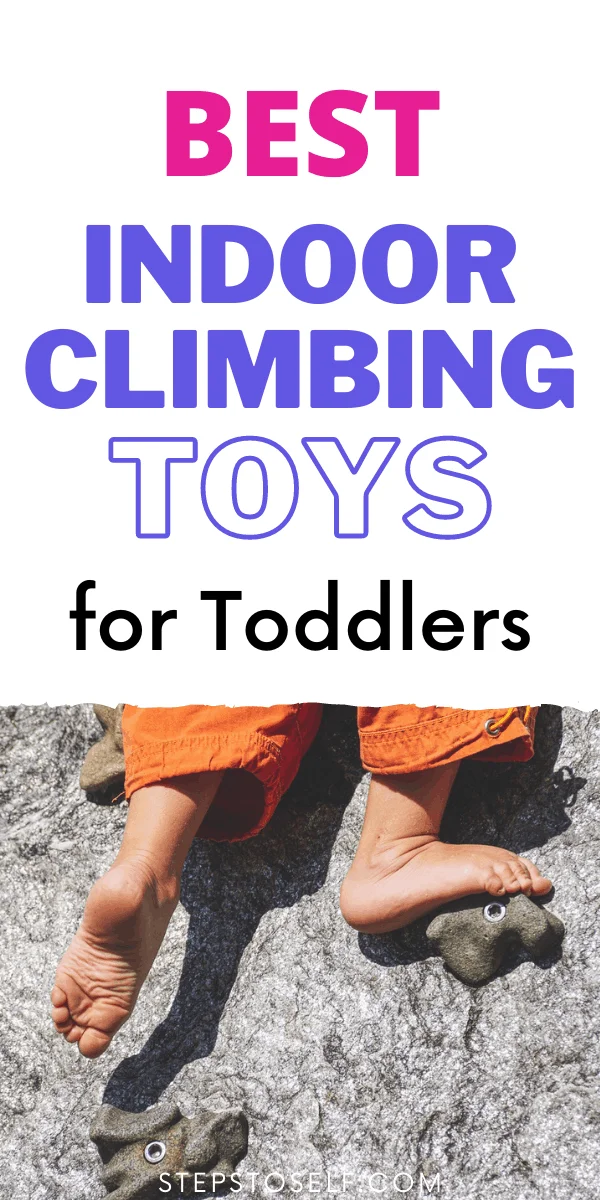 Active play is so important for children. They're working on their gross motor skills, building strength, and developing proprioception (the "sixth sense" through which our body perceives and coordinates movement). The right indoor climbing toys for toddlers can support all of these activities.
Did you know toddlers need 3 hours a day of physical activity, including some energetic play? It's no wonder they're bouncing off the walls.
I've put together this list of indoor climbing toys for toddlers so you can give your child an appropriate outlet for their physical energy. They can be especially helpful on poor weather days or when it's just not practical to get outside.
Also check out the Best Educational Toys for Toddlers for fun activities that will stimulate your child's brain.
(This post contains affiliate links which means I may earn a small commission if you click a link and make a purchase. As an Amazon Associate I earn from qualifying purchases.)
Setting Up Your Space for Indoor Climbing
While kids are often more resilient than we think, it's a good idea to set up your indoor climbing area so it will be as safe as possible. Leave plenty of space around the climbing toys so your child won't strike any hard furniture, walls, or sharp edges.
Cover any hard floors using a thick rug with nonslip padding underneath or one of the following easy-to-use options:
And, of course, children should always be supervised when using indoor climbing toys.
Indoor Climbing Toys for Toddlers from Etsy
On Etsy, you'll find handmade, high-quality wood indoor climbing toys for toddlers. A lot of the sets are very versatile and customizable. They are built to last and can accommodate kids of various ages.
For example, the Montessori and Waldorf-approved Pikler triangle is a simple triangular climbing structure. It can be combined with other pieces such as ramps or climbing arches to make more variations of climbing structures.
While they may be a larger investment, these indoor climbing toys for toddlers can entertain for hours and don't get boring day after day. Have fun exploring what these shops have to offer and feel good that you're supporting a small business.
These Pikler Triangles are made in the USA from all-natural materials. Choose the size appropriate for your child.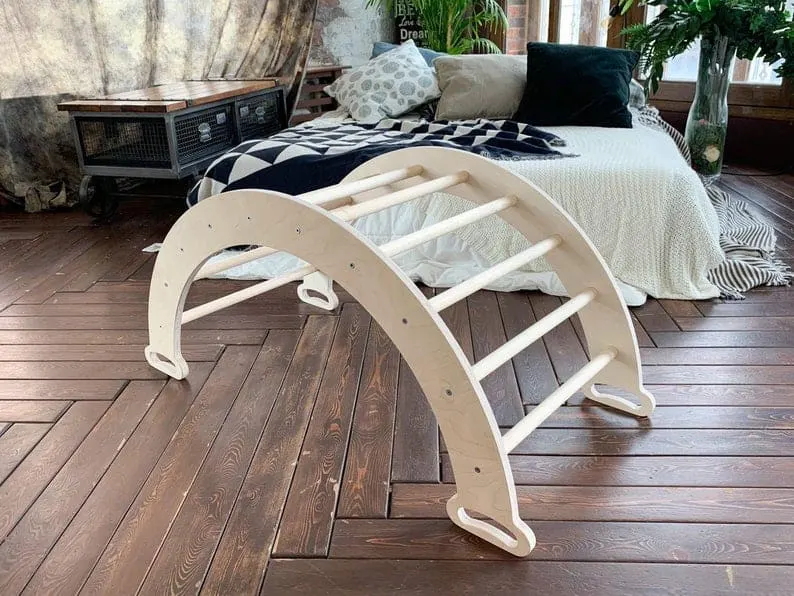 Simple yet effective, this climbing arch is good for those younger toddlers just starting to climb. You can always add a ramp or a triangle later on for more fun.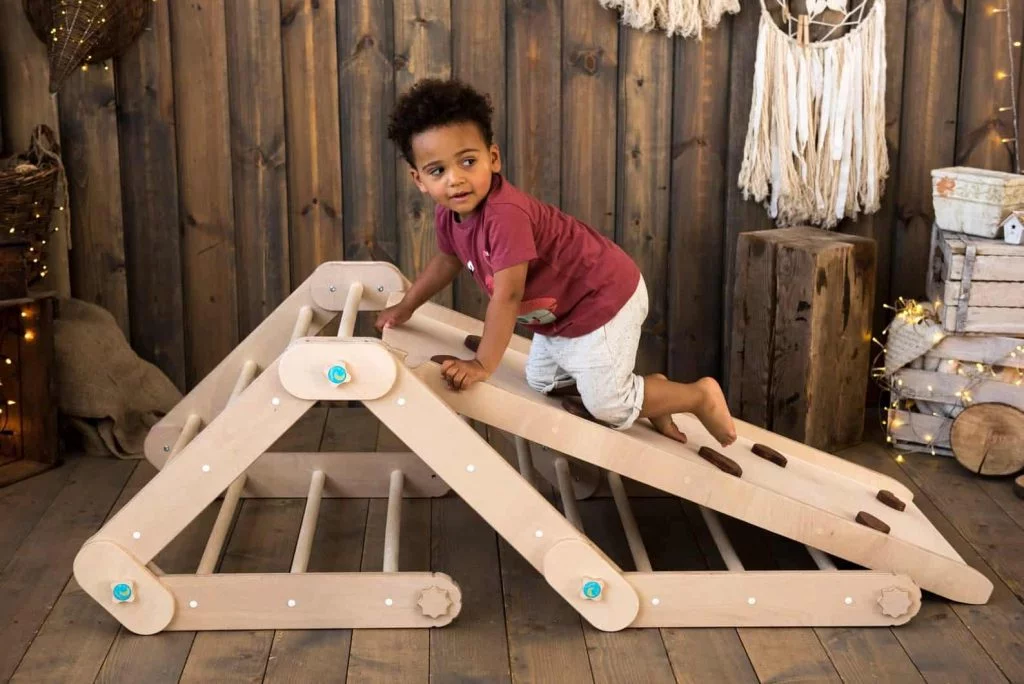 This foldable, transformable climber has so many different configurations you can make to keep things interesting. As one reviewer said, "Our 4 year old and 15 month old love this. We have had it 1 week already and I am able to change the shape almost daily so they don't get bored. Its always a fun challenge and they love to use it as a fort too!"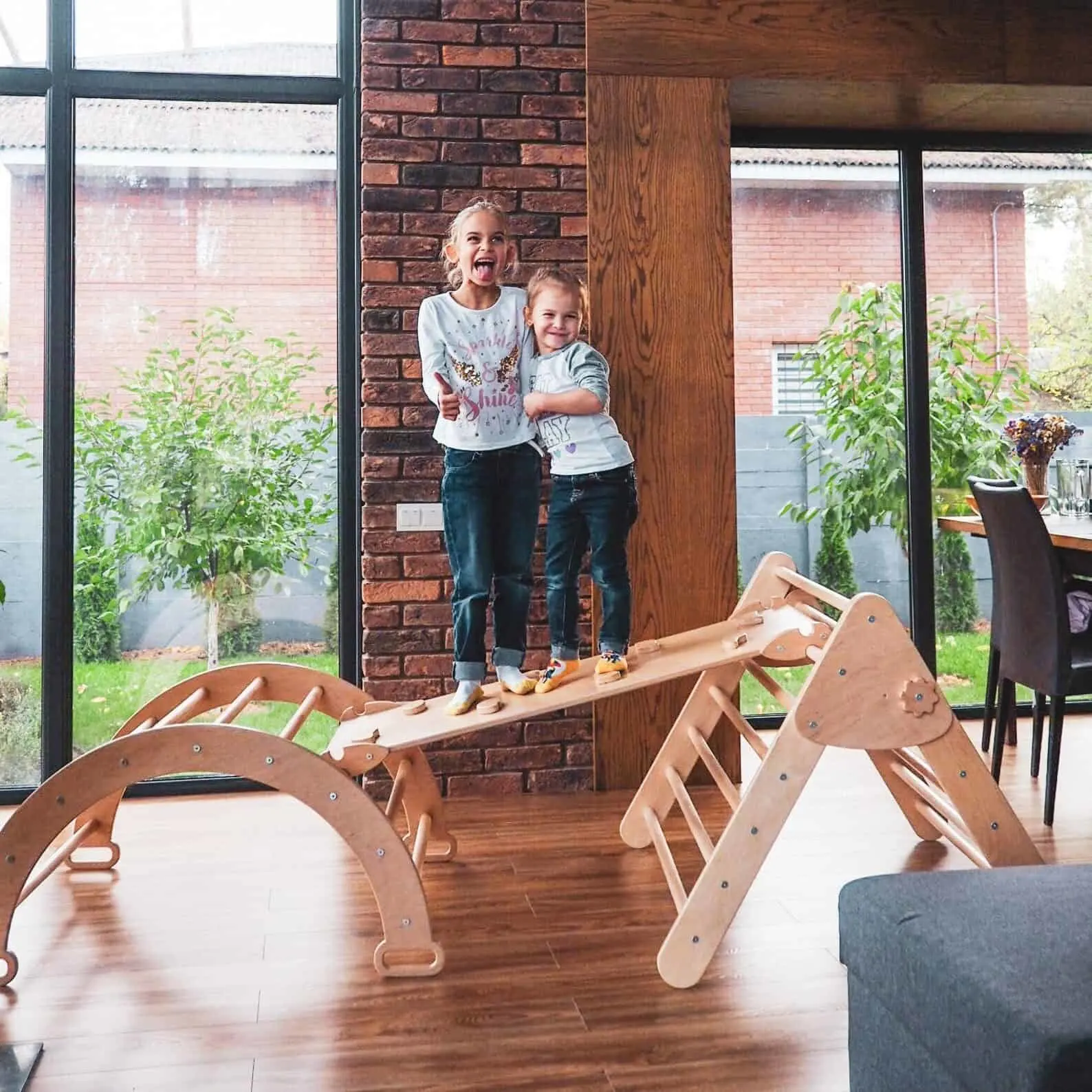 This 3-piece climbing set comes with a climbing arch, Pikler triangle, and ramp for maximum fun. It will grow with your toddler and last for years to come.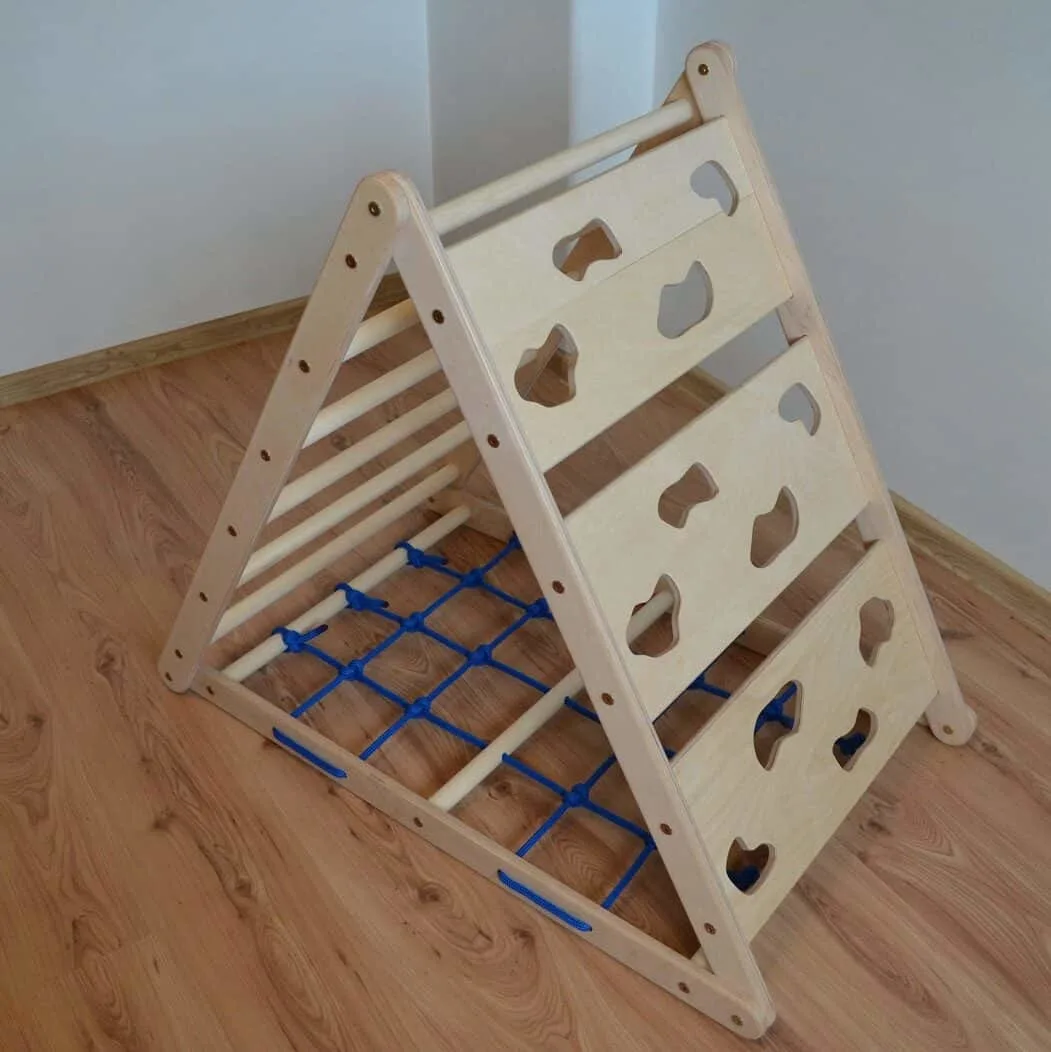 Each side of this wooden climbing triangle offers a different style of climbing fun, including a "rock wall" and cargo net.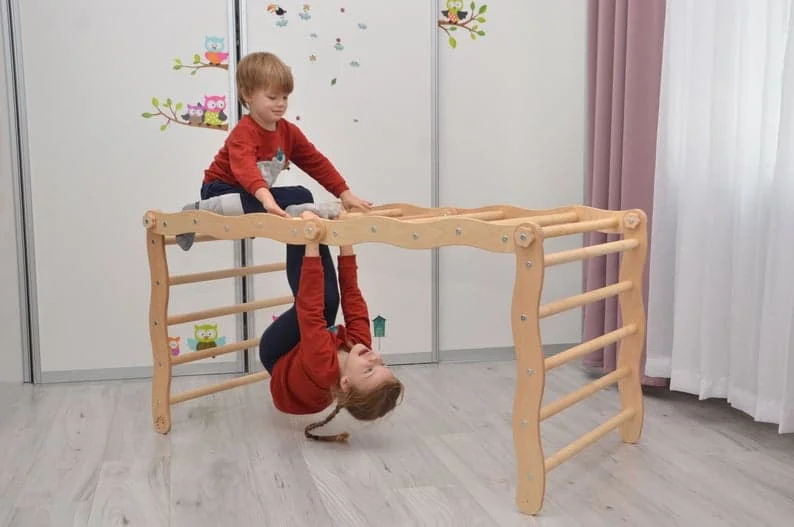 Your little monkey can swing and dangle from this wooden set of monkey bars. It's actually two Pikler triangles attached together, so you can make many different configurations.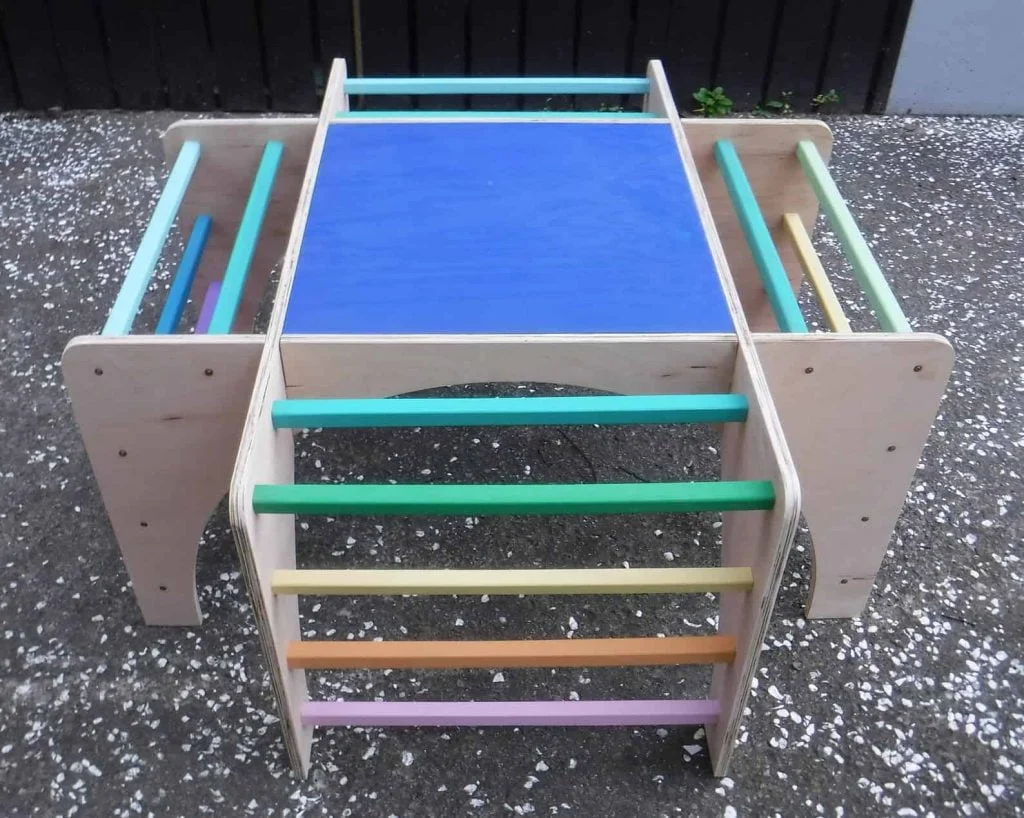 This unique configuration of climbers includes a platform at the top so your toddler hang out up high. It can also split into 2 separate bridges. The Quaddler Bridge is made in the USA.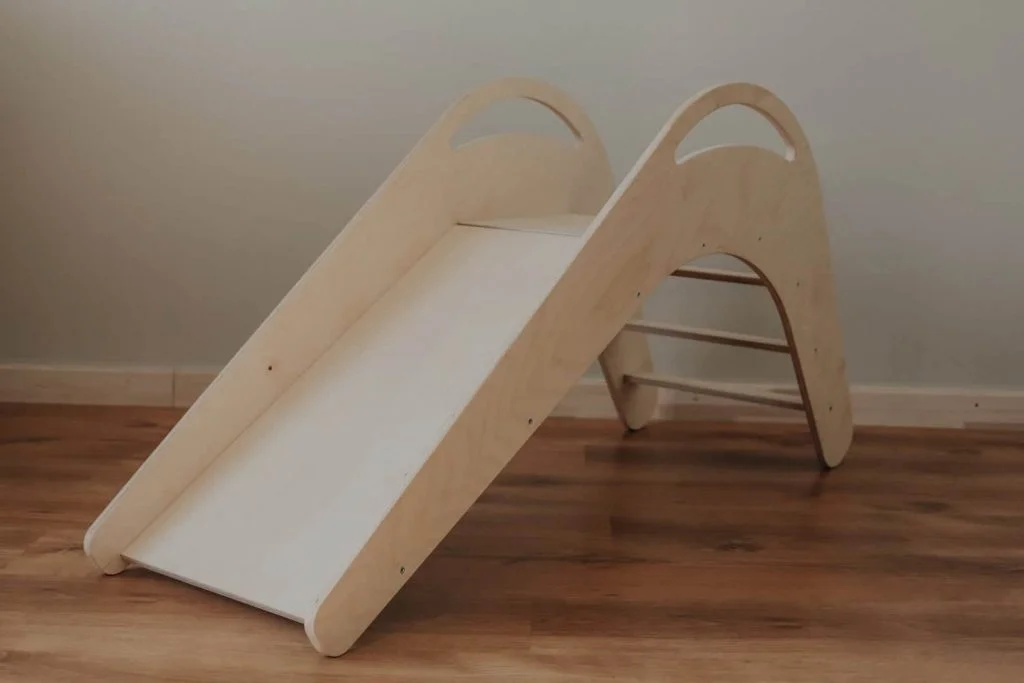 This beautiful slide is made of natural, nontoxic materials. Add some simple, timeless fun to your playroom or living room.
Indoor Climbing Toys for Toddlers from Amazon
Also known as a "foamnasium," these large, soft blocks are perfect for climbing and tumbling. It's your own living room little gym.
If you've got the space, this set has it all: cargo net, slide, monkey bars, swinging rings, and climbing ladders. It will be just like they're playing at the playground but indoors.
It's a miniature indoor playground with rounded edges for toddler safety. They can climb a 2-tiered platform and have fun going down the slide.
This toy is incredibly versatile. It can be a balance board, rocker, slide, hill for climbing, ramp for trucks, and more. It can still be used as your child grows since it's rated up to 480 pounds!
This set comes with a total of 7 tents and tunnels for your child to crawl through. You can use all at once or change up the configuration periodically for a new experience. The great thing is, they fold up compact for storage.
Indoor stepping stones are great for practicing balance. These are made of soft and durable foam. Kids can jump from one to the next and even play "the floor is hot lava" game.
It's hard to go wrong with a slide for kids' play. This one is sturdy yet foldable for indoor use. It's perfectly sized for toddlers. They'll want to go down over and over again.
This rope ladder is intended for older toddlers, recommended for age 3 and up. They can reach new heights, swing, and play.
A sturdy tunnel little ones can climb over and through. Cute caterpillar features, bright colors, and hundreds of 5-star reviews.
Kids can run and jump around on this fun and sturdy balance beam. It has multiple configurations and is stackable for storage.
If you have the space, such as a large basement, this geometric dome climber could be a lot of fun. It is 6 ft in diameter and 3 ft high. Make sure you have a soft, padded floor underneath.
Kids love to climb these cargo nets. Just make sure to keep a close eye on those littler ones so they don't get entangled.
If you're the handy type, then you could create your own indoor climbing wall in your playroom. These hand and footholds come with hardware for installation.
Have Fun Climbing!
Investing in an indoor play space for your toddler may be some of the best money you've ever spent. Worn out toddlers make for happy kids and parents.
If you are creating an awesome indoor play space for your toddler, tell us about it in the comments!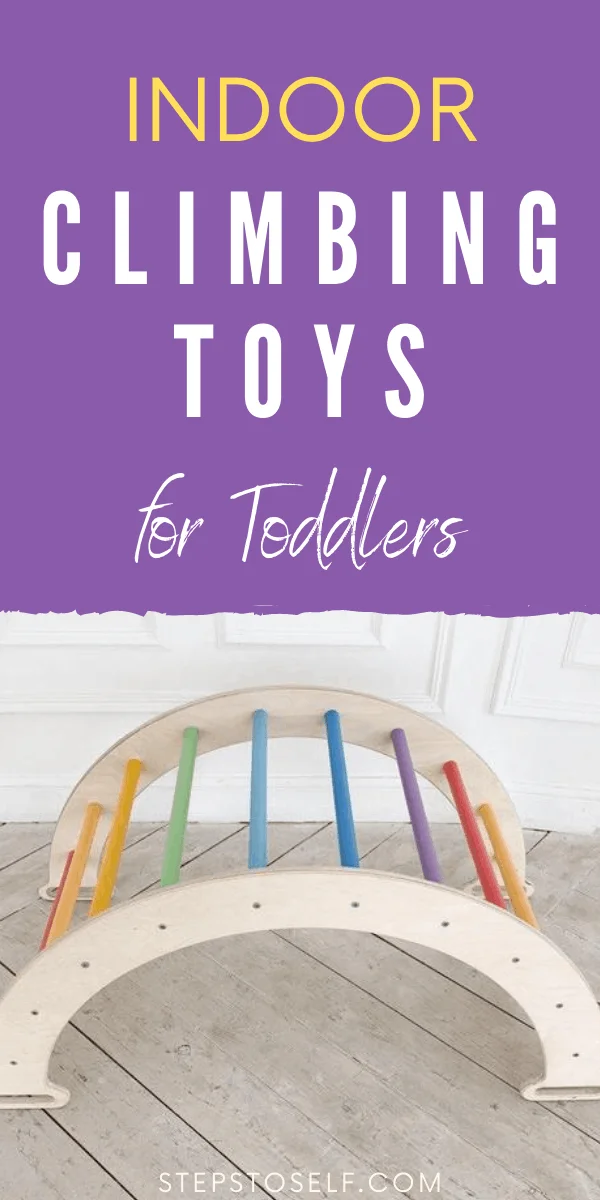 Similar Posts: