Cook a healthy casserole for dinner tonight. Here are 16 healthy casserole recipes you can cook for comfort food that you can actually feel good about making for your family.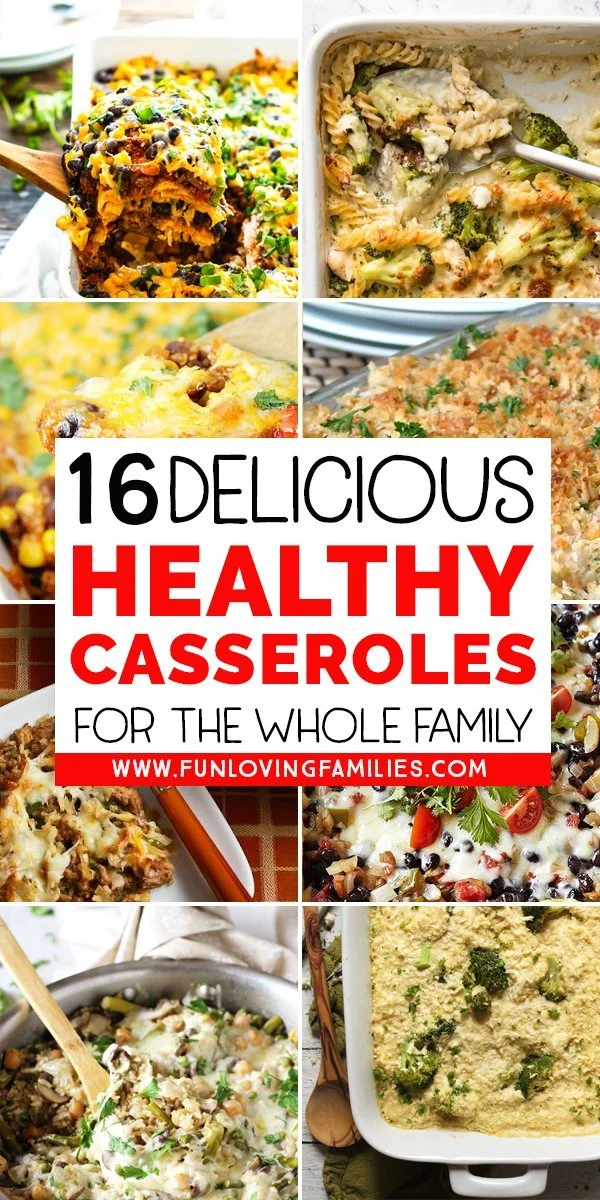 Hello friends!
I wanted to pop in to share some delicious and HEALTHY casserole recipes with you today.
But first, I have to back up a little and tell you what a big deal this is for me.
For years, dinner casseroles were my go-to recipes on weeknights.
All warm and hearty, they were perfection-in-a-pan baked at 350° for 30 minutes.
Then, about two years ago I started eating healthy, which also meant I started making healthier dinners for my family and completely disowned my entire collection of casserole recipes.
All of my casserole recipes were basically meat + cheese + pasta (or potatoes) + some sort of "Cream of Something" soup… none of which worked with my goals of plant-based eating.
But, my friends, the siren-song of the casserole has been calling me.
Casseroles were always a hit at dinner-time with the kids. In fact, they were sometimes the only meal in the week that I could actually get everyone to eat.
It's so hard to find really tasty dinners that I like, and dinners the kids will eat.
So, I was looking back on our casserole days with a bit of nostalgia, and thought, "Surely there are some healthy-ish casserole-like meals that look like something my family would be willing to eat."
Indeed, there are. Quite a few actually.
Healthy Casserole Recipes to Make for Dinner Tonight
I know that "healthy" might mean different things to different people.
This mama doesn't count calories. Instead, I focus on the ingredients that are going into a dish.
In the casserole recipes below, you'll find mostly lean white means, lots of veg, some whole grains, and some plant-based proteins.
Many of the dishes *do* have cheese, but they aren't drowning in it. And they all have "real food" ingredients.
I know you'll find some really tasty and healthy casserole recipes that your family will love.
Healthy Casserole Recipes Without Meat
1. Cheesy Cauliflower Rice and Broccoli Bake
This vegan casserole recipe from Minimalist Baker has broccoli and cauliflower, plus some tips on which plant proteins to add that will really round this dish out as a meal.
View the cheesy cauliflower rice broccoli bake recipe.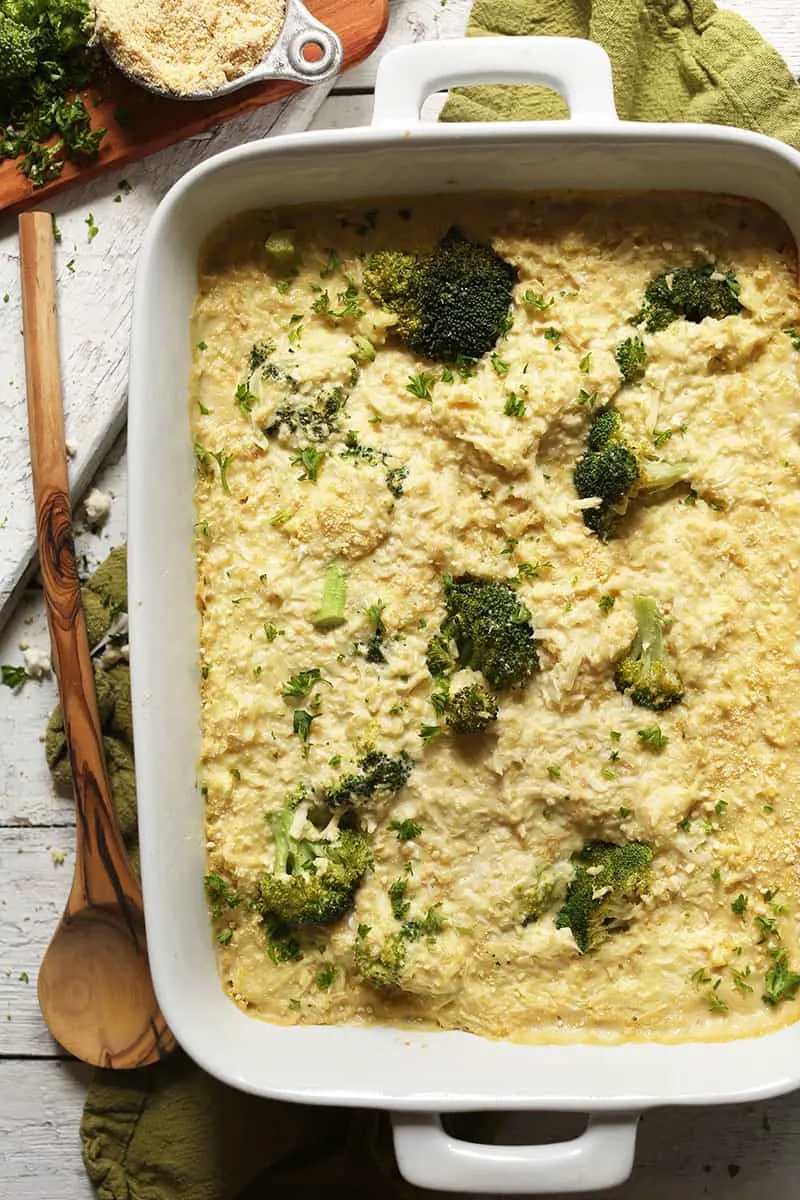 2. Better Broccoli Casserole Recipe
Here's a wonderful version of a classic broccoli casserole from Cookie and Kate. I love the addition of quinoa in the recipe for added protein.
View broccoli casserole recipe here.
3. Summer Squash Casserole
The summer squash casserole is simple, healthy casserole from Reluctant Entertainer. It's packed with fresh summer squash, herbs and tomatoes, so it's perfect for those of you with a summer garden in need of some interesting new recipes. In this healthy casserole recipe, the squash takes the place of pasta to keep things on the lighter side. View recipe here.
4. Butternut Squash Quinoa Casserole
There are so many healthy ingredients in the casserole from Trial and Eater that I don't even know where to start. Grab this recipe in the Fall when you're ready for some true comfort food.
View butternut squash quinoa casserole recipe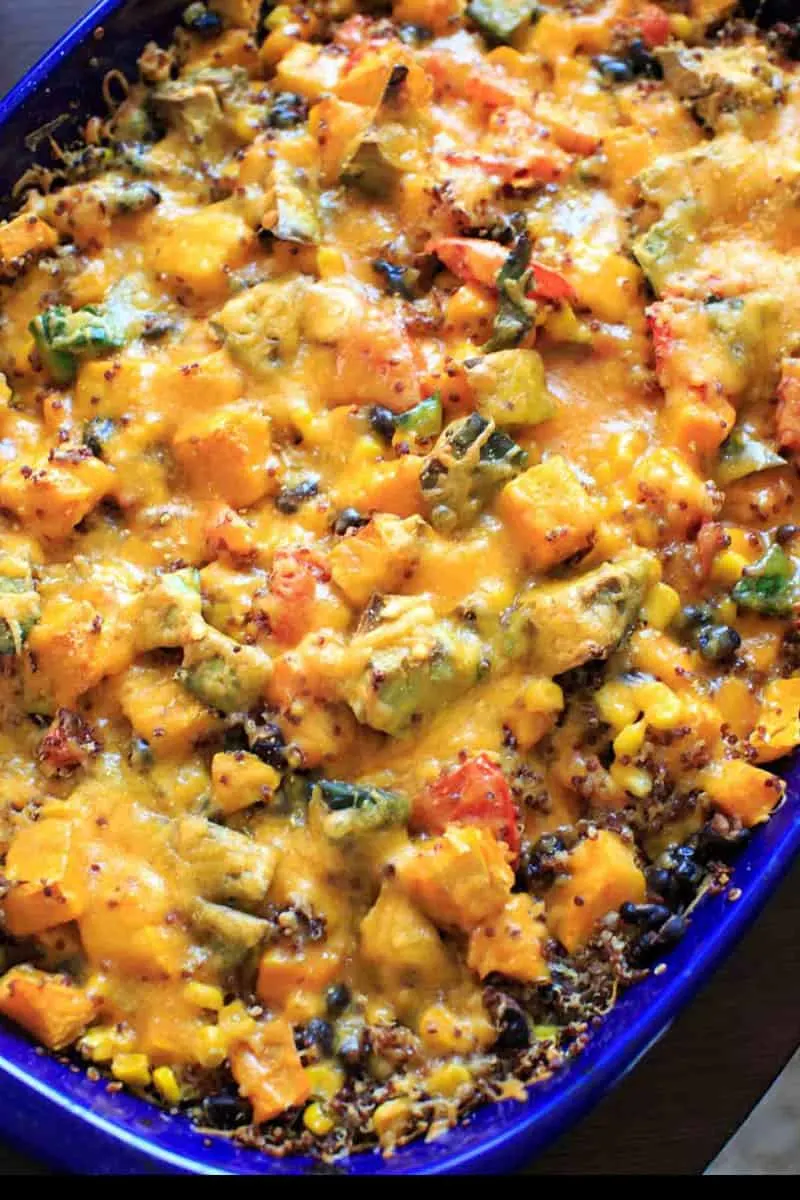 5. Tortilla Black Bean Casserole
Try this layered up Tex-Mex casserole From Midwest Living with a topping of fresh cherry tomatoes.
View tortilla black bean casserole recipe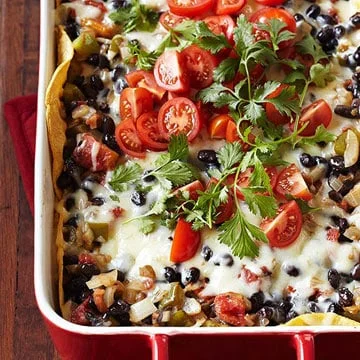 6. Caramelized Cauliflower and Mushroom Casserole
You can't miss this delicious casserole from The Iron You. Roasted cauliflower and sauteed mushrooms, plus some Greek yogurt and a little cheese for added creaminess, and I'm in heaven! View recipe here.
7. Skillet Spring Vegetable Brown Rice Casserole
Here's a one-skillet casserole from Cook Nourish Bliss that will knock your socks off. I love the mix of asparagus and mushrooms, plus some chickpeas thrown in. You won't regret stashing this one away to cook up in the Spring.
View spring vegetable brown rice skillet casserole.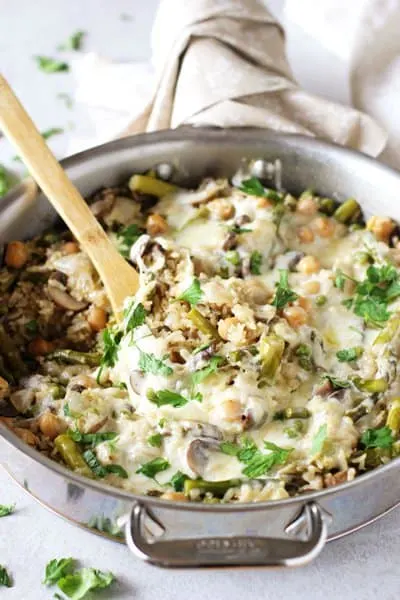 8. Black Bean and Corn Enchilada Quinoa Casserole
If your family likes quinoa, or if you *want* them to like quinoa, give this healthy casserole recipe from Love Bakes Good Cakes a try. The southwestern flavors are so good, and the quinoa blends seamlessly in taste and texture.
View black bean and corn enchilada quinoa casserole recipe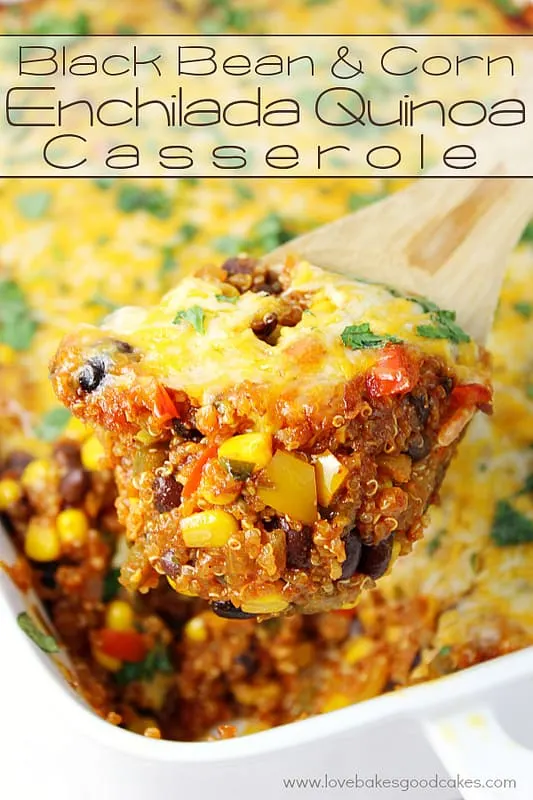 9. Baked Couscous with Spinach and Pine Nuts Casserole
If you're looking for something a little different, give this casserole recipe from Food Network a try. It's a tomato-based casserole with spinach and pine nuts for lots of healthy goodness, but still topped with a cheesy layer for classic comfort. View recipe here
10. Healthy Black Bean Casserole Recipe
Here's a hearty, healthy casserole recipe from Simple Green Moms . The fact that this casserole has both black beans and brown rice means you will walk away feeling totally satisfied! Plus, there are plenty of veggies mixed in. You can decrease the amount of chili powder if your kids don't like spicy foods. View recipe here.
11. Vegetarian Baked Millet Casserole Recipe
If you've been looking for a millet recipe to try here's your chance! This casserole from The Spruce Eats is kid-friendly and can easily be made gluten-free. View recipe here
Healthy Casserole Recipes With Meat
12. Healthy Chicken and Broccoli Pasta Bake
Even kids who don't like broccoli might change their mind with this casserole recipe from Recipe Tin Eats, but the real beauty in this dish is how quickly it comes together. It's the perfect family-friendly, one-pan meal you can throw together on busy nights after everyone gets home from soccer, dance, etc.
View Healthy Chicken and Broccoli Pasta bake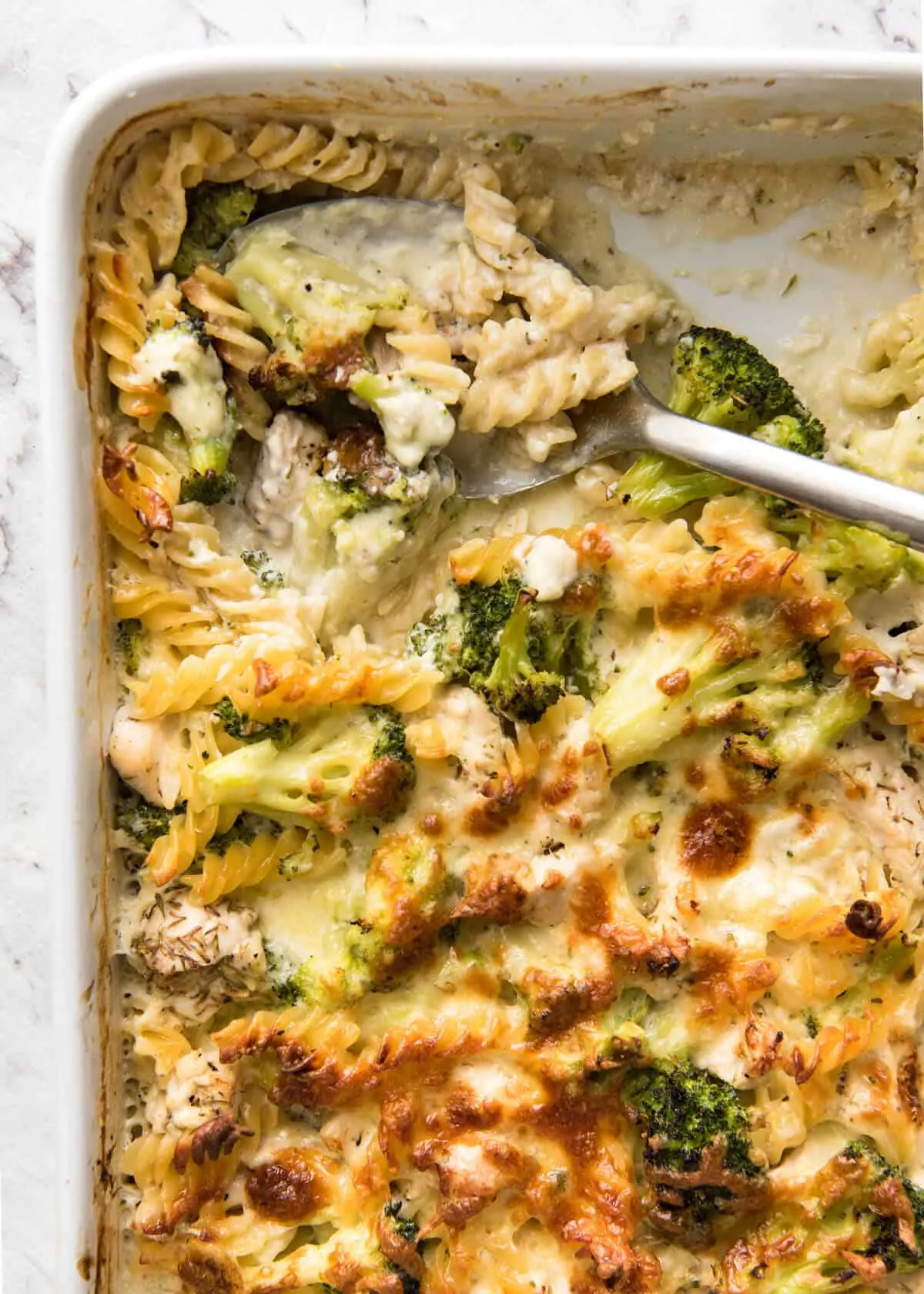 13. Easy Brown Rice Casserole
I can't wait to try this casserole recipe from Kalyn's Kitchen. It's a great recipe to turn to when you need to use up some leftovers, so add this to your meal-planning lists. And, I love that she mentions ways to adjust the casserole to fit whatever dietary preferences your family might have.
View recipe for Easy Brown Rice Casserole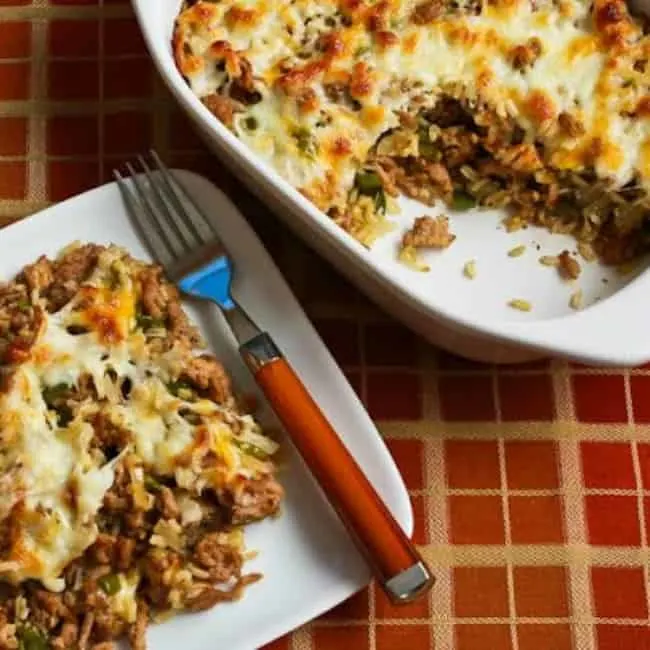 14. Chicken and Brown Rice Casserole with Veggies
Here's a creamy casserole from Yummy Addiction with brown rice and lots of veggies. Cook this one up on a Sunday afternoon when the weather gets cool and you're all ready for some cozy, stick-to-your ribs food that's still on the healthier side.
view chicken and brown rice casserole with veggies recipe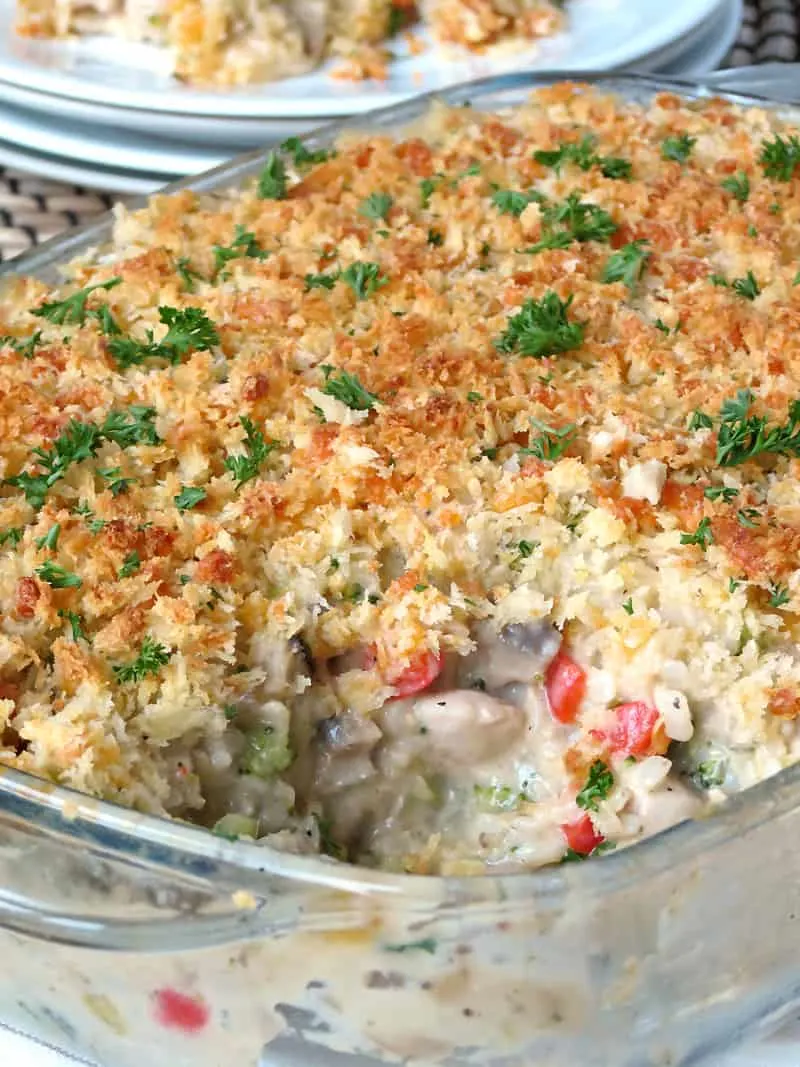 15. Turkey Taco Mexican Lasagna
I love that this taco-lasagna from Evolving Table uses ground turkey instead of ground beef. Check out the post to see lots of ideas for modifications and different toppings.
View turkey taco Mexican lasagna recipe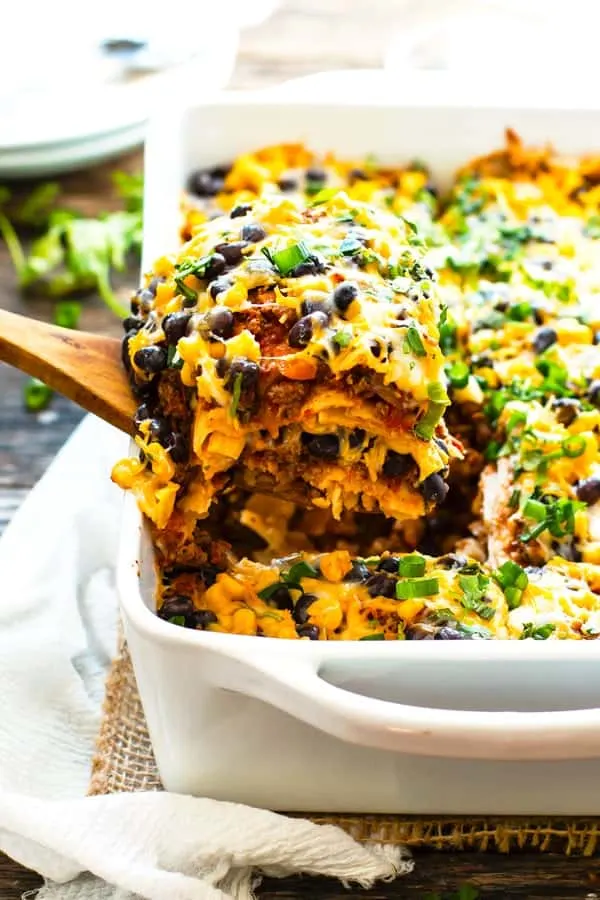 16. Creamy Squash, Spinach, and Chicken Polenta Casserole
I had to include this casserole dish from Food52. For one thing, it has polenta, which I absolutely love. Plus, it's packed with nutritious ingredients like squash, zucchini, and spinach. And, it even has chicken for those with loved ones who refuse to consider something a meal if it doesn't have a meat (raises hand!). View recipe here
More Easy Dinner Ideas
I hope you found some healthy casserole recipes to try this week.
If you have an Instant Pot, you'll love these posts:
Don't have an Instant Pot? You should definitely read this post to see what you're missing out on!
Pin this image to share or save for later!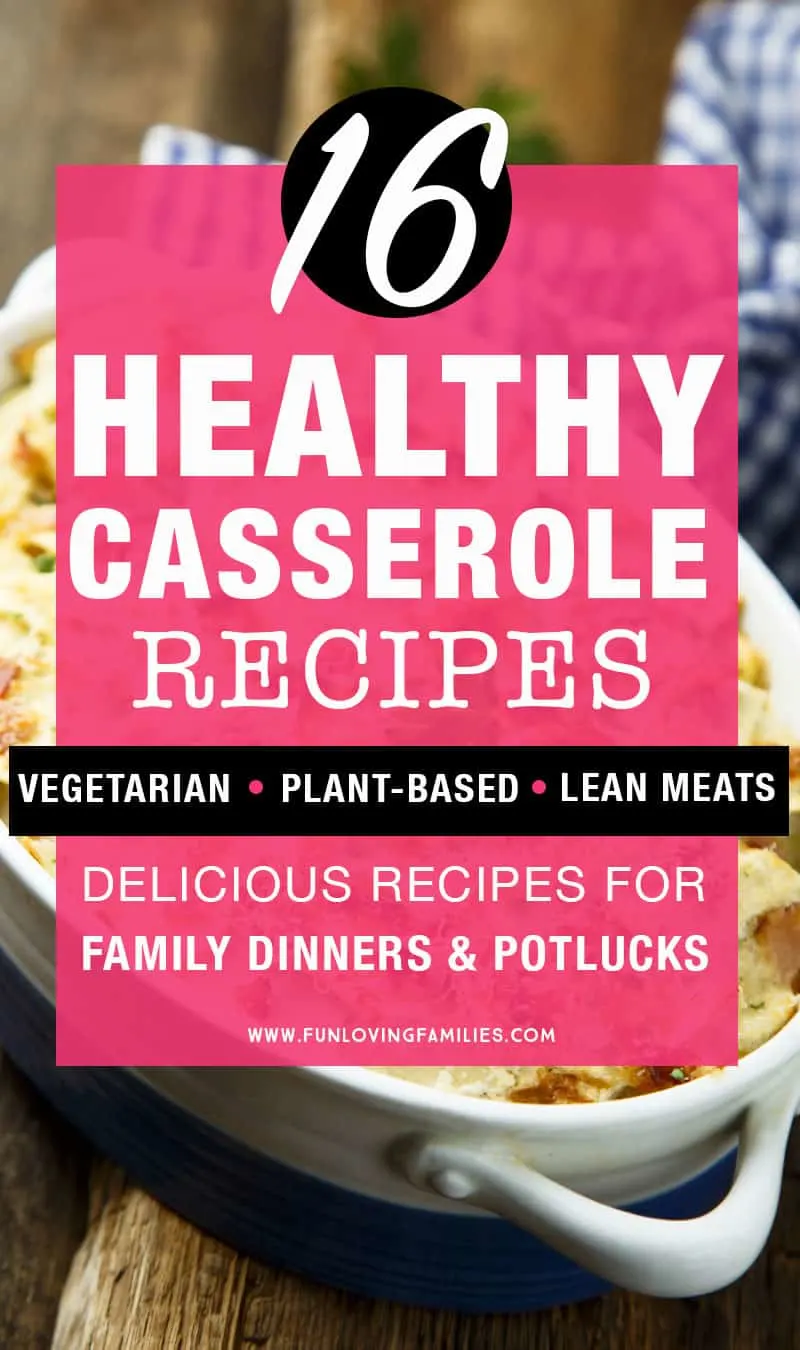 Similar Posts: