So…What are some fun yard games for families? Take a quick glance at our top 4 picks or keep reading below for all of our favorite outdoor family lawn games.
OUR TOP PICKS
(This post contains affiliate links which means I may earn a small commission if you click a link and make a purchase. As an Amazon Associate I earn from qualifying purchases.)
Best Low Activity Yard Game: Cornhole – This bean bag toss game is our pick for the best low-key game for your backyard BBQ.
Best Active Game: Spikeball – Super-fun, easy to learn, and will definitely get your heart rate up.
Best Budget Game: Kickball – wins for the best budget-friendly yard game for families. All you need is a simple rubber ball, and you can use some toss-down bases or make your own.
Best for Large Groups: Glow-In-The-Dark Capture the Flag – Lots of fun for large groups of up to 20 people.
Whether you're hosting a large group for a family reunion, having some neighborhood friends over for a BBQ, or you're looking for a few fun yard games to play in the backyard with the kids, we've got some great game ideas that everyone will love.
Yard Games for the Whole Family
You might recognize a few classic lawn games here, but there are also some games that I bet are new to you. No special skills are needed. These are fun backyard games for kids and adults of various ages and abilities.
A neighbor brought this game over when we were visiting relatives and our girls (then 6 and 7) enjoyed playing it so much they asked if we could get our own set. It's a fun backyard game for 2, 4, or 8 players, so it's great for having friends over or just an afternoon in the backyard!
Kubb has been described as being a cross between bowling and horseshoes. You can play this fun lawn game with 2, 4, or 8 players and the object is to use wooden batons to knock over the other team's Kubb blocks. Sets usually include pieces to mark the corners of the playing area.
If you love giant yard games, then Yardzee is definitely a great backyard game to add to your family's game collection. This set is our favorite because of the very handy bucket (which makes tossing the dice easier and more fun!) and because of the company's reputation (see more from Splinter Woodworking).
Also known as Ladder Golf, this is a fun outdoor game that's easy to set up in the yard. The object is to reach exactly 21 points, by tossing your bolas (golf balls on strings) onto the ladder rungs. You can play one-on-one or two-on-two.
Cornhole is a beanbag toss game that is the perfect mix of simple yet challenging. Two people can play together, or you can pair up and play 2-on-2. Get a sturdy wooden game that will last for many years.
Backyard putting can be fun, but I love this golfing version of Cornhole that will get everyone out there playing together.
There are lots of croquet sets that are on the market, from cutesy to heirloom quality, so you can surely find one that suits your family. I recommend this set for families who are ready to give it a try without spending a ton. It's a well-made set for 6 players that's good for kids and adults.
Active Yard Games for Kids and Adults
Ready to get moving and have some fun at your next BBQ or family reunion? If you're looking for a little more action, check out these fun lawn games you can play right in your backyard.
This classic game of your youth is still as much fun today as it was when you were a kid. It plays like baseball, but with the target being a big rubber ball. It's easy enough for the smallest members of your family and fun for grown-ups. Plus you can play with just a few people or with large groups.
Spikeball is easy to learn and really fun to play once you get the hang of it. The game is a spin-off of volleyball but instead of getting the ball over the net you bounce it off of the net. It's definitely as active game, so be prepared to work up a sweat! You can easily set this up in your yard as a game for kids or adults to play.
This family friendly lawn game is so fun, especially if you like badminton but have trouble hitting the plastic birdies. Goodminton uses cute little feathered "birdies" with rubber tips, so they move a little slower and are easier to hit. This is a very fun outdoor game for kids, and one that everyone will want to play.
Capture the flag is a super-fun game for large groups. Kids and adults can all join in trying to capture the other team's flag and bringing it back to their territory. I love this glow-in-the-dark capture the flag kit for playing at night.
Disc Games
When you've got some lawn space, disc games are a lot of fun and very versatile. Ultimate frisbee, Kan Jam or just playing catch are great ways to have fun together outside. This flying ring will go long and is easy to catch.
Grab everyone and play some volleyball (or badminton) with this set that's easy to put up and includes both games.
The Best Yard Games for Families
So, which backyard game is right for your family?
We've listed some great ideas here, but the best games are going to be the ones that *your* family will play. Think about your family's personality…Are you very active? More laid back? Are you very competitive or just want to hang out and have fun? Do you have a big group who likes to play together, or just a few people?
Lean in to your family's particular style and interests and you'll be more likely to find some games that will bring everyone together for hours of fun.
And one more thing…
Don't get discouraged if you introduce a game that just doesn't work for you.
Keep trying until you find something that clicks, because the rewards of playing together go well beyond just an afternoon of fun. You're strengthening bonds and creating memories that will last a lifetime.
More Fun Family Games and Activities:
Be sure to check out our list of pool party games for kids for some ideas of games to play with your sponge balls.
Have a blast on hot days with these water balloon games.
Make your own DIY games for backyard parties and playdates.
Bookmark this huge list of fun things to do on rainy days with kids for lots of fun indoor games and outdoor activities in the rain.
PIN TO SAVE FOR LATER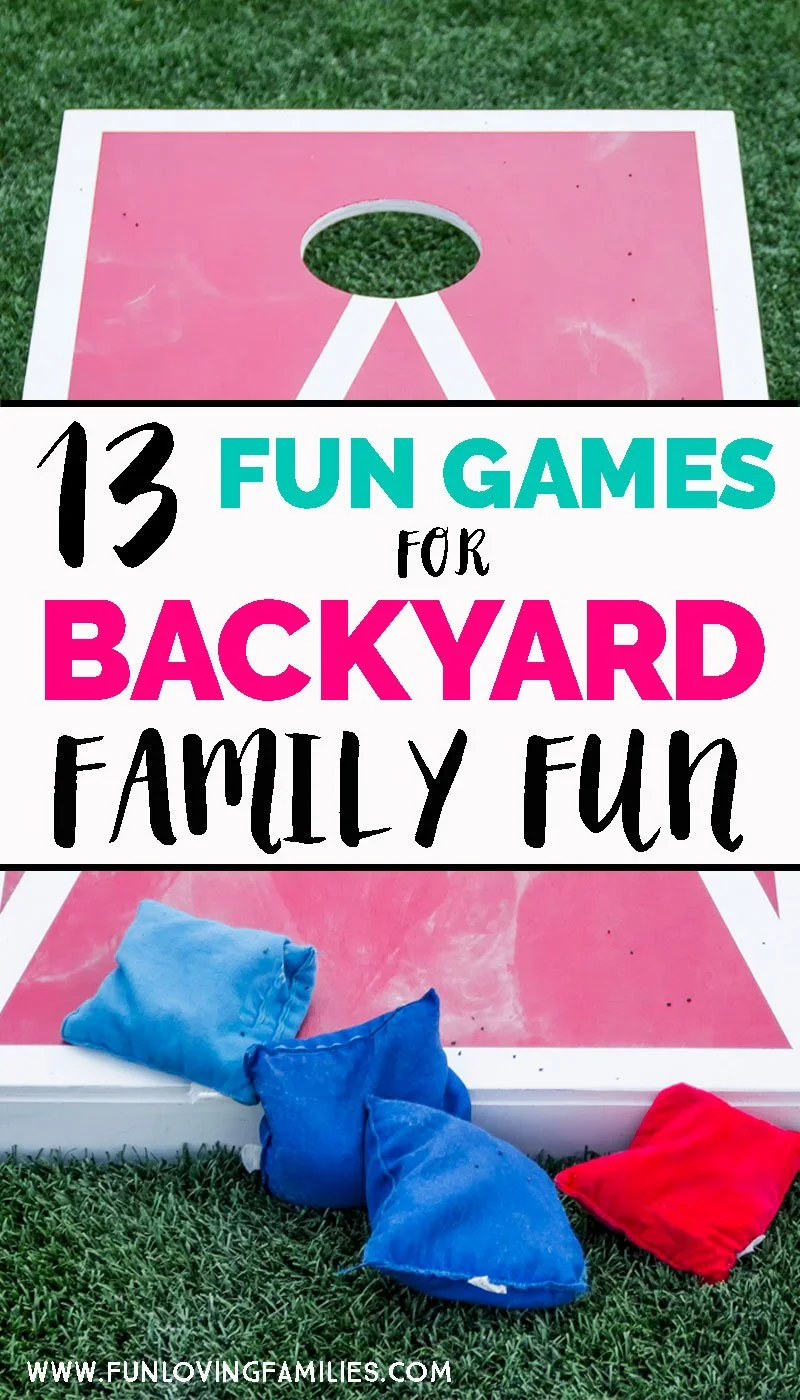 Similar Posts: