In a world of ever-evolving digital art and 3D animation, there's a quaint charm in reverting to simpler times and tangible crafts. Perler bead art, with its pixel-like precision and colorful possibilities, has become a delightful medium for hobbyists and artists alike. Among the myriad of designs to choose from, the idea of frogs leaped out to me because of their vibrant hues and quirky charm.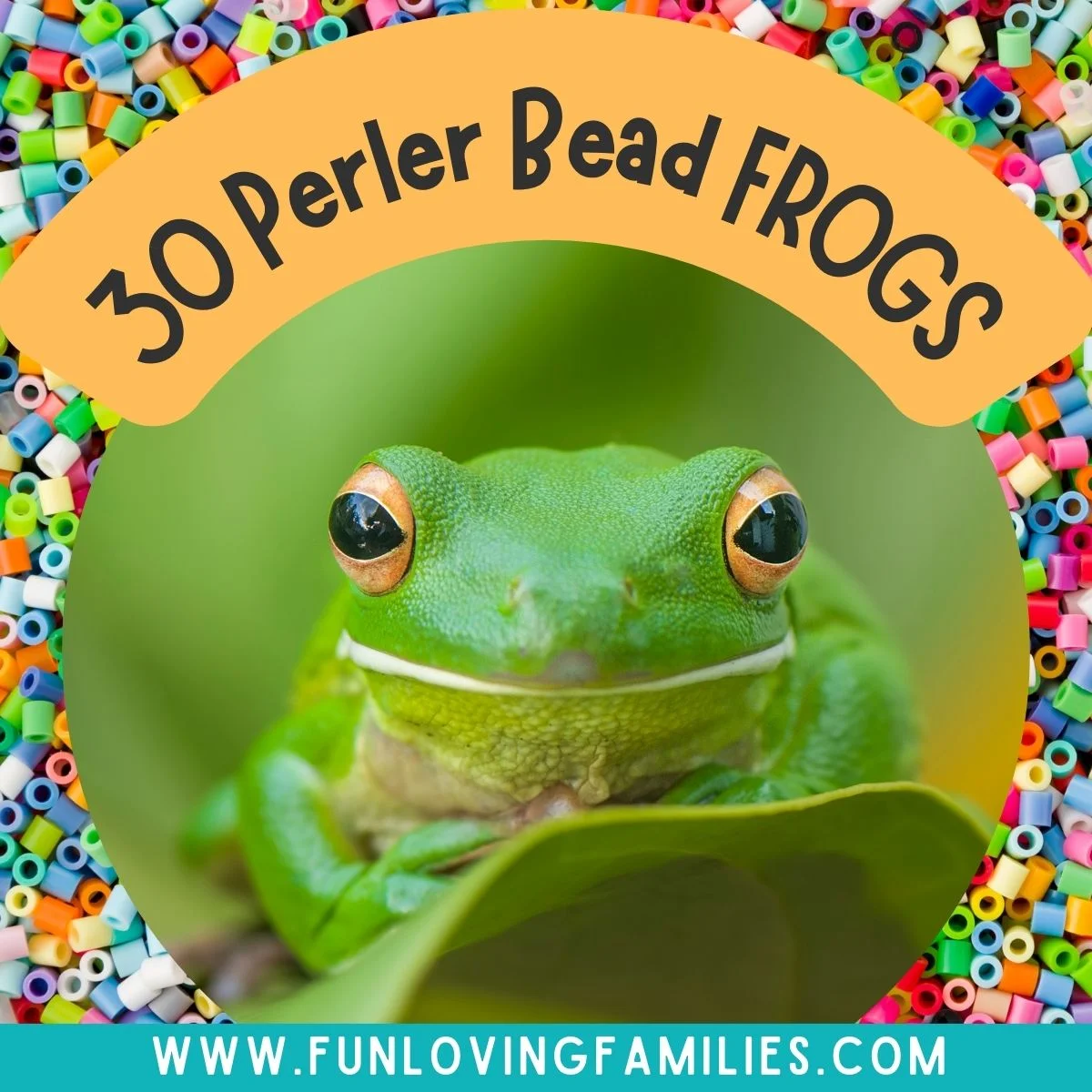 The cute cartoon renditions are so adorable, while the realistic designs are simply fascinating. Let's take a look at all the fun frog designs we can do with our Perler beads. We'll start with cute patterns, followed by popular frog characters that you will probably recognize, and we'll end with some irresistible projects that we can make for ourselves.
Cute Frog Designs
The Easiest Perler Bead Frog
If you have a very small child who's just beginning to do beadwork, this little frog face is a good starting point. It's got two beady eyes and a two-toned coloring. Your child will immediately recognize it as a wee frog despite its simple design.
Small Happy/Unhappy Frog
Because I used to do Perler bead crafting with my children when they were very small, I'm always on the lookout for easy patterns that clumsy little fingers can do. It was exciting to see this little frog, but I was a little worried that it had a sad frown. Happily, there is a pattern for a similar smiley froggy instead.
Engage your child by asking whether they want to do the frowny frog or the happy frog.
Froggy Feeling Blue
I said no sad frogs but this blue frog will melt your heart. It's super small so it's easy to do too.
Frog on a Lily Pad
Look at this rotund frog with pinkish cheeks. It looks adorable sitting on a lily pad. While the lily pad is in the usual shade of light and dark green, the frog stands out because of the unusual shade of minty green Perler beads.
My starter set doesn't have this green shade but the official Perler bead shop has some shades that could work like the 1000 beads in Mint, Glow-in-the-Dark Green, Clear Blue, or the Sour Apple just to name a few.
Here is the pattern for your reference. If you want to turn this into a portrait, just fill in the background with blue beads for the pond.
Big Ole Derpy Frog
Look at this silly-looking frog. Doesn't it look derpy?
Here is the pattern for your reference. The pastel pink background makes the whole picture look soft and cute.
Froggy in a Floaty
If you are looking for more adorable frog designs, this frog in a pool floaty might strike your fancy. The pink and blue inflatable is just too cute.
Cat in Frog Hat
Check out this kitten wearing a frog hat. It's double points for cuteness. The bright green beads give the whole design a refreshing pop of color, too.
The pattern is here. This kitten is super adorable even in pixels!
Froggie Juice
Fancy some Froggy Juice? It looks delish!
Here's the pattern for this cute juice box.
Mushroom Frog
If you want a pattern with a touch of whimsy, then check out this frog wearing a mushroom on its head. The red colors and the little branches and twigs around the central figure give it a certain feeling that's reminiscent of picture books for children.
Realistic Frog Designs
Don't want cutesy designs? Here are lifelike renditions instead.
Frog Pattern
Frogs come in a variety of colors, but many species are green for camouflage. Their green coloring helps them blend in with their leafy surroundings.
If you fancy doing this dark green frog, the pattern is here for your reference.
Leaf Frog Pattern
If you ever wondered whether a frog was male or female, male green frogs have a brighter yellow throat compared to females. Do you think this critter above is male or female?
Red-Eyed Tree Frog
The red-eyed tree frog is a vibrant amphibian with bright red eyes and a green body. Native to Central American rainforests, it is nocturnal and primarily feeds on insects. If you've seen drawings of this frog before, that's because its colorful appearance makes it an iconic symbol of rainforest biodiversity.
Polka Dot Tree Frog
The Polka Dot Tree Frog is a small, light green frog found in the Amazon. It's easily recognizable by its distinctive dots or spots, which can sometimes be red or in other colors. In the pattern above, it's a Polka Dot Tree Frog with red spots.
Did you know? When you shine a UV light on the Polka Dot Tree Frog, it glows bright blue and green. It's the world's first frog known to do this!
Popular Frog Characters
Can you recognize these frog characters that have made their way into shows, books, and your child's pencil case designs?
Wendy the Frog Squishmallow
Squishmallows are a line of plush toys by Kellytoy. They get the name from the fact that they're as squishy as marshmallows. Over the years, Squishmallows gained a following of collectors and enthusiasts. Wendy the Frog is from the Original Squad and is one of the first eight Squishmallows to ever be released. It's very rare and highly sought after. The Perler bead version looks so adorable already so imagine this as a super soft plushy toy.
It's so fitting that the crafter who did this Perler bead Wendy took a photo of their work beside a tree and in the outdoors. Wendy the Frog is an eco-friendly gal who loves gardening with her family.
Here is the pattern for your reference.
Keroppi
Keroppi is a cheerful frog character from the same makers who gave us Hello Kitty and My Melody. It's easy to recognize Keroppi because of his big eyes, pink cheeks, v-shaped mouth, and bow tie.
Keroppi Full Body
Here's an adorable full-body pattern of Keroppi. In here, he's wearing a blue and white striped shirt that he's absolutely rocking.
Tiana from The Princess and the Frog
Has your child watched Disney's The Princess and the Frog yet? This movie tells the story of a delightful young woman named Tiana who dreams of opening her own restaurant. But, when she kisses a prince who has been turned into a frog, she becomes a frog too! Together, they go on an adventure to become human again. The story is set in New Orleans and has lots of music and magic.
Here is Tiana in her cute frog form. Tiana is special because she is Disney's first African-American princess.
Kermit the Frog
Kermit the Frog could arguably be the most famous frog out there. The Muppet Show was pure chaos and Kermit was a rock amidst all the zany characters. It's funny though that despite him being the straight man, Kermit is the most featured in so many hilarious memes on the Internet today.
Here is the pattern for your reference.
Kermit Drinking Tea
Speaking of Kermit the Frog memes, here is one of the most popular. It's Kermit drinking tea. The YourTango website explains, "It can be used after dishing out an insult or pointing out something insane and ridiculous to put a sassy cap on your point. It can also be used to indicate that, while you have no intention of gossiping yourself, you're happy to sit back and let the "tea" (gossip) wash all over you."
Here's the pattern for your reference. Now tell me the latest tea. (Insert wink here.)
Mario in a Frog Suit
Look at this cute crossover. It's Mario in a frog suit. There are several versions too. In this one, Mario is flying through the air.
In this one, Mario is crouched low on the ground. Is he getting ready to jump away?
Ribbit! Yes, he is. See you later, Froggie Mario!
Froggy Hello Kitty
Here's another fun crossover. It's a pattern of Hello Kitty wearing Frog headgear.
Frog from Chrono Trigger
We end this section on popular frogs with a character from a niche game — Chrono Trigger. Chrono Trigger was an RPG released in 1995. Frog is one of the main playable characters. He used to be a human knight named Glen transformed into a frog by the evil Magus.
Frog Perler Bead Crafts
Now let's take a look at the fun frog Perler bead crafts we can do.
Jean Chain
Doesn't this frog chain look like an absolute fashion statement? Everybody and their mother will be asking you about your chain.
Frog Keychain
If you fancied any of the smaller frog designs I shared above, you can turn them into keychains such as these. To DIY your own, just buy clasps and chains from your local craft store or an online craft store that delivers to your area.
Keroppi Earrings
Aren't these Keroppi earrings so adorable? They're small and solid so they won't fall apart easily especially if you iron your beads well. They're perfect for a Spring or Summer outfit.
Frog Bracelet
Children love playing dress-up and this bead bracelet with a Perler bead frog is so fun and colorful. The toadstool is a lovely little bonus.
Frog Closeup Pattern
This portrait of the Red-Eyed Tree Frog is so arresting. This is perfect for Plant Moms who have their dedicated plant rooms.
Red-eyed Tree Frog Poster Pattern
Here is another interesting pattern for a frog Perler bead artwork. The red-eyed amphibian peeking through the fronds of a plant is as visually enthralling as the portrait from earlier.
Frog Box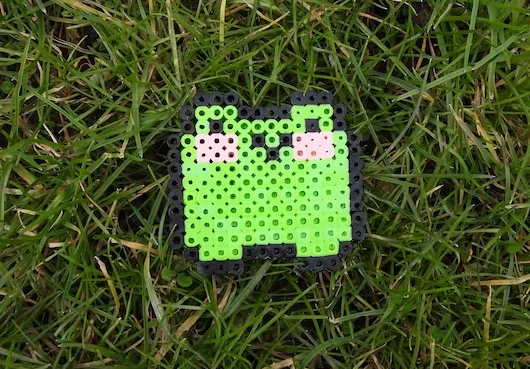 If you're not new to making Perler bead characters, you'd have tried your hand at making boxes of any animal and character, say sheep or chicken or Steve, the default Minecraft character. Indeed, there are a lot of Perler box versions of all manner of things. Take this boxy frog, for example. It's a frog, but in box-form.
Here are the pattern pieces for it.
Froggie Chair
And last but not least, we have this super unique frog chair. If your child has a doll house or just loves frogs in general, this would be a lovely addition to their toys.
Here are the patterns for the pieces of the chair. If you click on the image, it will take you to the Pinterest page where there are many helpful comments on how to tweak this pattern.
If you enjoyed this post, please share it with your family, friends, and fellow crafters!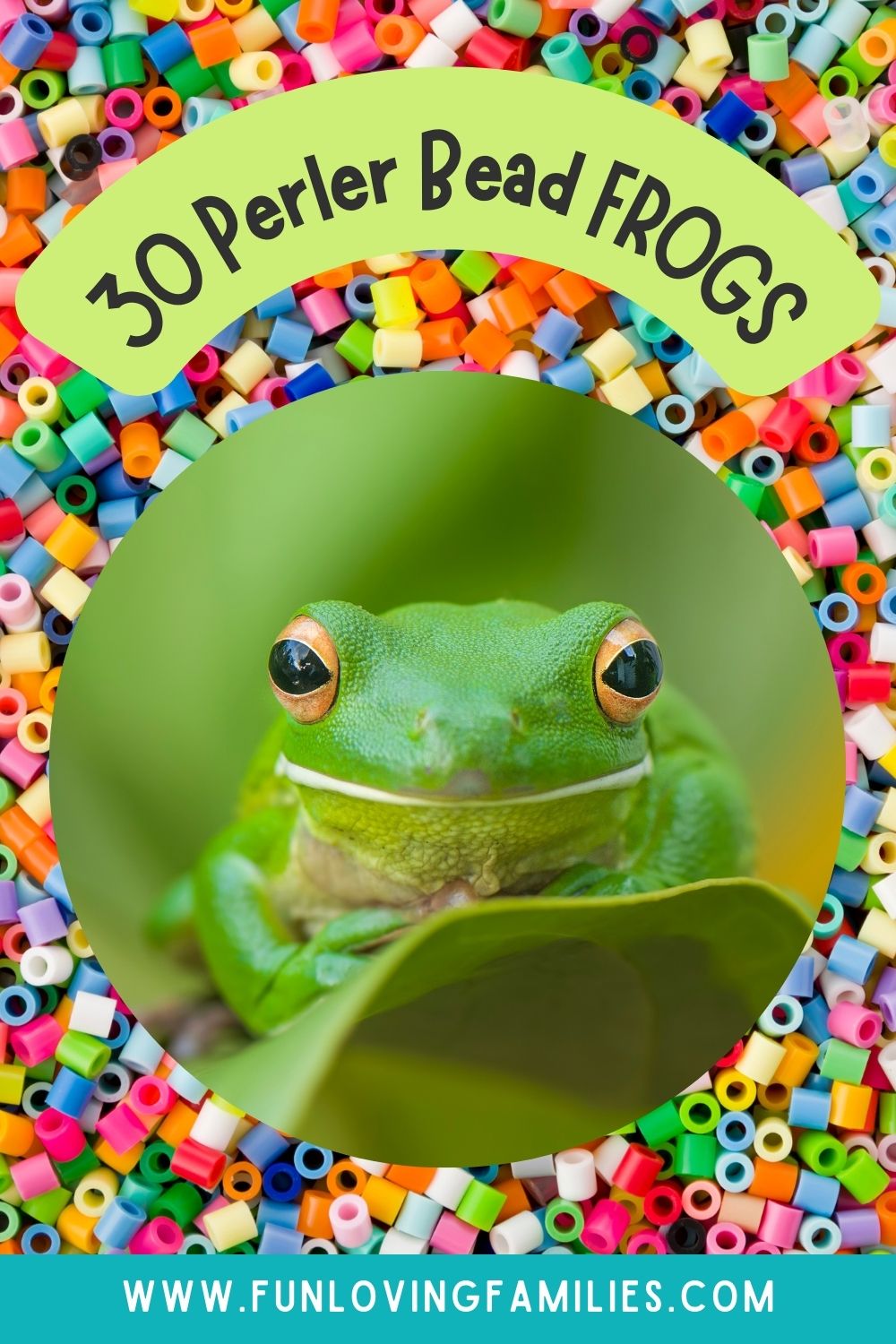 Similar Posts: