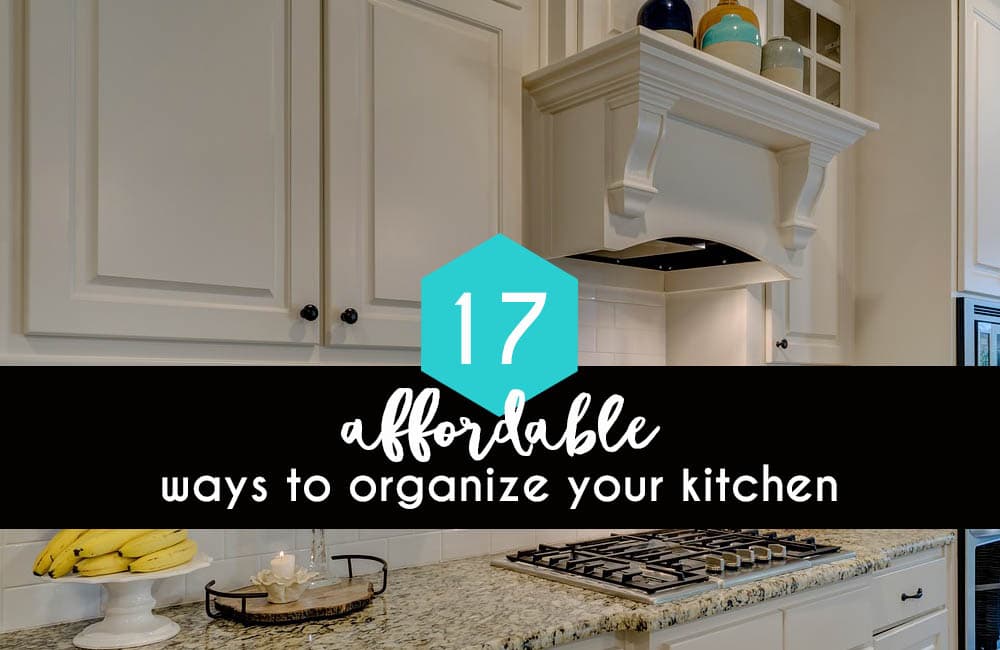 Genius Tips and Ideas to Organize Every Inch of your Kitchen
Sometimes you just need some really easy ways to organize your kitchen.
The kitchen is one of those areas that has so much stuff crammed into so many different areas, it's easy for it all to start looking like a complete disaster area. The problem, of course, is that our kitchens are probably one of the most used areas of the home. If we can't keep everything neat and tidy, just the simple act of pulling together a snack for the kiddos can become a huge time suck!
Do you ever worry about a pile of baking sheets toppling over when you go to make some cookies? Are all of your corn cob holders impossible to find when you need them? And how about your spices? Oh, don't even get me started on the spices. We've tried risers, but the little jar of pumpkin spice is still impossible to find when I need it!
Now, we can't just go out and renovate our kitchen with all of the bells and whistles and handy storage compartments already built in. Instead, what I've pulled together here are some super-simple, inexpensive ways to to keep your kitchen neat, tidy, and well-organized.
Easy Ways to Organize Your Kitchen: Must have items for cheap kitchen organization
Getting your cabinets and all of your little bits and pieces in order is going to be so fast and easy, you'll be slapping your head for not thinking of these things sooner.
All you need to start organizing your kitchen are these 3 things: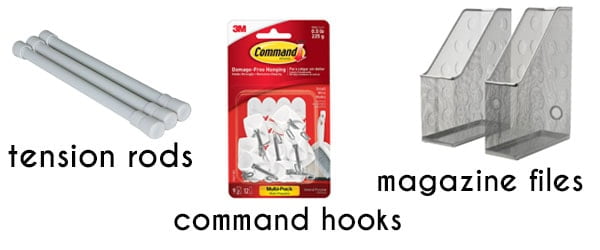 Small tension rods can be purchased in packs of three from Amazon for around $6. They make great dividers and help hold various items in your kitchen upright instead of stacking them up on top of each other.
Command Hooks are the duct tape of kitchen organization. These little miracle workers pull their weight by helping you move nearly anything to a door instead of having it take up space in a cabinet. Regular hooks are also useful, but Command hooks in particular have that wonderful sticky back system which is perfect for anything you don't necessarily want to keep permanently in place. Also, they come in many different useful sizes.
Magazine files, or magazine holders, help to stack things up vertically in a space so that you can use the inside of your cabinets more efficiently. The mess file folders in the photo above are $6.99 for a pack of two, but you also find plastic or cardboard ones for less.
Ok, now that you have the basics of what you'll be using to get your kitchen in order, let me share with you some really genius, easy ways of using these items in your kitchen. Check out the images below for the ultimate kitchen storage hacks.
Easy Ways to Organize Your Kitchen: Use Magazine Files to Go Vertical in Your Pantry
1. Keep Paper Plates and Napkins in Order
A simple Dollar store magazine file helps keep paper plates and napkins contained (via Organizing Made Fun)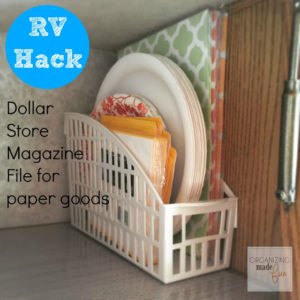 2. Store your Canned Goods
Store your cans vertically (via PB&J Stories)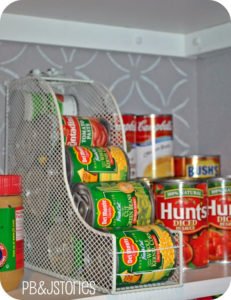 3. Keep Spaghetti in Place
Use this idea from Mom with a Prep) to keep spahetti boxes lined up neatly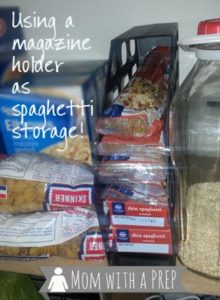 4. A Place for Your Potatoes and Onions
Potatoes and onions can still breath in these mesh file folders (but apparently onions and potatoes living side-by-side is a no-no) (via Mimi's Crafty World)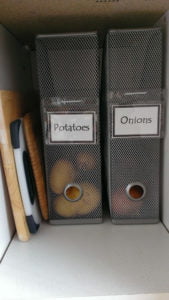 5. Line up Your Food Wrap Boxes
Contain food wrap boxes in a magazine file (via Pretty Providence)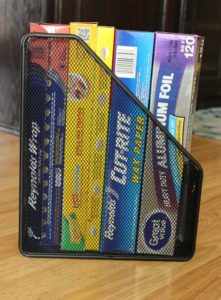 6. Get your Reusable Water Bottles Under Control
I love this idea for keeping water bottles neat and tidy using magazine files.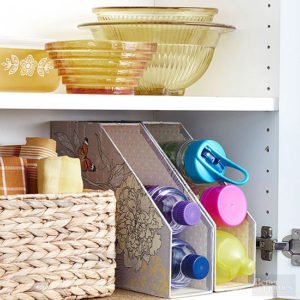 Easy Ways to Organize Your Kitchen: Put anything on a door using Hooks
7. Hang Your Food Wrap Boxes
Here's a DIY for hanging your food wrap boxes from hooks on a door (via I Heart Organizing)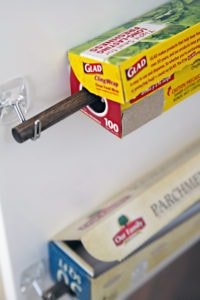 8. Mount Your Lids
Strategically placed hooks can be mounted on cabinet doors to hold your pot lids (via Instructables)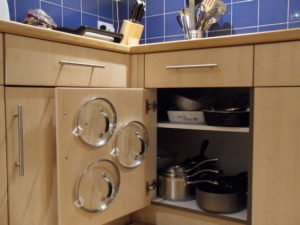 9. Hang Measuring Cups and Spoons
Measuring cups and spoons are kept nice and neat, and out of the way, on hooks (via Simply Darling)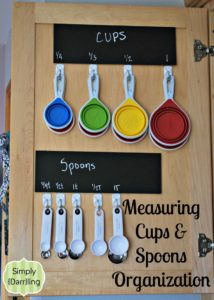 10. Easy Oven Mitt Storage
Oven mitts were meant to be hung, not stuffed in a drawer! (via A bowl full of lemons)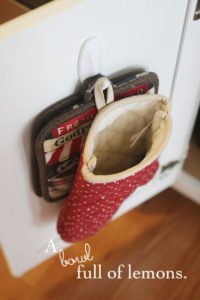 Easy Ways to Organize Your Kitchen: Use Tension Rods Everywhere
11. Spice Drawer Organization
Spices in a drawer are kept neatly in a row with these tension rods (via de Jong Dream House)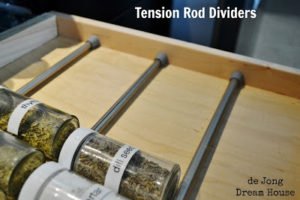 12. Spice Cabinet Organization
Tension rod for little spices from Joyful Home Making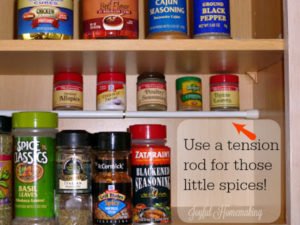 13. Storage Container Organization
This drawer can handle the clutter of food storage containers easily with handy tension rods (via BHG)
14. Manage Your Bulky Casserole Dishes and Serving Plates
This use of tension rods to keep these large dishes on their side instead of stacking them on top of each other is genius. (via chez larsson)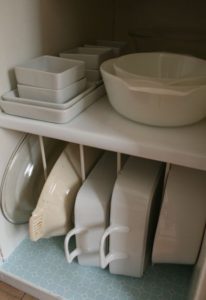 15. Under Cabinet Paper Towel Holder
Add instant counter space by getting your paper towel roll on a tension rod under the cabinet (via Alejandra.TV)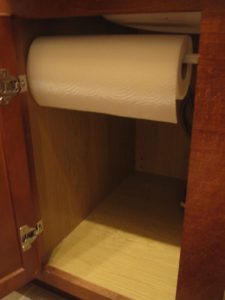 16. Keep Cleaning Supplies Ready for Action
Spray bottles hang easily with under-sink mounted tension rods (via A Thousand Words)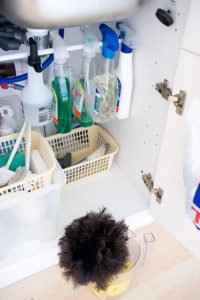 17. Cutting Board Organization
Martha Stewart shows us she stores her lovely vintage cutting boards and platters vertically with tension rods.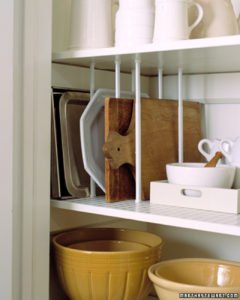 Love these ideas? Pin this image to save this post for later!