I've pulled together 50 favorite camping recipes that are so good cooked over a fire you may just find yourself wanting eat camp food all the time. You'll find delicious dinner recipes using foil packs, dutch ovens, and roasting skewers.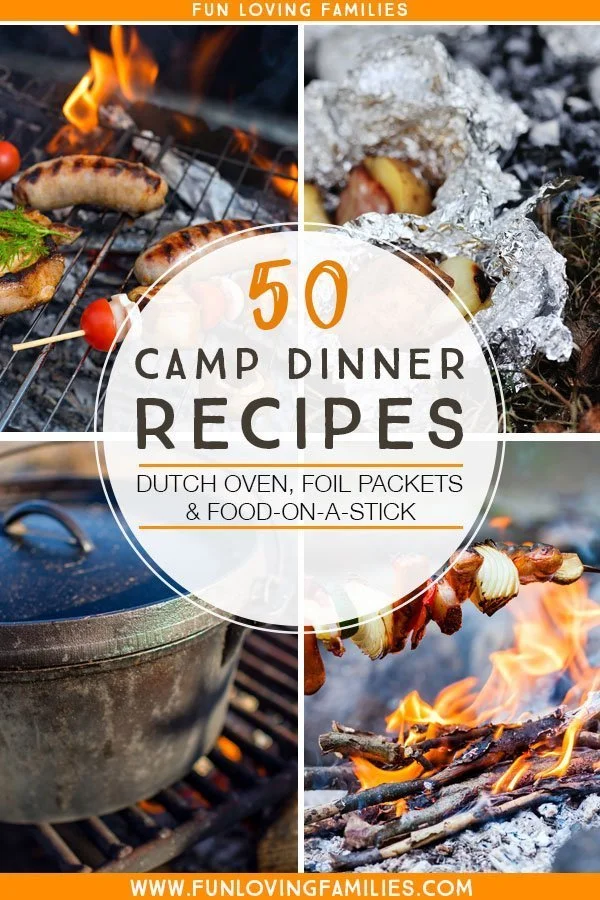 (This post contains affiliate links which means I may earn a small commission if you click a link and make a purchase. As an Amazon Associate I earn from qualifying purchases.)
Meal Prepping and Cooler Packing
New to cooking your meals camp-side? Read these tips first:
Having your veggies and meats cut ahead of time will save you time.
Pre-mix your marinades and store them in tightly sealed containers so they're ready to go. Marinade bags or plastic containers work well. Glass containers tend to add a lot of weight.
Carry the spices you need in a repurposed pill box or you can get a nice travel spice holder.
Freeze your water before packing in your cooler to use as extra ice.
Freeze your meat before going camping and keep at the bottom of the cooler until you are ready to thaw them out for use.
A good cooler will serve you well. We've had great experience with our Coleman Extreme cooler. This particular model is one of the highest rated and is a good size for a family.
Foil Packet Camping Dinner Recipes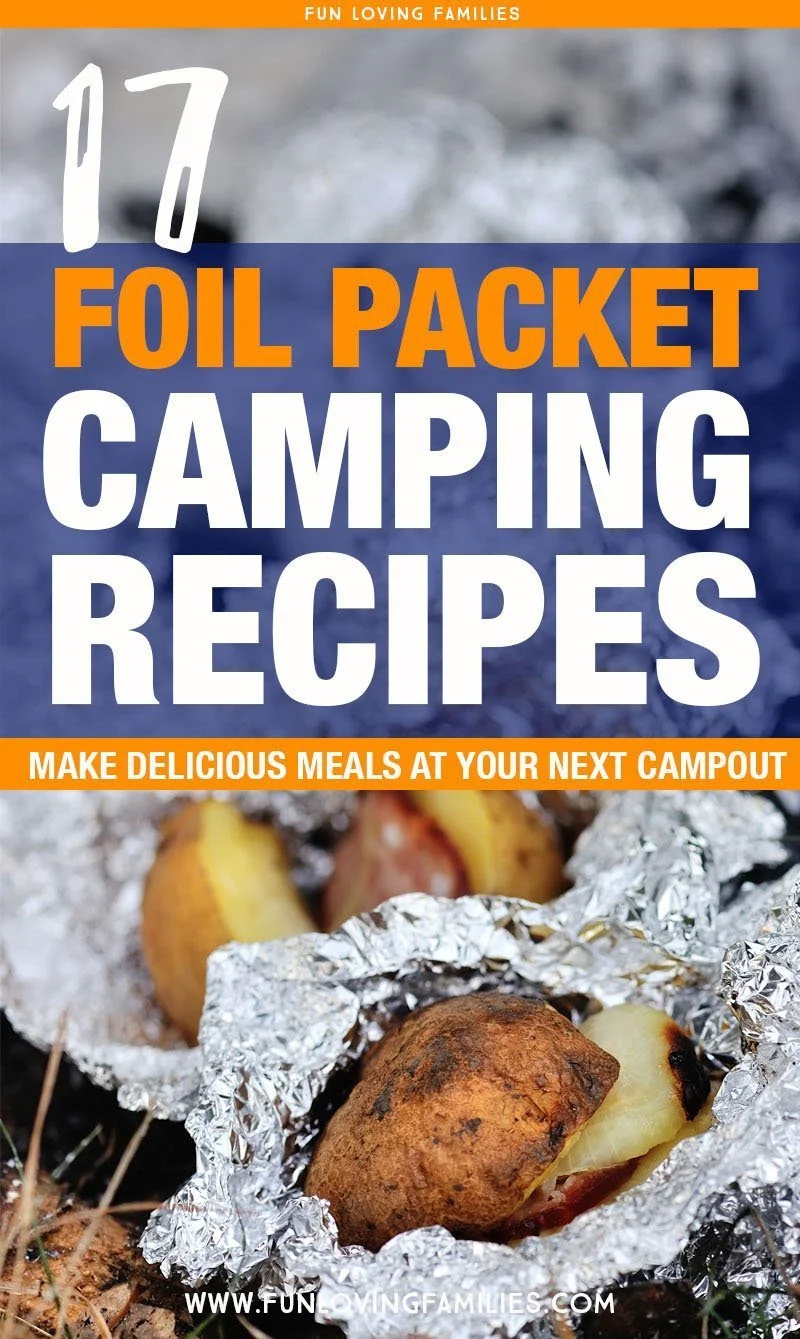 Things to know if you're new to foil packet cooking:
Foil packet camping dinners are super convenient because there are no dishes involved (besides the meal prep) which means very little clean-up afterwards.
There are different ways to fold your foil pack depending on what you're cooking. You can read this guide to learn the different methods.
Use heavy duty aluminum foil for best results.
You'll need a pair of tongs or heat resistant gloves to flip the foil pack over.
17 Foil Pack Dinner Recipes For Campfire Cooking
Mixed Mushroom Hobo Foil Pack – Try this simple 4 ingredient (plus salt and pepper) recipe from Martha Stewart
BBQ Chicken Foil Packs from Pillsbury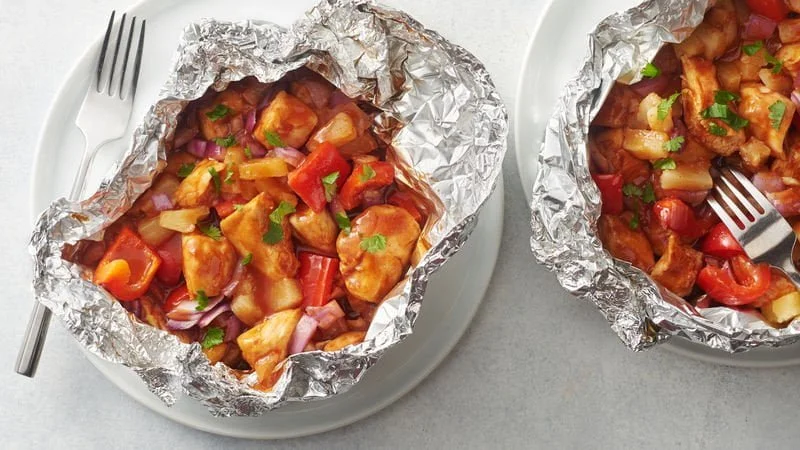 Grilled Chicken Fajita Foil Packet Meal from Real House Moms
Southwest Chicken Foil Packet from Everyday Dishes
Grilled Foil Pack Veggies from Tablespoon. Precut your veggies at home before you head out, and this recipe will come together in a snap!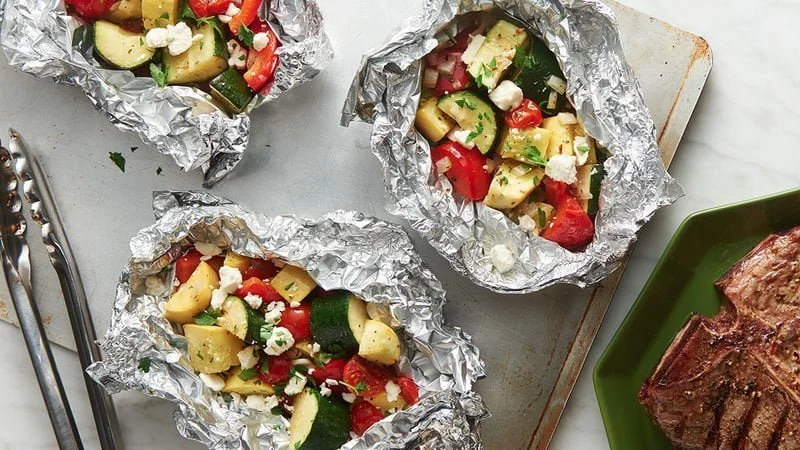 Whole Wheat Pasta Packet Recipe with Goat Cheese from Cook in Canuck
Cheesy Sausage Potato Foil Packets from The Recipe Critic
Grilled Meat N Potatoes Foil Packets from Thrifty DIY Diva
Hamburger and Potato Hobo Dinner Packets from Spend with Pennies
Campfire Tex Mex White Bean Chicken Foil Packets from The Kitchen Magpie
Salmon and Asparagus Foil Packets from Cooking Classy
Baked Ranch Pork Chops and Potatoes foil pack dinner from Buns in My Oven
Foil Packet Fajitas from The Shirley Journey
Asian Chicken Vegetable Foil Packets from Two Peas and Their Pod
Foil Pack Sausage with Potatoes and Green Beans from All Recipes
Bacon Ranch Potatoes Packets from Gather for Bread
Pork Chop and Sweet Potato Foil Packets from Ready Set Eat
Dutch Oven Camp Cooking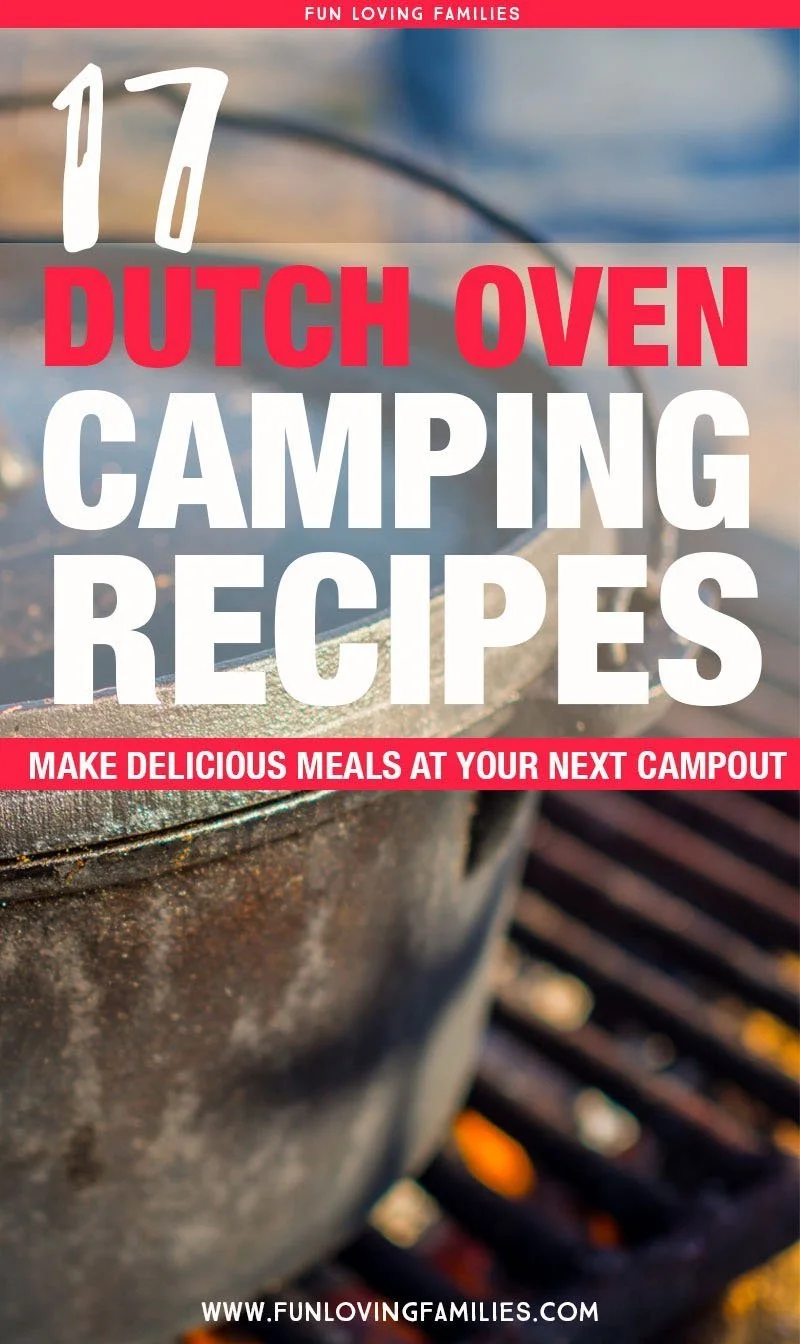 Tips for Dutch Oven Camp Cooking
If you haven't purchased your dutch oven yet, make sure you get one with legs on the bottom so you can position coals underneath.
Make sure it is seasoned before you use it (this video will show you how).
Never use soap to clean your cast iron cookware. Never use cold water on a hot pan. Always dry completely to prevent rusting.
You can purchase a lid lifter to easily lift a hot lid.
Use a stand like this to use your Dutch Oven lid as a griddle for pancakes or frying hamburgers.
Keep the lid off and use it as a skillet. Put the lid on, and you can use it just like an oven for desserts, breads, and casseroles.
Line your pot with foil when cooking sticky foods for easier cleanup.
Here are 17 must-try dutch oven camping dinner recipes:
Skewers, Kababs, and Food on a Stick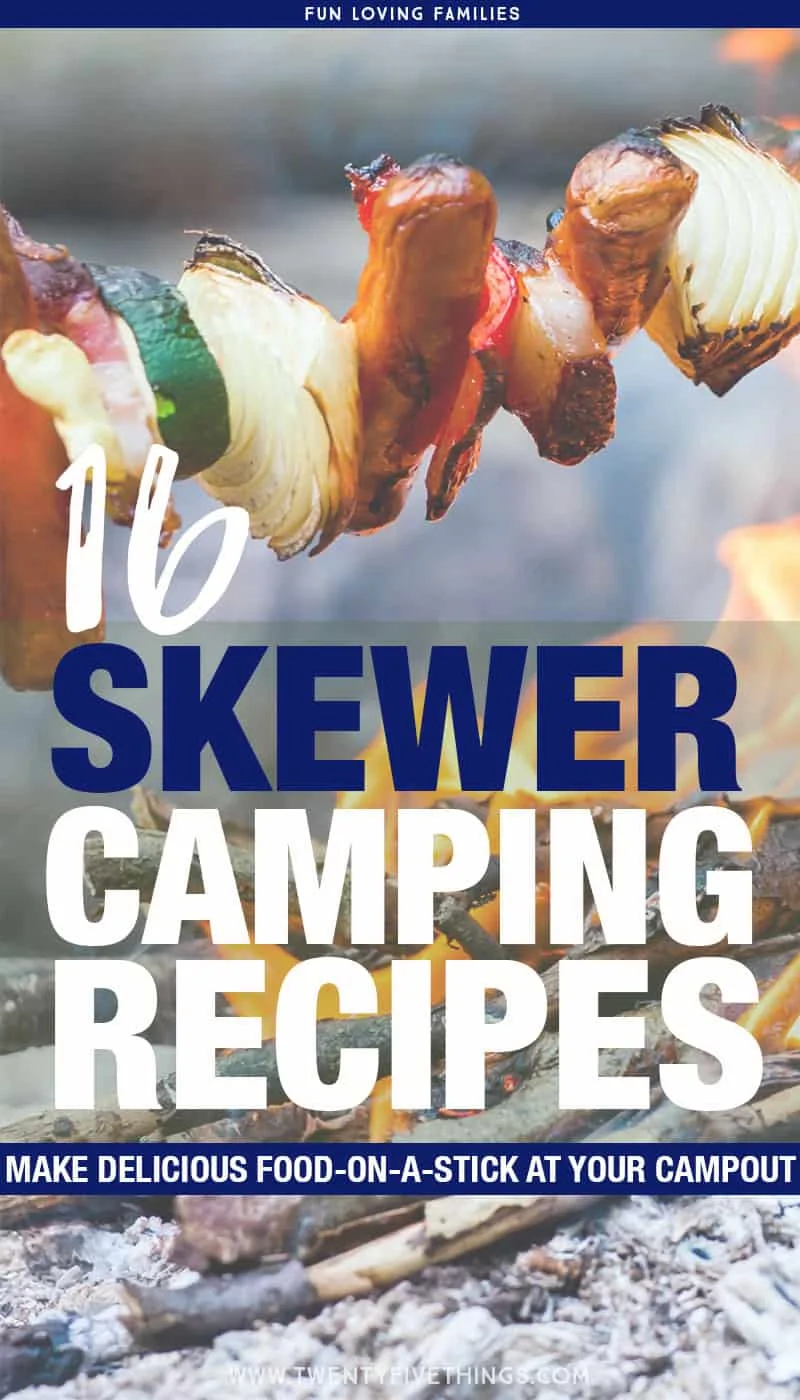 Cooking food on a stick is fun, fun, fun! Some foods you can simply pop on the end of a stick or skewer. Others are more time consuming, so you might want to cook them on a grate over the coals of your campfire.
[box color="yellow"]For grilling kebabs on a grate, these skewers are excellent since they are flat and won't roll your food all over the place. For fire roasting, grab a set of these retractable roasting skewers. [/box]
16 Fun and Tasty Skewer Camping Recipes
Read Next:
Get a printable camping checklist so you know what to bring to your next camp out with kids. It's packed with info to make sure everyone has a good time.
Similar Posts: