Educational toys for toddlers and preschoolers don't have to be complicated, loud, or annoying. In fact, after parenting four kids, I've learned simpler is often better. This post contains a curated list of educational toys that parents and kids are sure to love. I've spent hours scouring the reviews so you don't have to, and several of these I've bought for my own kids.
Many of the toys on this list are handmade of natural materials in the US, though I've also included quicker options if you need that fast Amazon shipping (see options #13 onwards). And spoiler alert: none of these educational toys for toddlers contain batteries! You're welcome.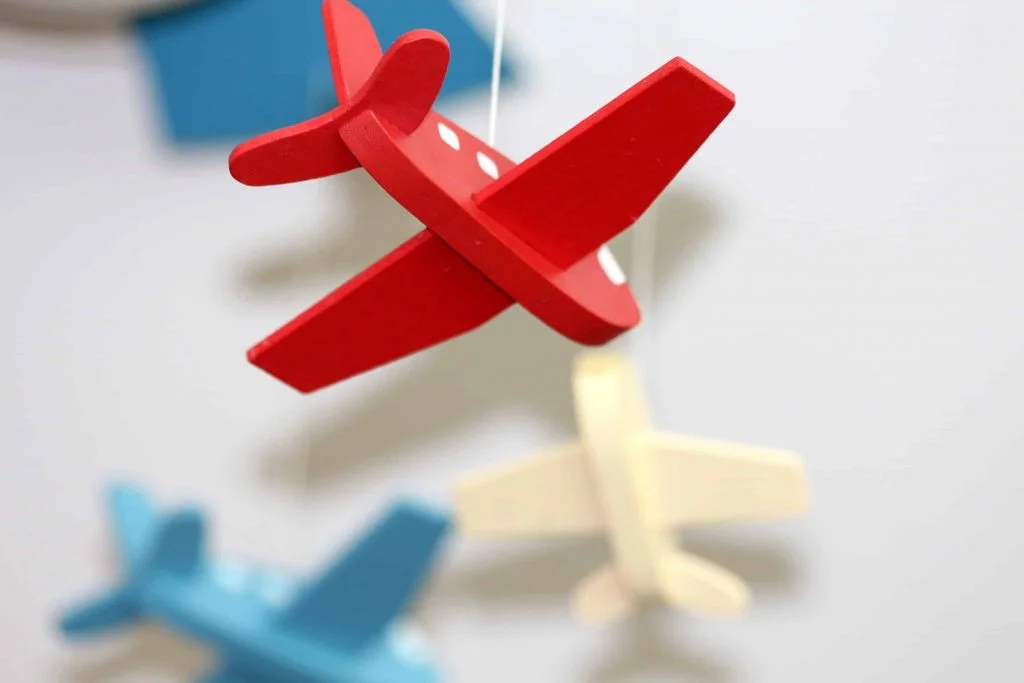 First I'm going to share some background information that will help you be thoughtful when acquiring educational toys for your toddler or preschooler. But if you're in a hurry, you can skip right to the list of toys.
Along with these educational toys, check out my list of Indoor Climbing Toys for Toddlers to give your child some active play time.
(This post contains affiliate links which means I may earn a small commission if you click a link and make a purchase. As an Amazon Associate I earn from qualifying purchases.)
My toy-buying evolution
My oldest was the first grandchild in our families, and she was spoiled with more gifts than we knew what to do with. We were surrounded with so much plastic that we couldn't even figure out where to store it. Random electronic baby toys would sing out in the middle of the night from downstairs or within closets, haunting us (I wish I were joking).
Sadly, many of these toys are designed for a short age span and aren't recyclable.
A decade and three kids later, having purged those original toys, my youngest does not own a single electronic toy. I'm inspired by minimalism, Montessori, and Waldorf principles. Overall, I've learned that young kids are happier with fewer and simpler things. Ever notice how they'll play with an empty cardboard box for hours? (Please tell me that's not just my kids.)
I say this not to brag but to give you an idea of the inspiration behind this list of educational toys for toddlers and perhaps save you some time and headache in learning from my family's toy experiences.
Sharing this post with family members for gift ideas is one way you can get some great educational toys for your toddler or preschooler and hopefully avoid an onslaught of musical, plastic stuff that drives you crazy or breaks next week.
How kids learn from play and the role of toys
Play is essential for brain development. Like with other mammals, play for our children helps them figure out how to navigate their world. The benefits of play are so well-established that American pediatricians are encouraged to write a "prescription for play," sharing its importance with families.
Play isn't just for movement and exercise. Imaginative or pretend play helps kids learn:
Problem-solving
Creativity
Executive functioning
Social skills
Fine and gross motor skills
Hand-eye coordination
Teamwork and cooperation
Communication
Toys can be great tools for play if used correctly. Educational philosophies like Montessori and Waldorf encourage child independence and exploration of their environment. You don't have to be completely committed to one of these philosophies to apply some of the principles to benefit your child.
The main idea is, educational toys for toddlers and preschoolers should allow the child to lead. I love watching children play independently and interact with each other, making up their own games. When they have freedom in their play, it's like you can see their little minds blossoming. Our little ones really are amazing creatures who are learning all the time.
By choosing learning toys that don't "do" anything on their own (like blocks, doll houses, etc.), it puts the child in the driver's seat and expands their horizons. Toys with an "on" switch should be minimized because they take the creative power away from the child and limit their thinking.
So while the learning toys in this post might not fit with what parents traditionally view as educational (a piece of fabric is educational?), these types of toys are supported by research and educational experts as most beneficial for young children. Learn more about the science and evidence behind free play (open-ended play) for kids.
Alright, alright, enough with the play philosophy and on to the fun stuff for your kids! I've got you covered with plenty of toy ideas for birthday, Christmas, or any time of year.
Best educational toys for toddlers and preschoolers
Toys available from Etsy
These toddler learning toys on Etsy are handmade in the US. You'll be supporting small businesses by shopping here and can feel good about your purchases.
1. Hand kite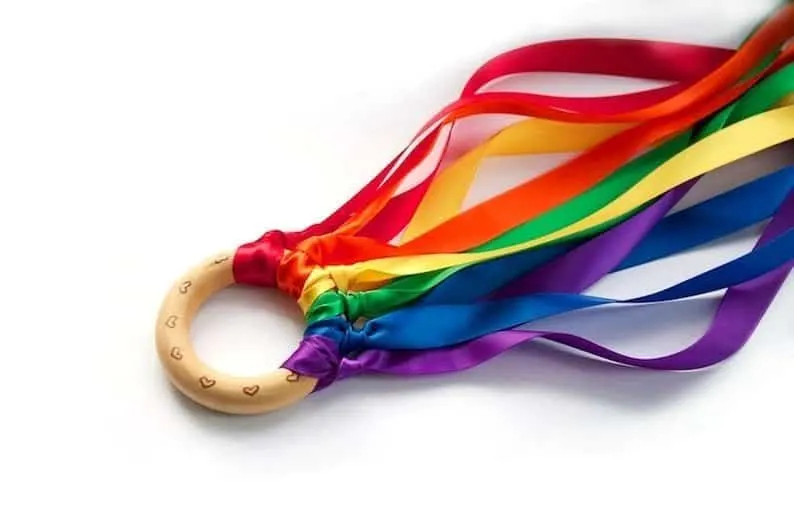 A wooden ring for grip (can be personalized) and a two feet of colorful, flowy ribbon. These hand kites are just begging to be flown around while running, stimulating the senses. Toddlers love them. No wonder these have thousands of 5-star reviews.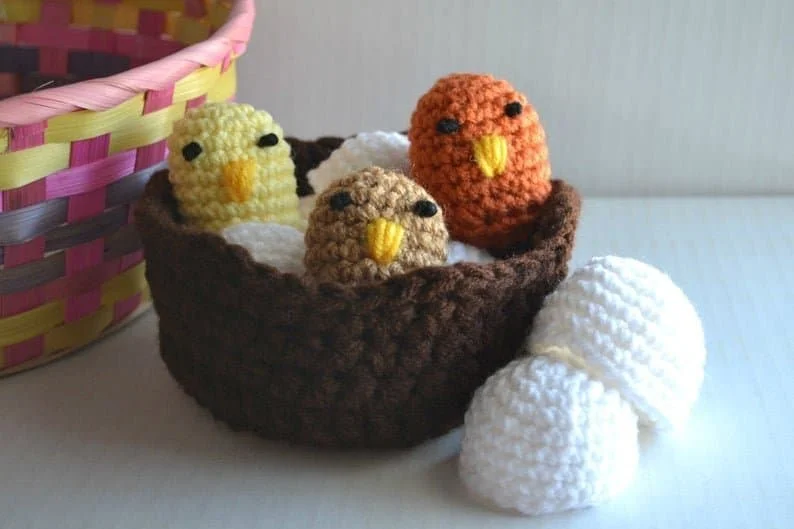 OMG how adorable is this?! They are baby birds in eggs that open up, complete with their own nest! Many of us don't live on a farm and may not get to experience birds hatching. With this educational toy, kids can learn about nature while practicing their fine motor skills to work the birds in and out of their eggs. PS: If you're thinking "I need something this cute," you've got to check out the seller's crocheted succulents.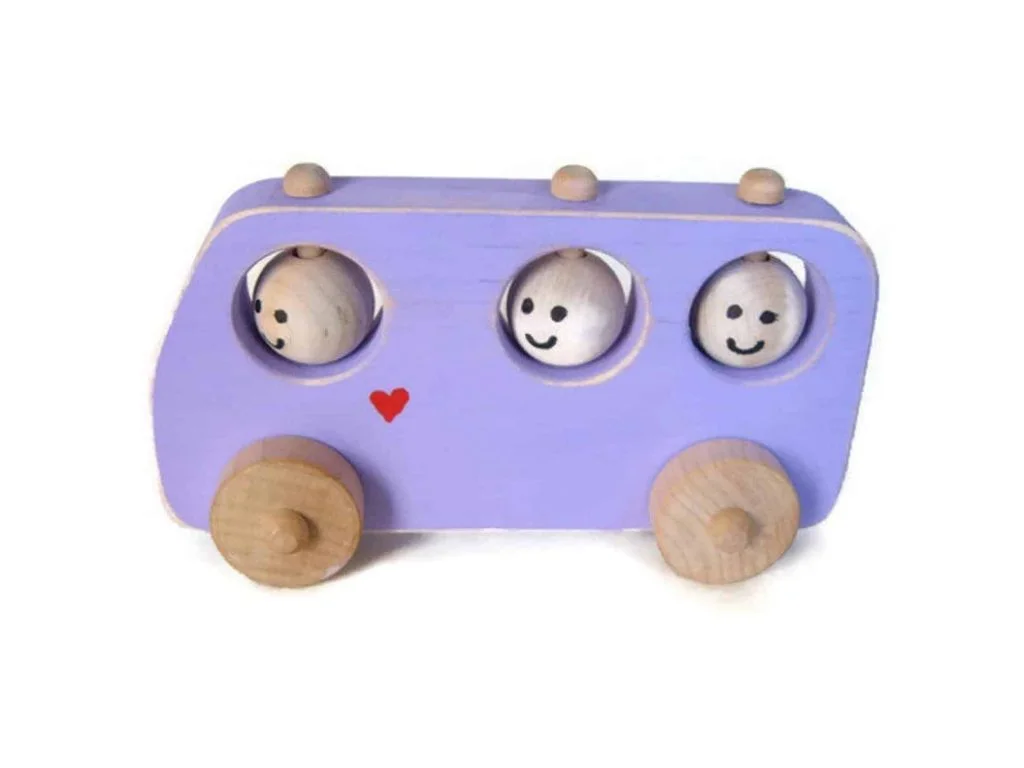 Check out the toy train, car, bus, and helicopter. They have a vintage look, and you could even make a set out of them. These toy cars are rounded and chunky, perfect for those little hands to drive around and make up stories about where those little people are going. If you need a fast option, there are similar ones on Amazon (though with a little less homemade charm).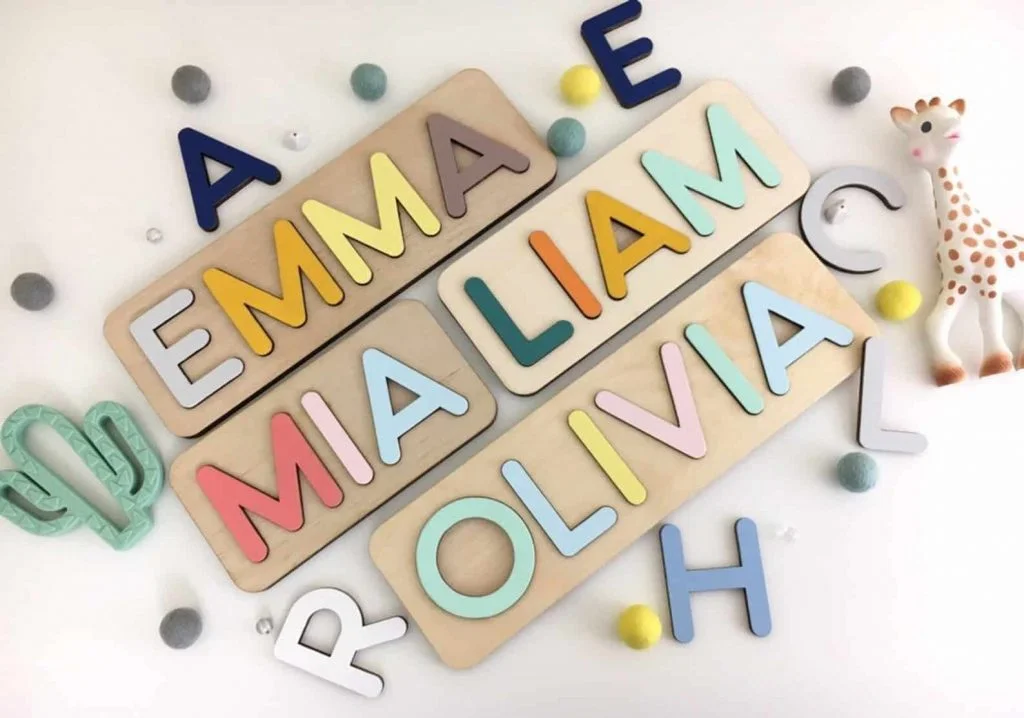 Toddlers will be so proud of themselves for fitting the pieces into this puzzle toy and learning to spell their name. It's a great entry point to exploring the alphabet. Plus kids love getting something that's made just for them. My 2 year old already recognizes the letters in her name thanks to this puzzle.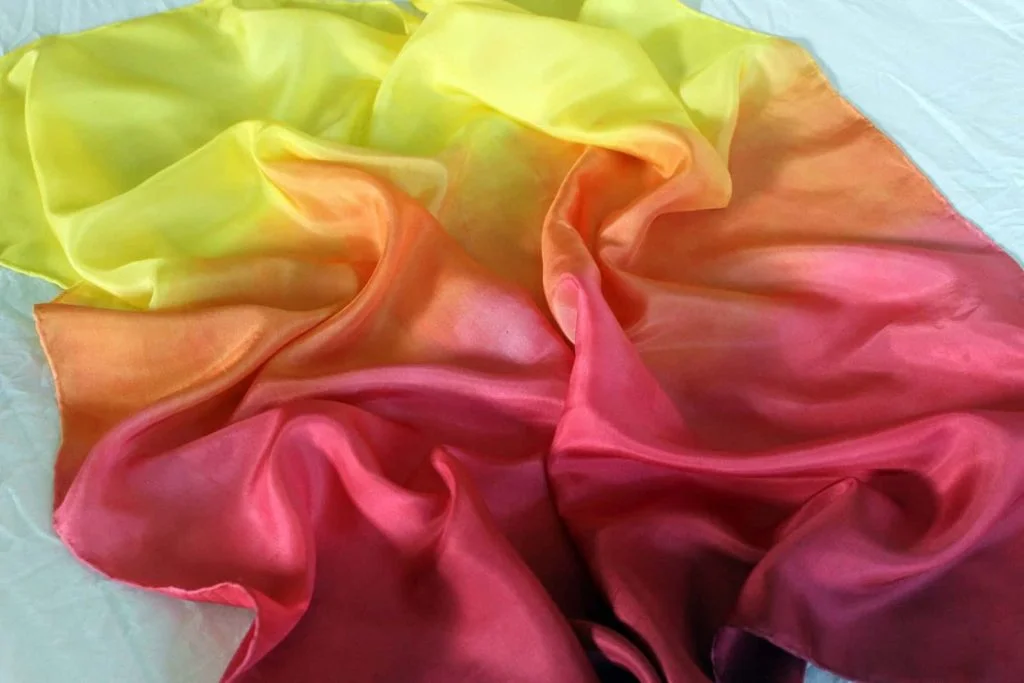 Beautiful hand-dyed play scarves will delight your little one's imagination. There are ombre colors to mimic the ocean, fire, and more. They can be capes, wings, backgrounds for play, or props for dance. The only limit is the imagination! Encourages dancing/movement and proprioception. Also acts a sensory toy by giving visual and texture input.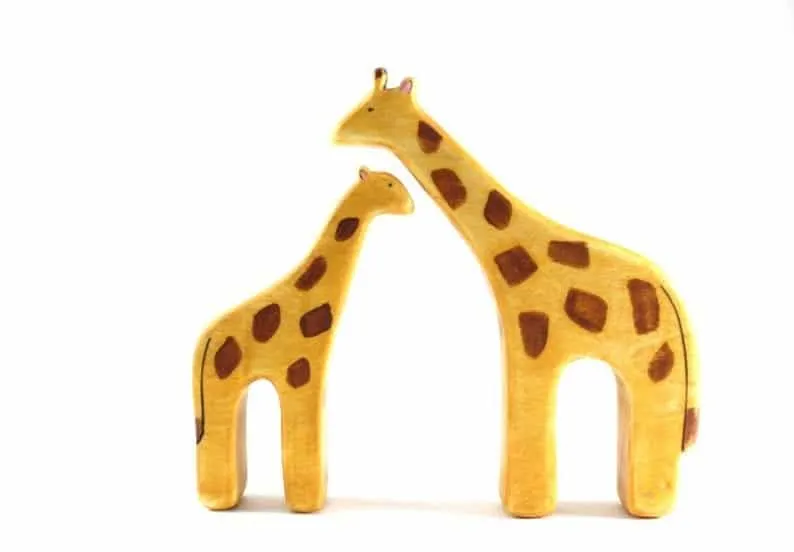 These nontoxic wooden animals are perfect for small hands. They have delightful details and are made to last. There are forest animals, sea creatures, and more. Toddlers will love making up games with these. One reviewer said his son loves his so much that he started sleeping with it! Safe for mouthing, they could even be a great toy for older infants.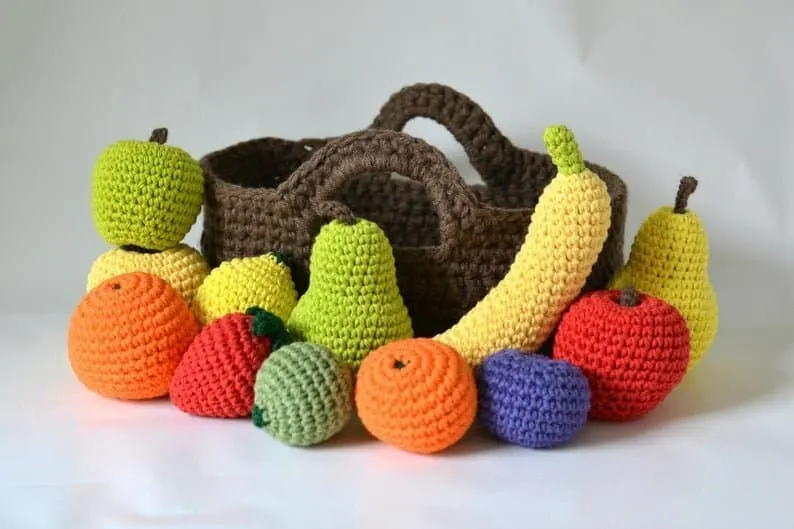 Toddlers and preschoolers love to go "shopping." They can learn the names of fruits, plus practice counting and colors. These play fruits are soft, crocheted, and perfect for those little hands. Have fun playing store or create your own household farmer's market. I hear stuffed animals love to eat crocheted fruit.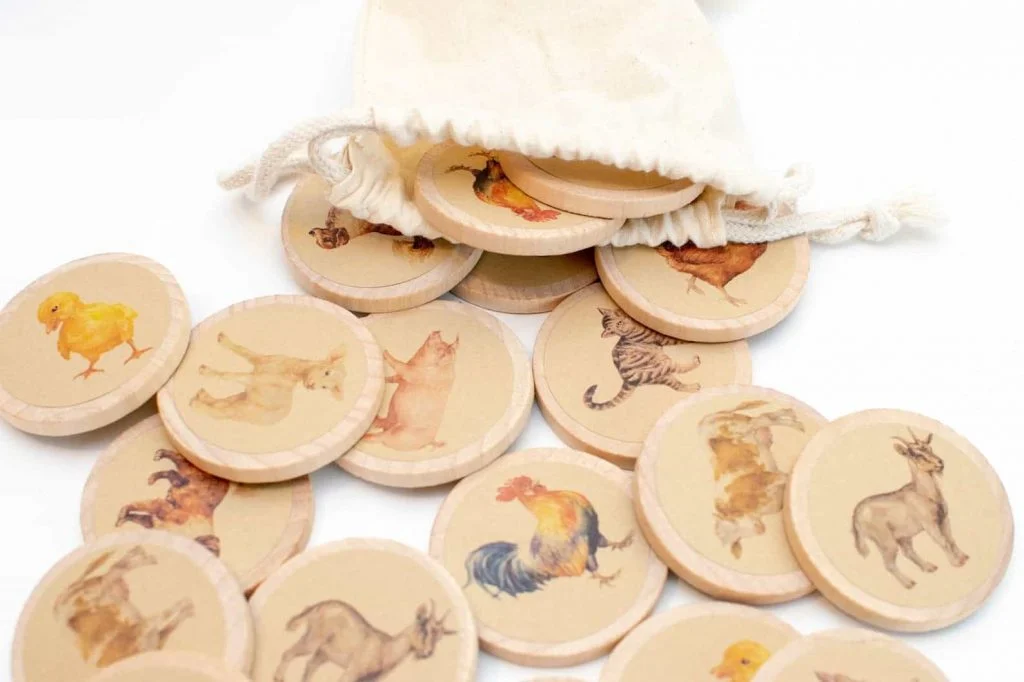 Play the classic matching game with these adorable wood coins and a storage bag. Promotes cognitive skills including concentration and language. They can also be used for rolling and stacking. Available in options including farm animal, safari animal, dinosaurs, and more.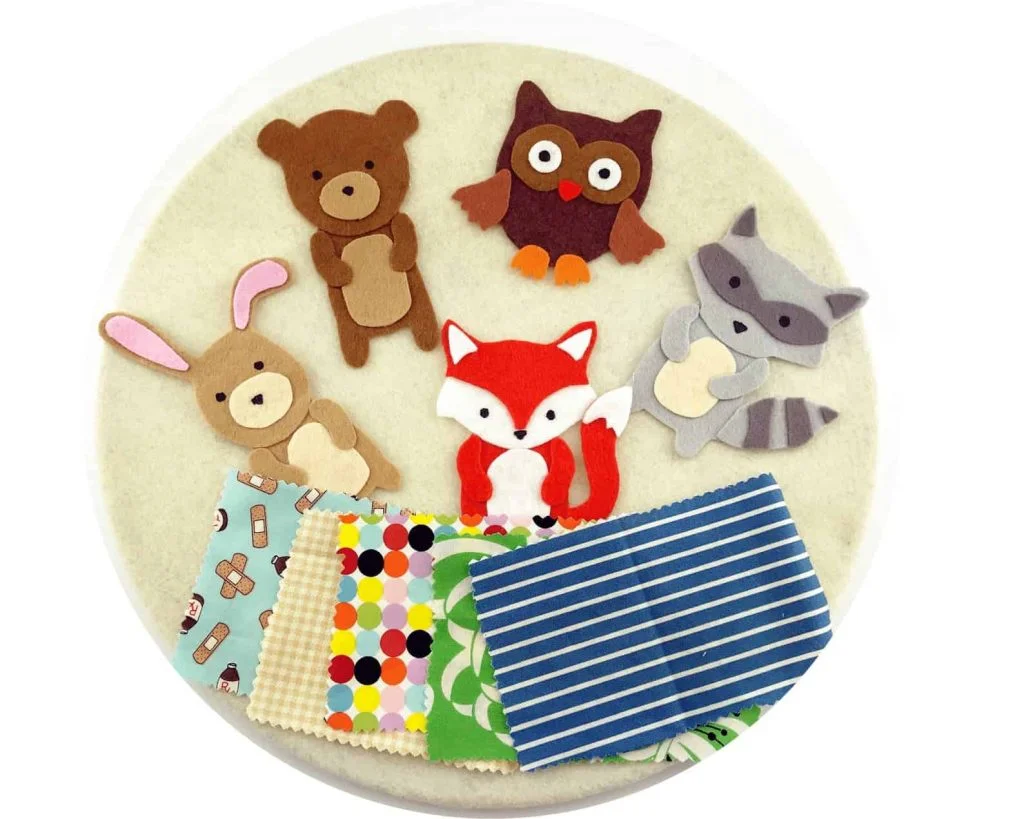 These felt play sets have many options from dinosaurs to woodland animals and more. Also known as a "quiet set" or "busy board," these are great as a car or restaurant activity. A nice alternative to screens that promotes language, fine motor skills, and imaginative play. Children can make their own characters and story book over and over again.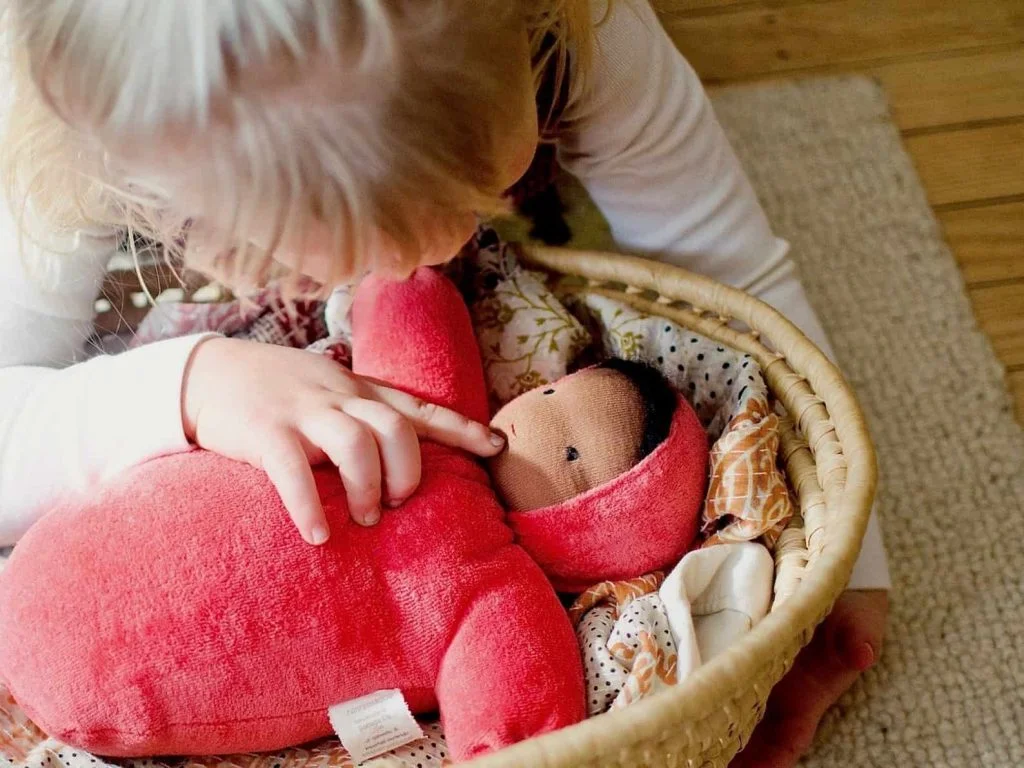 Handmade of natural materials, these adorable dolls are available in a variety of skin and hair colors. What child doesn't love playing pretend and caring for their own baby? A doll can also be good preparation for toddlers about to become a big brother or big sister.
Every child needs a set of building blocks. This is a quality set from a small family store. Let your child's imagination run wild with all the things they can create. They'll learn cause and effect and have fun toppling the blocks again and again. It's also a great STEM toy for your budding engineer.
12. Lacing toy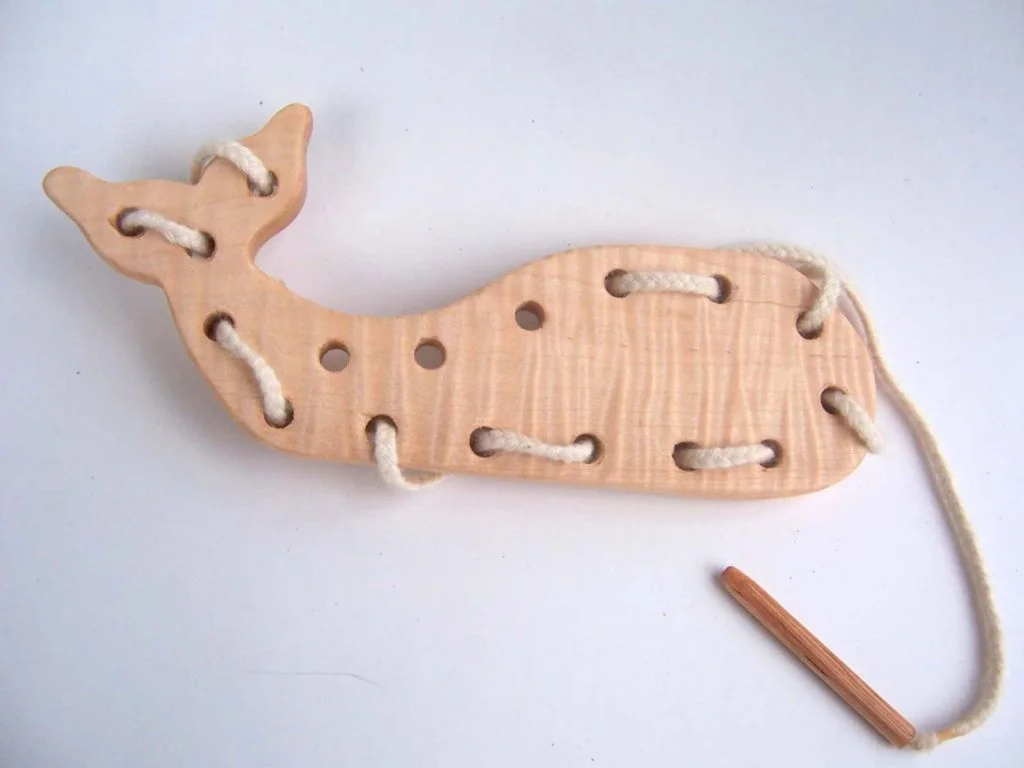 Great for fine motor skills and concentration, a lacing toy can easily fit in a bag and be pulled out for the car, when waiting in line, or at a restaurant to keep a toddler busy.
Toys available from Amazon
This section includes quality options for toddler learning toys with convenient two-day shipping from Amazon.
13. Stacking cubes
These stacking cubes double as houses for the small farm animals that come with the set. Occupational and speech therapists in the reviews note these are great for language development and fine motor skills. And what child doesn't love knocking over a tower?
14. Magnetic shapes
My son loves doing these together with me. It's a good mental exercise for kids to be able to find and rearrange the magnetic shapes to match the pictures on the cards, and they're so proud of themselves when they complete it! The bright colors are engaging and help with color recognition. I love how everything packs neatly into the case, which you can easily take with you places.
Young children love to practice their work in the kitchen. This wooden toy kitchen set also comes with kitchen tools and wooden play food for a great value. It was our big Christmas gift for our 2 year old, and she's loved practicing cooking and learning about new foods like mushrooms. If you don't have space for a whole kitchen, you can go with a play toaster set from the same manufacturer.
Music is a great part of any child's education, so why not have a musical toy in the rotation? Little ones love to dance, march, and make sounds. Let your child explore rhythm using this percussion set. The hand-held "clacker" is my 1 year old's absolute favorite toy! She walks around the house so proud of herself for making it work.
17. Cleaning set
Toddlers and preschoolers love to "help" clean. This child-sized cleaning set is just for them and will make them feel so proud. They'll be developing gross motor skills along with a nice sense of responsibility. Let them follow you around the house happily as you check tasks off your to-do list.
18. Toddler puzzle
This different type of wooden toy puzzle presents a little more of a challenge to put those fine motor skills to the test. Kids will be so pleased when they figure out the trick to getting the pieces on and off.
19. Dress-up doll
A simple cloth doll can be used in so many different ways. This doll's clothes are removable to teach children about getting dressed. There are different genders, hair colors, and eye colors available. A doll can be a great play companion–for example, have a tea party or play outside. The doll can even be used to model important toddler activities like using the potty. Perfect for boys and girls.
20. Labyrinth game
Younger and older kids are mesmerized by labyrinths. This toy checks many boxes, helping with pencil grasp, concentration, counting, and preparation for writing. It is self-contained and great for travel. There's also another option with cute forest animals.
21. Lincoln Logs
Lincoln Logs are a classic building toy. My kids LOVE playing with these from preschool through tween. They really stand the test of time. The only problem is the fighting over them! They are made in the US. Know the saying, "They don't make them like they used to"? Well for this toy, they still do.
I just learned about this product. It's a Montessori-inspired self-directed activity great for preschoolers or older toddlers. Keep those little hands and minds busy without a bunch of pieces going everywhere. They can learn their alphabet and beginning phonics by twisting the letters to match the included cards. It has hundreds of 5-star ratings.
23. Buckle Buddy
If your toddler is anything like mine, they LOVE fastening buckles. But they don't always have the hang of it. This "buckle buddy" lets them practice closing different types of buckles as much as they want! Makes a great car seat toy for fidgety little people. The bright colors and different textures also make it a great sensory toy. Plus it's snuggly if they just want a cuddle.
24. Counting Bears
Counting bears are an educational classic. They're great for working on fine motor skills, sorting by color, pattern recognition, and counting. Or you can just line them up or make little pretend families. Perfect for 3 year olds and older kids.
25. Shape Sorter
Our family has this exact shape sorter, and it has held up to quite a pounding from my 2 year old. I recommend this wooden toy over plastic versions. It can help your child work on shape and color recognition, along with their fine motor skills.
While I tried to avoid a lot of plastics on this list of toddler learning toys, this one is a pretty neat sensory toy so I've included it. It can also be considered a STEM toy as toddlers and older kids can make engineering creations by hooking the pop tubes together. They flex, create sound, and have texture for sensory input. The bright colors are also a lot of fun. Even adults might be caught playing with these.
Parting thoughts for toy buying
I hope you saw something on this list of educational toys for toddlers and preschoolers that your child will love for years to come. Investing in quality toys from natural materials is a decision you won't regret.
Especially if you plan to have multiple children, focusing on quality over quantity when buying learning toys is definitely the way to go. This way multiple kids can enjoy them because they'll stand the test of time. Who knows, your child may even pass some of their favorite toys along to their children.
As you prepare for your toy giving, just a reminder that less is more when it comes to toys. The average child only plays with about 5% of their toys. While it's great to have some educational toys around that children can choose from, they'll also learn to make their own fun from regular items around the house. An empty laundry hamper can be quite the playground for a toddler.
Having fewer toys promotes focus and creativity. Many parents are successful with a toy rotation, but you can also save yourself some money and storage space by showing some restraint in purchasing. I know it's hard–I love getting my kids new toys too.
At my house, we've started indicating "gifts not necessary" for some child parties, and I've seen several other families adopt this approach. You can also encourage family members to give experiences rather than toys or try something like, "consider donating to Billy's college fund in lieu of gifts." This will allow you to select a reasonable number of toys that best fit your child.
In addition to household items, don't forget that the great outdoors can also make a wonderful learning experience for your child. Let them explore their world with plenty of open-ended play.
Have fun!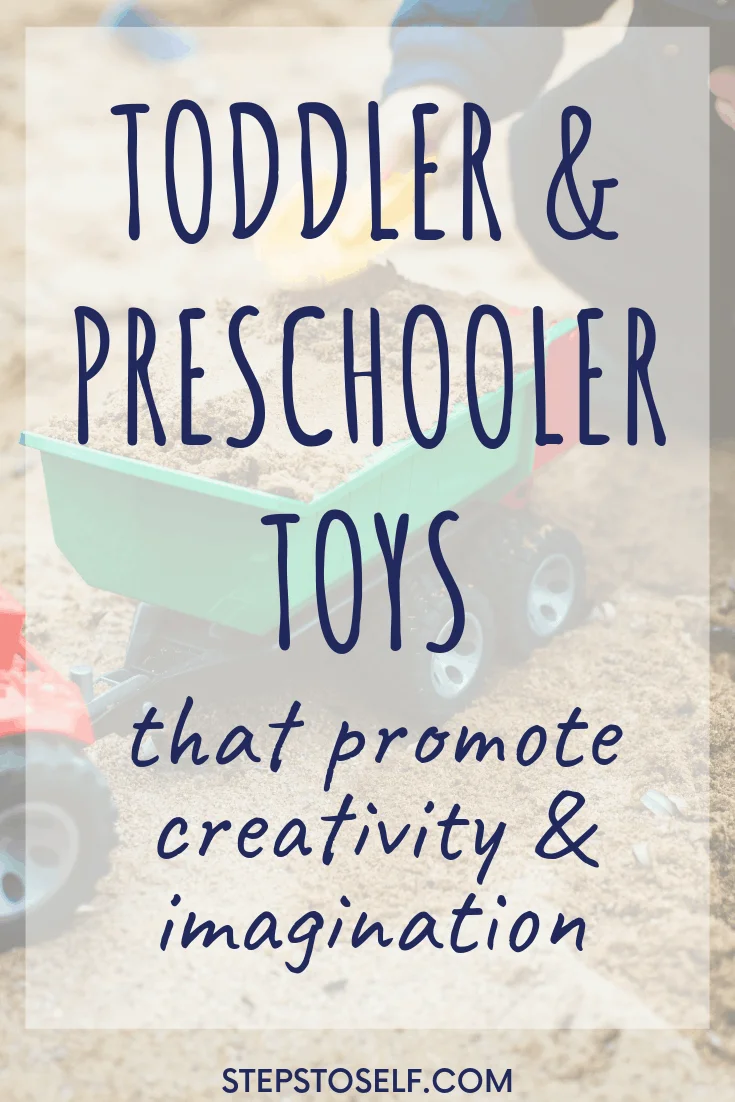 Similar Posts: