Encourage imaginative play with our favorite creative toys for kids. Each of these toys will inspire creativity and hours of pretend play time.
Top 3 Picks for Best Creative Toys for Kids
(This post contains affiliate links. This means if you purchase an item I have linked to, I may receive an affiliate commission at no extra cost to you.)
Best Block Set: Colorful wooden block set with many sizes and shapes and endless possibilities for play. For ages 18 months and up, this is a set that will grow with your child and be played with for years.
Best Budget Pick: Play-Doh never disappoints in inspiring creativity and is pocketbook friendly. Good for kids ages 2 and up.
Best for Pretend Play: Play silks inspire a wide range of imaginative play for girls and boys. It's completely open ended and kids will find endless ways to play with it, both active and non-active.
Keep reading for all of our favorite toys that promote pretend play, spark the imagination, and foster creative thinking.
These are all wonderful gift ideas for toddlers and preschoolers ages 3 and up.
They're gender neutral toys that all kids love.
And, one more thing.
One of the best things about these creative toys, is that they will grow with your kids as they continually find new ways to play with them.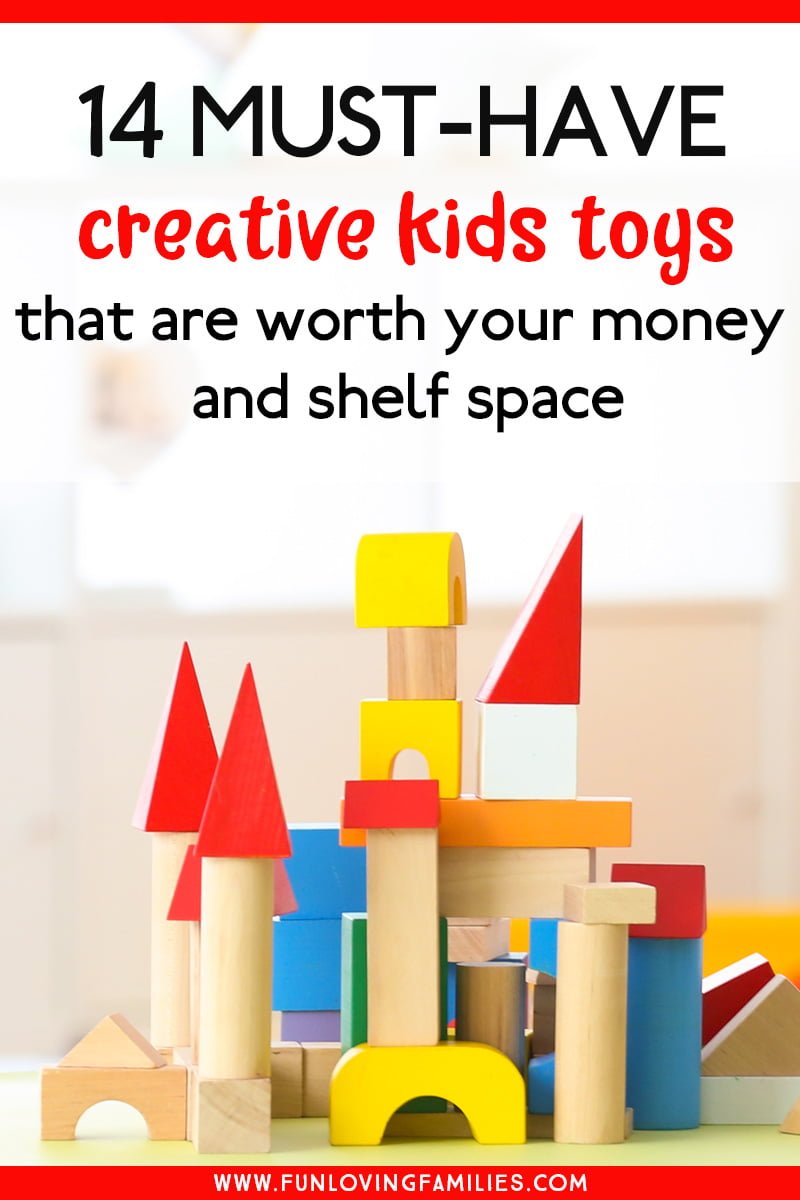 This post contains affiliate links and may earn money from purchases made at no extra cost to you.
Favorite Open-Ended Toys
Kids love toys that encourage imagination and these open-ended toys do just that.
Wooden blocks are a standard kids toy that you'll find in playrooms all over the world. They're a classic for a reason – kids love playing with them from the time they're toddlers and can stack blocks and knock them down. Then, as they grow, kids progress from creating simple towers to making more elaborate structures and scenes.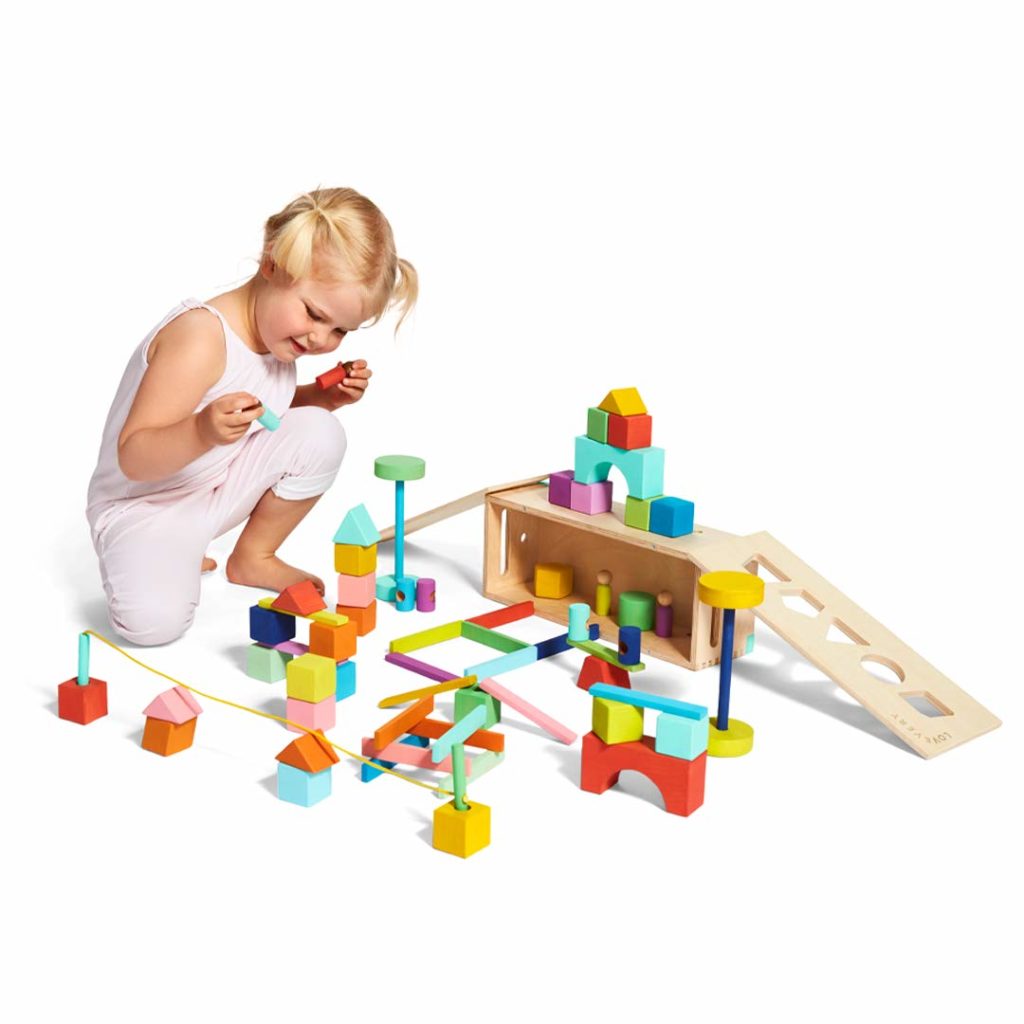 This set is my current favorite because of all the shapes and sizes that are included. Don't be surprised if the blocks spill over into other areas of your kids play space. My little ones have used their blocks as food for tea parties, for setting up shops, and so many ways that I never would have imagined.
If you are looking at this and wondering what in the world it is and how do you use it, then you know you've found a great open-ended kids toy. Kids love this thing and come up with all kinds of different ways to use it. It's made of sturdy, hard plastic. It can be sat in, sat on, stood on, used indoors and outside, worn as helmet for dress-up, used as a baby bed for dolls – the possibilities are endless.
This simple toy for toddlers and preschoolers is a beautiful example of a creative kids toy that encourages imagination. The rainbow comes apart and kids can use the pieces in a variety of ways. One day it might be a bridge for a cars, another day it might be a tunnel. Some kids enjoy stacking the pieces to create a tall tower. We recommend this particular brand because it has a reputation of long-lasting durability.
A ball of this classic, non-toxic modeling clay for kids is enough to keep kids engaged in their own creative world for, sometimes, hours. I love it as a sensory toy. Kids can smell it (and we all know they can't help but taste it!), stretch it, pound it, squish it. Sometimes playing with Play-Doh is more about exploring it's physical properties than actually creating something. And that's perfectly wonderful and exactly why it belongs on this list of open-ended toys.
This is the only toy that I don't have direct experience with, but there are so many things I love about it that I had to include it. One of the things that appeals to me about this toy is that kids can use the wooden board both actively (as a slide or balance board) or as a prop in other pretend play scenarios. Reading through the reviews it's easy to see why this is a hit with toddlers and preschoolers.
Play silks are one of those toys that gets played with on a daily basis and is loved by kids of all ages. They'll continually find new uses for them, and the silks are so beautiful and nice to touch that they're hard to ignore. Find some in your kids favorite colors and both boys and girls will use them for forts, during dress-up play, as a table cloth for pretend tea parties, blankets for babies, conducting magic shows, twirling and tossing, and literally endless other ways.
I recommend this set because they are made from 100% silk and come in a beautiful assortment of colors.
Once your kids are past the stage of putting things in their mouths, you can add this fantastic creative building set to their toy collection (the pieces are magnetic, so they would be very harmful if swallowed). This set allows for lots of creativity and kids get completely engrossed in creating new 3D structures or 2-dimensional scenes..
Best Toys for Creative Play
Kids love playing dress up. And guess what? This kind of pretend play activity can have a number of positive developmental benefits including improved vocabulary, development of empathy and social skills, and more. A well-equipped dress up bin will have an assortment of fantasy clothes, occupation outfits, and general clothing (hats, vests, etc.) to spark kids' imaginations.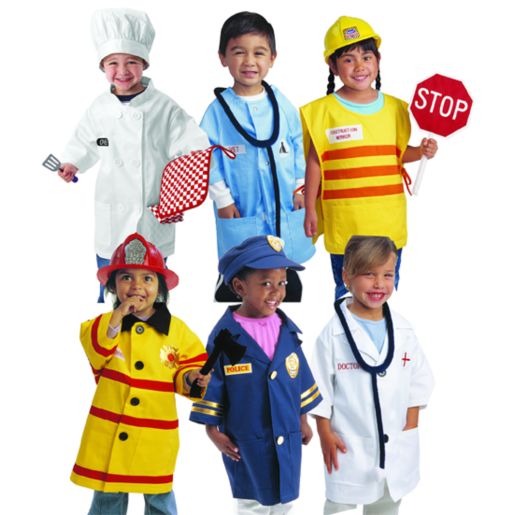 For occupations, I like this set. For fantasy clothes, I would suggest scouring thrift stores for second-hand Halloween or novelty clothing.
Check Price and Reviews
We love train sets because of the combination of creative play and imaginative play they inspire. Designing and building the train tracks are just part of the fun, and for some kids this is the best part of having their own train set. For others, their imaginations kick in once the tracks are built and they can start creating an entire world beyond the tracks. In either case, train sets are sure to add hours of fun to your kids day.
Kids love to put on a show and it's a positive way of gaining the attention of the grown-ups around them. Even kids who are a little shy will sometimes be willing get involved if it means they can "hide" behind a puppet. If you're short on space, I suggest getting a doorway puppet theater to save space: this one is my favorite.
If you have the space, this puppet theater from Melissa and Doug has lots of little details that get kids excited (like the clock and the chalkboard). Plus, it's sturdy and will last a long time.
Check Price and Reviews
A doll house offers a small-scale way for kids to explore their world with pretend play. They can role play with dolls and get creative with how they will decorate the house. This doll house is a good gender neutral version with bright colors and natural wood construction.
Age Appropriate Art Supplies
Of course, a list of creative kids toys wouldn't be complete without some arts and crafts supplies to give your kids a chance to explore color, texture, and form. For on-the-go or mess-free drawing, a magnet doodle board is a must. For drawing time at home, provide an art easel with storage for paints and other supplies. And finally, keep an assortment of basic crafting supplies for creative making time.
You won't find a better craft kit than this. Over 1,000 quality open-ended crafting supplies.
Check Price and Reviews
We've always loved creating with Perler Beads because there are so many creative possibilities with them. The normal sized beads are small, which makes them great for strengthening fine motor skills, but can also be frustrating for younger kids. If you've got smaller kids or if you're new to using Perler Beads, I recommend starting out with these Biggie beads.
Guide to Open Ended Toys and Pretend Play
Now that I've told you all about our favorite open-ended toys for kids, let's talk for a minute about what open-ended play is and why it's important for kids development.
What is an open-ended toy?
Open-ended toys are toys that have no set, or pre-determined, play scheme. When kids see these objects, they are able to come up with their own way to use it for play.
Why is open-ended play important for kids?
Kids grow from challenges and open-ended play challenges kids to be creative and use objects in new ways. It stimulates imagination and is an opportunity to practice problem-solving.
What are some examples of open-ended toys?
Chances are you already have items in your own home that can also work as open-ended kids toys that won't cost you a dime (such as twigs and rocks, small blankets, plastic cups and bowls, etc.).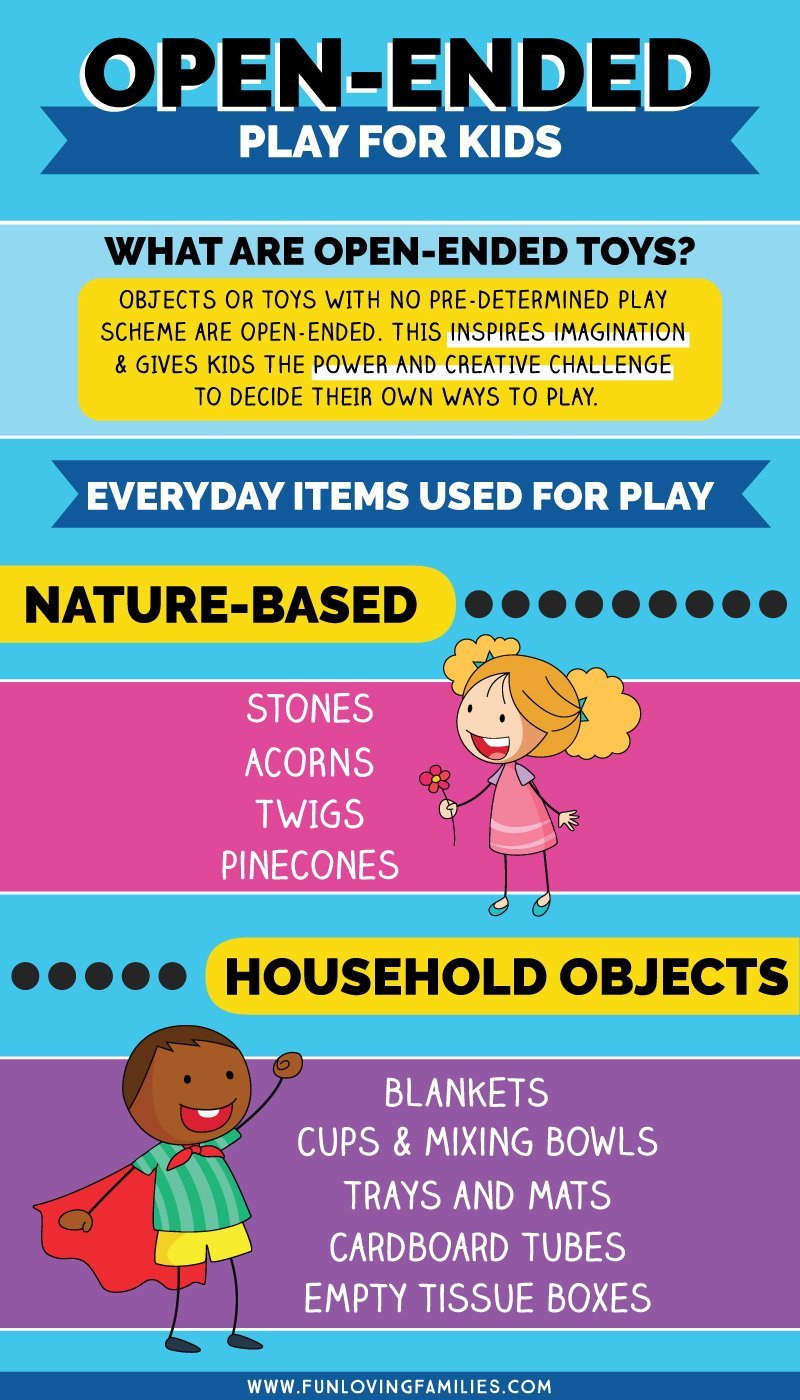 What are the benefits of pretend play?
Play, and in particular creative play, has been identified as a key component of building children's resilience, ability to focus and the ability to act intentionally, even when the outcome is unknown.

Michigan State University Extension
So, how did I come up with my list of the best creative toys for kids?
I'm a mom to two girls and previous teacher assistant and substitute teacher in a Montessori classroom. I have many years of experience working with kids ages 2-6 and over the years I have seen the toys that kids go back to, over and over again. Based on my experience with this age group, these are the toys that bring out the best in creative play and truly spark their imaginations.
Save this post to Pinterest to find again later!