Marriage is one of life's sweetest pleasures. Perhaps you are currently single and are ready to find your person and marry them. Or maybe you are already married, and the flame could use some rekindling. For both cases, we have written specific affirmations to help you on your journey.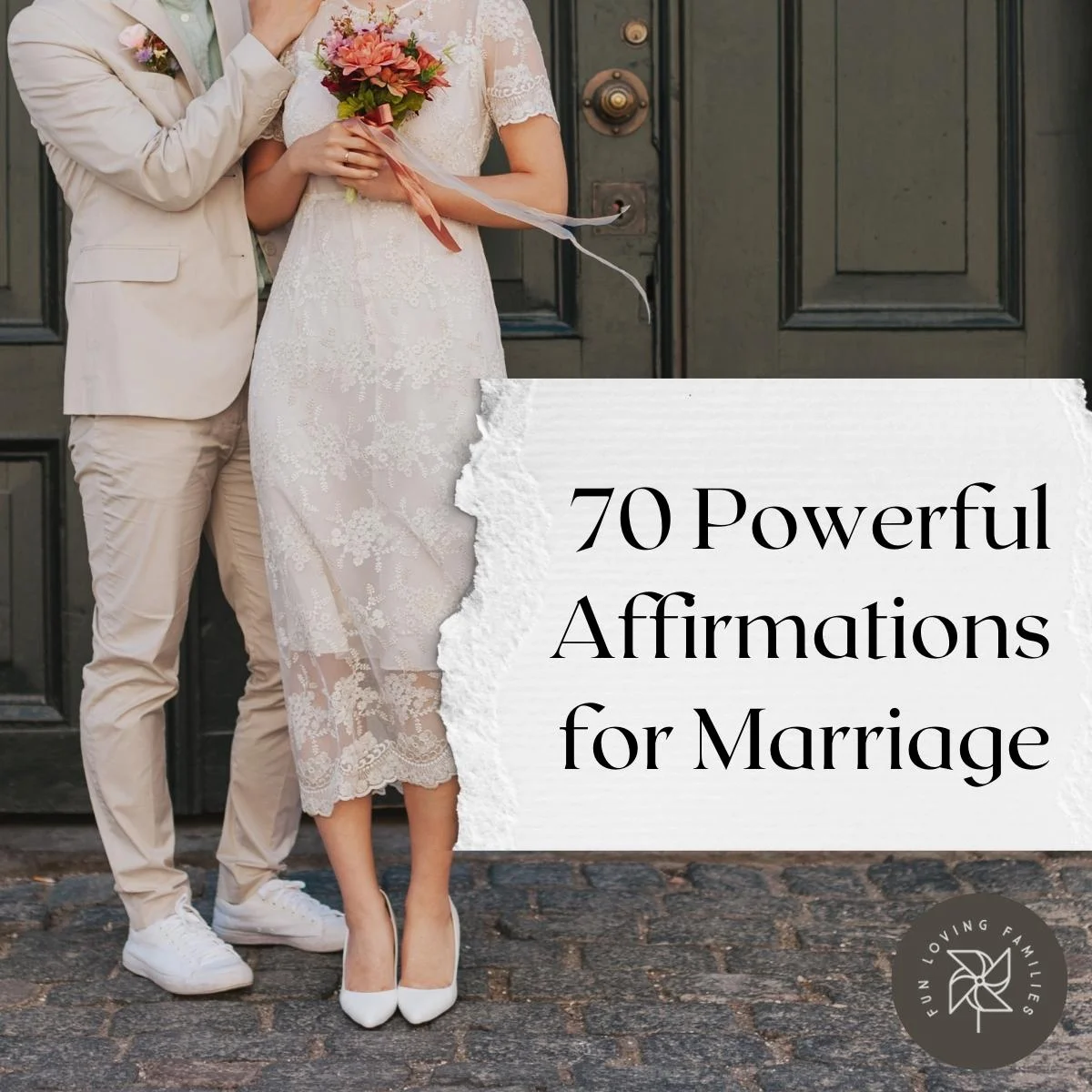 How will affirmations help me get married? Affirmations use the law of attraction to bring you what you want in life. By saying something like, "I love married life", you are building positive energy around and within you towards the concept of marriage.
This positive energy acts as a magnet bringing you what you desire. The first step in affirming is deciding what you want. If that is marriage, this list will help you on your path.
And if you are on the other side of the coin and looking to spice up your marriage, this list uses the same property to pick things up between you and your spouse.
Believe in what you are saying and allow the law of attraction to manifest within you.
Affirmations for Getting Married
1. I am ready to be married.
2. My spouse can't wait to marry me.
3. My partner and I love each other unconditionally and will be married when the time comes.
4. I am lovable.
5. I will make a great spouse.
6. My past does not define my future.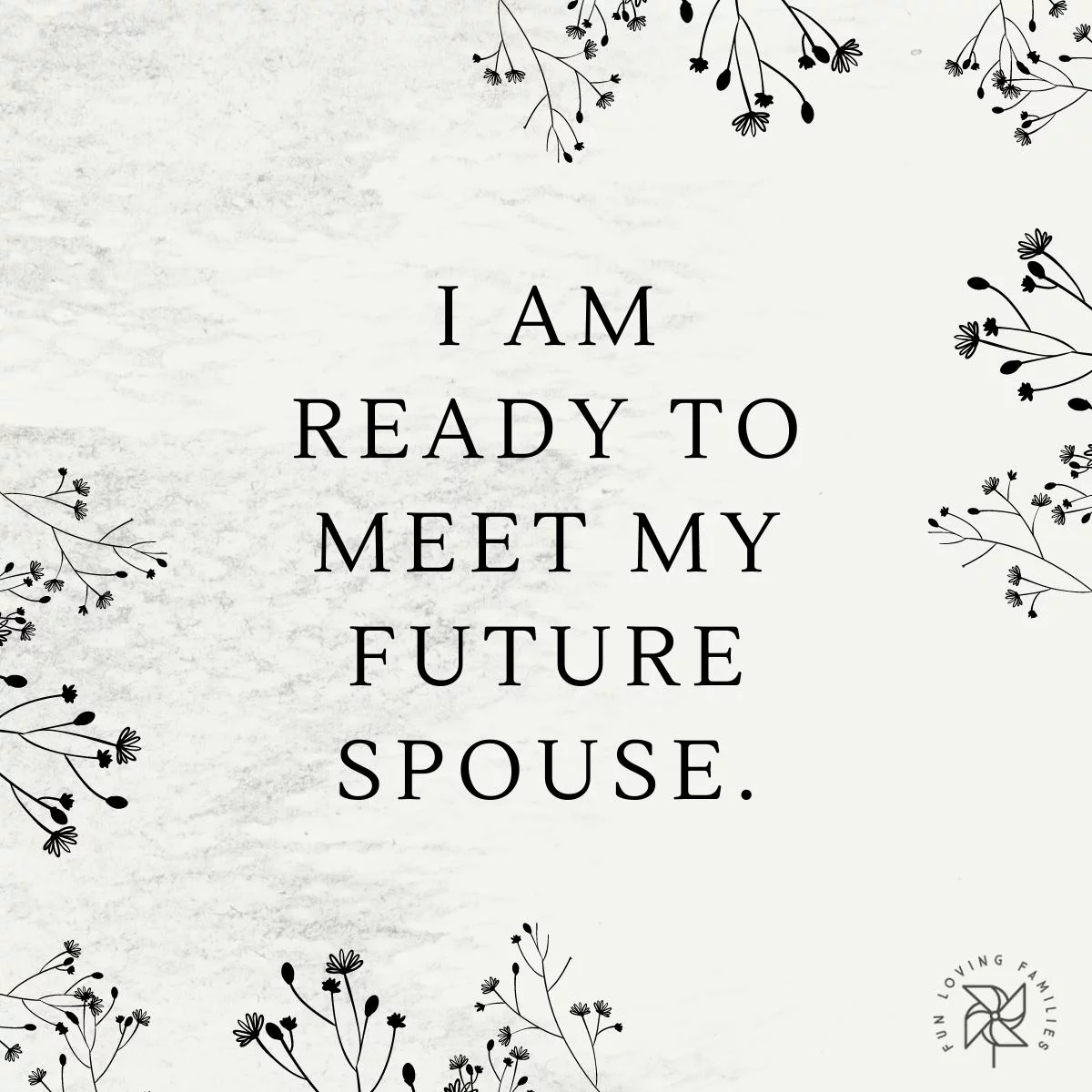 7. I am ready to meet my future spouse.
8. I love myself and anyone who comes into my life shows me the love I deserve.
9. Marriage comes naturally to me.
10. I love married life.
11. Good things are in store for my love life.
12. Marriage is just around the corner.
13. I am in a loving and trusting relationship.
14. Because I love myself, I am ready to love someone else too.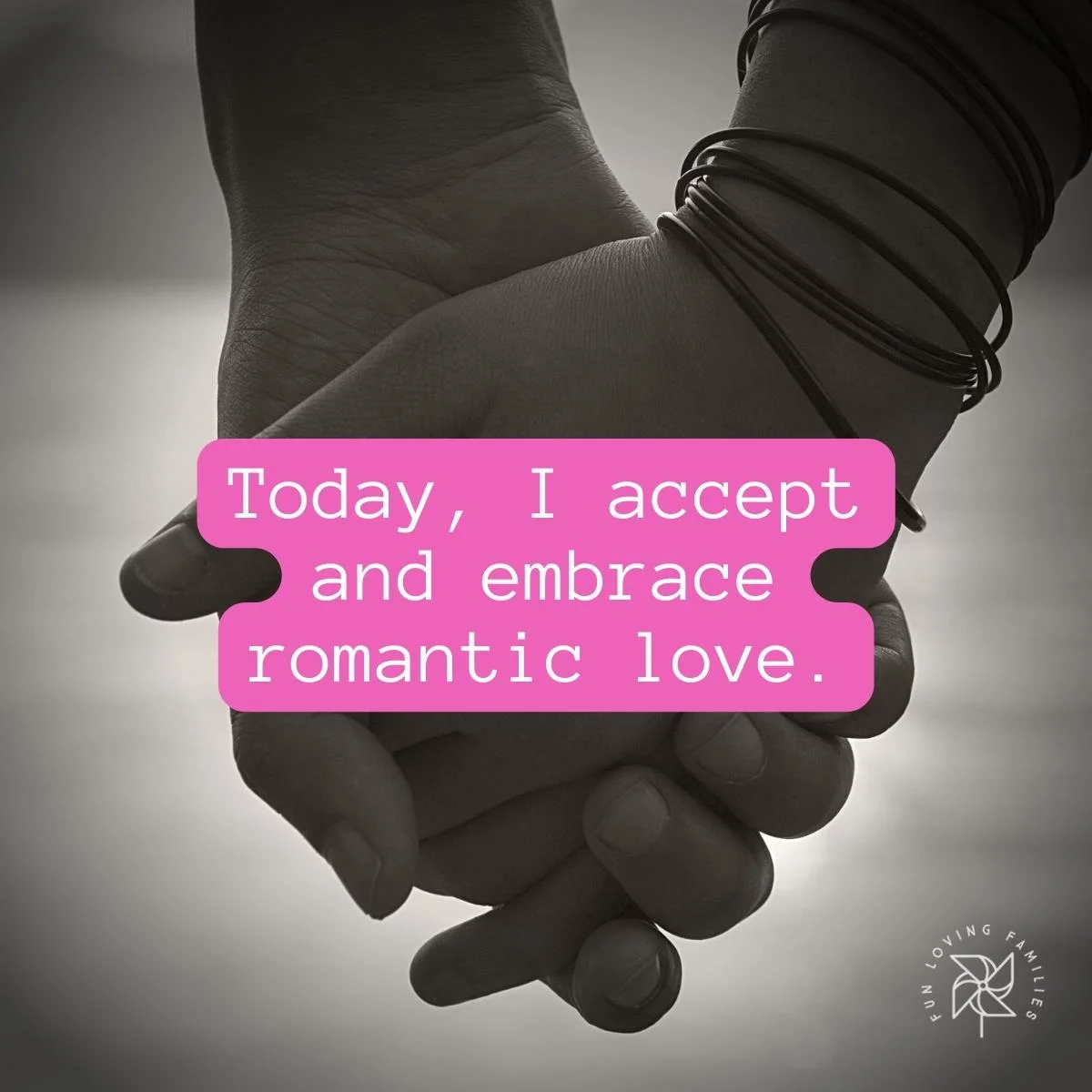 15. Today, I accept and embrace romantic love.
16. Marriage is my goal.
17. My time to be married is now.
18. I am so excited to get married.
19. I have a positive attitude towards the concept of marriage.
20. I have always known I wanted to be married.
21. This year, I will get engaged.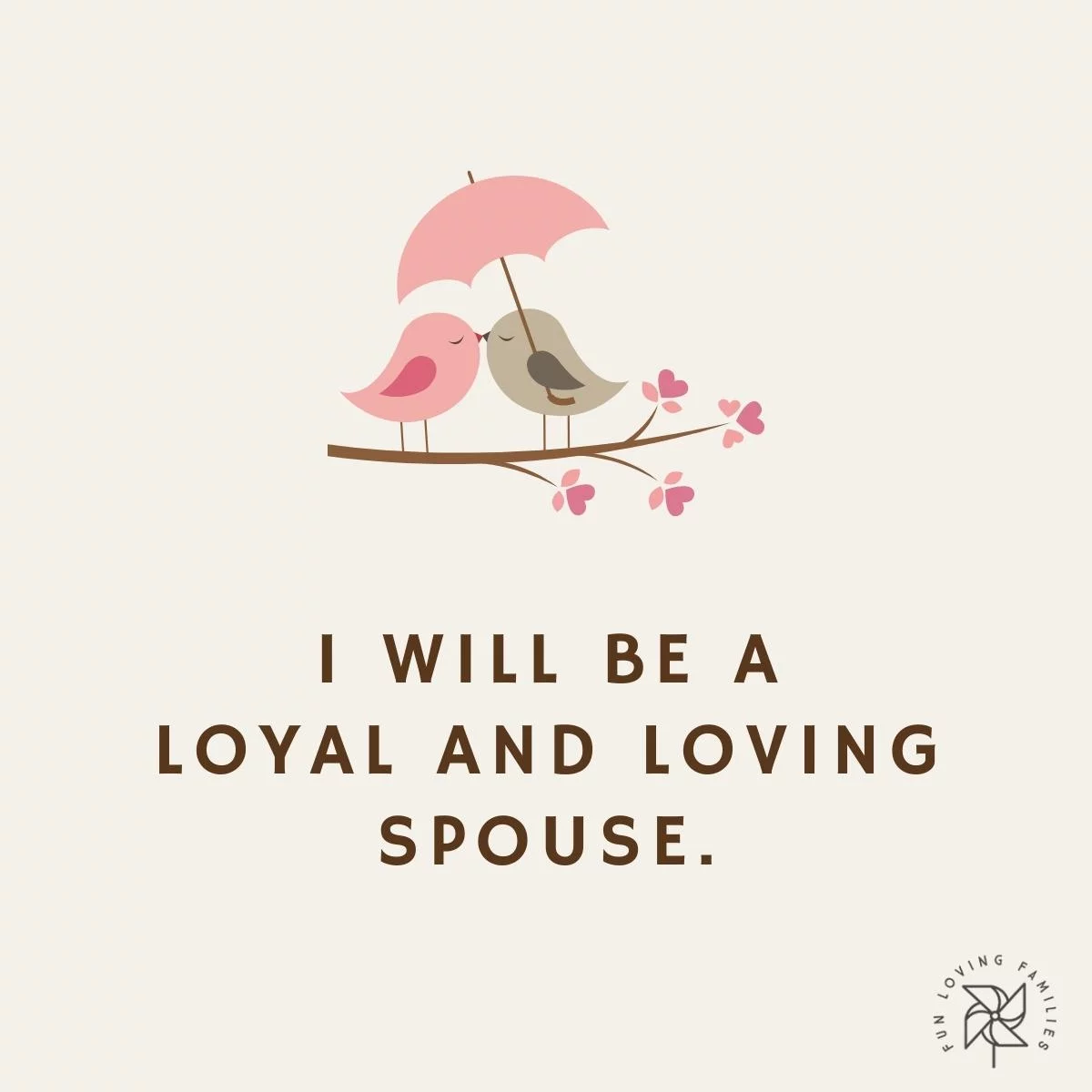 22. I will be a loyal and loving spouse.
23. My spouse and I are inseparably in love.
24. I love that I am now married.
25. My wedding was perfect.
26. I am attracting marriage into my life every day.
27. My mind, spirit, and body are ready for marriage.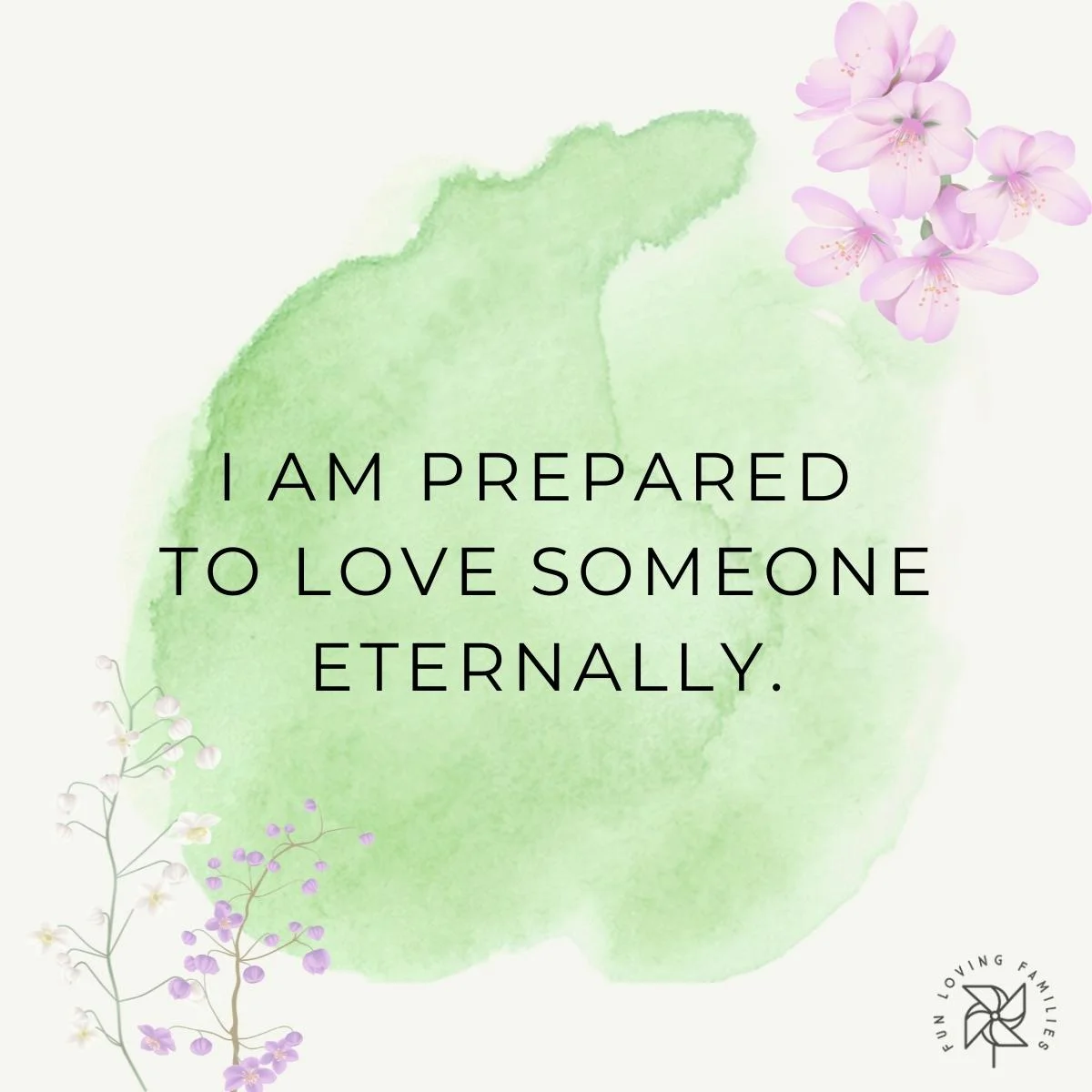 28. I am prepared to love someone eternally.
29. I am open to commitment.
30. My life is full of abundance.
31. I am lovable.
32. I am worthy of marriage.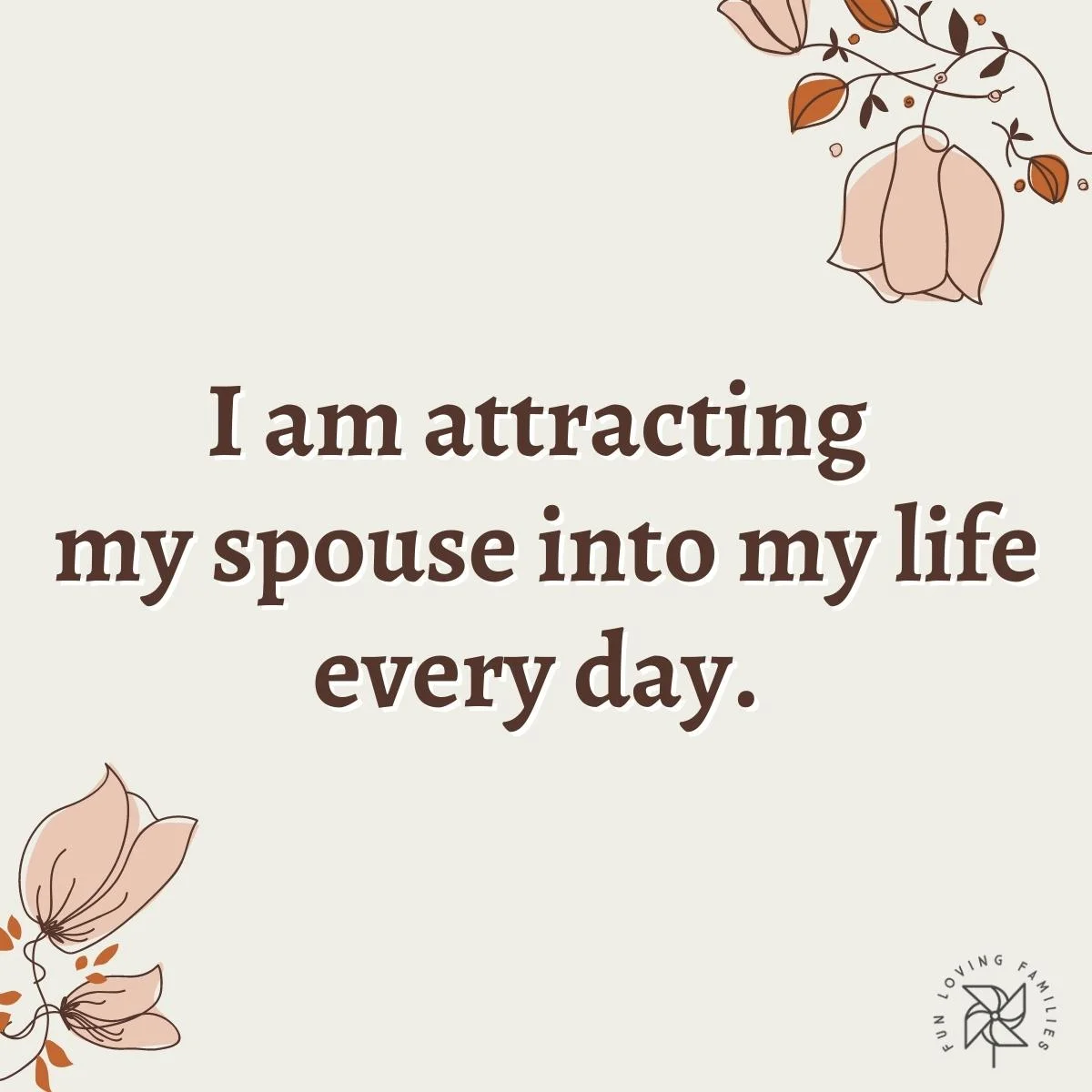 33. I am attracting my spouse into my life every day.
Affirmations for rekindling the spark in your marriage
34. I love my spouse unconditionally.
35. I am so grateful to have met my spouse.
36. I can't imagine my life without my spouse.
37. My love for my spouse is overflowing.
38. I accept my spouse for who they have been, who they are, and who they are becoming.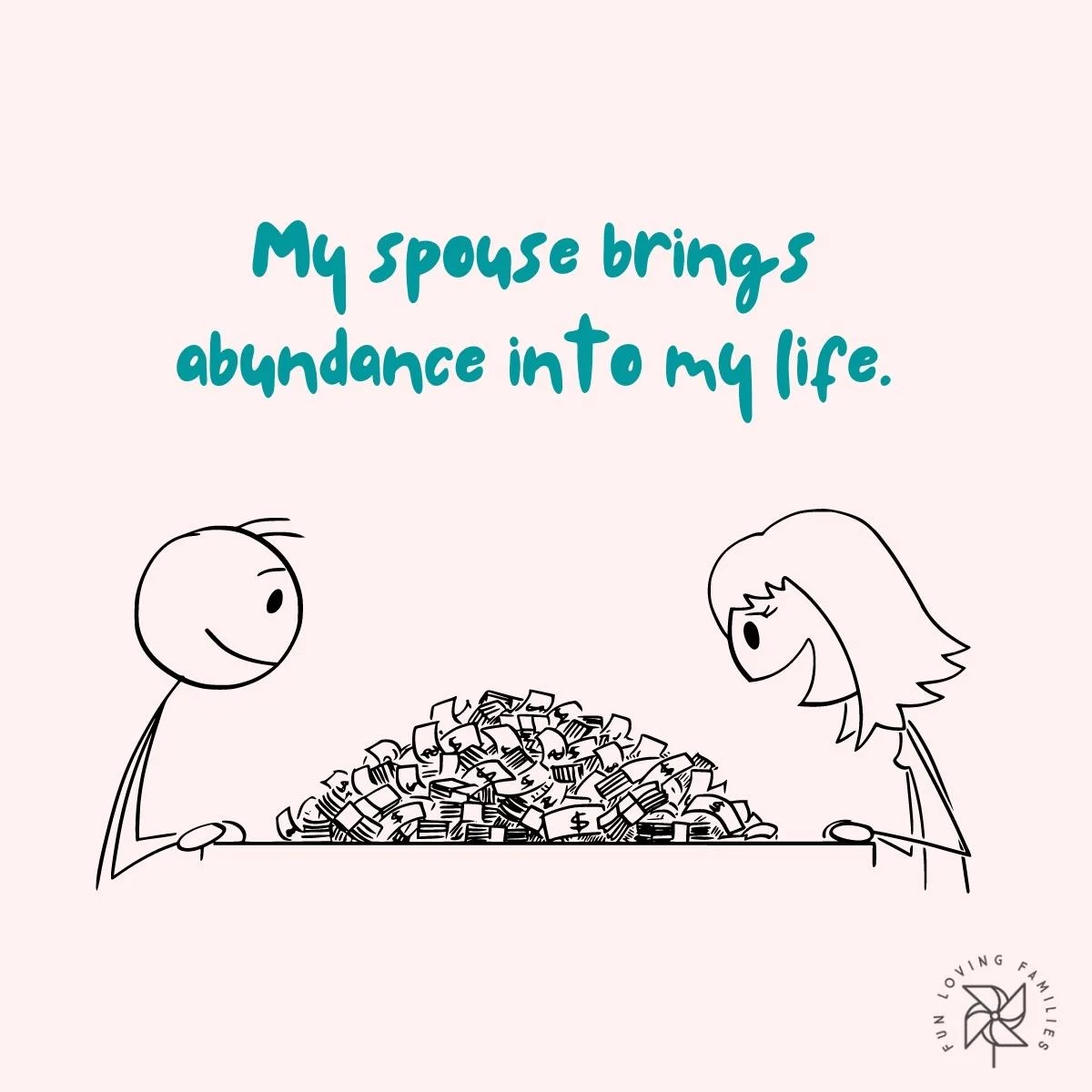 39. My spouse brings abundance into my life.
40. I will love my spouse forever.
41. Our marriage was a miracle.
42. Everyone we know admires our marriage.
43. I have faith in my marriage.
44. My marriage will last.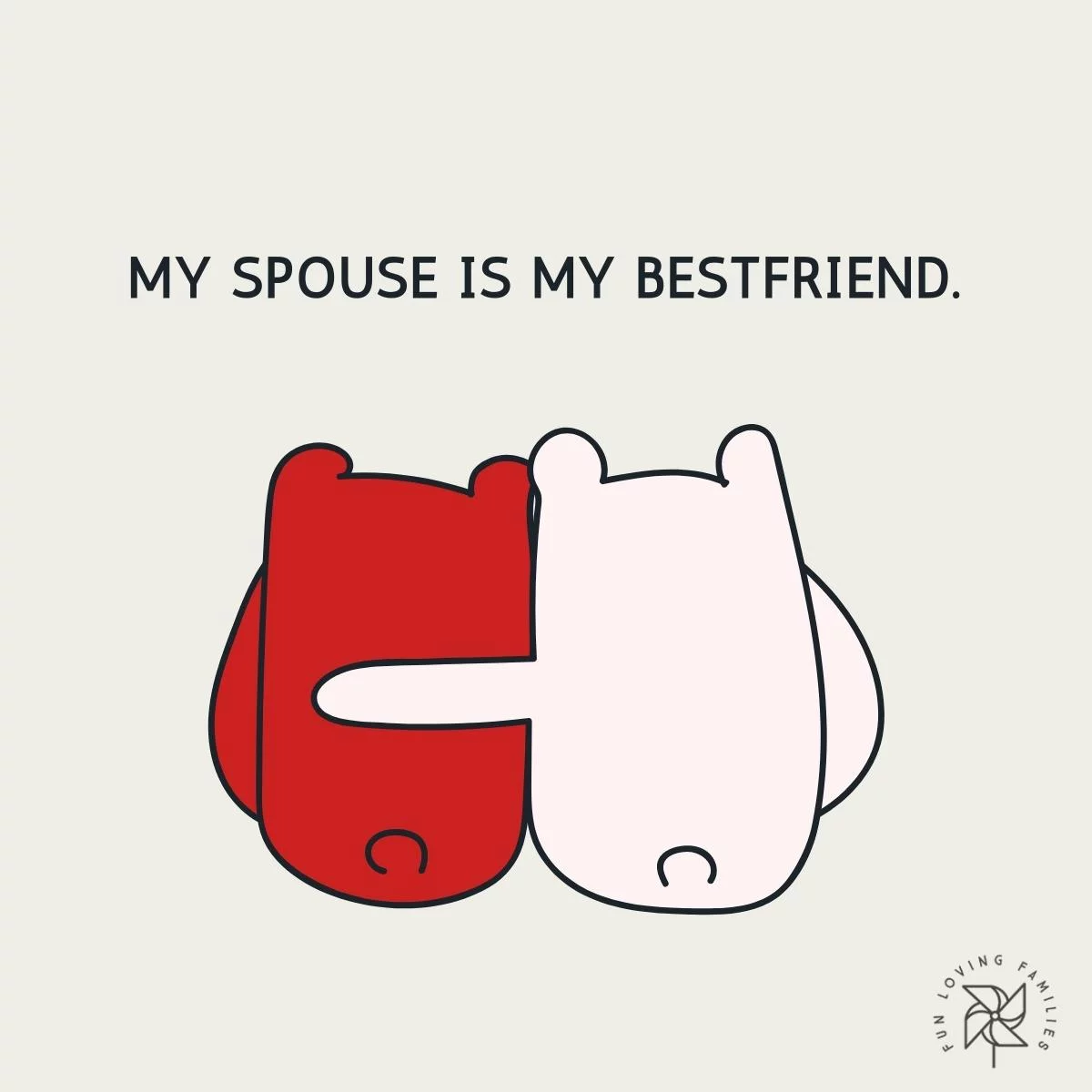 45. My spouse is my best friend.
46. My marriage has helped me become a better person.
47. My spouse and I are faithful to each other.
48. My marriage is my number one priority.
49. I feel so loved by my spouse.
50. I understand that my spouse will make mistakes just as they understand that I will.
51. My spouse and I are excellent communicators.
52. I am never left wanting in my marriage.
53. My marriage continuously surprises me.
54. My spouse is my number one fan.
55. I feel supported in my marriage.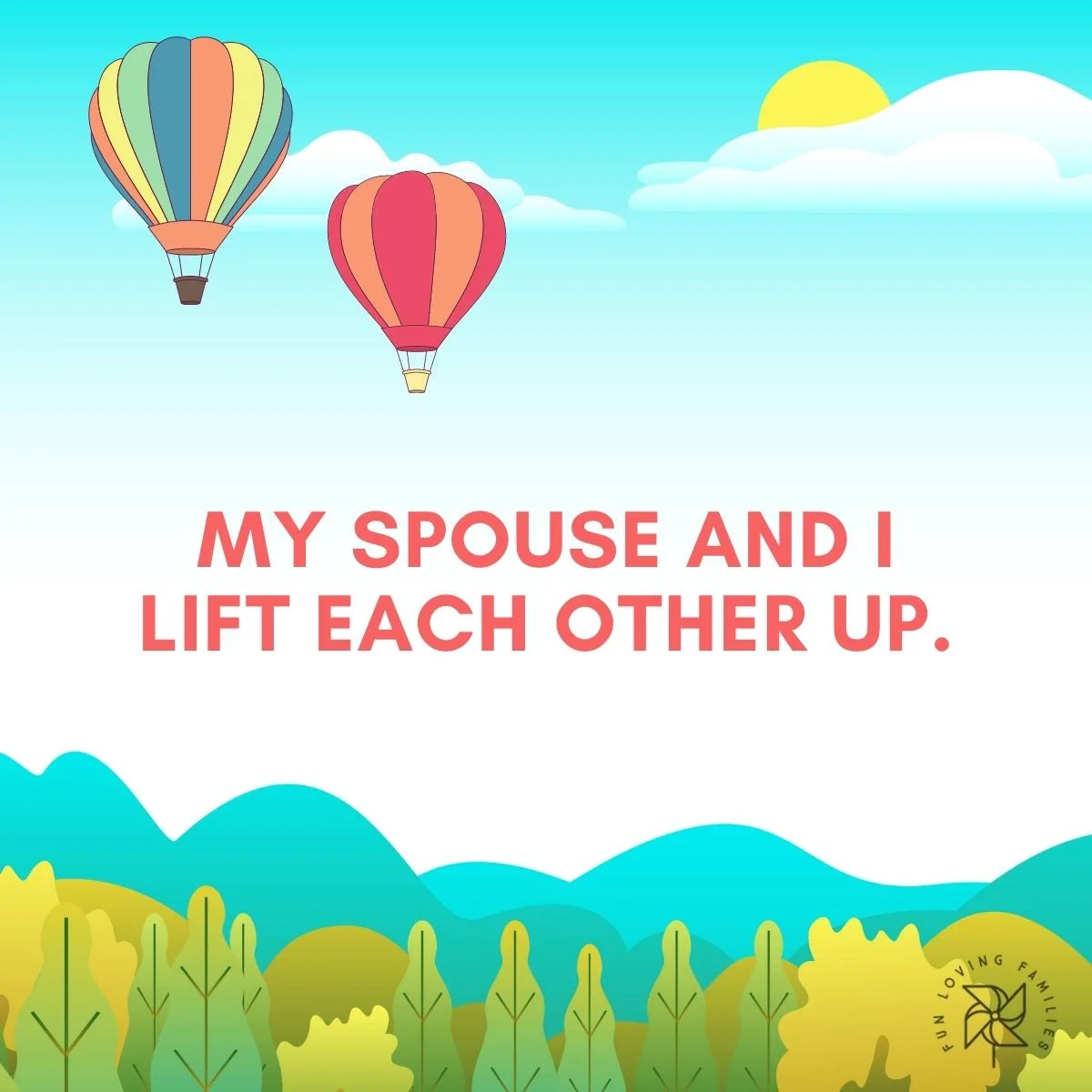 56. My spouse and I lift each other up.
57. My spouse and I know that our pasts do not define our future together.
58. My spouse and I are honest with each other.
59. I am a better person since I met my spouse.
60. My spouse is the best person I have ever met.
61. I am open to new and exciting things in my marriage.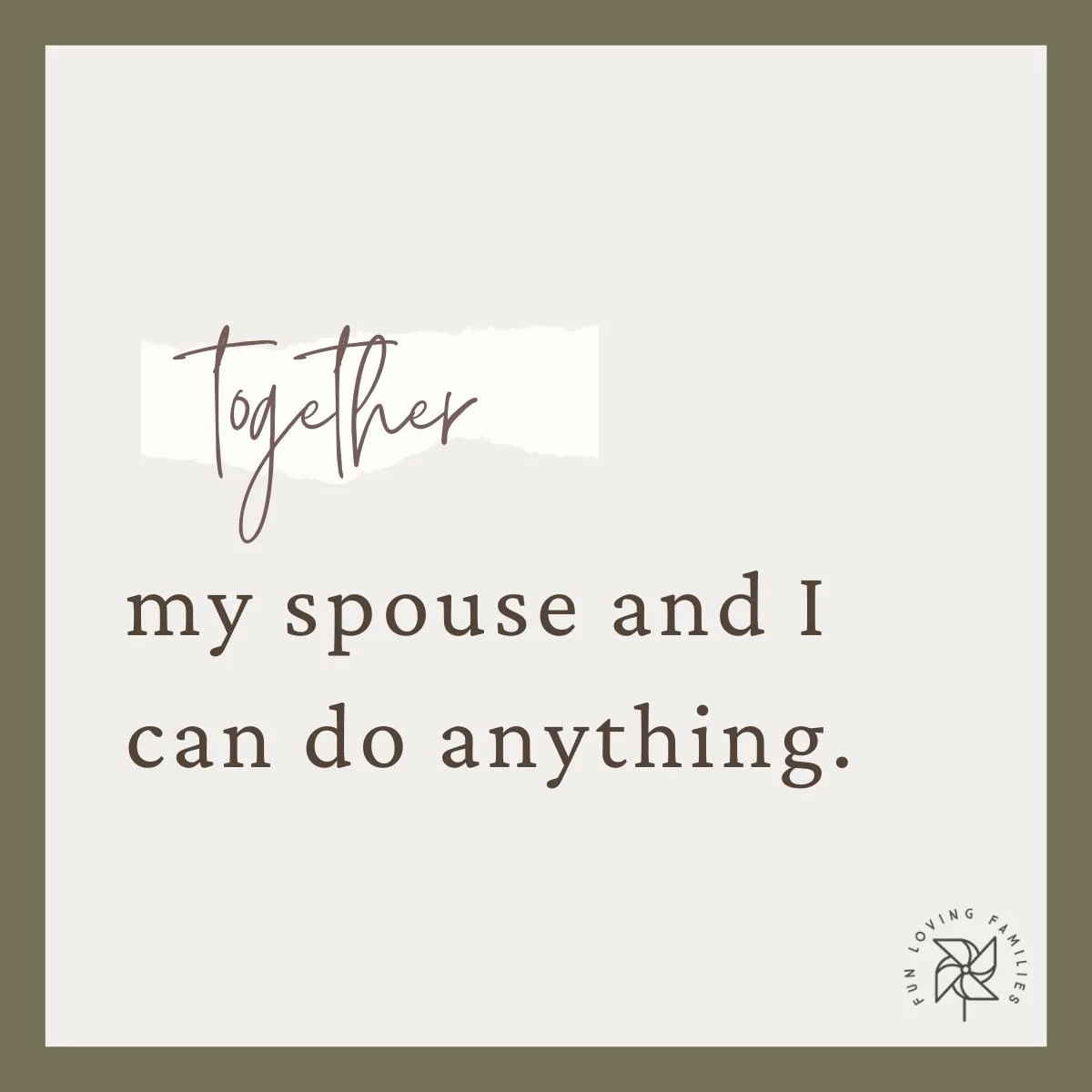 62. Together, my spouse and I can do anything.
63. I can't imagine unmarried life anymore.
64. I am so happy to be married to (name).
65. I choose love in my marriage.
66. Being married is part of who I am.
67. I feel like I fall more deeply in love with my spouse each passing day.
68. We choose love.
69. I have married my soulmate.
70. Our relationship is abundant and strong.
Final Thoughts
We hope these lists have provided you with a strong foundation for your marriage affirmation journey. Remember that life works in mysterious ways and the law of attraction may not always be obvious. Be sure to look out for those magical moments and believe in your power.
Similar Posts: