Desiring a loving, healthy relationship is nothing to hide or shy away from. Relationships are the roots of life. They add color to our existence. There is a reason for which love songs significantly outnumber any other song category, love is wonderful. So, whether you have had bad luck in love so far or are in a relationship that needs some flavor, why not try affirming your desires?
Decide what you want and allow it to manifest within you through the following affirmations. If you feel silly or strange declaring things that may not be true as of yet, then you are holding resistance to the thoughts. So, relinquish that control and self-judgment and declare what you desire. The more you can feel the positive energy around the statements you are making, the more powerful they become. Affirmations use the Law of Attraction which is strengthened if you can build a habit of not only speaking these affirmations but feeling them, thinking them, and even acting them as if they were already part of your life.
Our first list of affirmations deals with love and romance while our second focuses on cultivating and strengthening loving relationships. Our third list touches on self-love because loving others healthily requires us to love ourselves.
So, go ahead and ask for what you want through the following affirmations.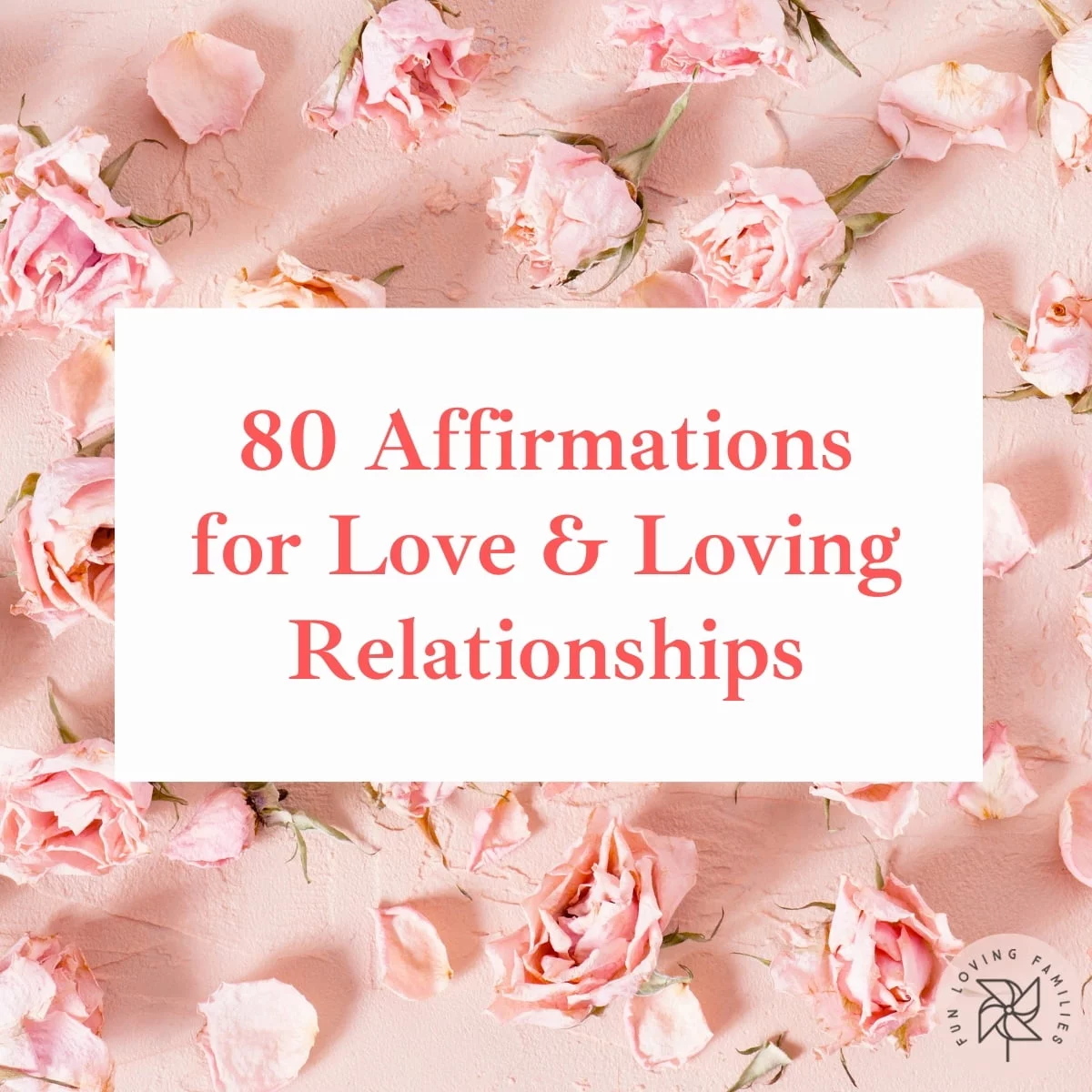 Affirmations to Attract Love and Romance
Love and romance are beautiful things. If you are ready to find love, then read off these declarations as meaningfully as you can. Open your heart and open your mind and the universe will feel it.
1. I am ready for love.
2. I am ready for romance.
3. I am open to new loving experiences.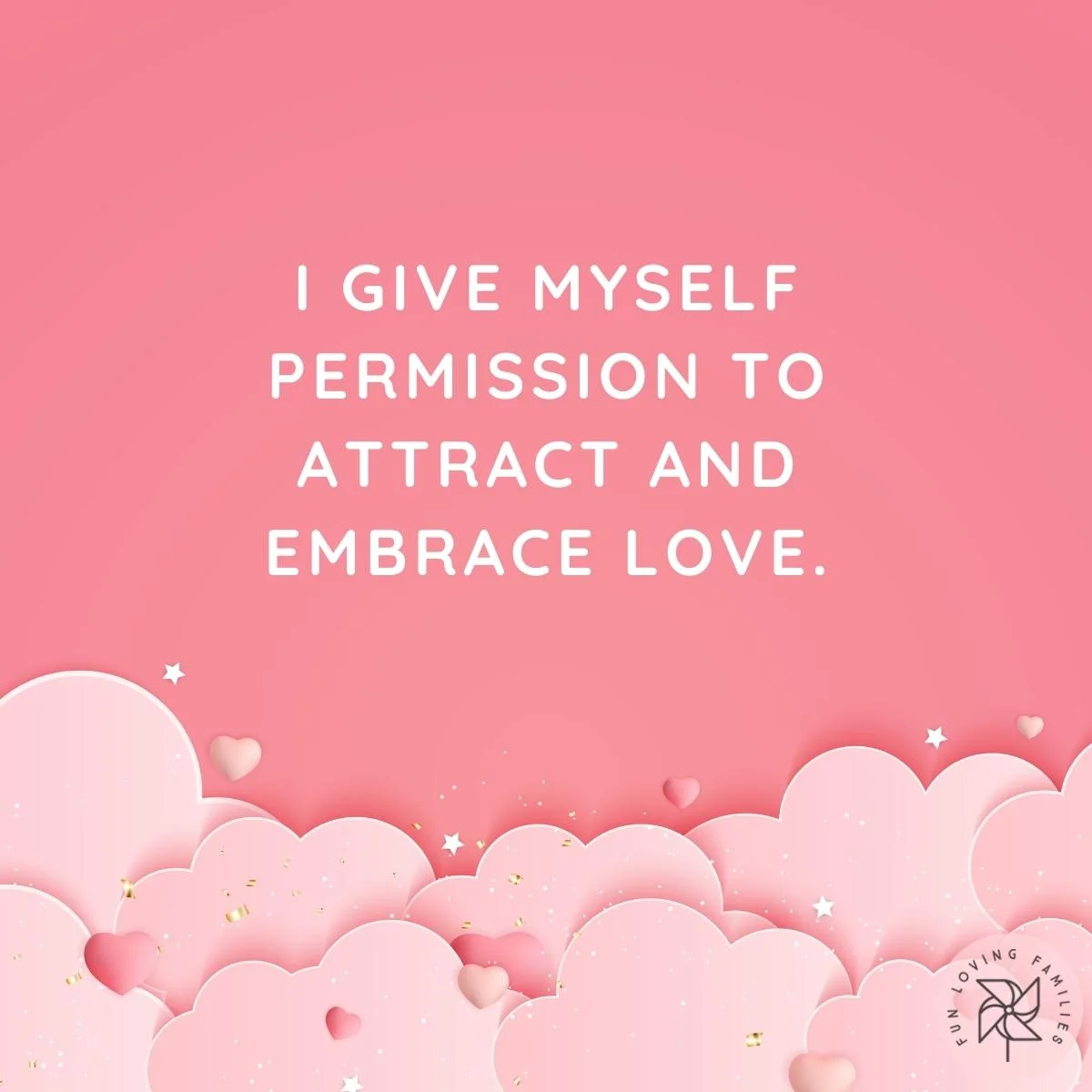 4. I give myself permission to attract and embrace love.
5. I have space in my life to love.
6. I deserve love.
7. I deserve affection.
8. I am open to a deep, powerful romance.
9. My life has room for someone.
10. I connect easily with other people.
11. I am happy to give love to someone.
12. I am ready to receive love from someone.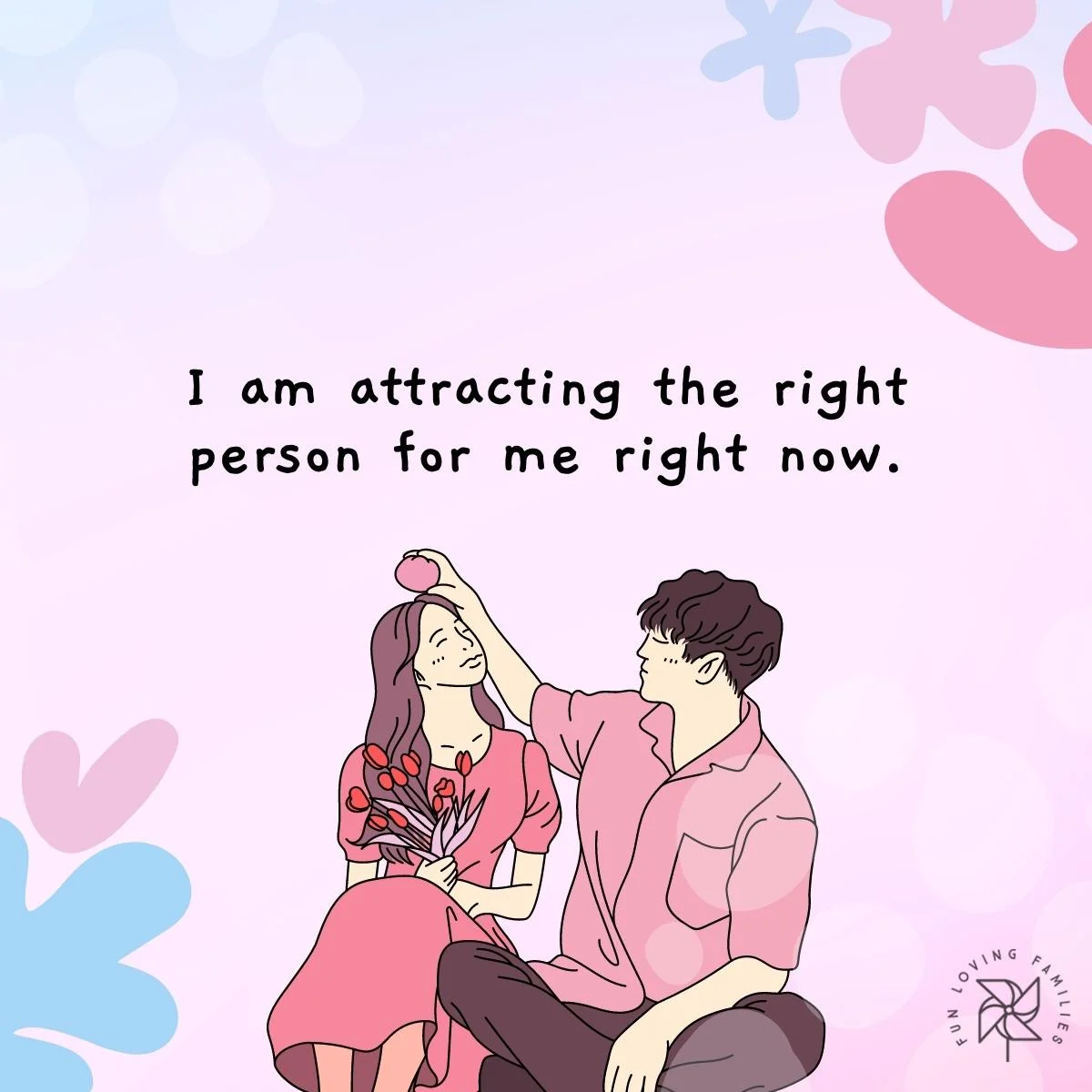 13. I am attracting the right person for me right now.
14. Finding love comes easily to me.
15. I feel surrounded by love constantly.
16. I am attracting my soulmate every day.
17. I am ready for intimacy and passion.
18. I deserve passion.
19. I am a great catch.
20. I genuinely enjoy dating and getting to know new people.
21. I feel love is just around the corner.
22. I find that building authentic connections comes easily to me.
23. I let go of my past experiences with love and embrace new ones.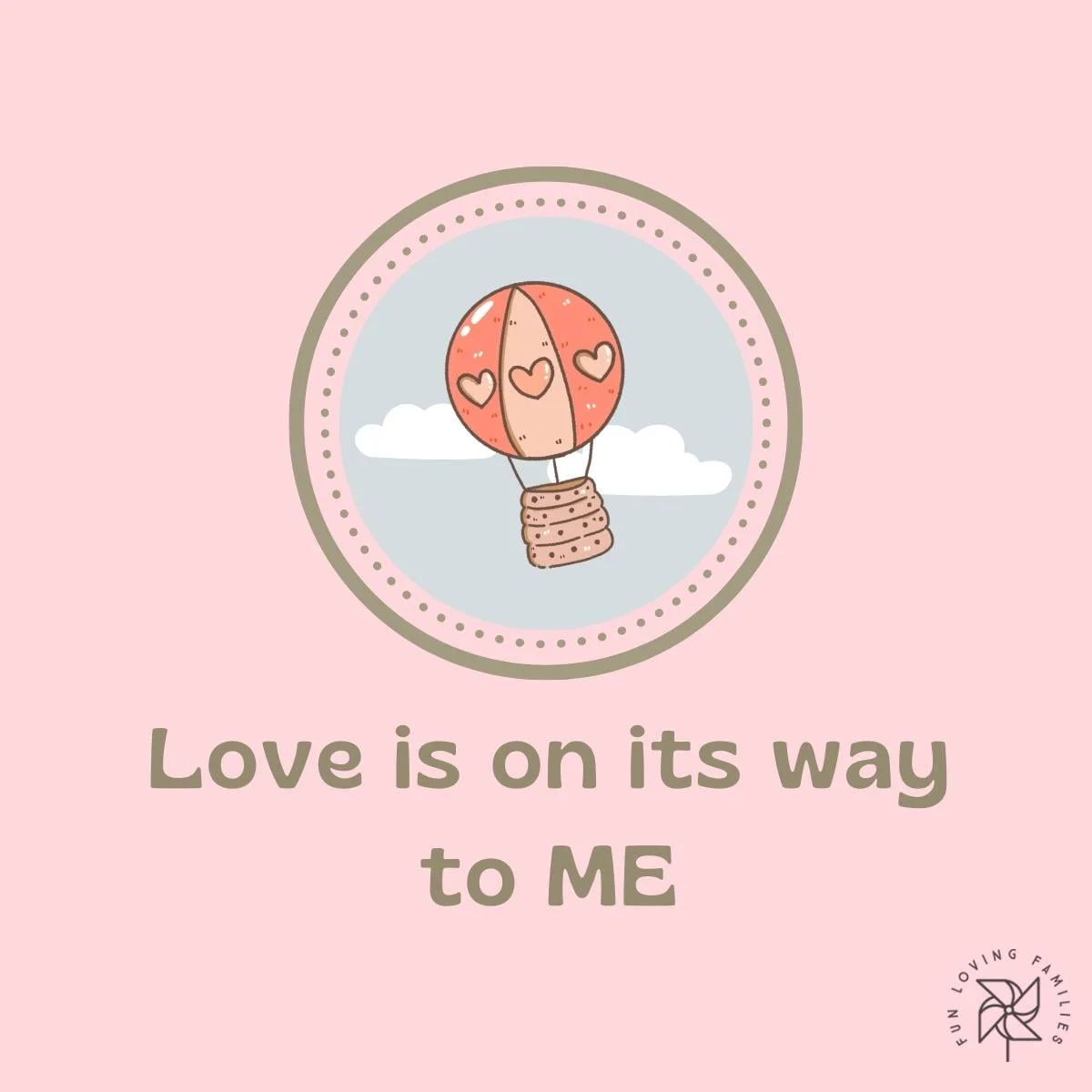 24. Love is on its way to me.
25. I am capable of love. I am capable of passion. I am capable of joy.
26. I understand that love will come to me when I am ready to embrace it.
27. The love I have been waiting for is close by.
28. Today, I am radiating love.
29. I invite and welcome love into my life.
30. I trust that love will come to me when I am ready and today, I am ready.
31. My heart is open.
32. I invite abundant love into my life.
33. I desire a true connection with somebody.
34. Today, I choose love.
Affirmations to Cultivate and Strengthen Loving Relationships
Whether you are in a very new relationship or have been with your partner for ages, these affirmations are designed to strengthen bonds. Sometimes, an important part of cultivating a loving and healthy relationship is understanding what you want from your partner and the relationship as its own entity. Affirmations can work effectively because they require the speaker to decide their goal. Do you want your partner to listen more, to be more affectionate, or maybe to allow you space to grow and flourish? You may even be surprised by what you truly desire.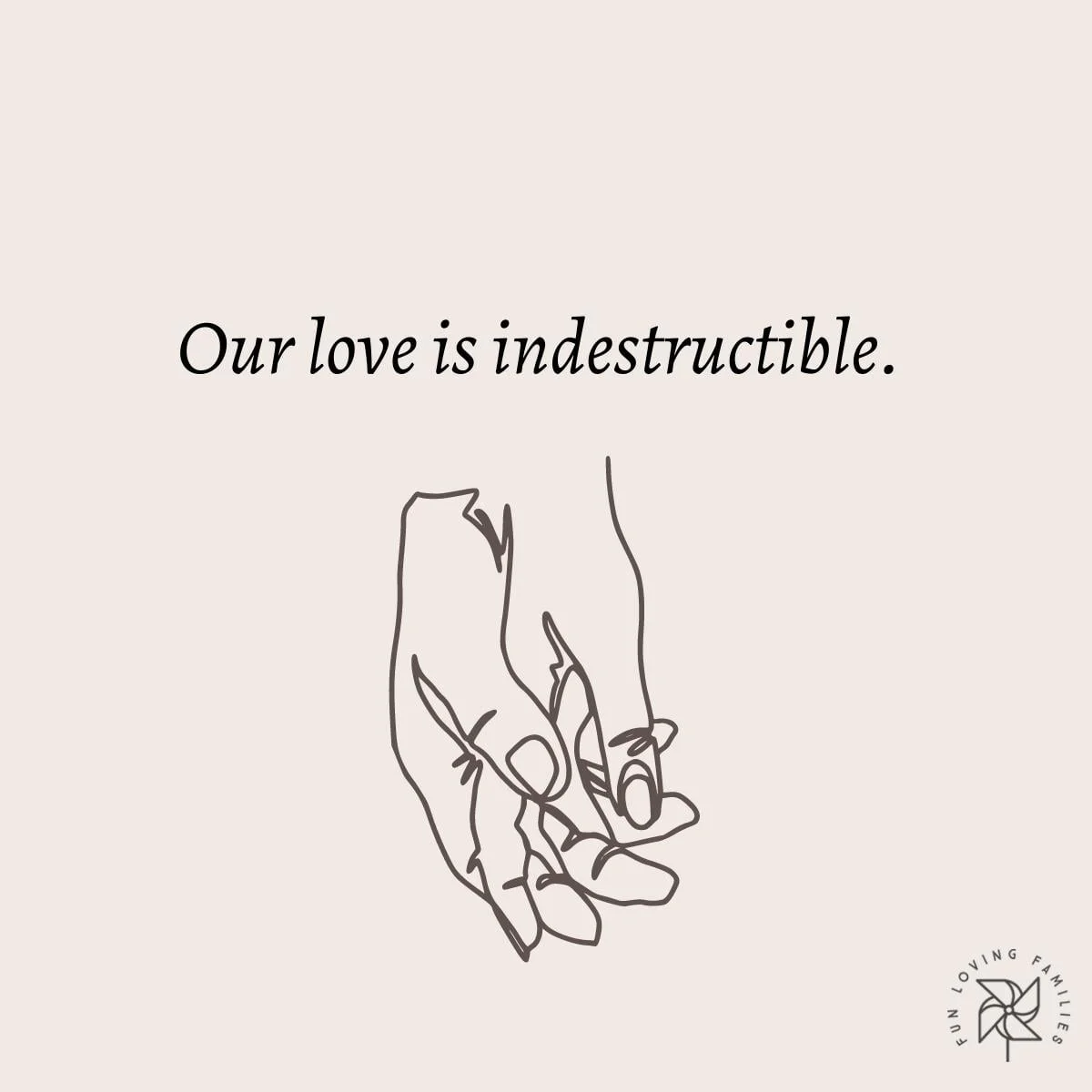 35. Our love is indestructible.
36. My partner is everything I want them to be.
37. My partner is kind, thoughtful, and affectionate.
38. My partner is amazing.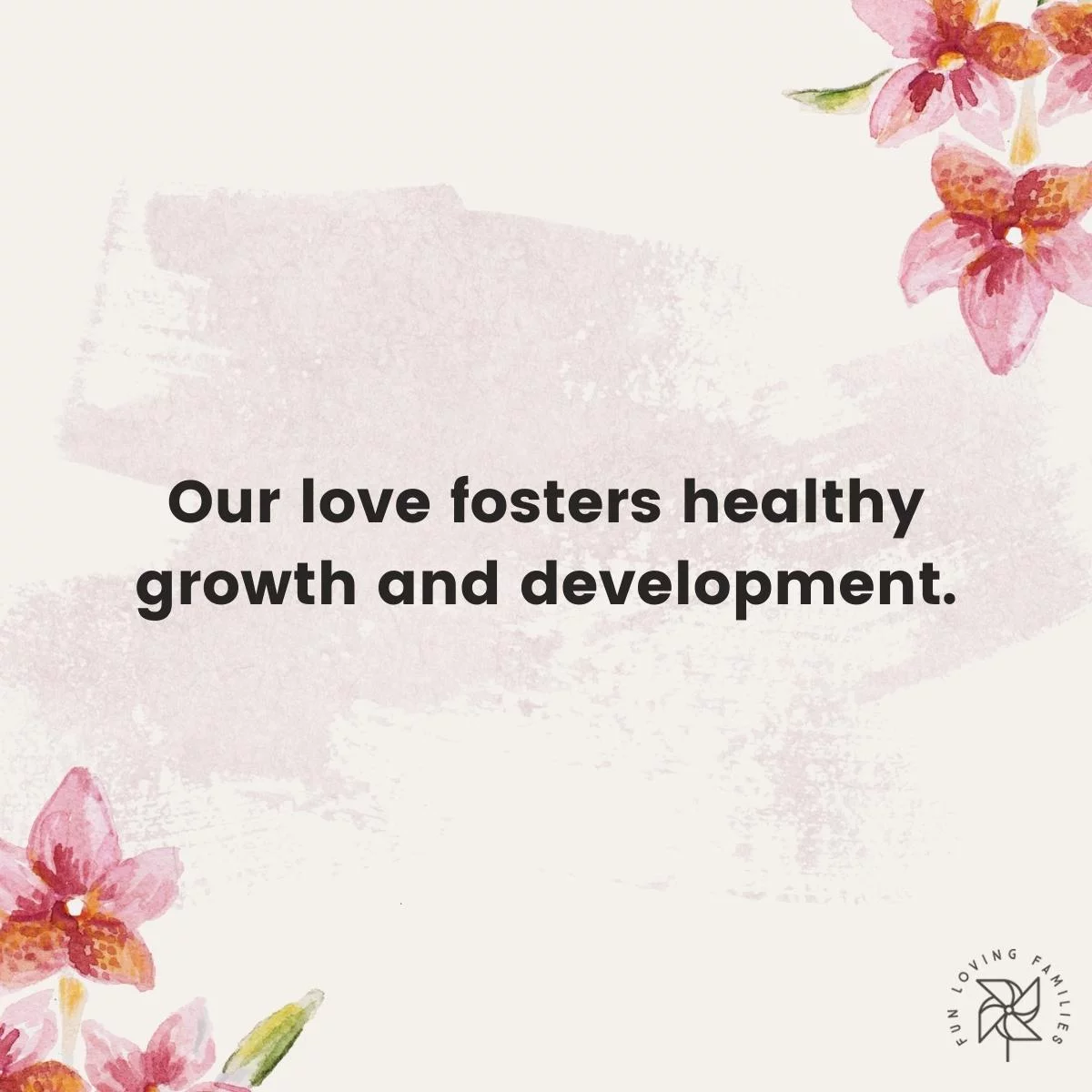 39. Our love fosters healthy growth and development.
40. My partner is the ideal person for me.
41. My partner loves me for me.
42. My relationship is deeply fulfilling.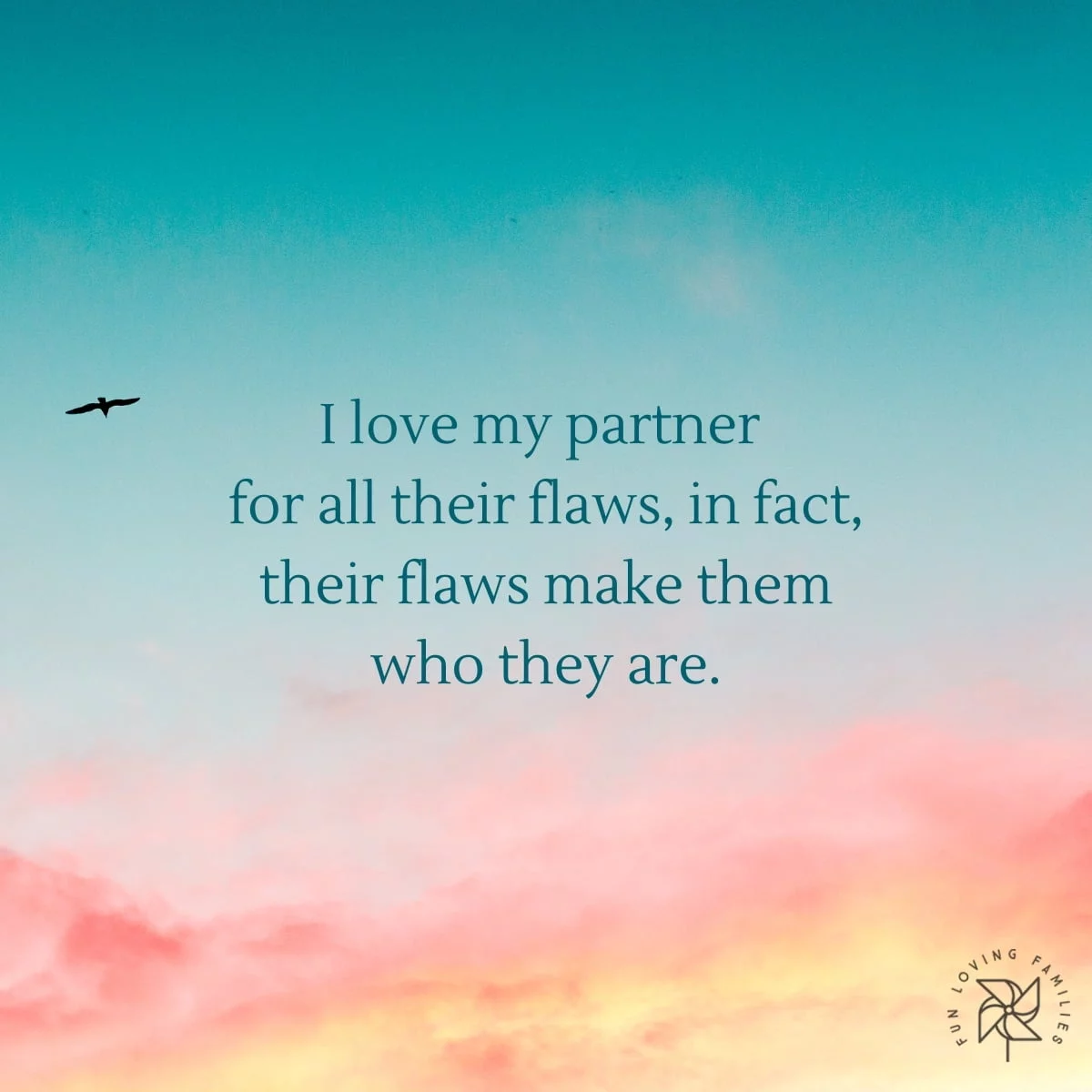 43. I love my partner for all their flaws, in fact, their flaws make them who they are.
44. My relationship is fun and exciting.
45. My relationship is founded on true and unparalleled human connection.
46. Our love is easy.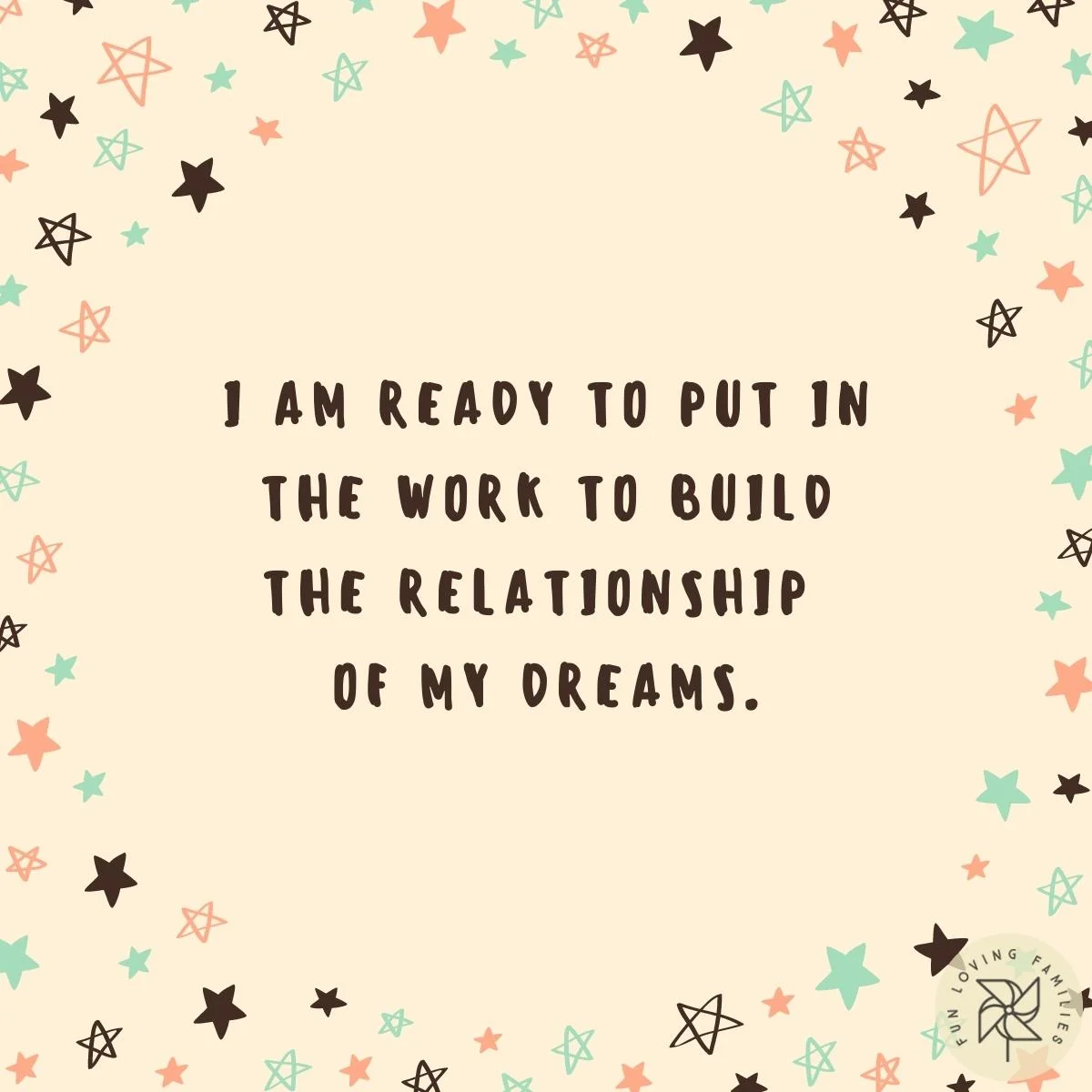 47. I am ready to put in the work to build the relationship of my dreams.
48. My partner and I are constantly growing together.
49. My partner understands when I need my space to grow.
50. My partner leaves me the room I need to flourish as an individual.
51. I deserve a loving relationship.
52. I deserve a passionate relationship.
53. I deserve to be wanted by someone.
54. My partner sees me for who I am.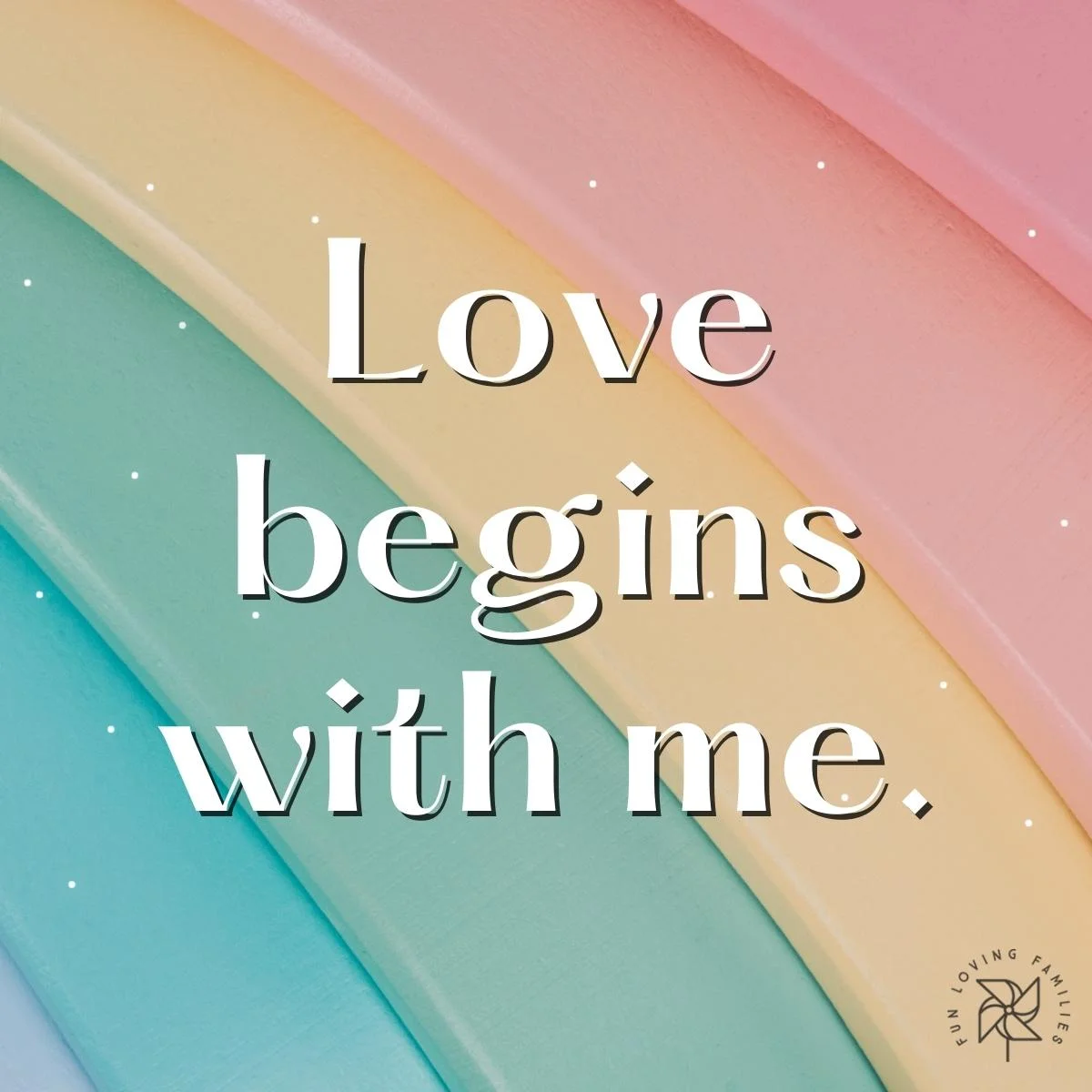 55. Love begins with me.
56. I communicate my needs and wants easily.
57. My partner listens to me.
58. My partner understands what I need and want before I have to ask for it.
59. I am a patient and kind lover.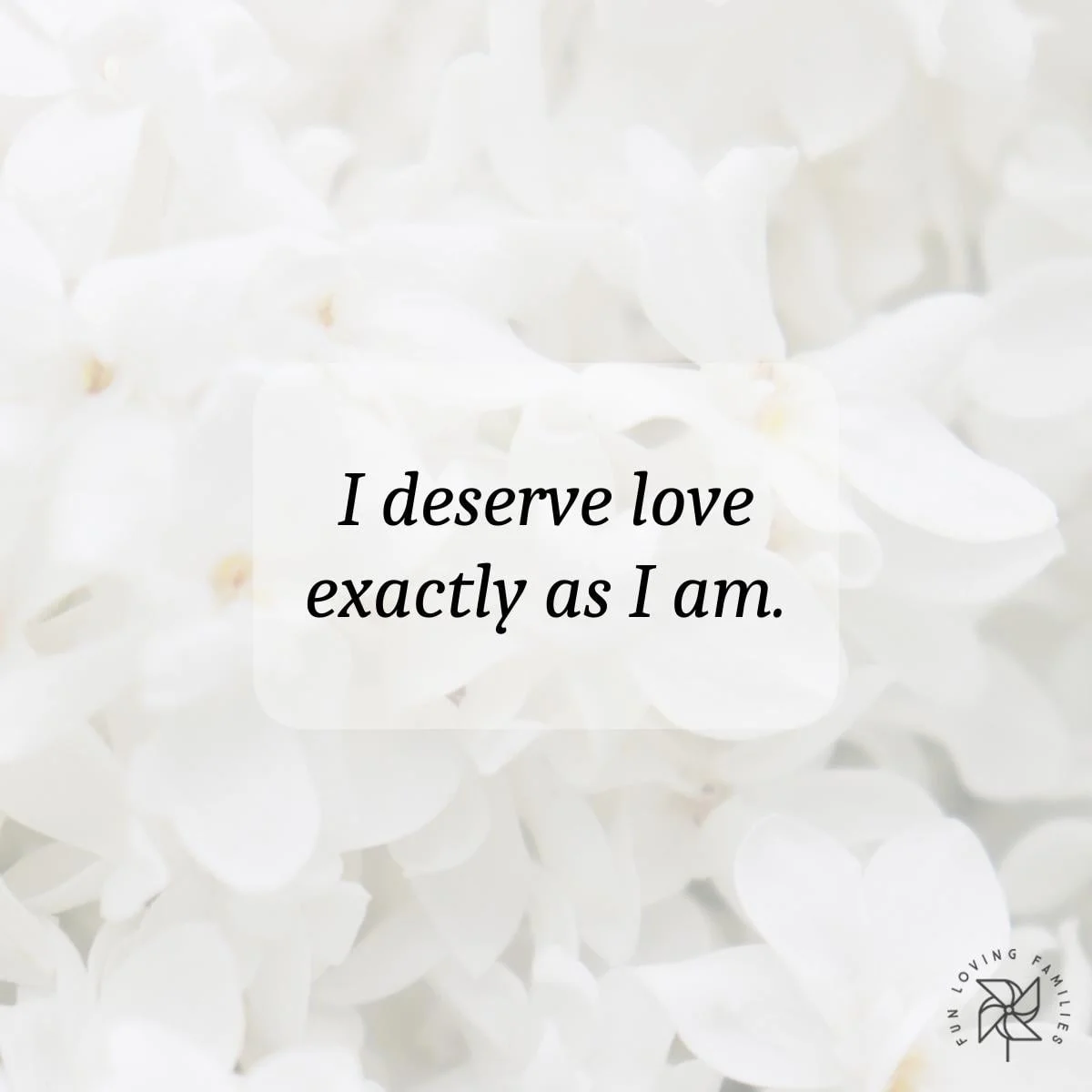 60. I deserve love exactly as I am.
61. I make time for my partner, and they make time for me.
62. Our love is growing stronger and deeper each day.
63. Our relationship is constantly surprising me in the very best ways possible.
64. I nurture my relationships.
65. My partner loves me for all that I am and all that I have been and will be.
Affirmations to Prepare Yourself for Love
This third list of affirmations is, perhaps, the most important one. Self-love is absolutely crucial to love with anyone else. You may be able to fall in love with someone else if you struggle with loving yourself but in order for that love to be incredible, powerful, and strong, you must love yourself too. So, when declaring your readiness for love and relationships, don't forget to declare some affection for the wonderful person you are as well. Self-love is truly the magic ingredient in this recipe.
66. I am open to love because I love myself.
67. I deserve the love I give.
68. I deserve to be desired.
69. I deserve a loving relationship.
70. I deserve to be with a kind person who treats me as I desire to be treated.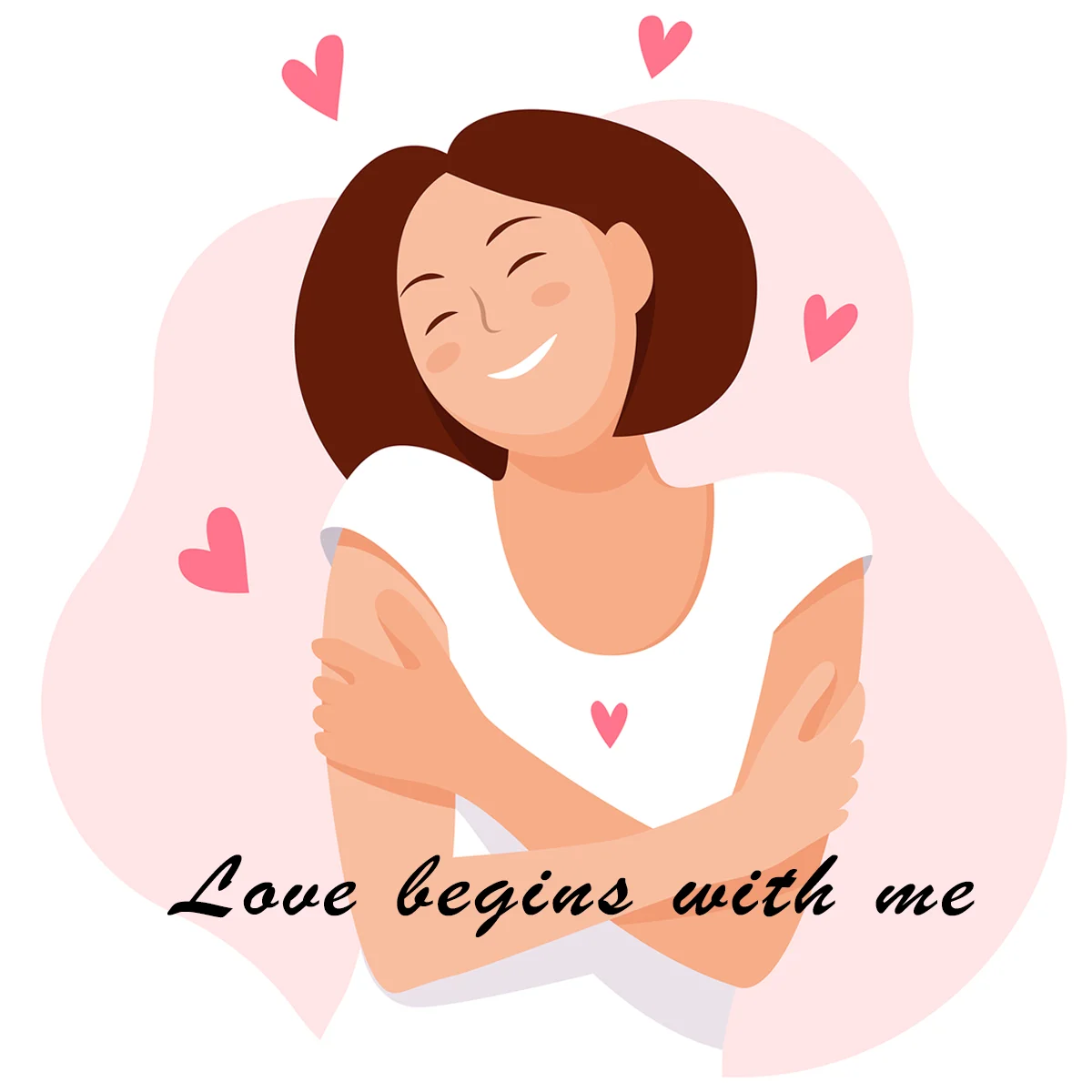 71. Love begins with me.
72. I am desirable.
73. I am lovable.
74. The more I love myself, the more others love me.
75. My self-love is reflective of the love I deserve.
76. Love comes easily to me.
77. I respect myself so whoever comes into my life respects me.
78. I deserve love exactly as I am.
79. I give myself permission to let go of my past relationships and embrace new ones.
80. My past does not define my present nor does it define my future.
Final Thoughts on Love
We hope the lists above will get your affirmation journey started. Remember the Law of Attraction is only as strong as you want it to be. If you can make these declarations habitual and you can say them, feel them and live through them then you are well on your way to harnessing the power of affirmations.
Similar Posts: