When we were children, many of our parents used to tell us to "be grateful for what we have". And though this is a concept that most of us have been reminded of since we were young, it tends to slip away without our noticing. This list of affirmations has been written to re-ignite the gratitude flame within you.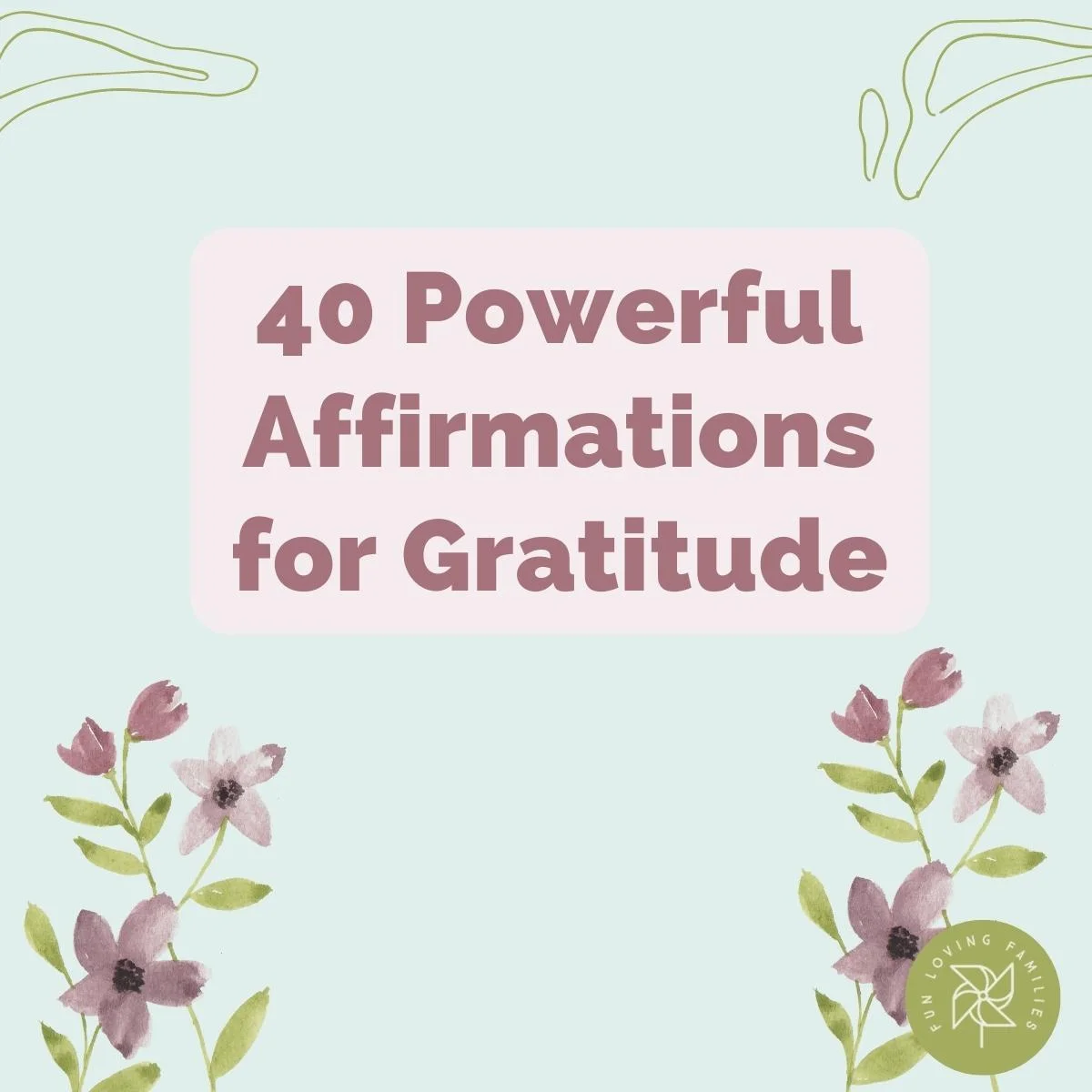 Gratitude can change your perception which can change your life.
Whether you are genuinely grateful for what you have or you aren't at all, these affirmations will help you on your way to a gratitude-filled life. Affirmations use the power of attraction to manifest the things you say into your life.
You can recite these phrases in a quiet meditation-like space, or while looking in the mirror, or even during your morning shower. All that matters is that you allow the energy in what you are saying to shine through. So, read these out with confidence and think grateful thoughts.
Gratitude for All That You Have
The more gratitude you feel for what you have, the better your life will be. So, why not give the following affirmations a try.
1. Waking up today is a privilege that not everyone has.
2. Thank you for this new day.
3. Thank you for another opportunity.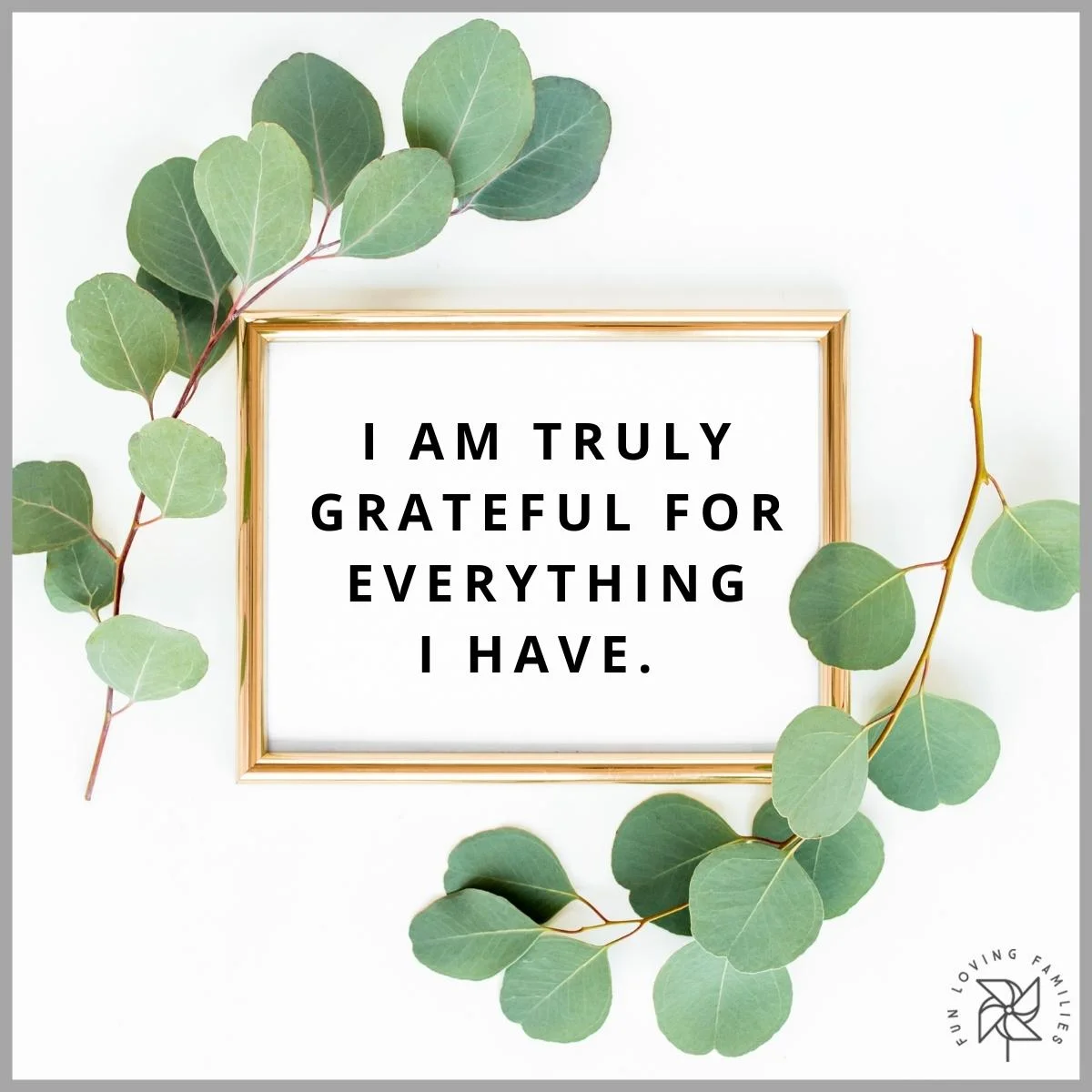 4. I am truly grateful for everything I have.
5. I am so happy and grateful to be alive today.
6. I am grateful for the blessings I have.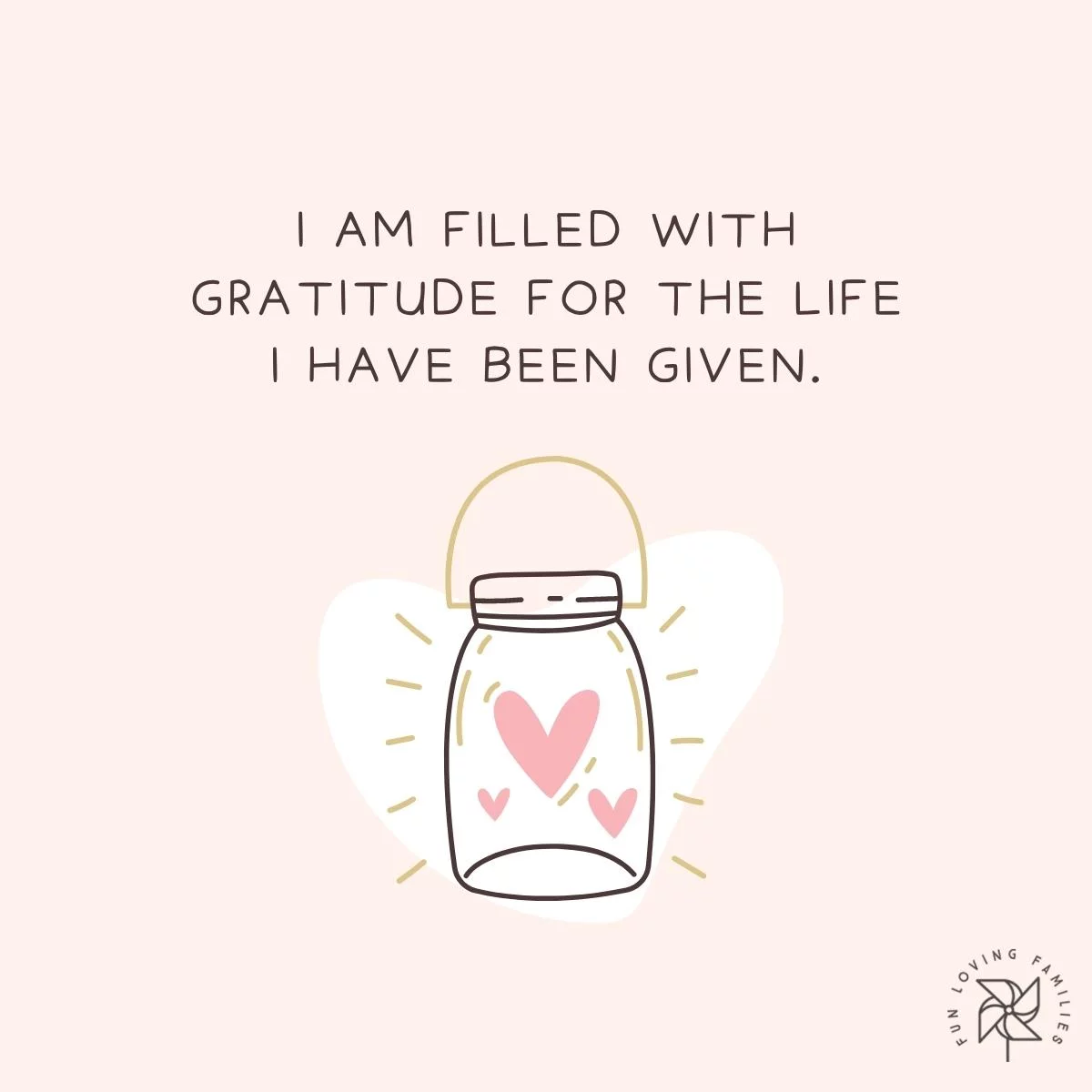 7. I am filled with gratitude for the life I have been given.
8. Whatever the day holds for me, I am grateful for it.
9. I am grateful for all the things in my life that bring me joy.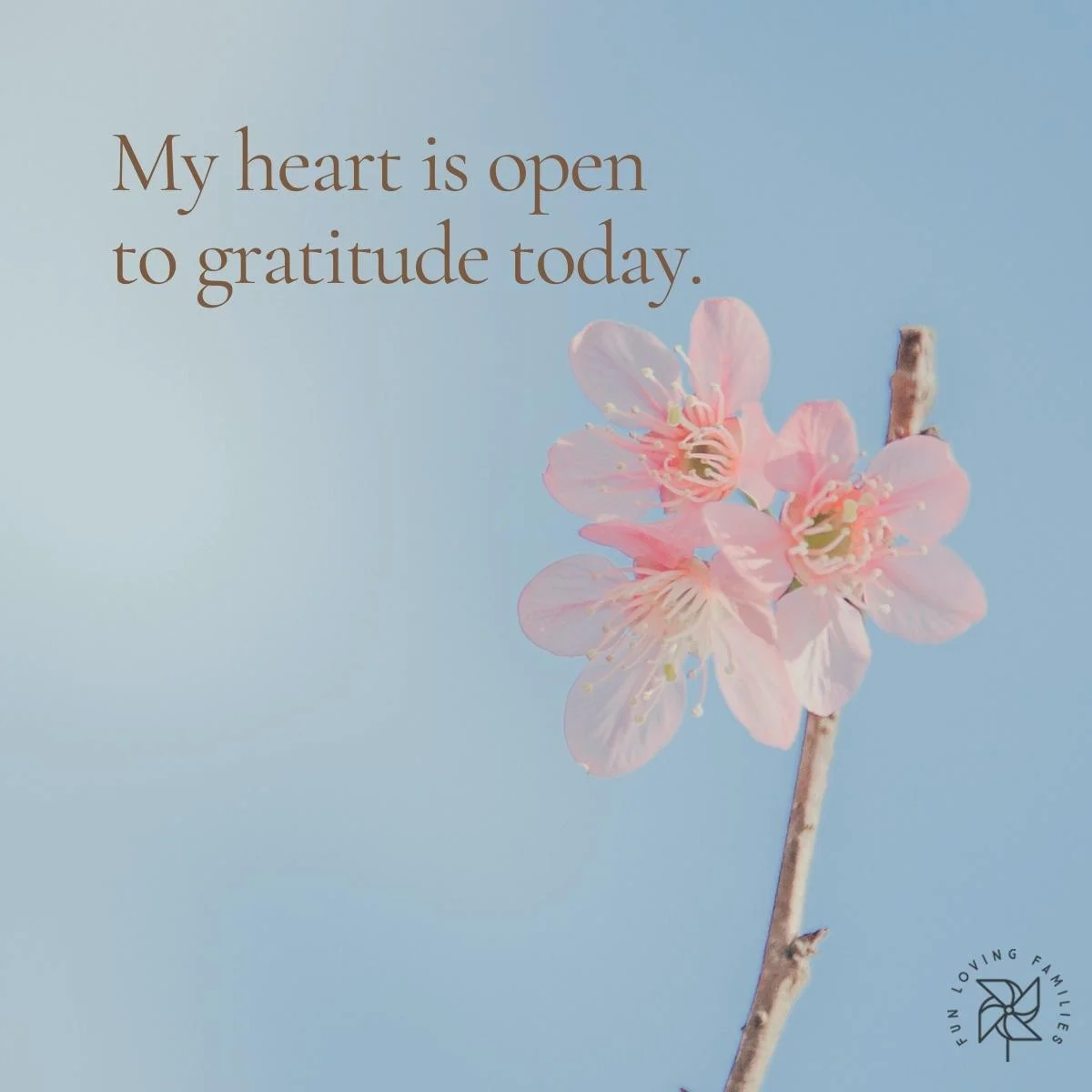 10. My heart is open to gratitude today.
11. I am so thankful to see another beautiful day.
12. I have so much in my life to be grateful for.
13. I am very lucky.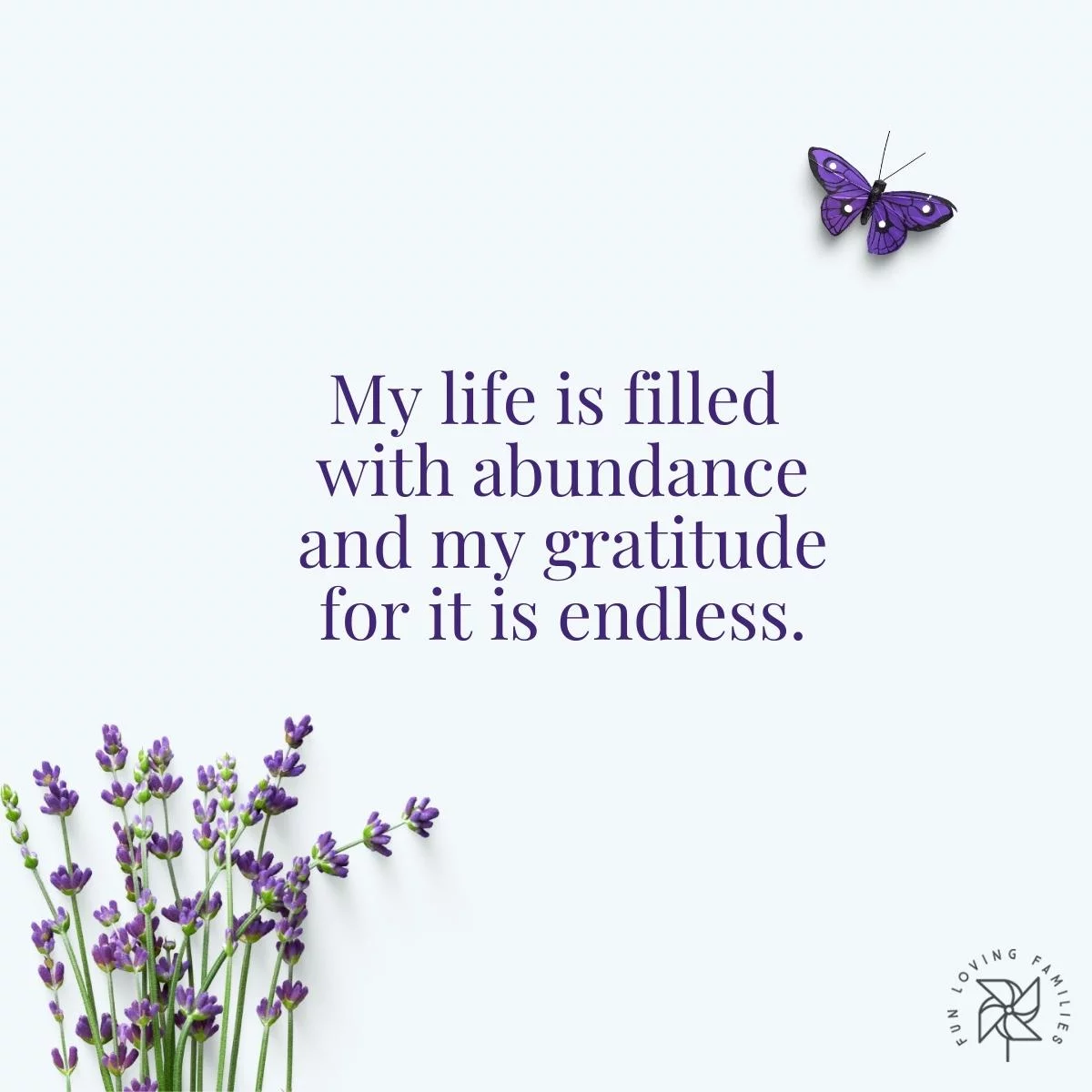 14. My life is filled with abundance and my gratitude for it is endless.
Gratitude for the People and Relationships in Your Life
Now, one of the aspects of life that makes it truly beautiful is the relationships we hold close. So, let's affirm some gratitude for these with the list below.
17. I am so grateful for my friends and family.
18. The people in my life fulfill my needs.
19. I am grateful to keep such an enriching company.
20. Thank you for the relationships I have cultivated.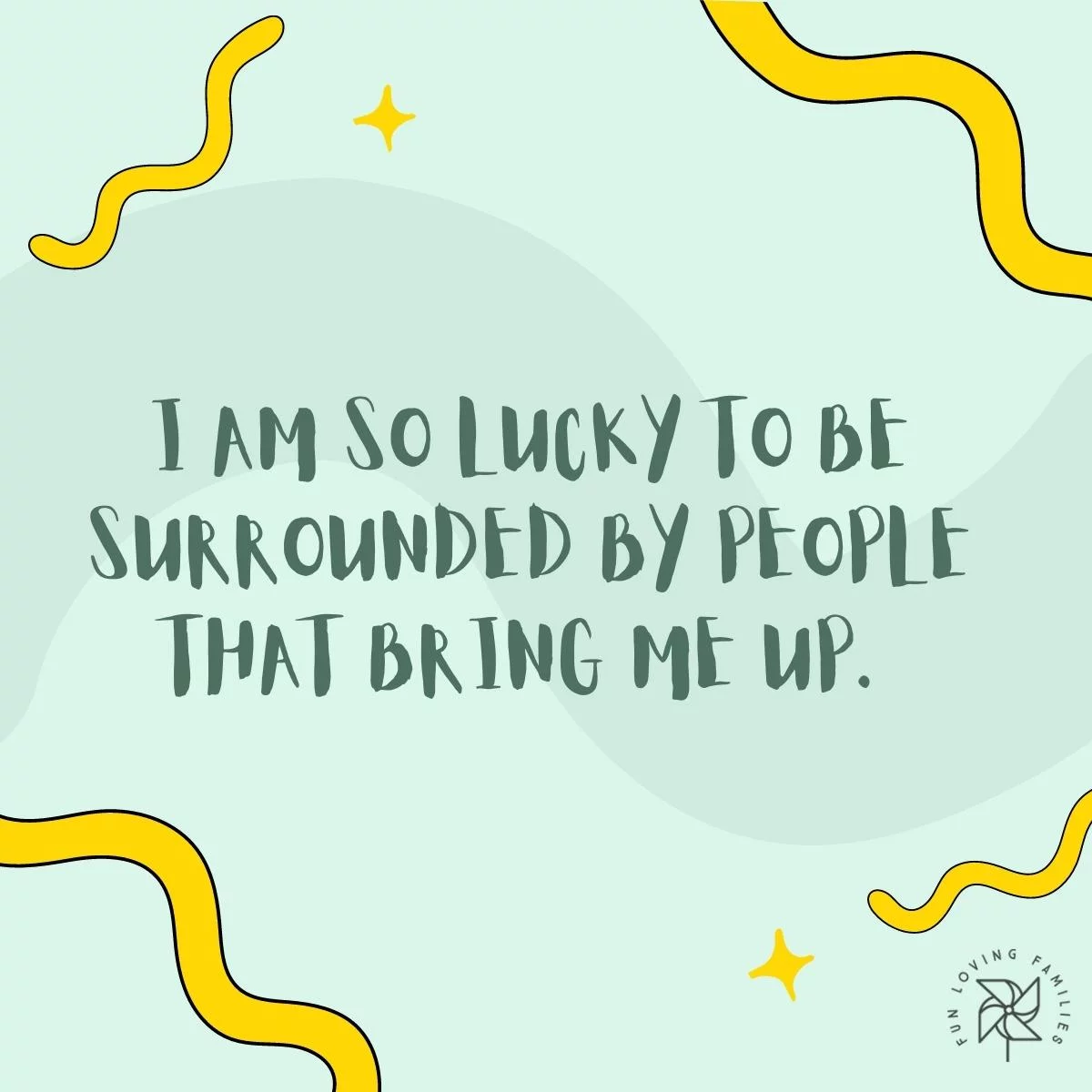 21. I am so lucky to be surrounded by people that bring me up.
22. I am so thankful for the positive energy my loved ones bring me.
23. I am a beacon of light for my friends, and they are for me.
24. I deserve the love I receive.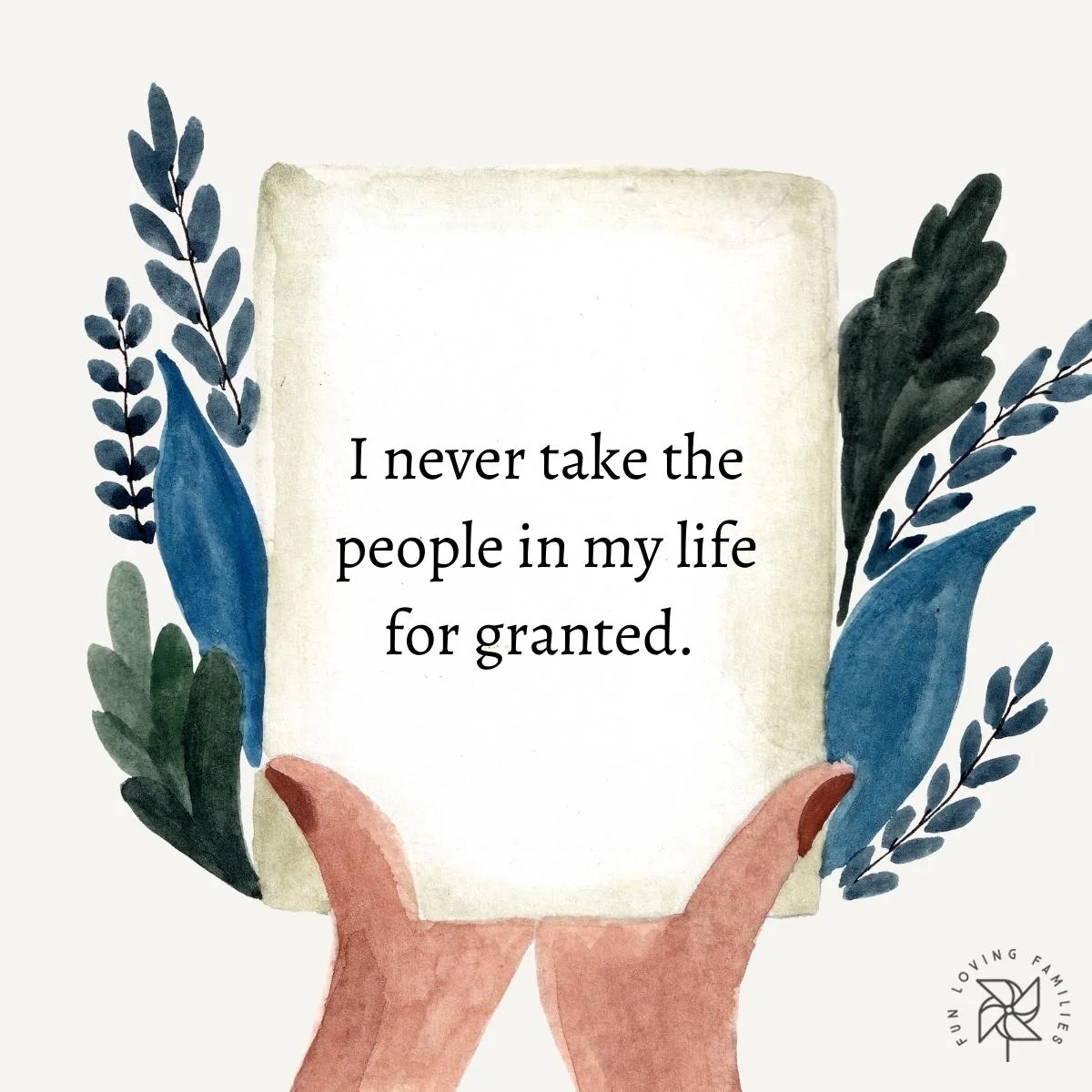 25. I never take the people in my life for granted.
26. I receive the love I give.
27. I sincerely appreciate all the people I have chosen to surround myself by.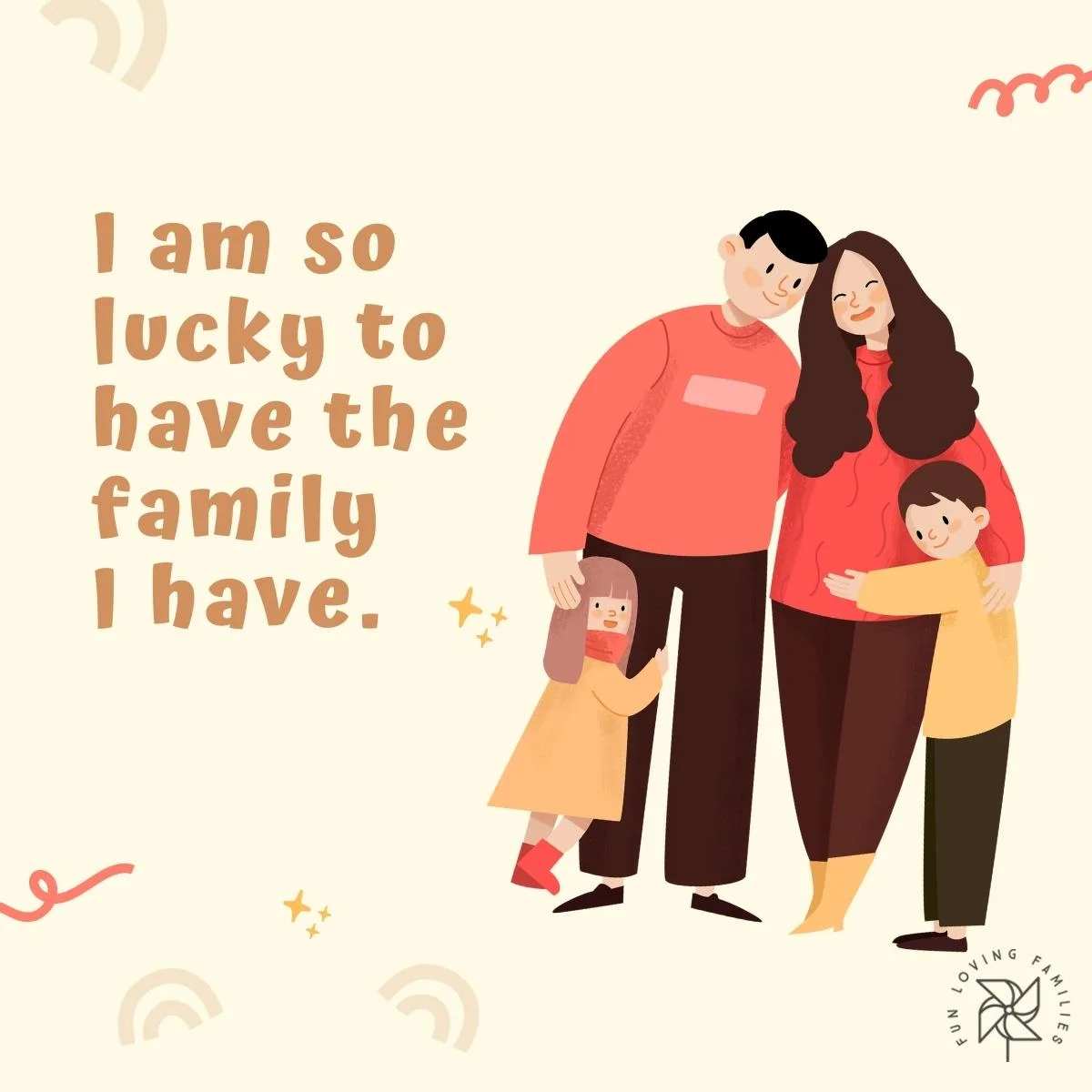 28. I am so lucky to have the family I have.
Gratitude for All That You Are
Now, perhaps the most important list of all: gratefulness for you. It can be much easier to find gratitude for the material things in your life or the people you love than it can be for feeling truly grateful for yourself.
It takes some people years of practice to love themselves and even then, it is a constant work-in-progress with some days being noticeably easier than others. However, especially on those days when it feels like you have nothing to be grateful for in yourself, try to dig down deep and find gratitude for the incredible being that you are. The following affirmations will help get you started.
29. I am grateful for my past as it has led me to where I am meant to go.
30. I have so much gratitude for where I am right now.
31. Thank you for blessing me with all that I am.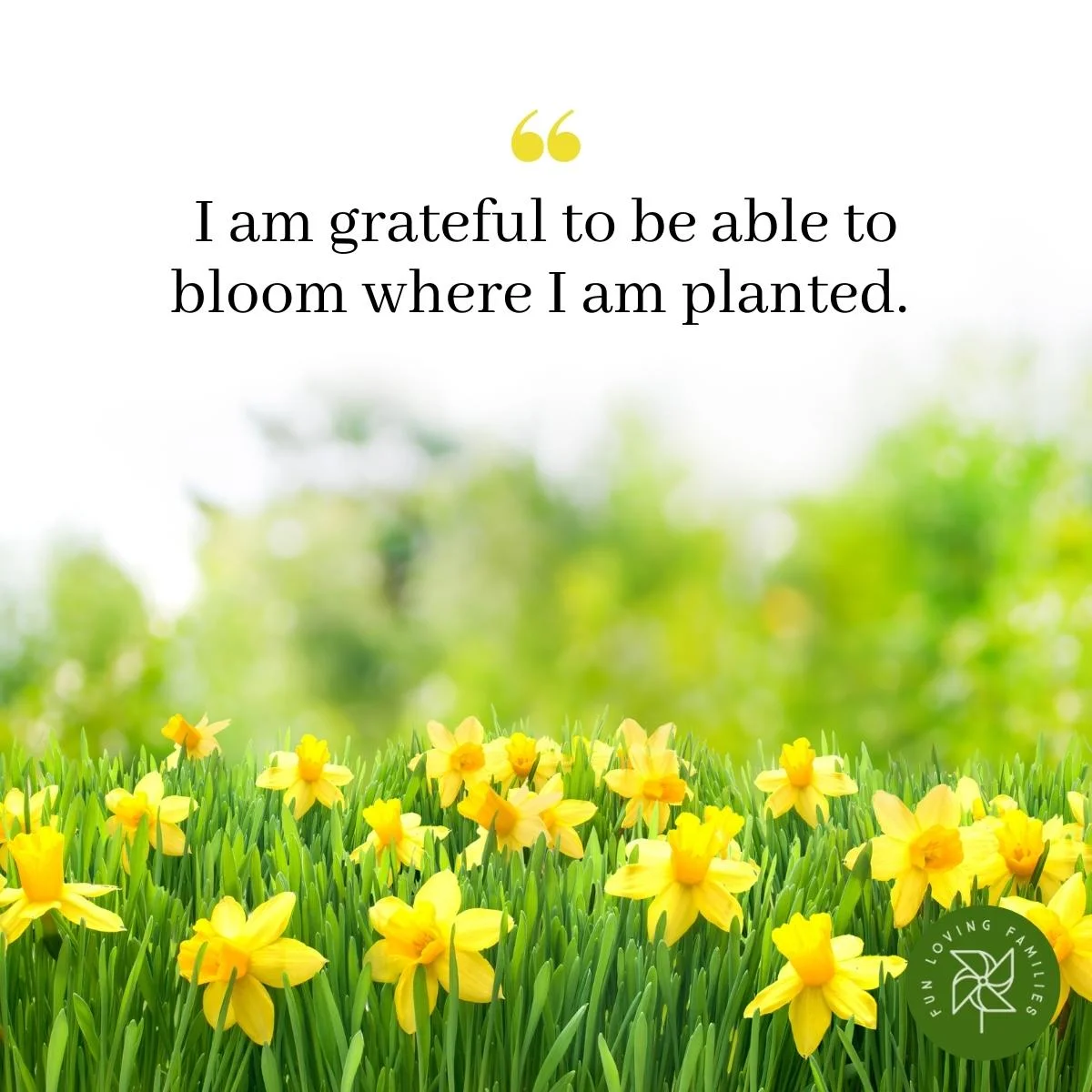 32. I am grateful to be able to bloom where I am planted.
33. I am so grateful to be me.
34. I never take myself for granted.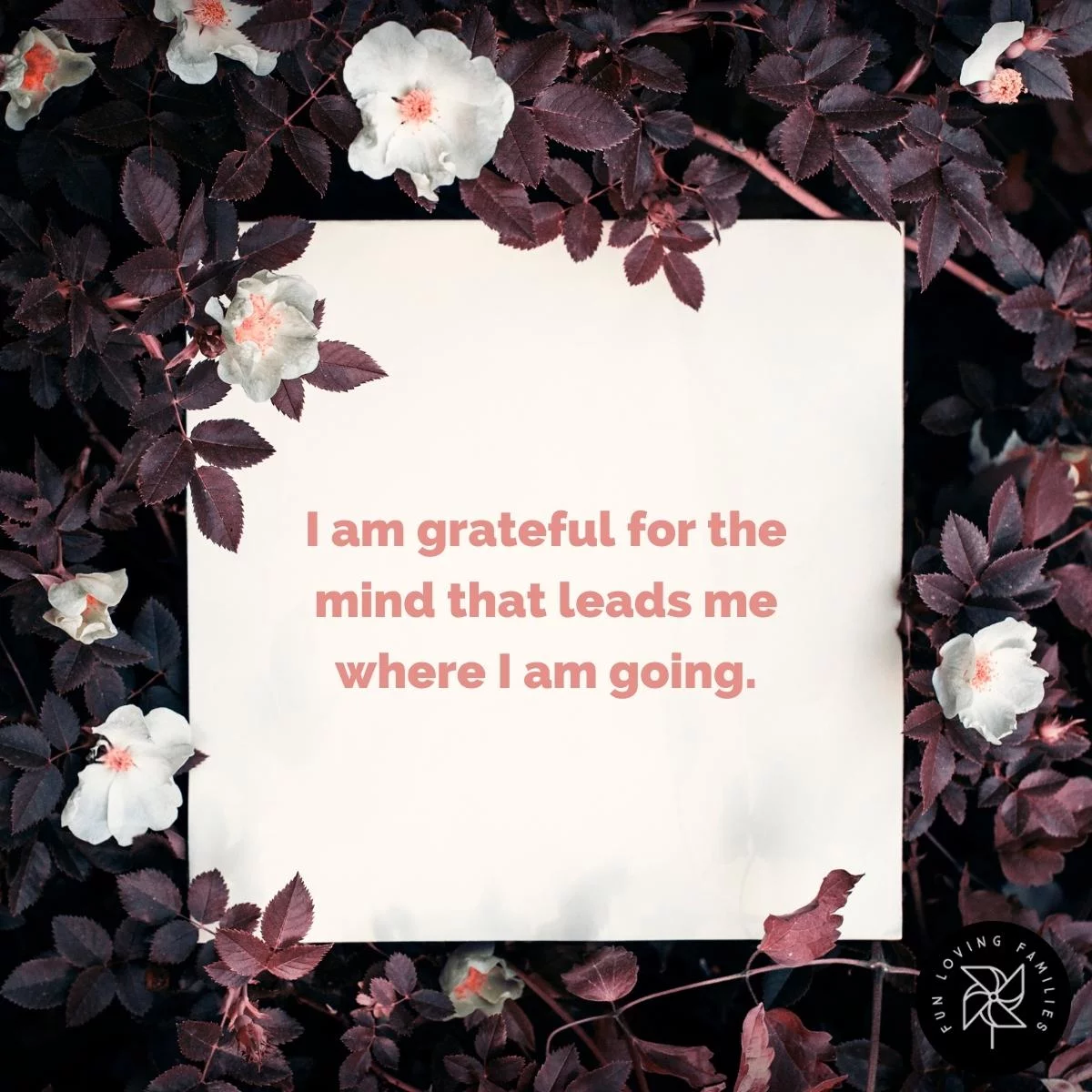 35. I am grateful for the mind that leads me where I am going.
36. I am thankful for the body that carries me through my blessed life.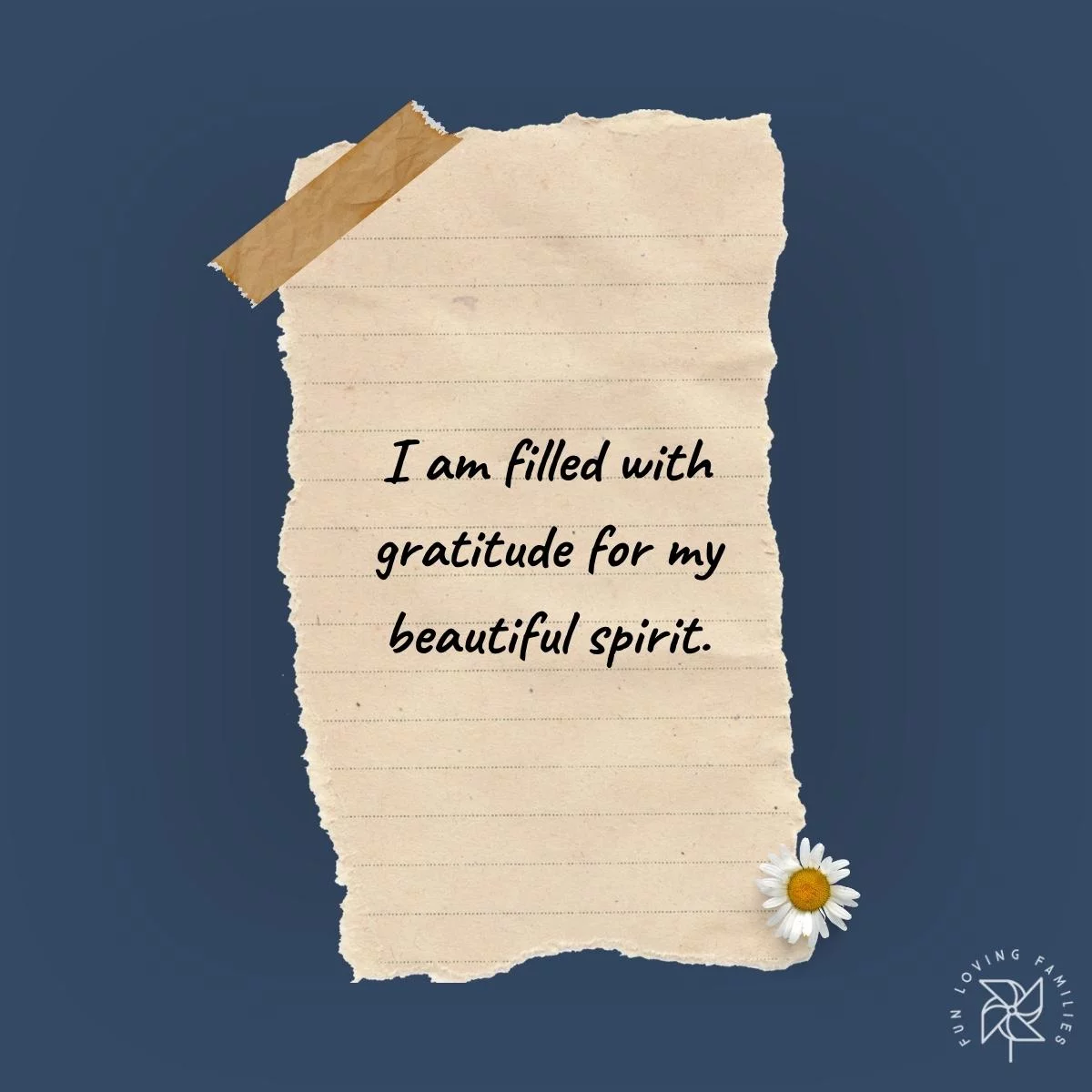 37. I am filled with gratitude for my beautiful spirit.
38. I have been very blessed in my life.
39. I am grateful for all the things that make me feel good.
40. Life's challenges are opportunities for growth and I'm really thankful for them.
Final Thoughts
Whether you are happier taking one list at a time or just a couple of the ones that resonate with you most, listen to what works best for you. Manifest gratitude and you will find yourself starting to appreciate all that you have and all that you are.
Similar Posts: