Building a positive relationship with your body is no walk in the park. But they say the hardest things in life are those most rewarding and that holds true with how you feel about your body.
Loving our body does not depend on how it looks or feels, it comes from within. Thus, affirmations can help certain thoughts manifest and start one on their journey with self-love, self-acceptance, and self-compassion which does not exclude the body.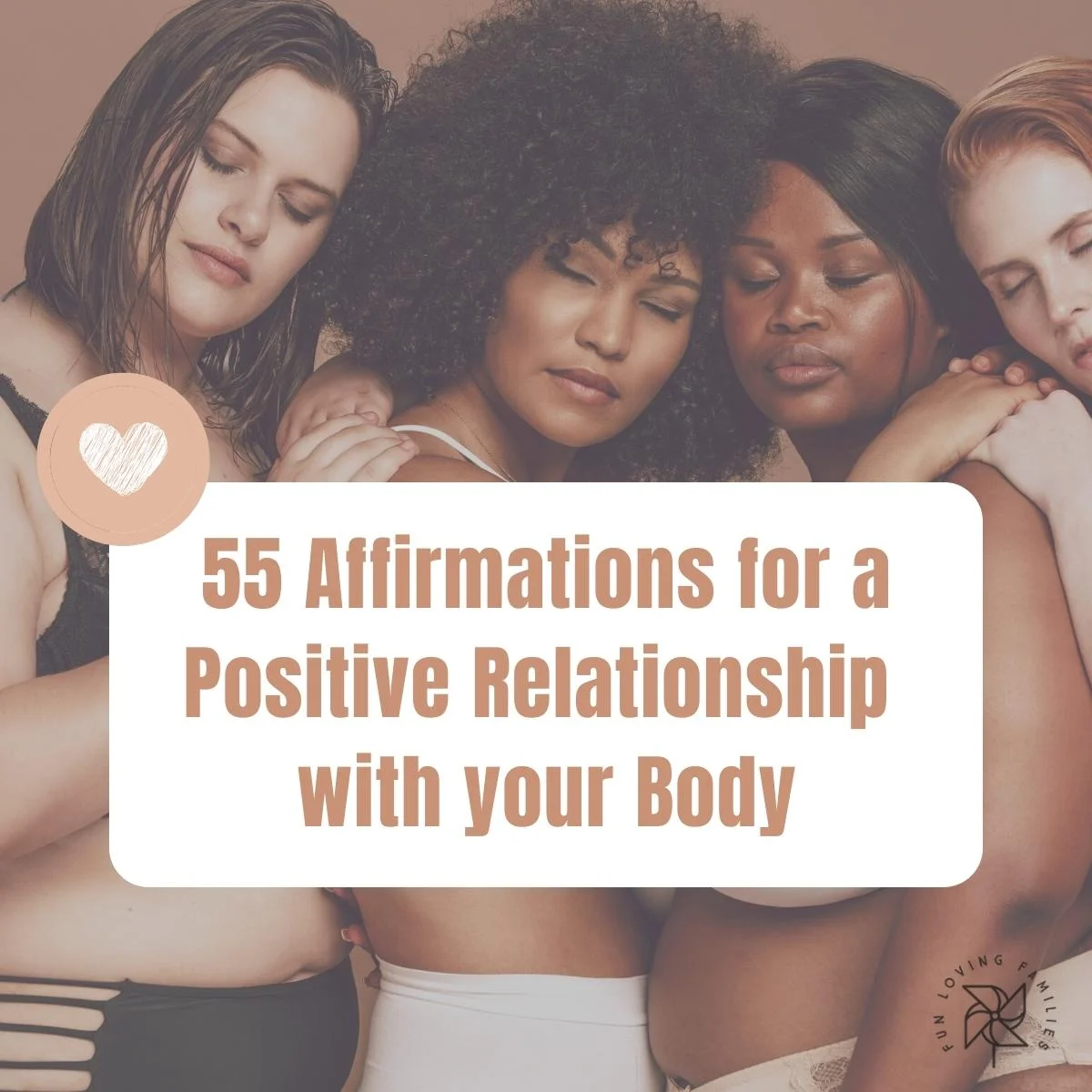 Sometimes we forget that our mind, spirit, and body are one and we imagine our body as a separate entity from our thoughts and feelings. Establishing and nourishing a mind-body connection is essential to building a positive relationship with your body. The following affirmations are designed to cultivate this connection and strengthen your bond with your body.
Choose the ones that resonate most with you or give them all a try to see. The most important part of affirming is to speak the phrases with power and to allow them to manifest within you. We recommend looking into a mirror while saying them because you are focusing on your body, but any method will do.
Body Positive Affirmations
1. My body deserves my love.
2. I am complete exactly as I am.
3. I do not need to change anything about my body to love it.
4. My body is a vessel for abundance.
5. My body is a gift for which I am eternally grateful.
6. My body will change throughout my life because it is growing and learning with me.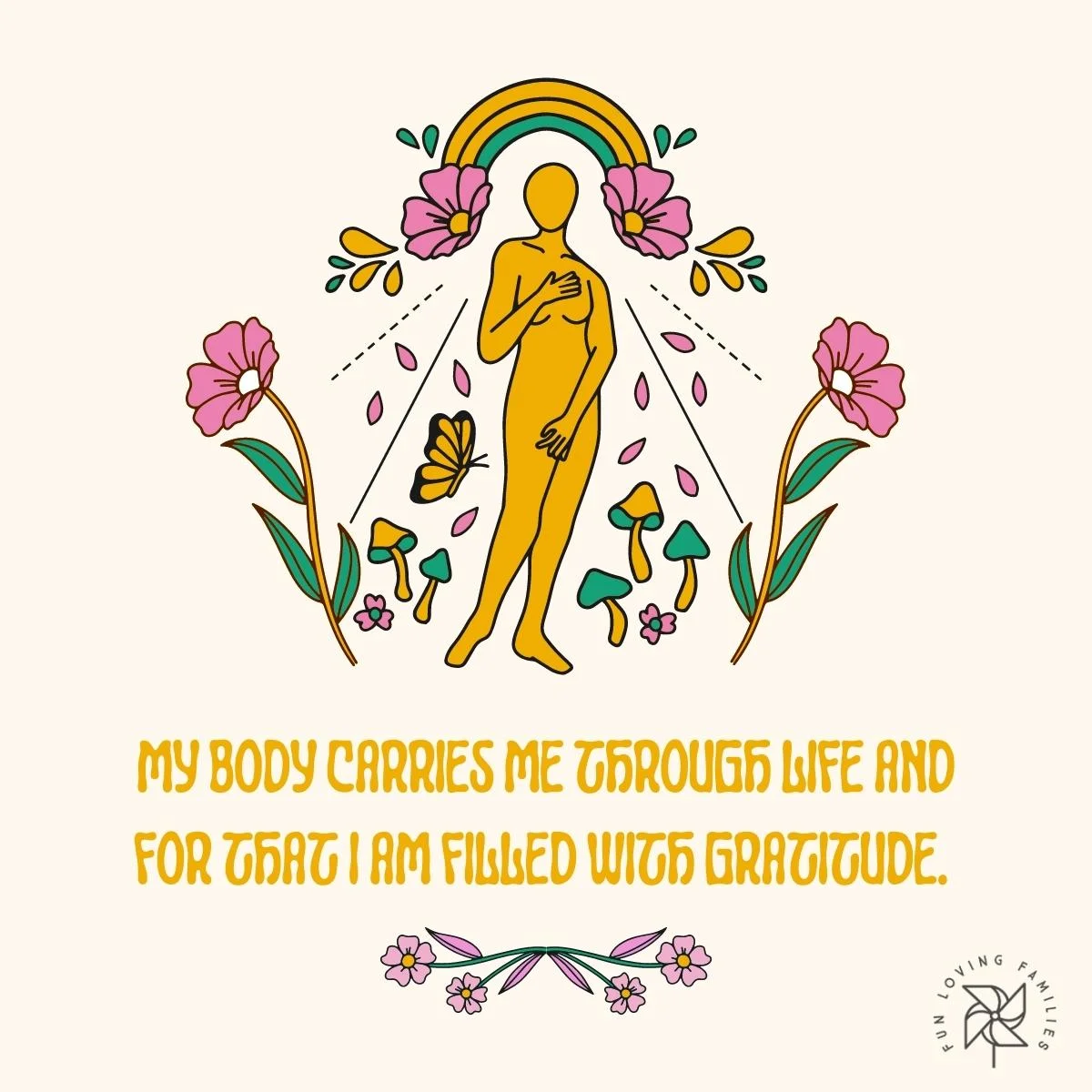 7. My body carries me through life and for that I am filled with gratitude.
8. My body, my mind, and my spirit are one.
9. I choose to nourish my body with nutritious foods.
10. My body is worthy of love from me and from others.
11. I do not need to punish my body for anything.
12. My body is incredible.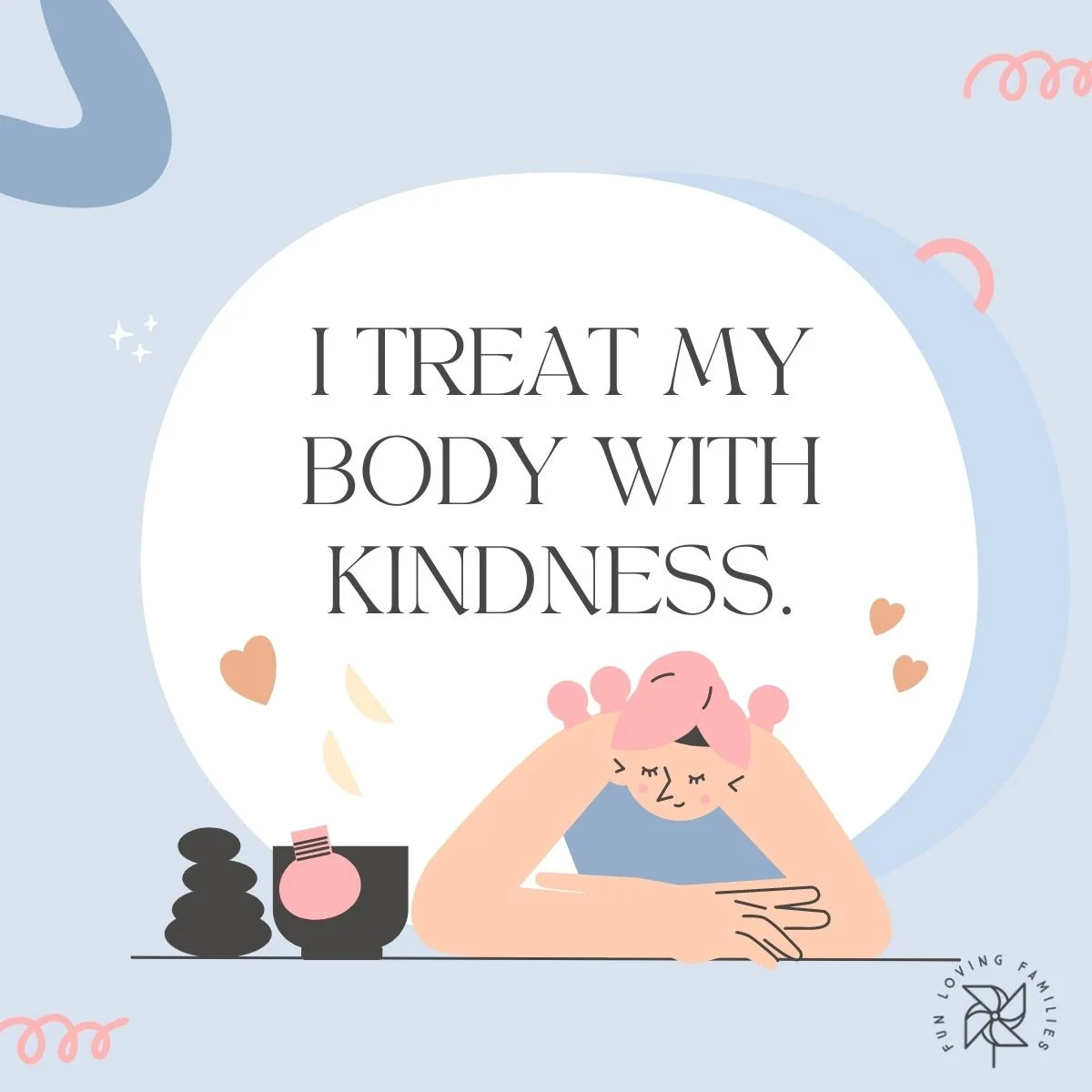 13. I treat my body with kindness.
14. My body is doing millions of things all at once to function and that is miraculous.
15. My positive journey with my body begins now.
16. I love looking in the mirror.
17. I am proud to look in the mirror.
18. My body is my foundation.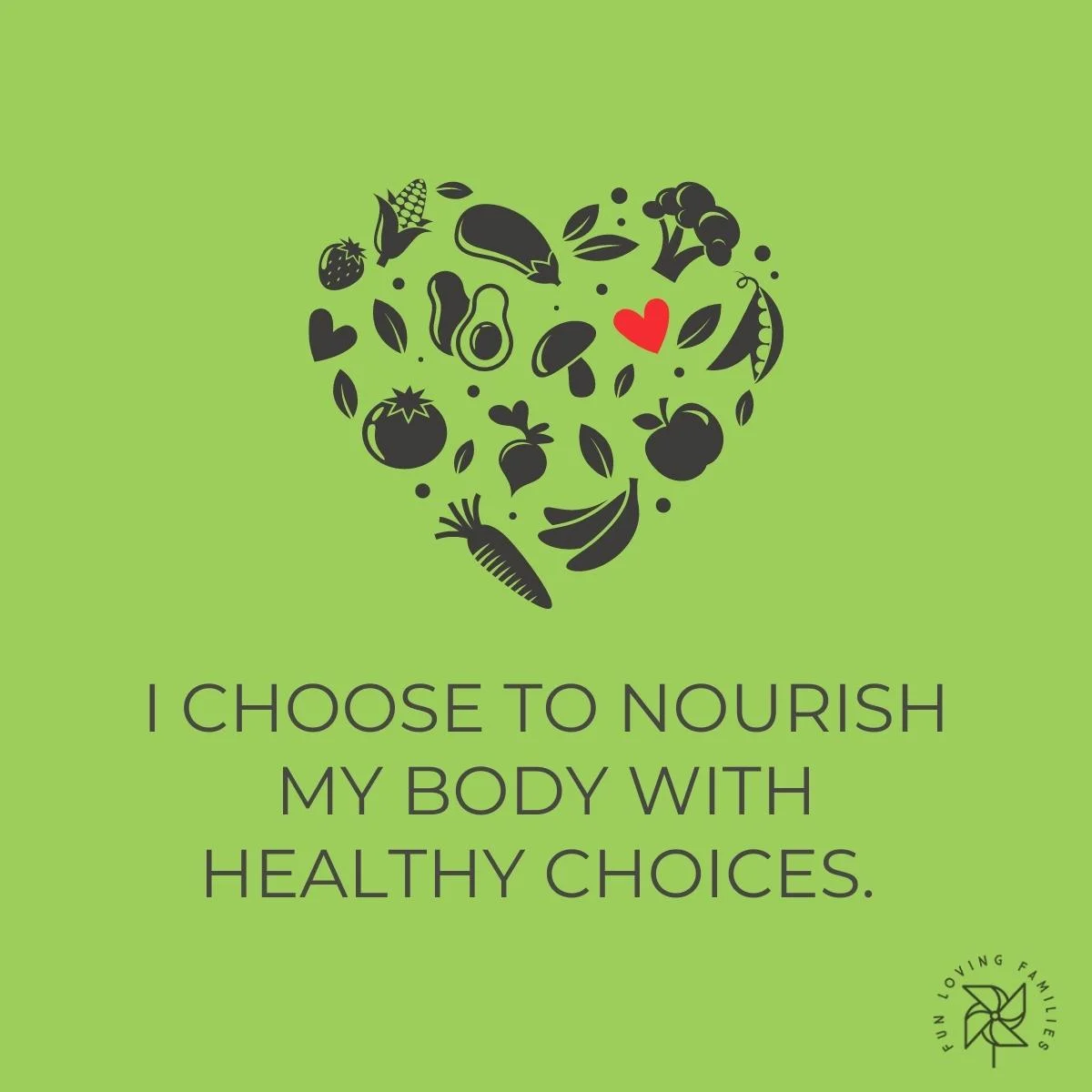 19. I choose to nourish my body with healthy choices.
20. My body grounds me.
21. I believe in the power and strength of my incredible body.
22. My body will take me where I need to be.
23. I trust my body.
24. My body has brought me to where I am currently and will take me where I need to go.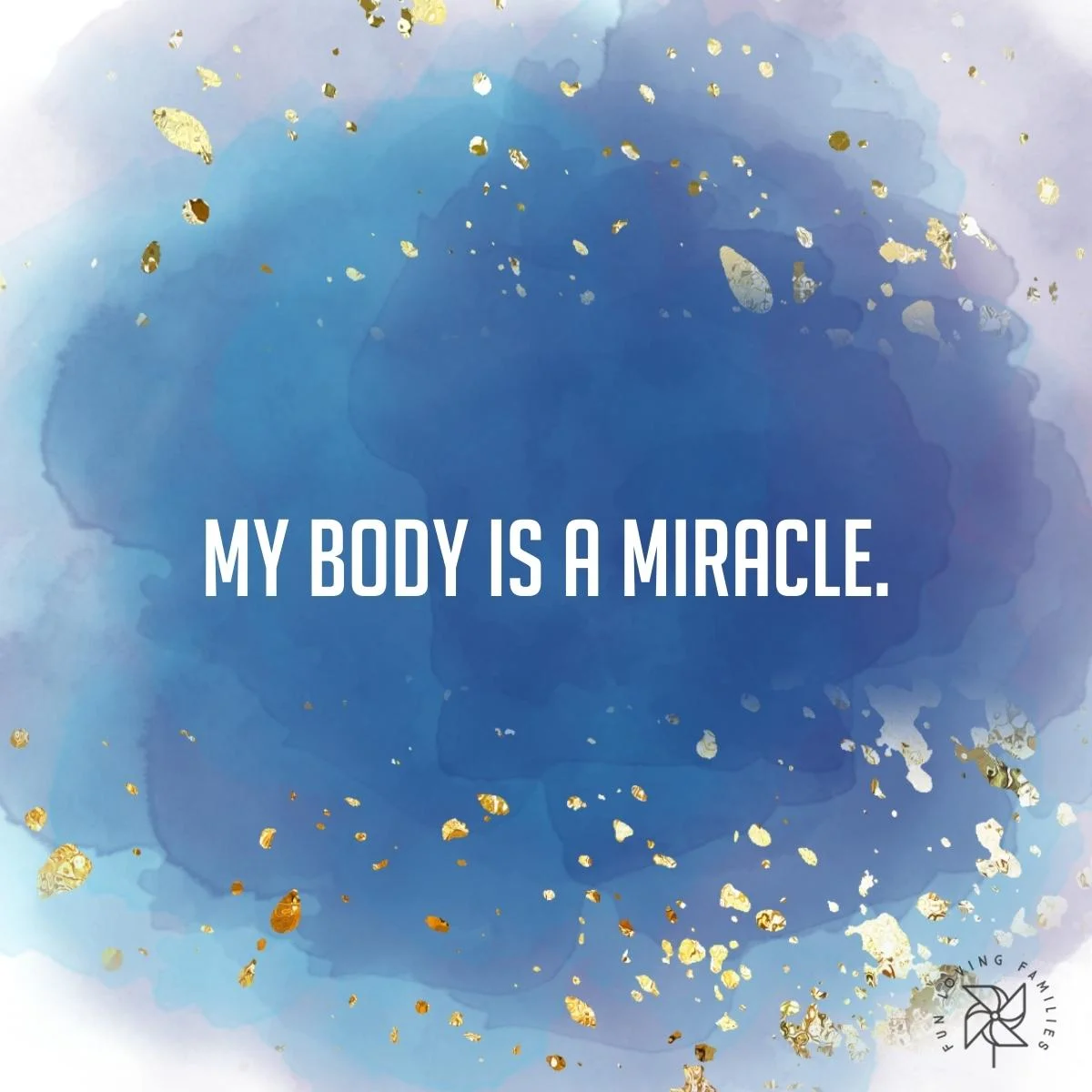 25. My body is a miracle.
26. Body, I promise to love you and to cherish you for all that you are.
27. My body does not need to change for me to embrace it.
28. I am blessed with a healthy and strong body.
29. A number on a scale does not indicate my health.
30. A number on a scale does not determine whether or not I should love my body.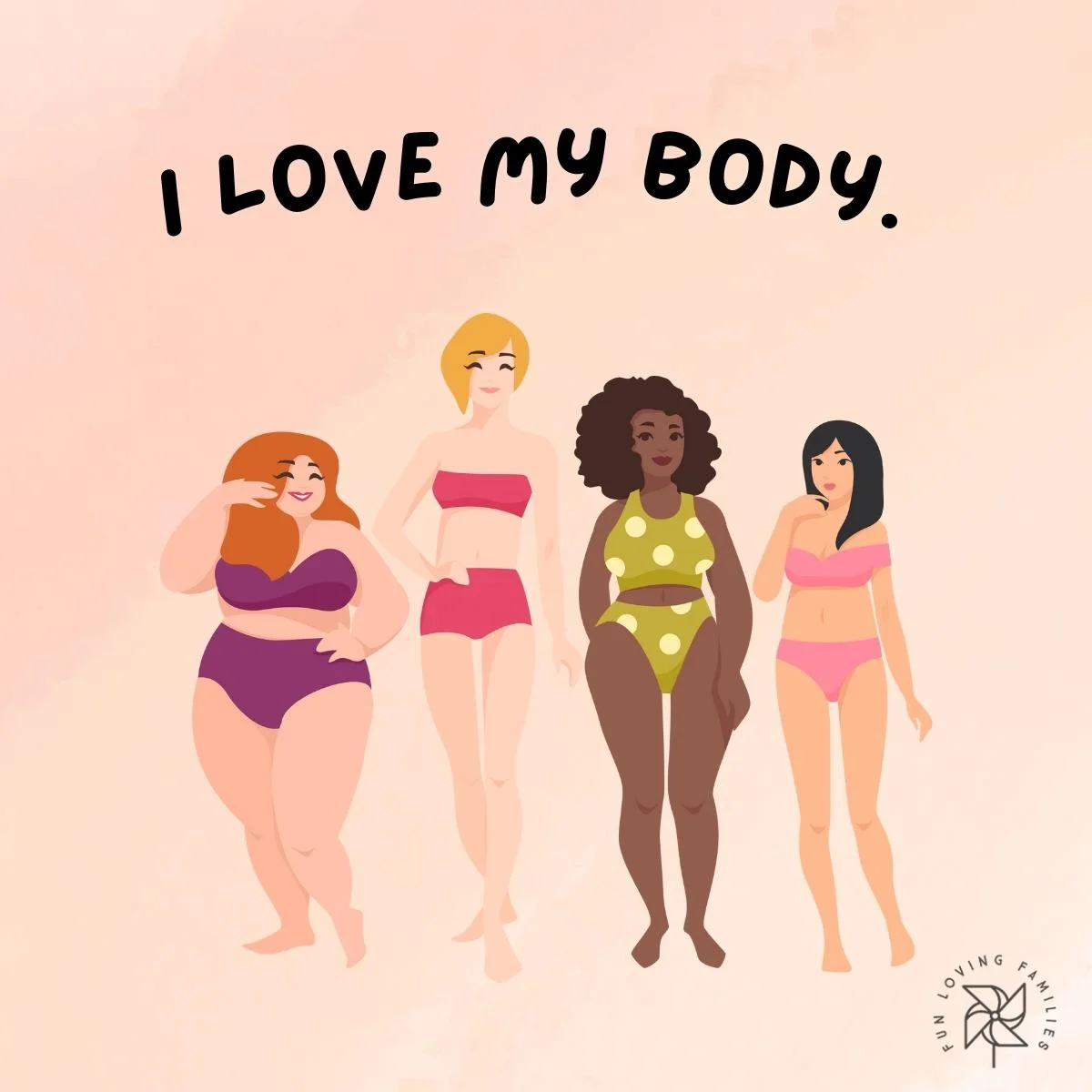 31. I love my body.
32. My clothes will fit me differently throughout my life because my body is constantly growing and evolving.
33. My clothing size does not dictate my love for my body.
34. Taking care of myself feels good.
35. My body rewards me when I take care of it.
36. I know what my body needs more than anyone else.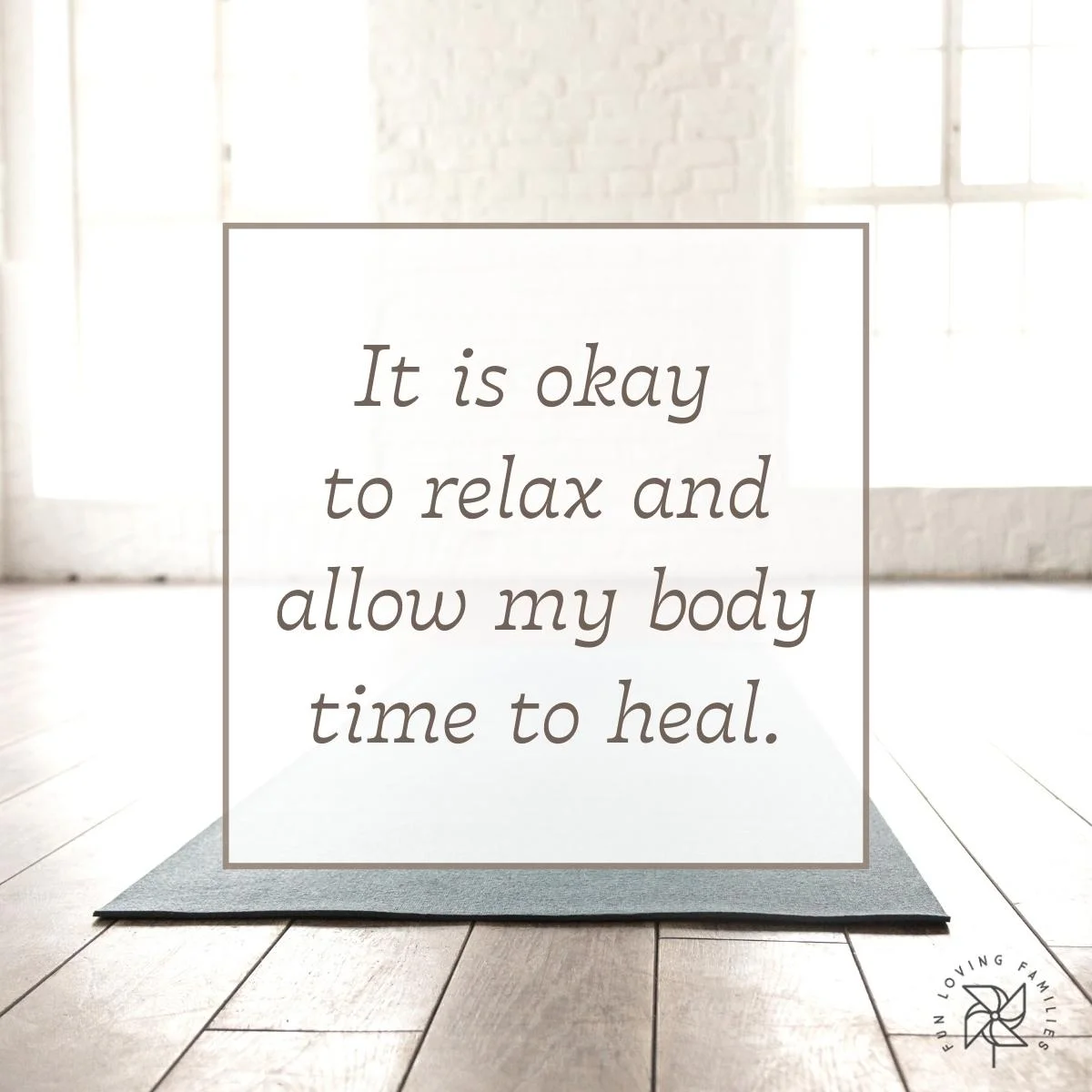 37. It is okay to relax and allow my body time to heal.
38. No diet or exercise routine will give me the tools to love my body, my love begins from within, and it begins now.
39. I trust my body.
40. When my body feels good, I feel good.
41. How my body appears to others does not define who I am or what I do.
42. My body requires rest to flourish.
43. How I feel about myself is all that matters, and I choose to love myself.
44. Simply existing is enough.
45. I respect my body.
46. I listen to what my body needs and when it needs it.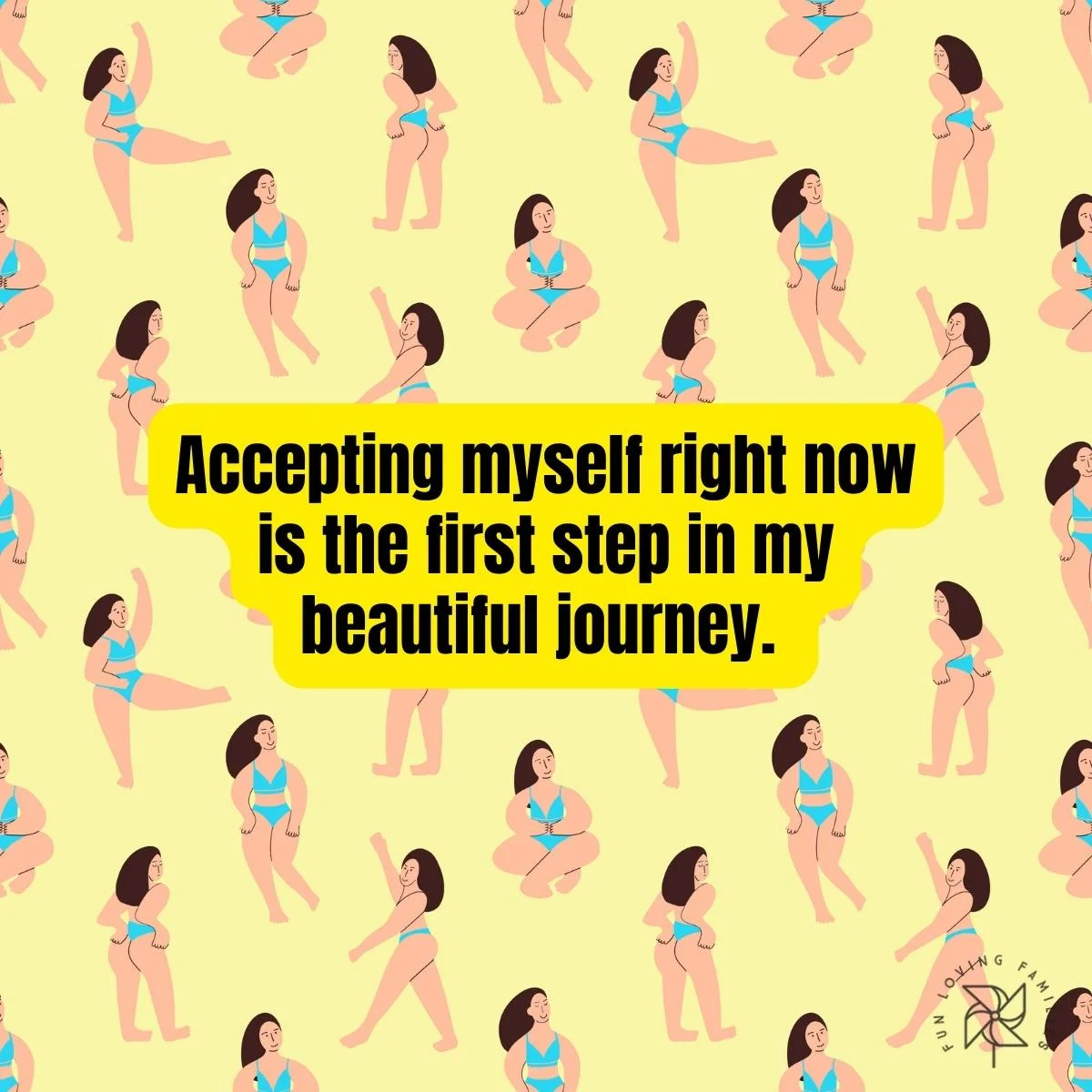 47. Accepting myself right now is the first step in my beautiful journey.
48. If my body needs rest, I shall rest.
49. If my body needs food, I shall feed it.
50. I know my body and I understand my body.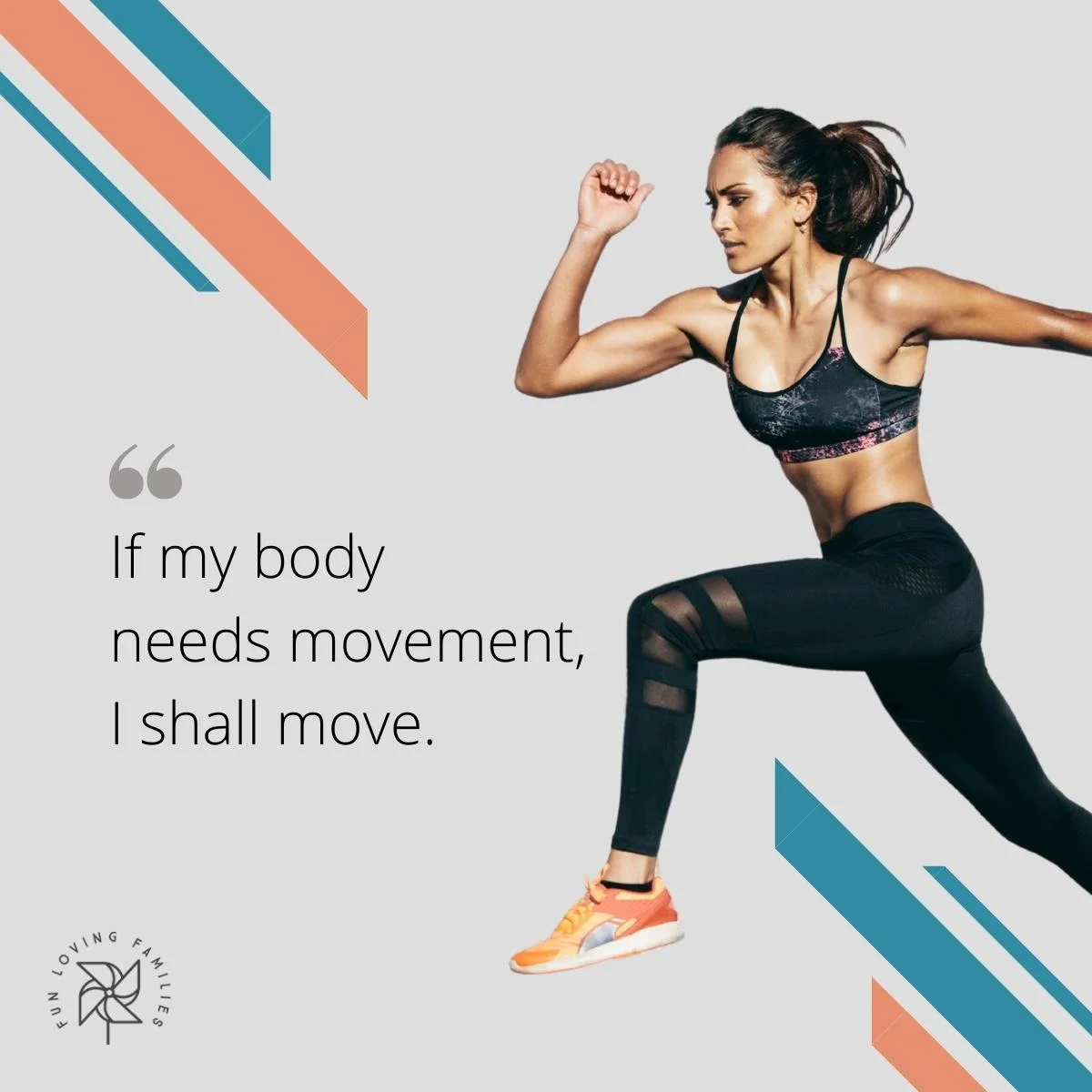 51. If my body needs movement, I shall move.
52. If my body needs hydration, I shall drink water.
53. No one can tell me what is good for my body except me.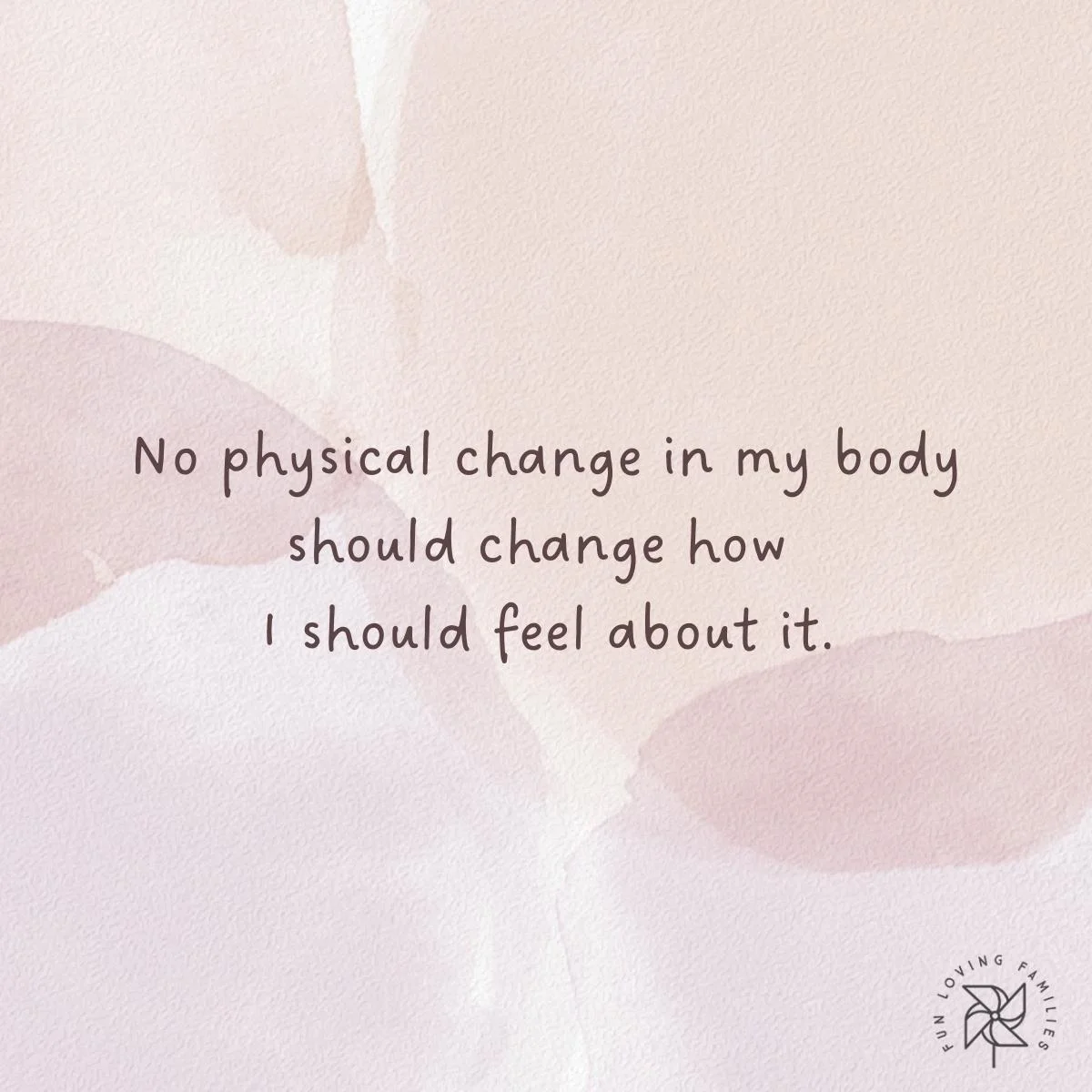 54. No physical change in my body determines how I should feel about it.
55. I feel good about my body.
Final Thoughts
We hope these body-positive affirmations will help you learn to love your body as it is at this very moment. Remember, your relationship with your body does not depend on external factors, it starts and flourishes from within.
Similar Posts: