Here are 16 Quick and easy Instant Pot dinners for busy weeknights that will save your sanity and give you more time with your family. Less than 5 minutes prep-time to get ingredients in the Instant Pot.
Easy peasy and done.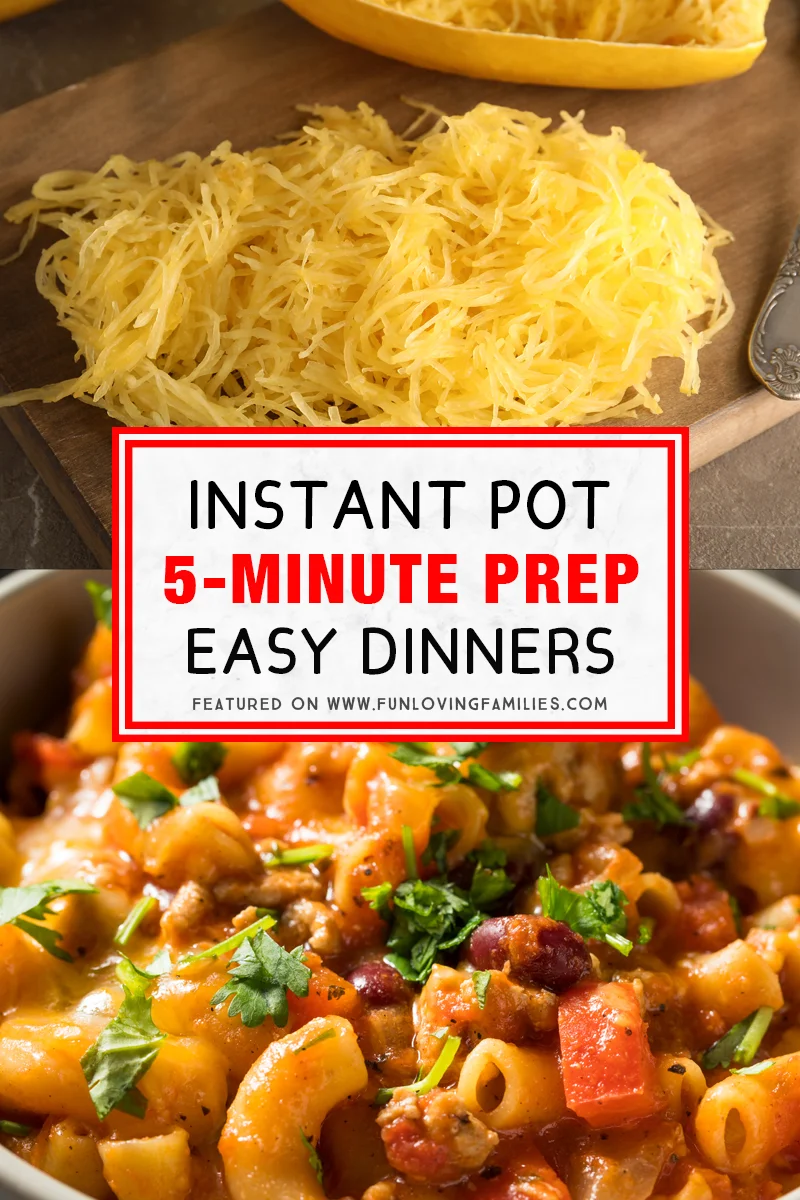 ---
5-Minute Prep Easy Instant Pot Recipes that Will Make Dinnertime a Breeze
Love easy Instant Pot recipes? You'll love these dinner ideas that have minimal prep and many can be completely finished cooking in under 30 minutes! There are healthy and not-so-healthy (but delicious!) options on the list.
Tip: Add these items to your grocery list for easy weeknight meal prep:
-> pre-cut veggies/onions/celery/carrots/bell peppers
-> 1 lb chicken breast cubes
Scroll through the list below and find your new favorites!
Instant Pot Chicken and Pasta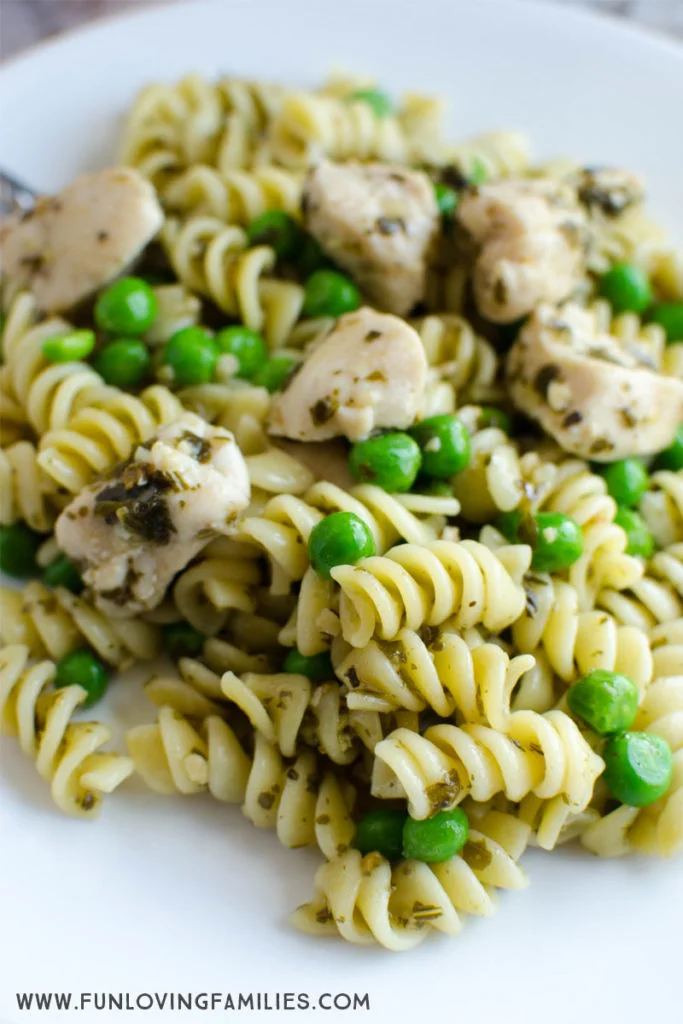 Chicken and pasta is my go-to easy Instant Pot dinner meal. There are endless ways create variety in the basic dish, but my favorite is add-in is pesto and frozen peas. Just make the chicken and your favorite small pasta in your Instant Pot, then stir in the pesto and frozen peas at the end. It's really tasty, and so so easy!
---
Instant Pot Shredded Chicken Breast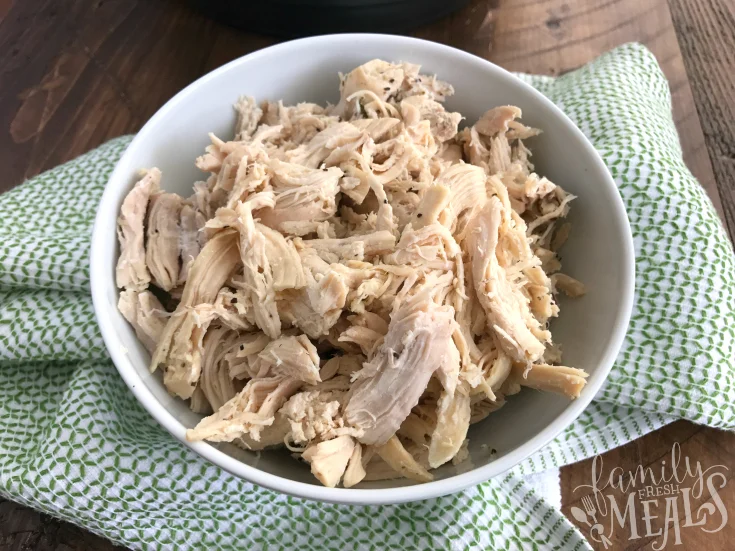 Use this shredded chicken recipe for your Taco Tuesdays for a super-easy weeknight dinner.
---
General Tso's Chicken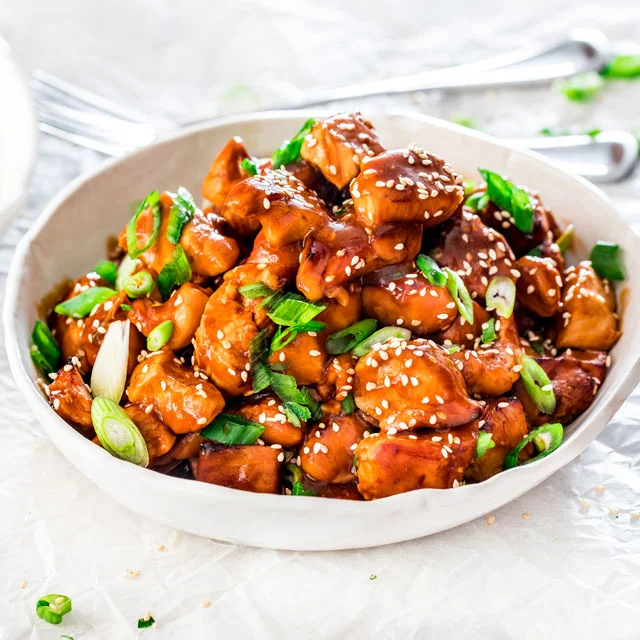 This is a delicious dump-and-go dinner recipe that's packed with flavor. Pre-cut chicken keeps meal prep to a minimum.
---
20 Minute Chicken Burrito Bowls
No tortilla shells? No problem. Eat your burritos in a bowl with this 20 minute dinner recipes. Some reviewers had issues with the rice not cooking all the way, but this seems to be an issue at higher elevations. Recommendations include adding more liquid or using a medium grain rice instead of a long grain rice.
---
Instant Pot Chicken and Lentil Soup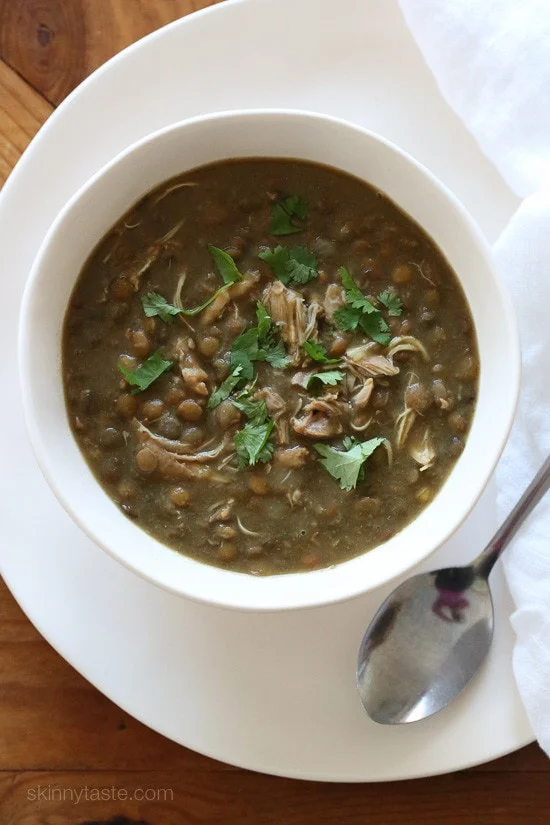 Everyone LOVES this lentil and chicken soup recipe. I love that the chicken thighs can go straight into the pressure cooker without having to be cut up first. Prep includes chopping an onion, chives, and a tomato. After that, all ingredients go in the pot, set to soup for 30 minutes, and enjoy!
---
Easy Instant Pot Spaghetti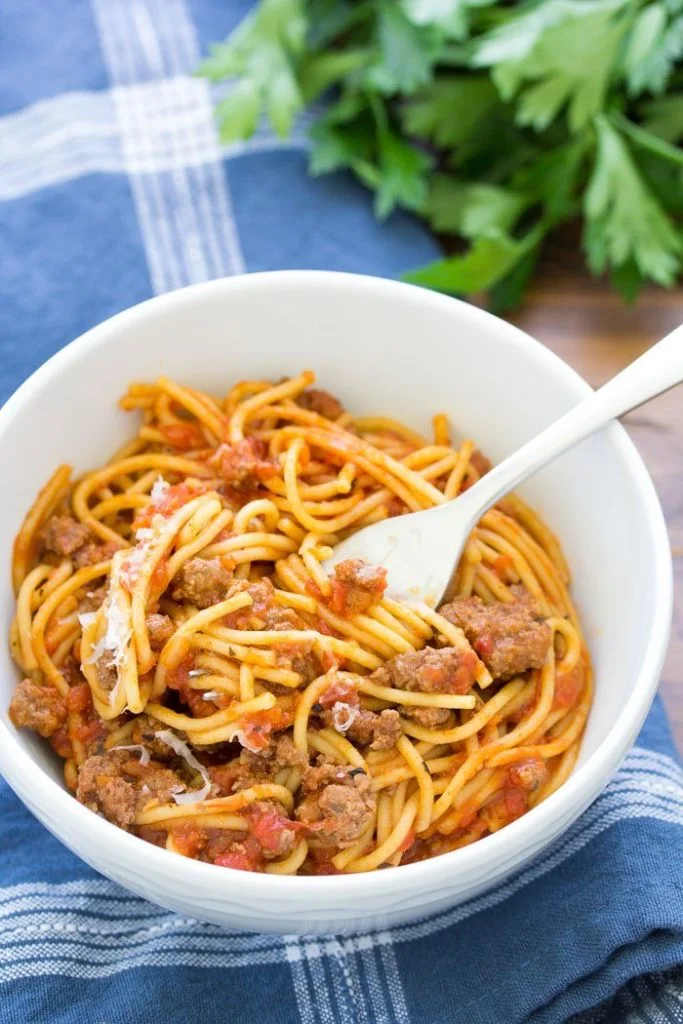 Spaghetti is always a hit, and it's super easy to make in an Instant Pot. Prep includes browning the ground beef in your Instant Pot, then layer the remaining 4 ingredients as indicated on the recipe.
---
Instant Pot Ramen Soup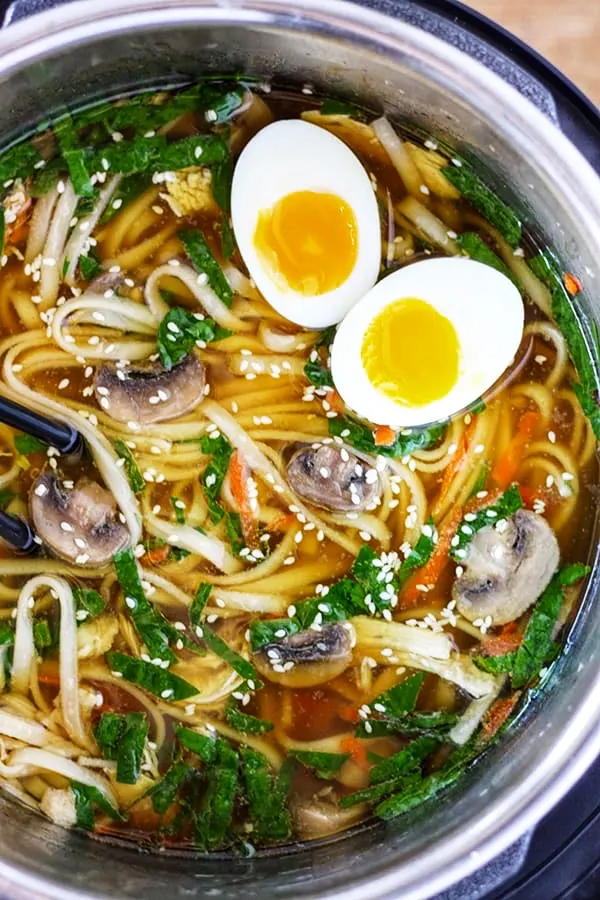 This Ramen soup couldn't be easier. You literally put a whole chicken in your Instant Pot, along with the other ingredients. The only thing I would change to make this recipe go a little faster is to soft boil the eggs in a separate pot while the ramen cooks. As it's written, you soft boil the eggs in the Instant Pot, then take those out and cook the soup. With all the time it takes for the IP to come to pressure, I think it would really drag out the time it takes to make this dish.
---
Instant Pot Chicken Tortilla Soup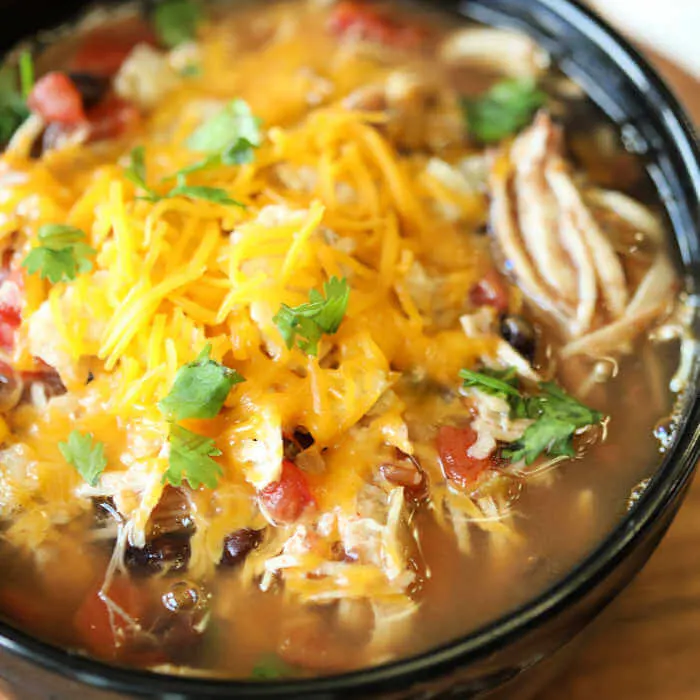 I love how easily this chicken tortilla soup comes together. No need to pre-cut the chicken. Just toss two whole breasts in your Instant Pot with the rest of the ingredients. Prep involves chopping one whole onion.
---
Instant Pot Stroganoff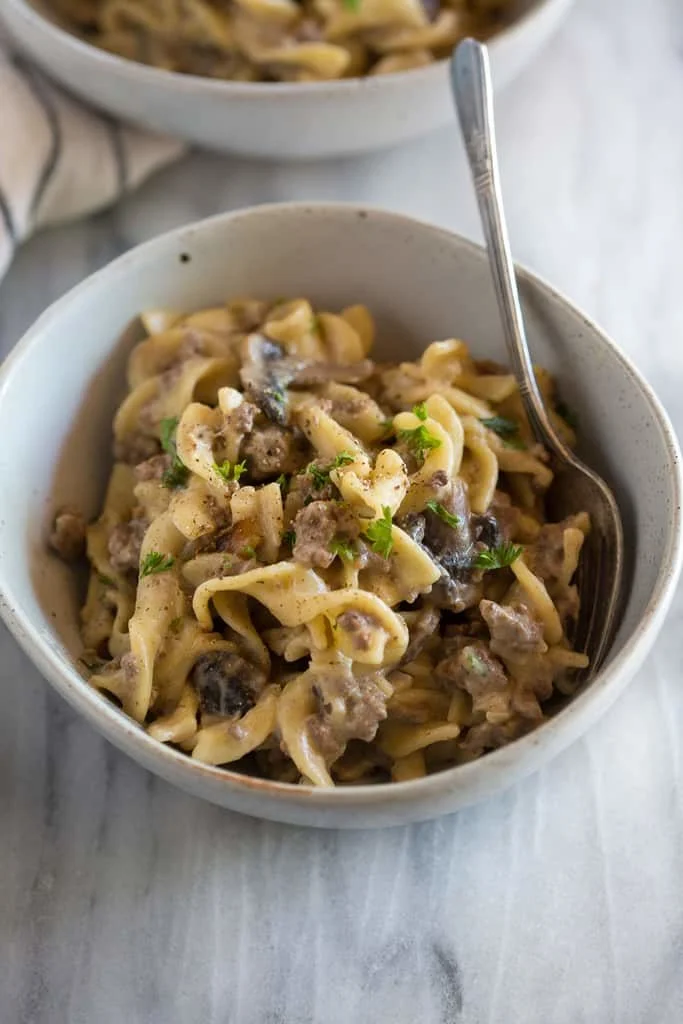 Pick up some pre-chopped onion and pre-sliced mushrooms and you will have almost no prep-work in making this classic family favorite dinner recipe.
---
Instant Pot Quinoa and Veggies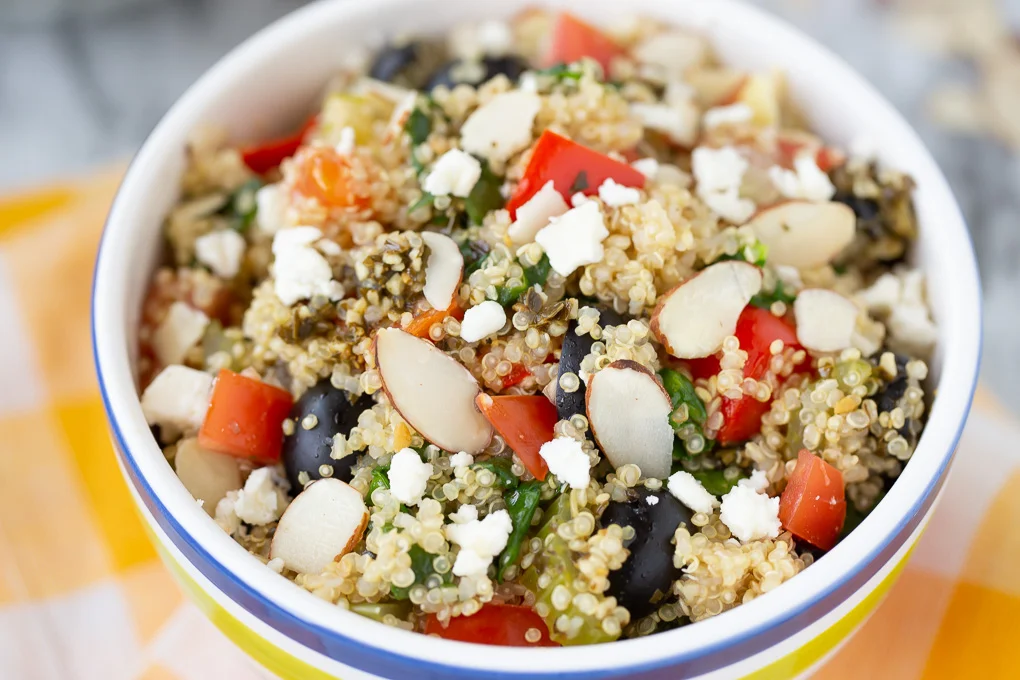 This is one of my favorite recipes on this list because it's so healthy, and you can make it to suit whatever your tastes are. Add in a few of your favorite veggies to cook with the quinoa then top with some delicious extras and you're set!
---
Instant Pot Chili Mac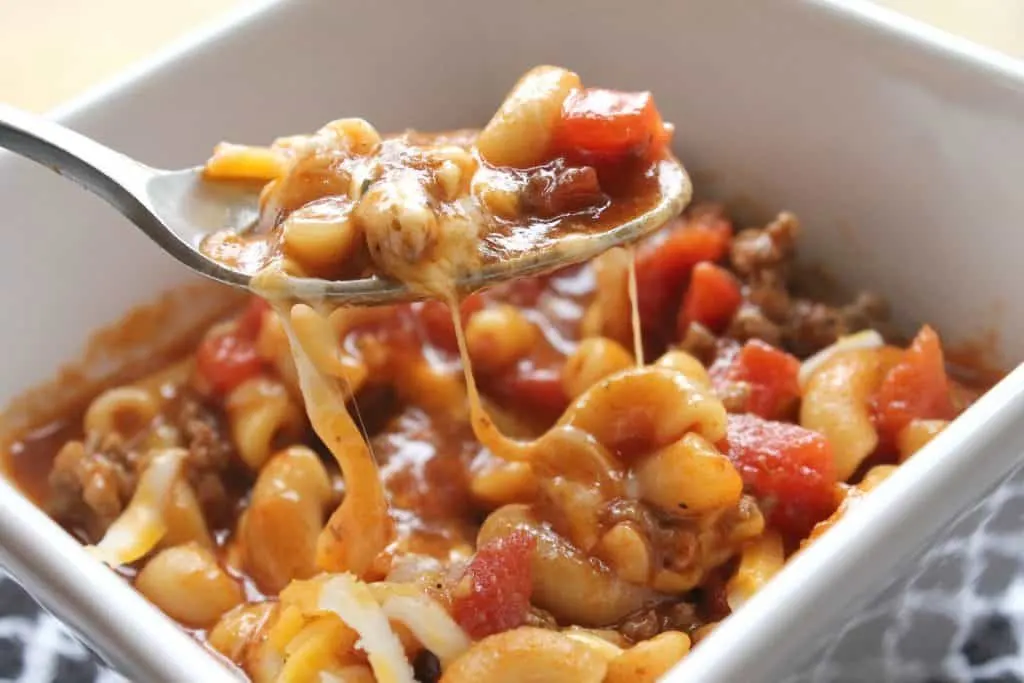 Add this easy weeknight favorite to your weekly dinner rotation. It's easy comfort food that the kids will love.
---
Instant Pot Cheesy Quinoa and Broccoli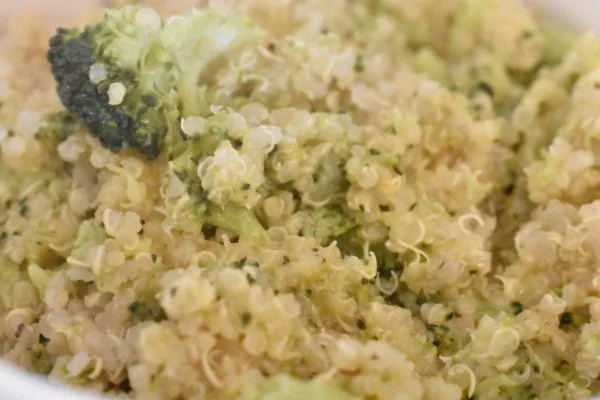 Whether you are a raving quinoa fan or are quinoa-curious, this is the recipe for you. Quinoa itself is gluten-free, a good source of protein, and rich in amino acids (source). Add some cheese and broccoli to the mix and you've got a delicious, simple, kid-friendly dinner in no time.
---
Easy Spaghetti Squash in Your Instant Pot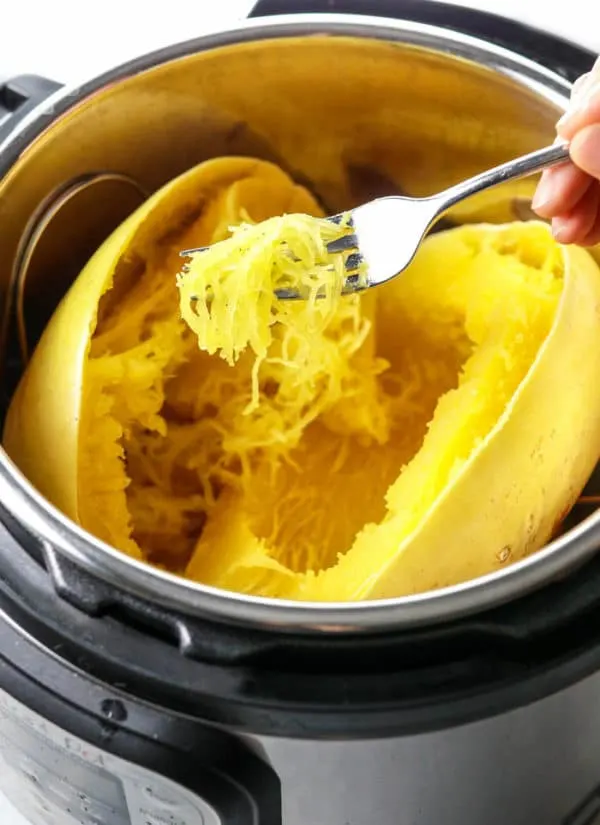 I've been wanting to make spaghetti squash at home for-EVER and I'm so glad I came across these instructions for making it in my Instant Pot. Spaghetti squash is a lot like the shredded chicken. Once it's made, it's a great base for a lot of other recipes. To keep things simple, top the cooked spaghetti squash with marinara and pre-cooked meatballs (you can heat these together on the stove while your spaghetti squash cooks in the IP).
---
Instant Pot Ziti Recipe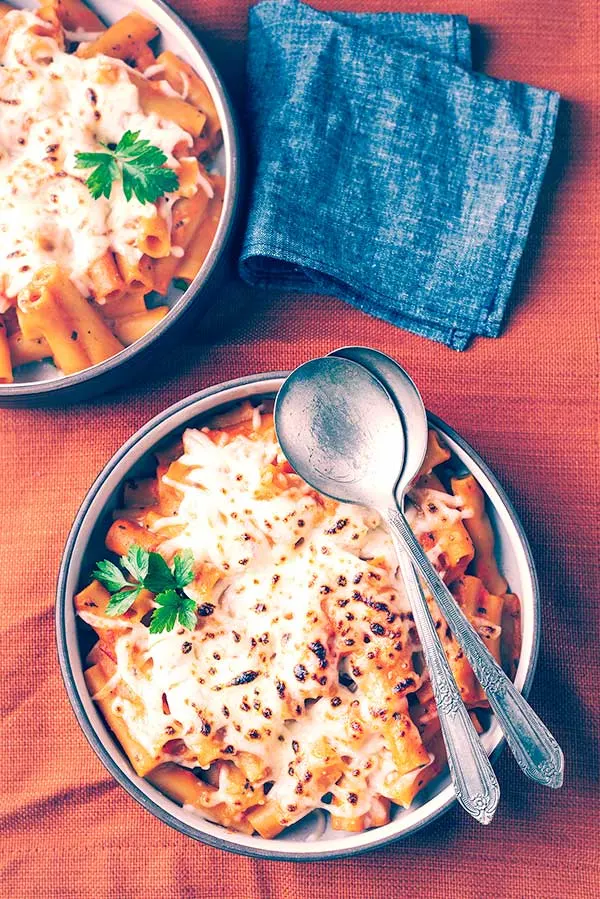 This 5-ingredient ziti recipe is pure cheesy-rich-satisfying comfort food that requires no prep: just add ingredients and push start.
---
Instant Pot Pierogi Casserole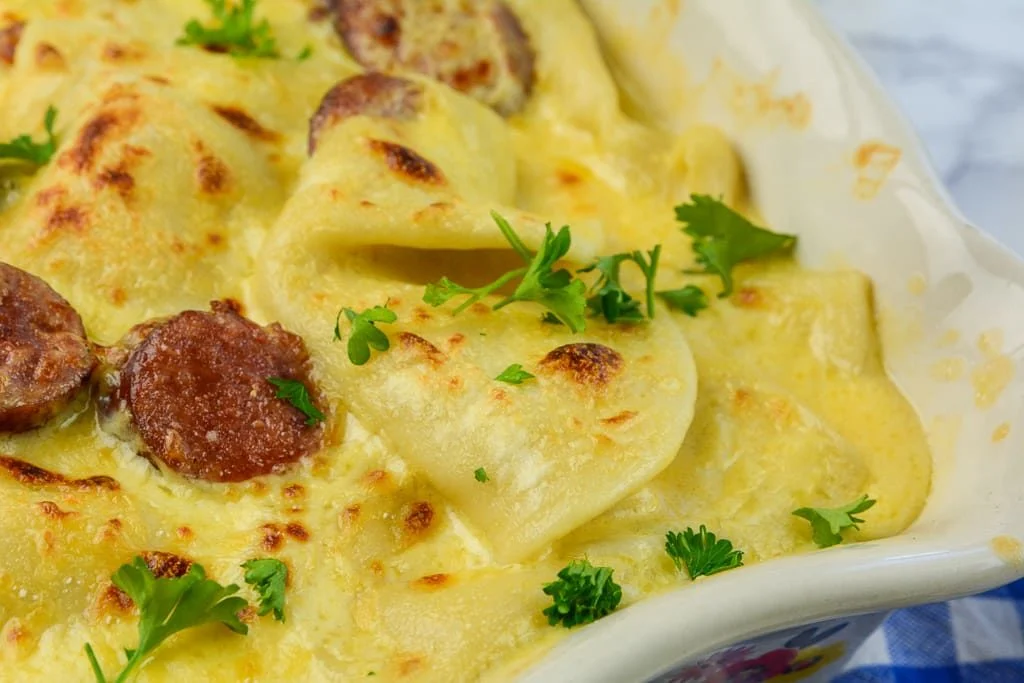 This pierogi casserole is definitely a heavier meal than I usually make, but it's very easy to pull together on a weeknight and is a big hit with the rest of the family. I wouldn't make it every week, but it's perfect for cold winter nights when you want something hearty that will fill everyone up.
---
Instant Pot Chicken Noodle Casserole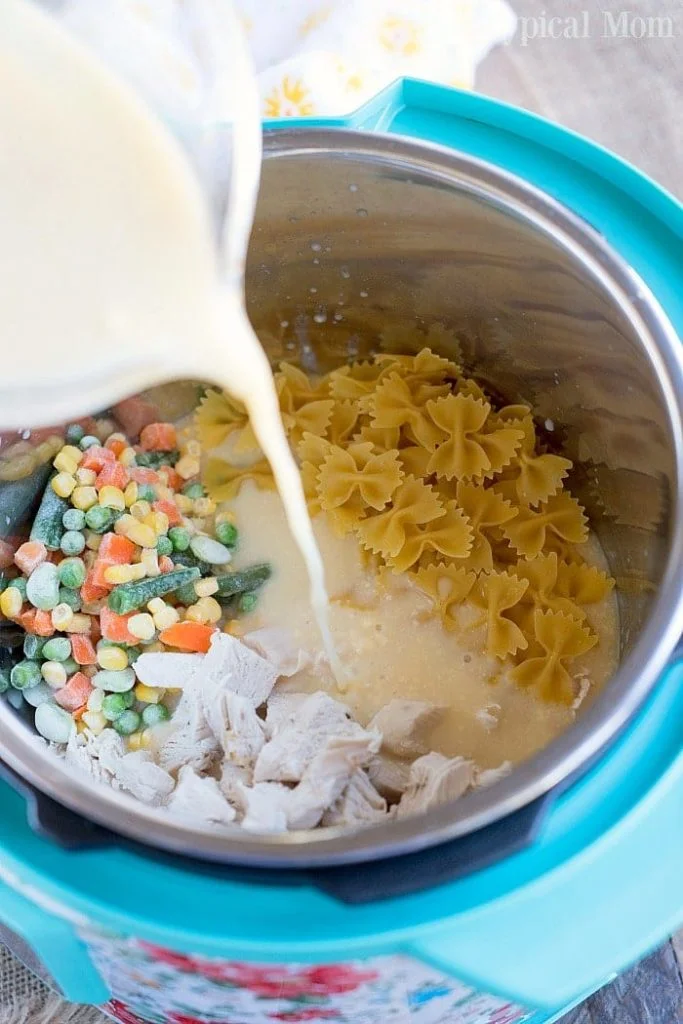 Using leftover rotisserie chicken and frozen veggies is a great way to keep this Instant pot recipe easy for weeknight dinners. Since the chicken is already cooked, you'll just need to set the timer for 2 minutes for the pasta.
---
More Instant Pot Dinner Recipes
I post A LOT of Instant Pot dinner roundups because dinner is really my biggest challenge. I figure if it's something I struggle with, chances are someone else is struggling too.
Here are a few more posts to check out if you'd like more Instant Pot dinner recipes:
Pin this post to share and save for later!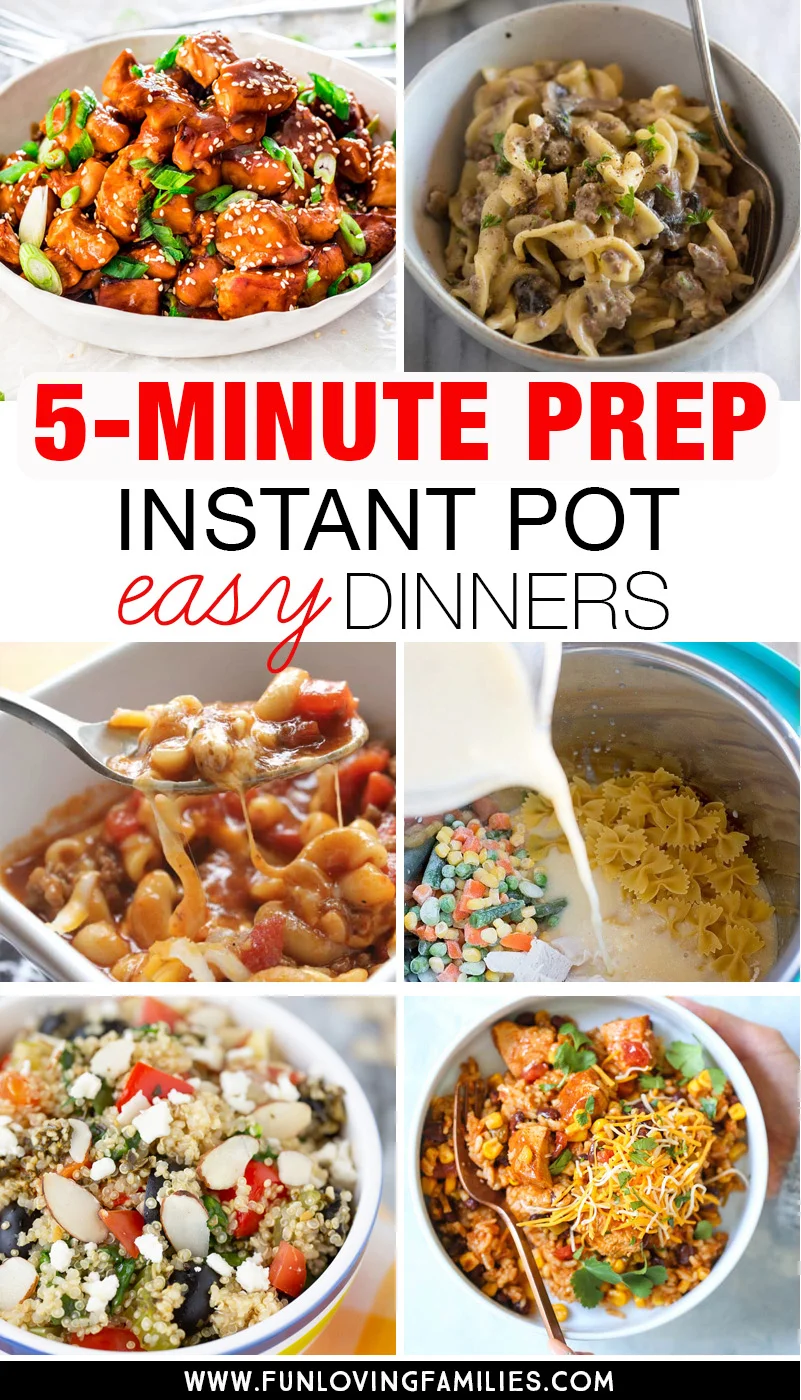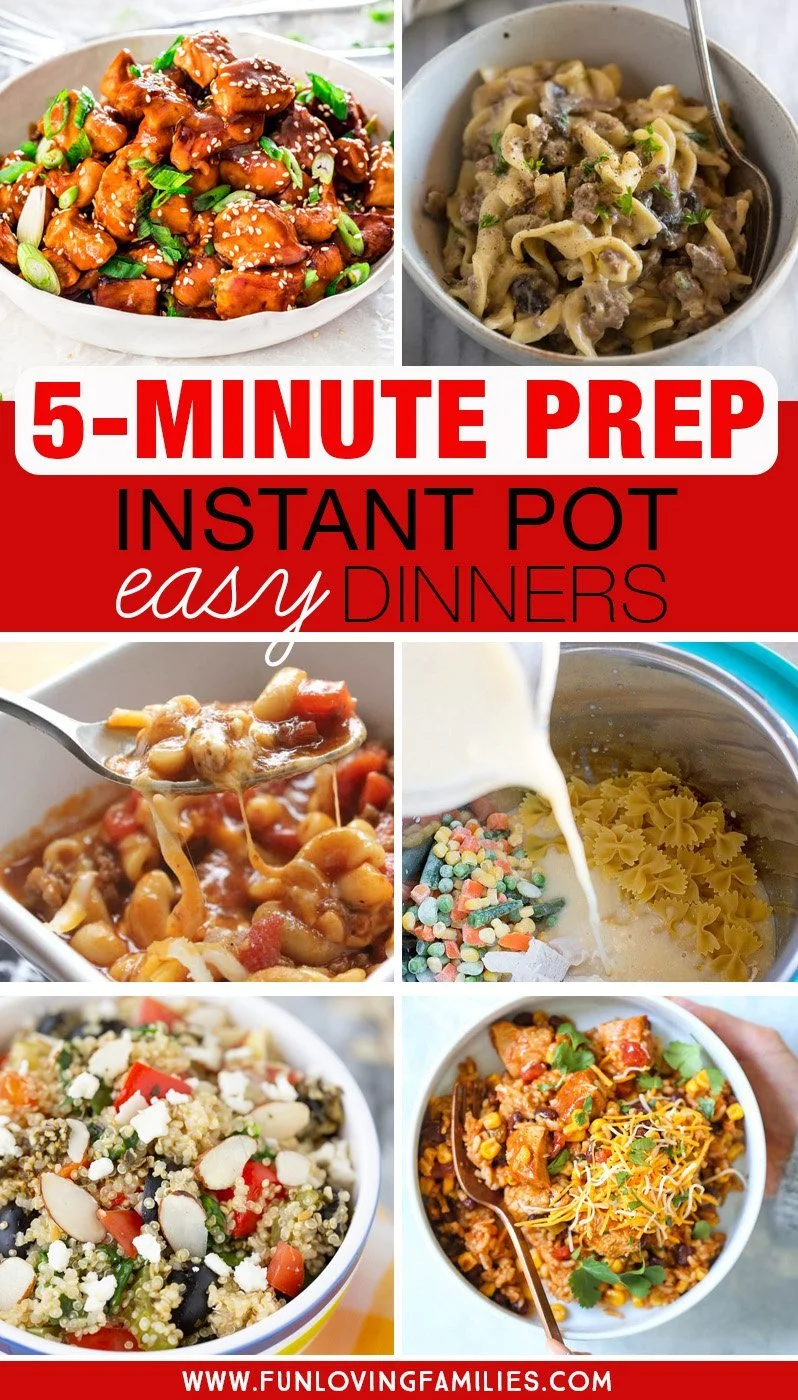 Similar Posts: